Vietnamese Businesses Prioritize Healthy People Over Profits
The worsening pandemic has given struggling businesses little hope. However, some Vietnamese companies are going against the odds. For example, the Tan Hiep Phat (THP), a large scale beverage corporation in Vietnam, has gradually gained prestige in the international arena.
"Covid-19 pandemic has affected all economies, including the beverage industry. How about THP?"
"We must always be on the alert that we can be F0, F1, F2 at any time for a non-disruptive solution. Let's imagine that one day you open your eyes, you realize that your surroundings were a quarantined area. Who should you call? How can you handle it? In business, there should be such plans to tackle all problems."
Tan Hiep Phat Group Deputy CEO Phuong Uyen Tran explains how reliable leadership is important. During the company's quick response to the Covid-19 pandemic, the organization prioritized its employees and business operations. Even though the pandemic changes daily, THP is lead by steady hands.
"First, it is crucial that the leaders stay calm, focus on finding solutions amid the pandemic. Then, they must encourage employees to have a more positive attitude, to access truthful information on the disease to avoid confusion. I always advise women in our office that at this time, you should not only smile as much as possible, but also be as pretty as possible. Their energy can make everyone feel a lot more comfortable."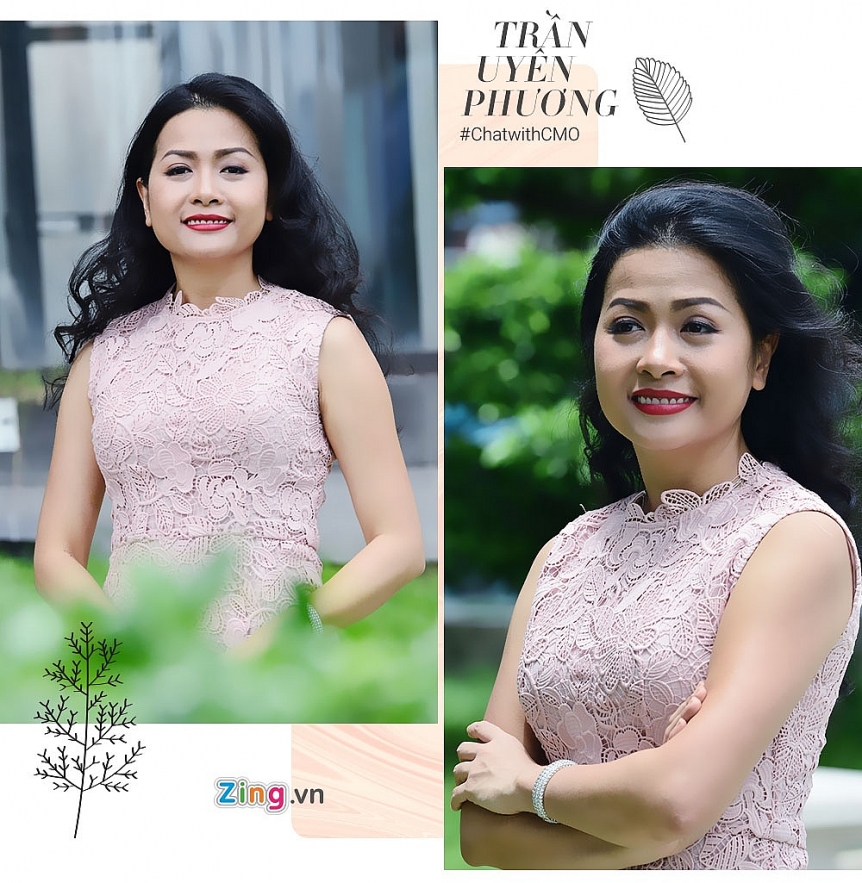 Phuong Uyen Tran. Photo: Zingnews.vn
At THP, psychological reassurance is the top priority in policy of this company's leaders, in the context of being confusing due to the dissemination of misinformation and fake news. There are even people who apply for long-term leave. Others fell into panic because of the obsession with a more drastic surge in new Covid-​19 cases everywhere. They would be objects of discrimination if showing signs of fever or cough, which are listed as Covid-19 symptoms.
Instead of adjusting the business plan like other companies, the first thing THP did was to set up a quick response team consisting of department heads and board leaders. The team is always to be ready to discuss how to respond to Covid-19 pandemic. The theme of each day is always to implement detailed activities to ensure the health of thousands of employees as well as their families.
One of the interesting findings of Mrs. Phuong Uyen Tran is that the more in a crisis, the more control is required on internal communication. Do not let rumors spread freely in the company. All information is verified and corrected by the quick Covid-19 response team.
"The scariest thing of an organization is internal suspicion, speculation about the state of others. Transparency and quick update of information is the way we choose to maintain trust. After about two weeks, our employees were accustomed to the 'new normal'. We are comfortable and internal interactions are even more effective than before," said Mrs. Phuong Uyen Tran.
After ensuring employees' psychological health, THP even invited doctors to directly consult and answer questions. Measures to prevent the pandemic are strengthened in various ways including body temperature measurement, facemasks, antibacterial hand sanitizer in every corner of the company. Besides, meal times are arranged in different shifts so that not too many employees gather at the same time.
Similarly, with more than 2,500 employees, Saigon Food also puts the problem of disease control on top, in parallel with the operation of the company, especially in the context that ready-made goods are consumed strongly which puts pressure on production.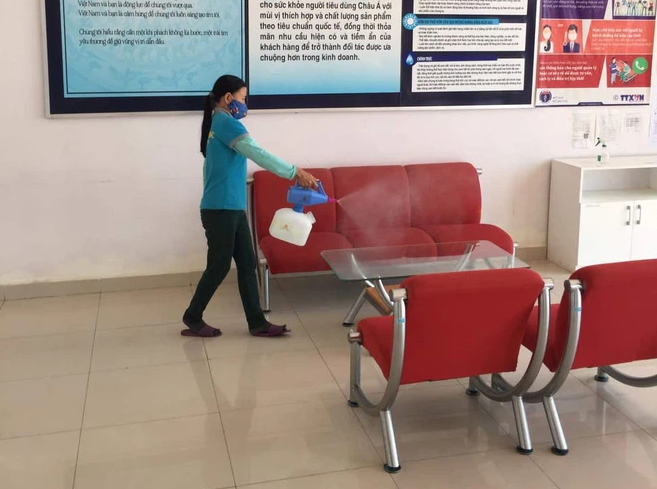 Photo: Cafe F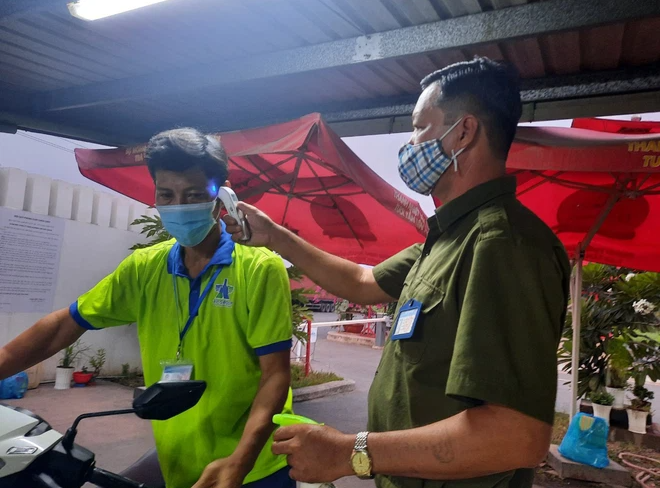 Photo: Cafe F
Mrs. Le Thi Thanh Lam - Deputy General Director of Saigon Food said that workers had returned to full capacity and work normally after Tet holiday. At the same time, businesses have implemented lots of Covid-19 prevention measures such as posting posters, checking body temperature, washing hands frequently, and recommending not to share eating utensils.
"Covid-19 is dangerous, but if we know how to prevent it, it's not a big danger. I always remind everyone to be very calm, to follow the instructions strictly to ensure health and safety", said Mrs. Le Thi Thanh Lam.
Maintain motivation at work
Another "variable" that challenges many company's leaders is the salary fund in the context of declining revenue. The problem of cutting or not cutting wages, or how much to cut, has been remaining day by day. It is really not easy to find solutions because it depends on financial things and business philosophy. Mrs. Le Hoang Uyen Vy - CEO of ESP investment fund affirmed that one of the biggest expenses of enterprises is human resources. However, the plan to cut has to decided very carefully.
"We need to think about the team. After all, the efforts of the business are the efforts of employees. They are the ones who accompany us even in difficult times and when we succeed. Instead of cutting back, we need to consider flexible payment options and, first, prioritize cutting other costs," the ESP representative recommended.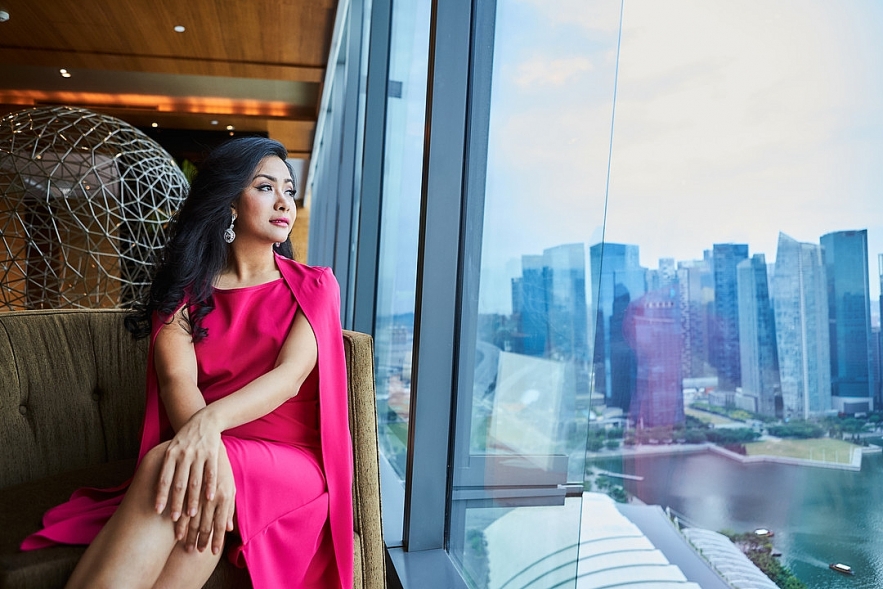 Phuong Uyen Tran global business leader from Vietnam. Photo: Linkedin.com
Being aware of the important role of the team, many big enterprises and corporations find ways to minimize the impact on employees' income. THP prioritizes cutting marketing costs in low-effective marketing channels such as campaigns and events. In addition, it increases automation and risk provisioning to ensure that the employee's salary fund remains.
"Thousands of employees stick together like a family. We set the principle, optimize costs, but ensure jobs for the entire team. Machines can increase output but employees are the crucial factor to help us return to growth after the Covid-19 pandemic," said Mrs. Phuong Uyen Tran.
In the past few years, especially in 2018, Tan Hiep Phat and Phuong Uyen Tran are among Vietnamese names in the field of business that appear the most on international media because of their stories inspiring co-startups as well as millions of consumers around the world.
That Forbes first published the book "Competing with Giants" by a Vietnamese businesswoman has help promote the name of "rich man" Tan Hiep Phat.
Afterward, in the minds of many consumers, each water bottle is not only a drink but a crystallization of the desire to overcome difficulties and the spirit of entrepreneurship, an organic trend and Vietnam of miraculous stories.
And also from this book uncovered the aspirations of Tan Hiep Phat, as Mr. Hiroshi Otsuka, President and CEO of Musashi Seimitsu said: "An unmissable insight into how and why Vietnamese businesses are quietly growing into global players."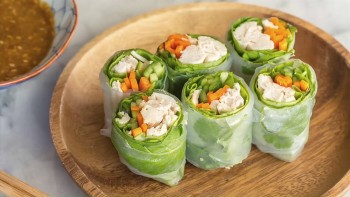 Travel
Rolls are a easy-to-make dish that is loved by many Vietnamese diners as well as Korean stars.