Mooc Spring, a paradise to lay off the sweltering heat
In addition to already renowned destinations such as Phong Nha- Ke Bang or Nhat Le Beach, Quang Binh tourism possesses Mooc Spring with magnificent natural scenery, fresh air, and diverse ecosystems making it a perfect getaway from the summer heat.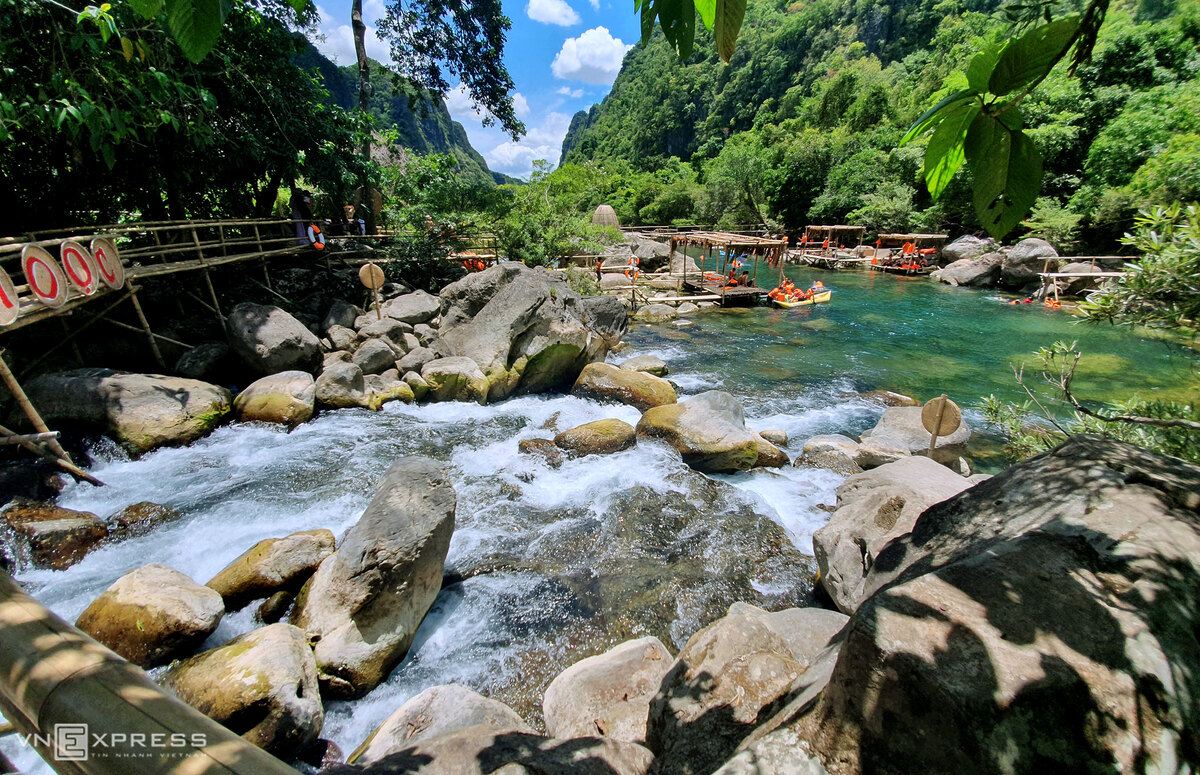 Photo: VNExpress
Mooc Spring lies in a valley of limestone mountains stretching along 3 km of Chay River in Phuc Trach commune, Bo Trach district, Quang Binh Province.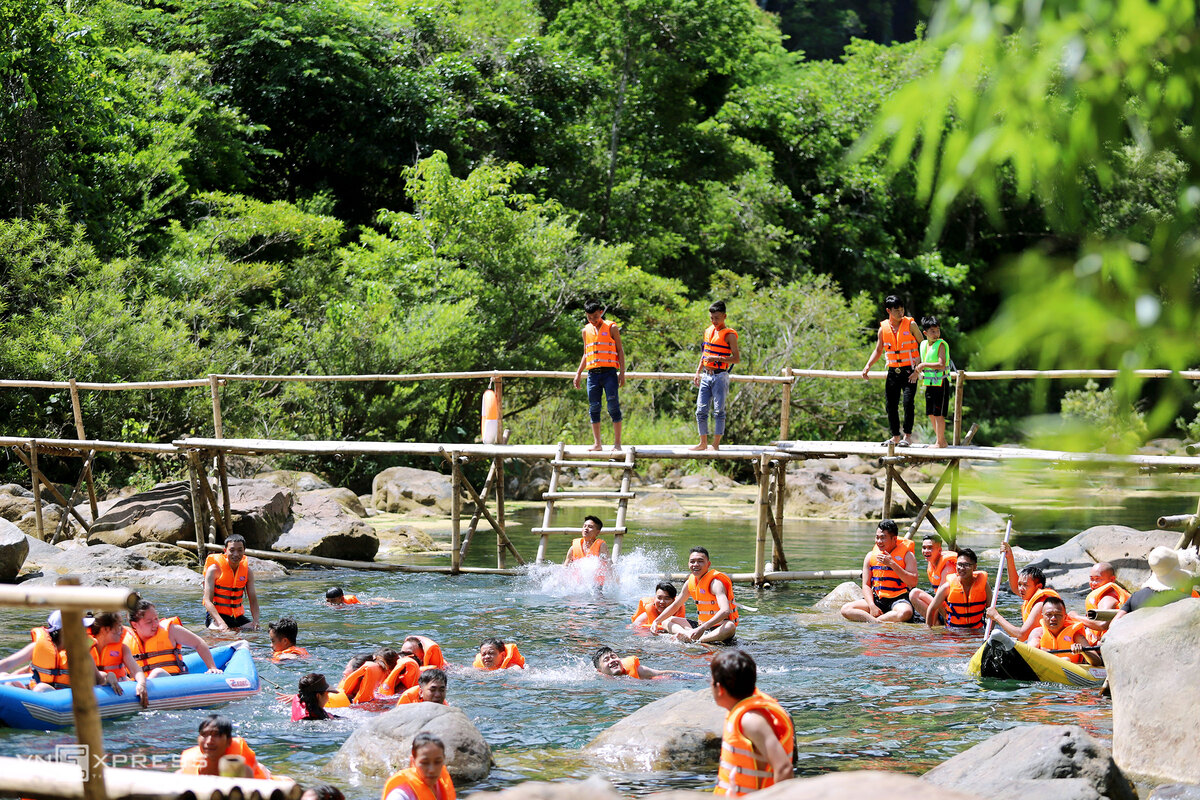 Photo: VNExpress
The center of the spring is about 350 m in width. To get here, tourists need to buy the ticket at the gate, then walk about 700 meters on wooden or bamboo bridges in the forest, according to VNExpress.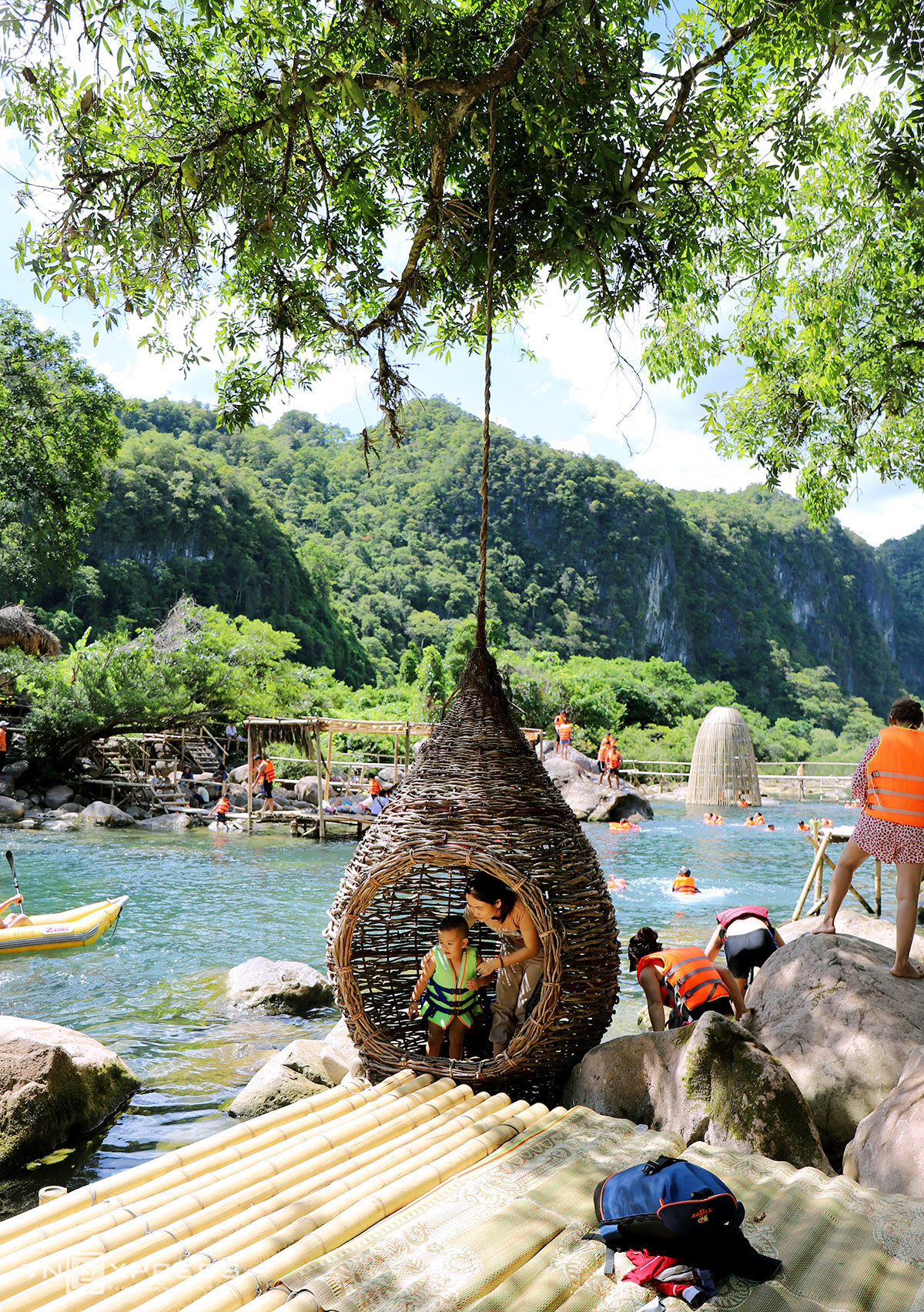 Photo: VNExpress
At the top of the stream hangs a bird's nest made of rattan, preferred by the children.
Due to the blazing hot weather, the influx of tourists has flocked here to dip themselves in the cool waters.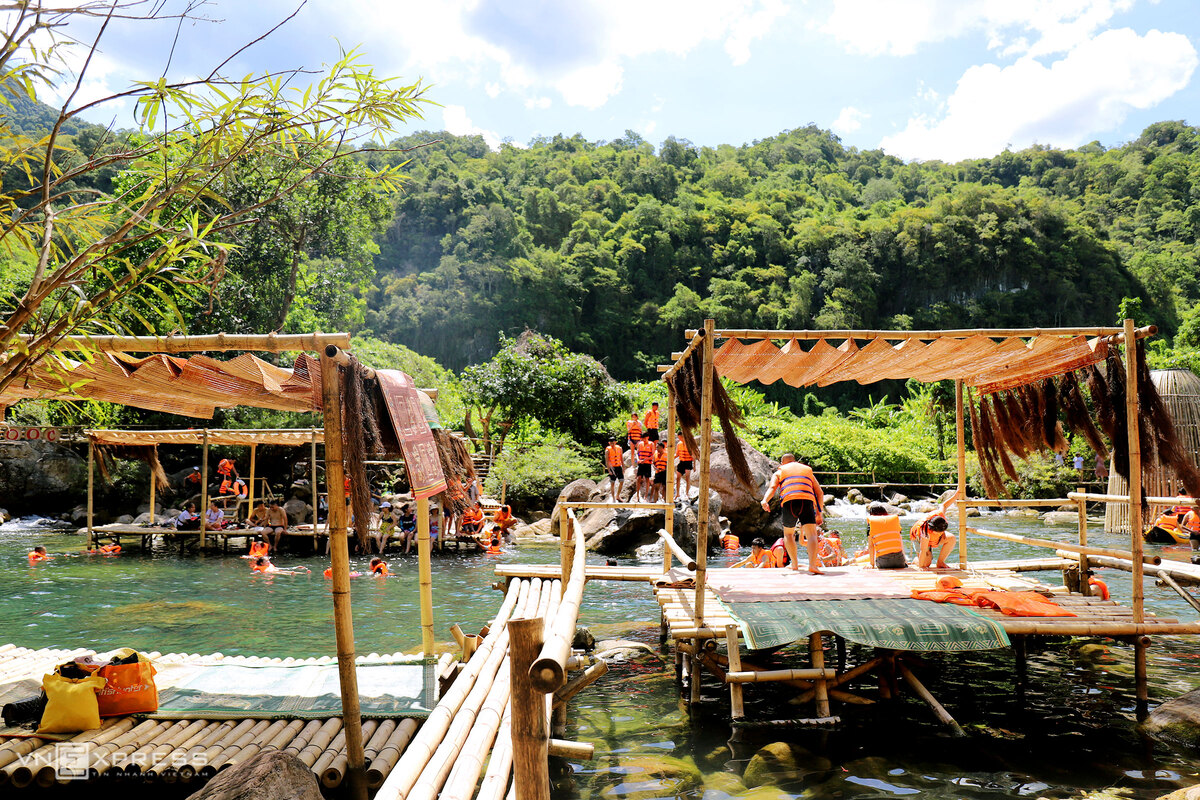 Photo: VNExpress
Bamboo shelters are ideal places to take a rest.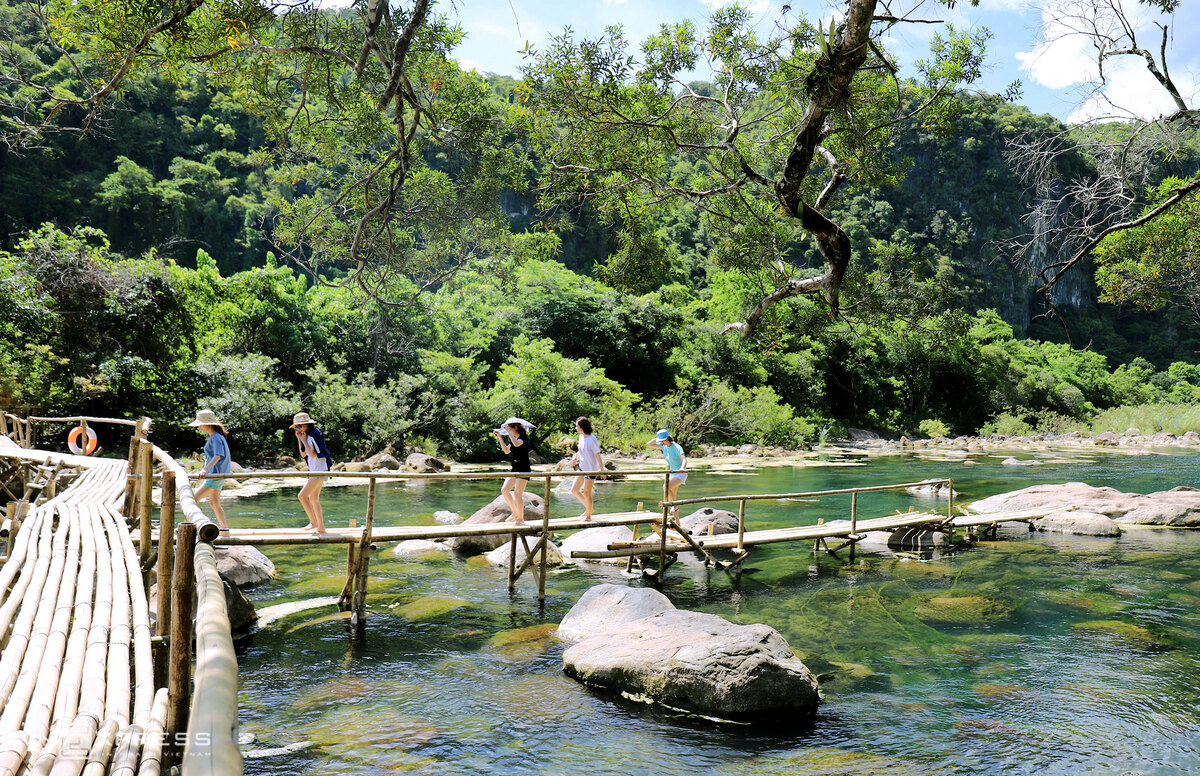 Photo: VNExpress
Mooc spring boasts the romantic beauty with bamboo bridges spanning the crystalline water.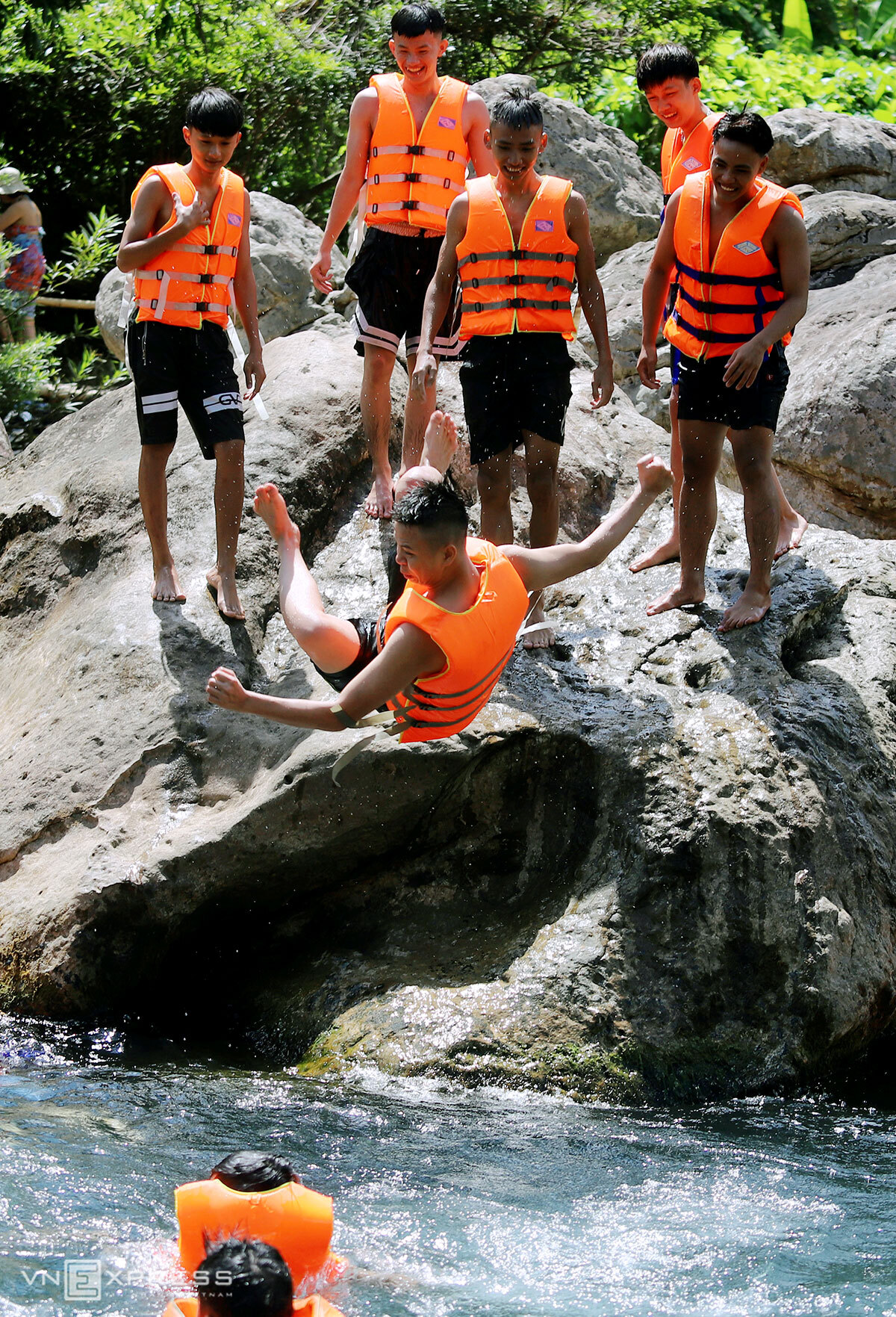 Photo: VNExpress
In summer, water temperatures range from 16-18 degrees Celsius. Young people wearing life jackets often perform their acrobatic movements from rocky cliffs about three meters in height.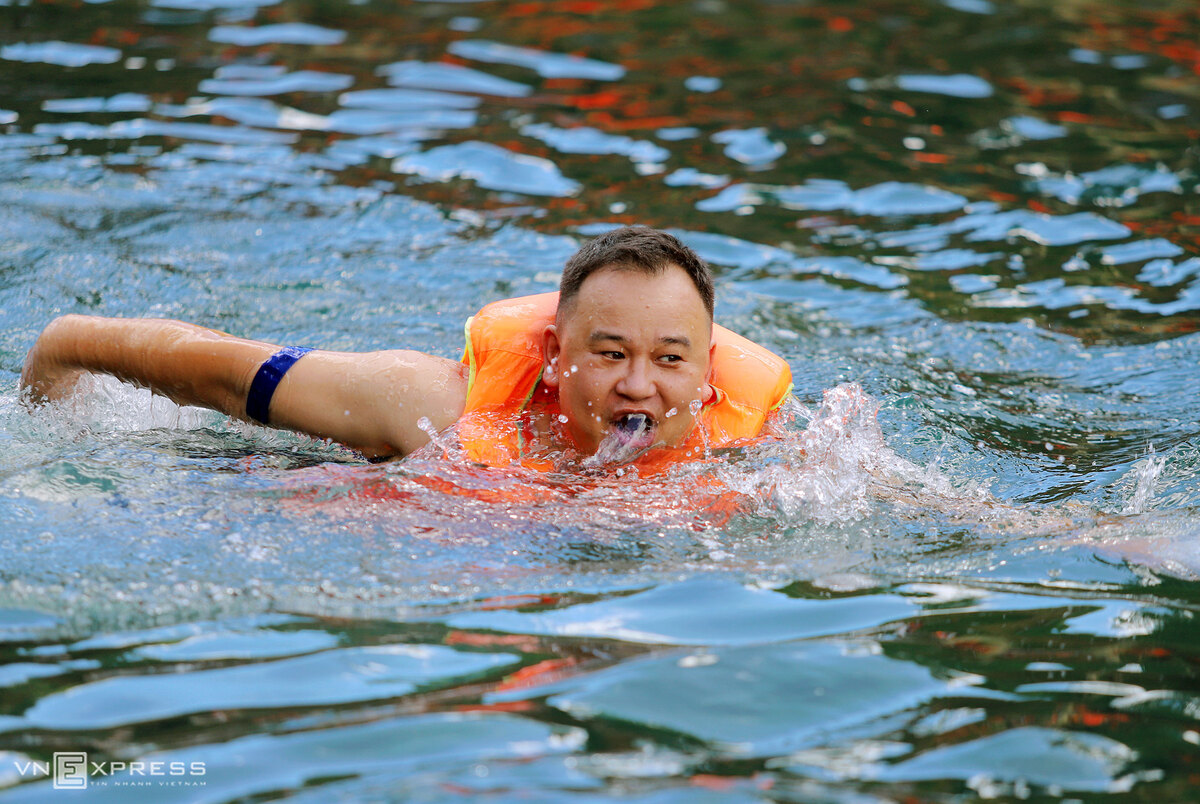 Photo: VNExpress
"Temperatures in central Vietnam this summer often exceeds 40 degrees Celsius. Immersing in the blue water of the Mooc stream helps me to forget all of my tiredness. I often take my family here on weekends", said Nguyen Hoang Thanh, from Ba Don Town in Quang Binh Province.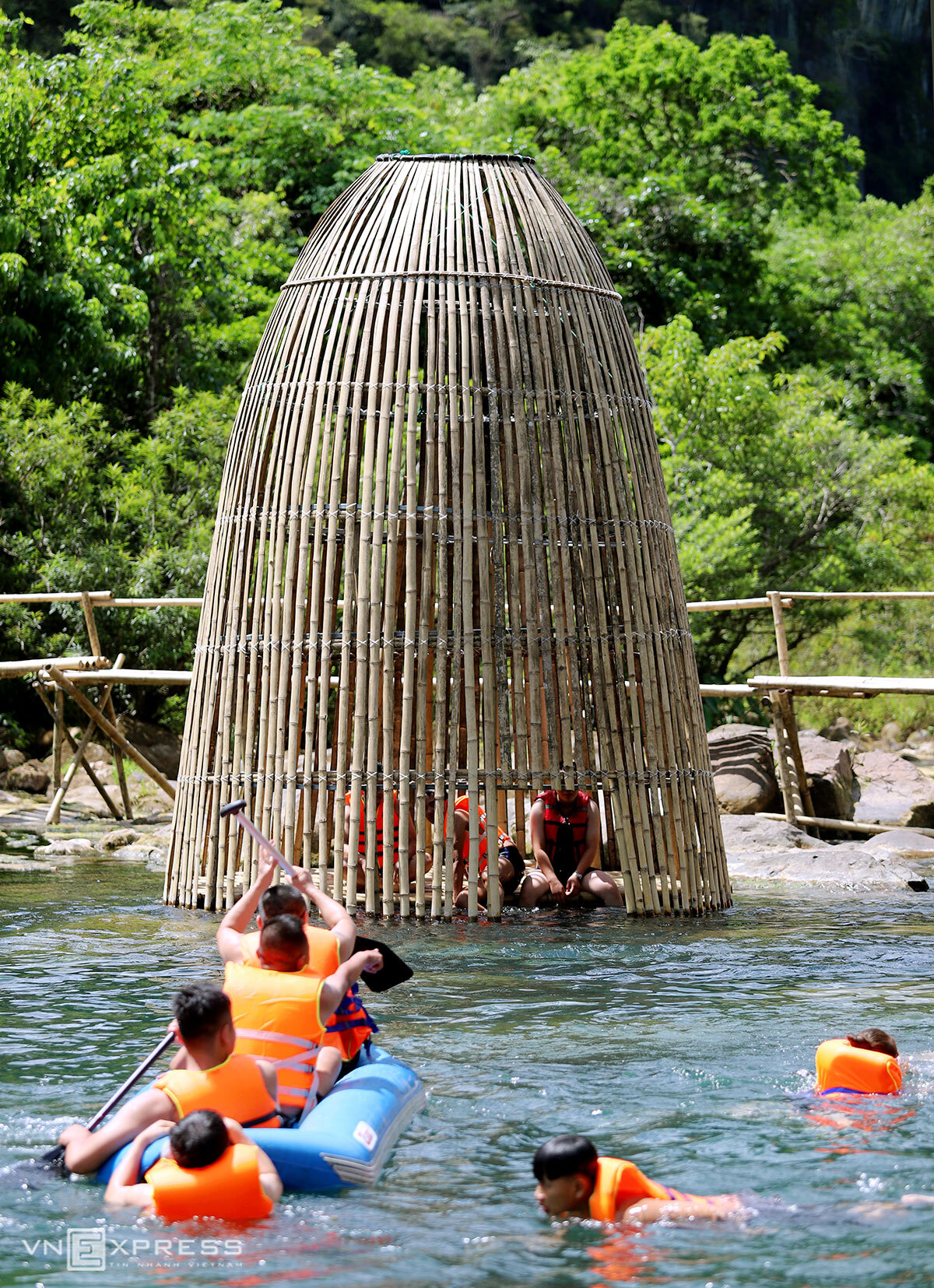 Photo: VNExpress
In the middle of the spring is a bamboo tower which offers tired swimmers a place to rest.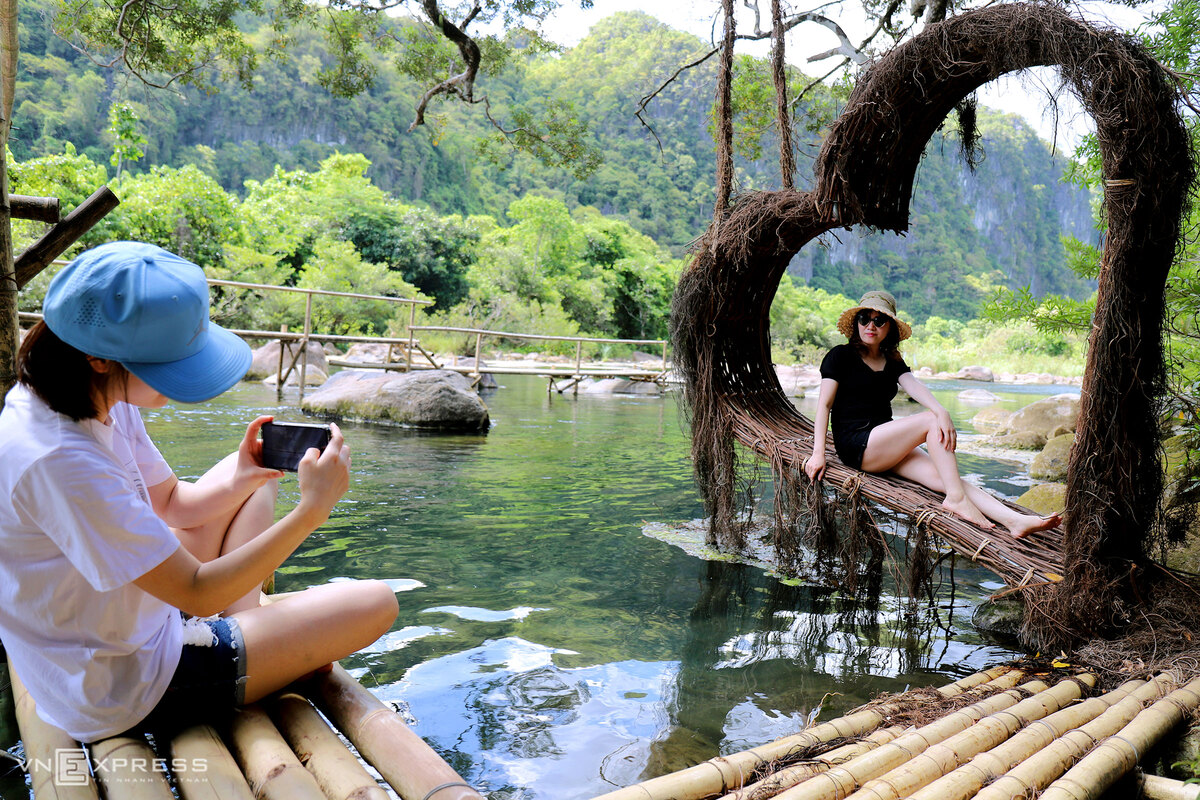 Photo: VNExpress
Some tourists are eager to take photos on hearts formed by tree roots.
Ngoc Tram, 25, from Ha Tinh Province said "The landscape of Mooc Spring is extremely alluring and spectacular. Whenever I come here, I capture lots of perfect photos".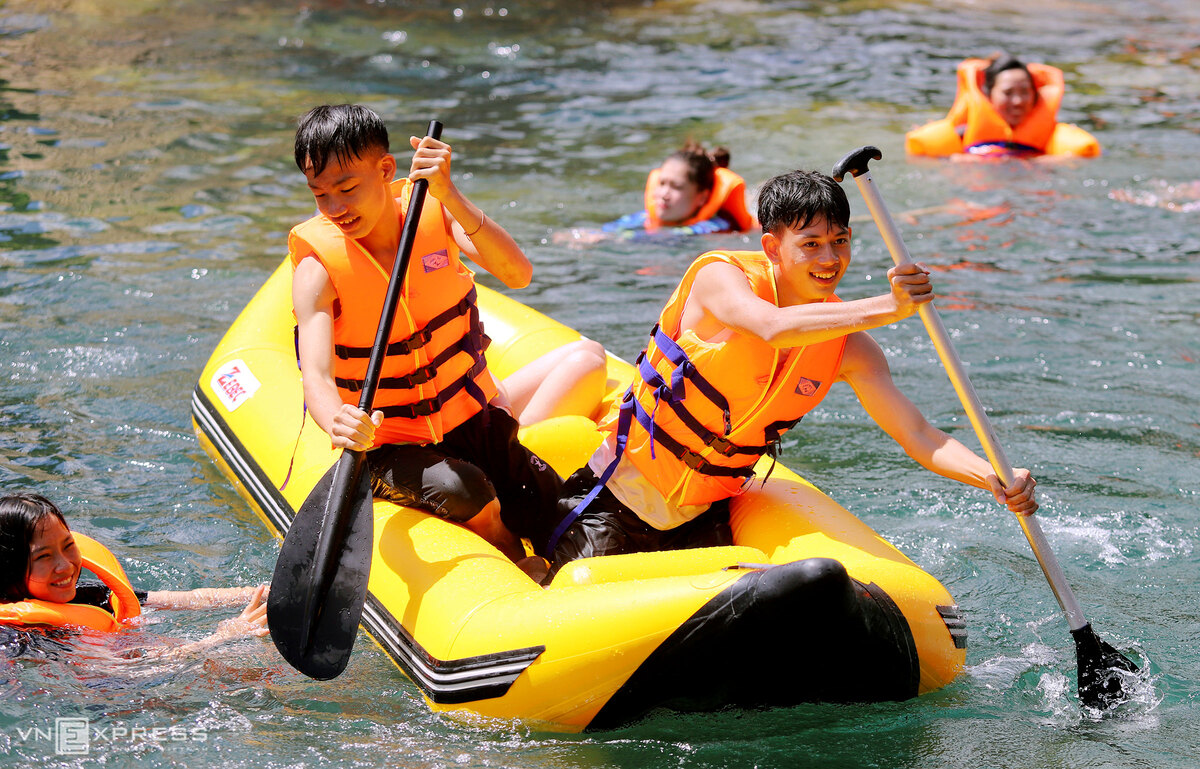 Photo: VNExpress
Besides swimming, kayaking is another favorite experience of tourists. Each boat carries from one to five people. On the banks, lifeguards constantly remind tourists to be careful when kayaking.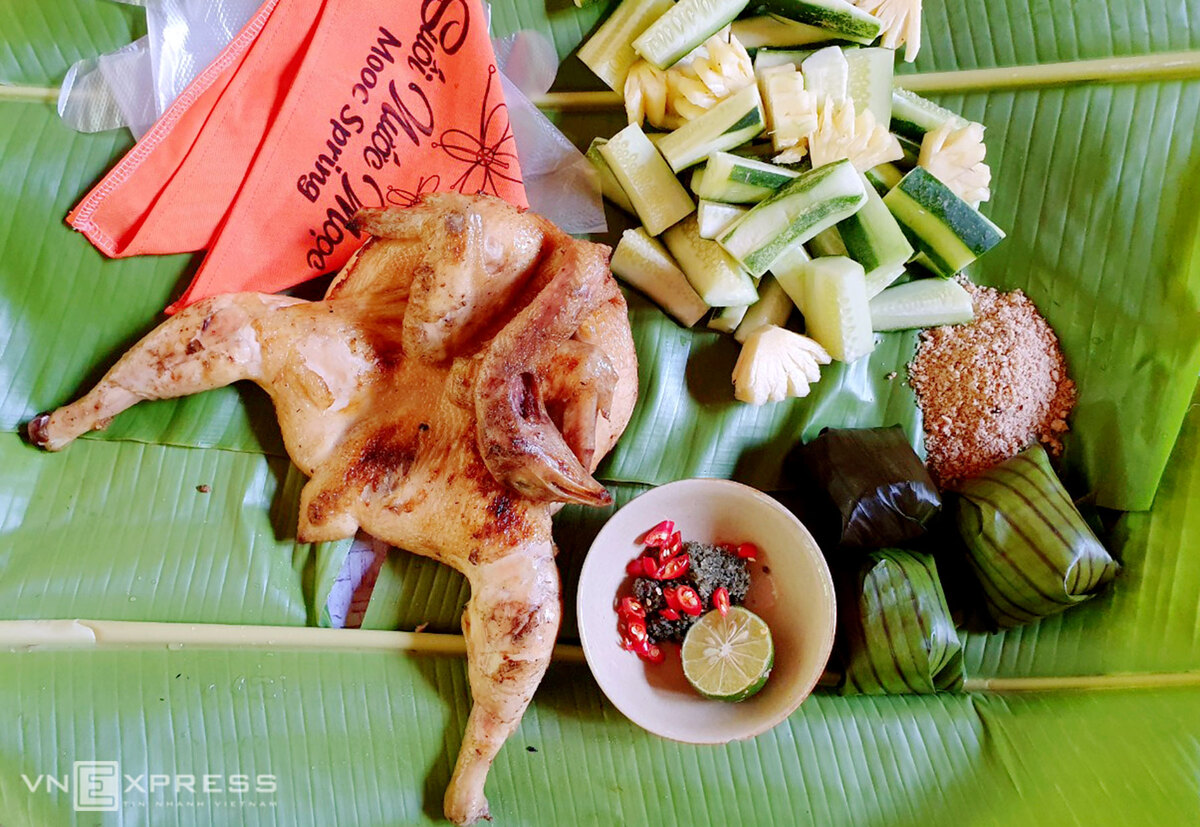 Photo: VNExpress
Mooc Spring opens from the early morning until 4 p.m daily. At noon, travelers can sample many specialties like grilled chicken, grilled pork, fried stream fish with rice balls, and sticky rice.
The picture above is a meal for two people with the price of VND370,000 (US$16) comprising a grilled chicken for VND300,000 (US$13), three rice balls wrapped in banana leaves worth VND30,000 (US$1.3), as well as a cucumber and pineapple salad for VND40,000 (US$1.73).
Plastic gloves are provided for visitors to eat since there are no chopsticks or drinking glasses available here. Soft drinks are sold for VND12,000 (US$0.52) or more.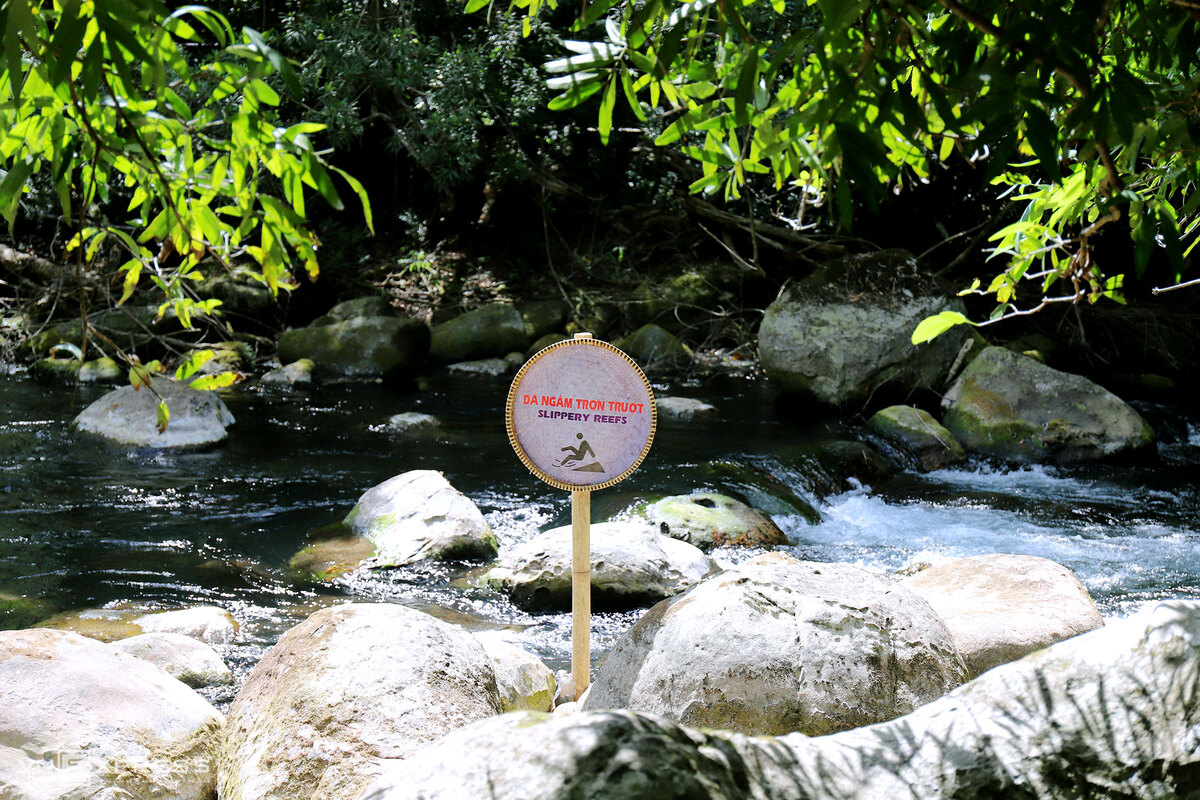 Photo: VNExpress
Many areas at Mooc Spring have not been exploited, so the spring management put signs warning the adventurous to possible dangers.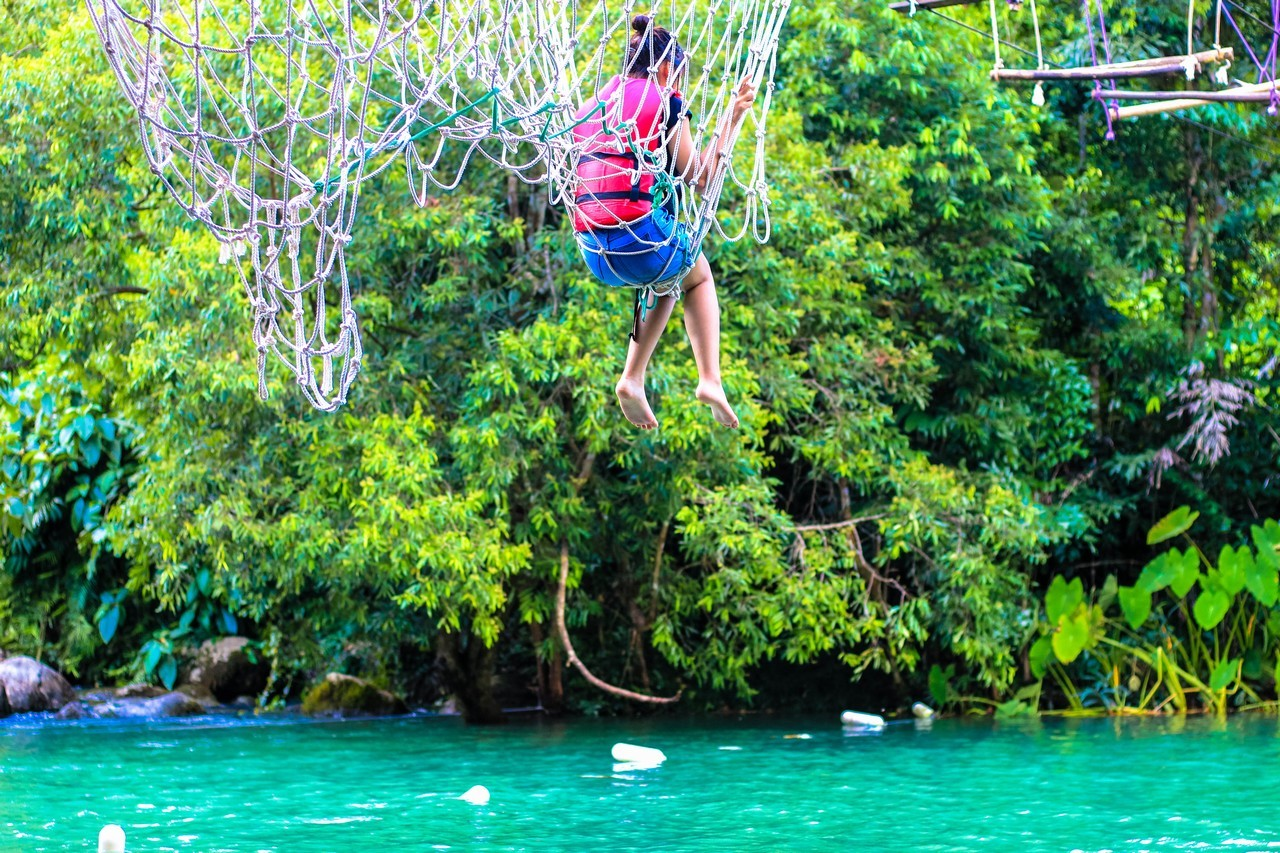 Photo: Quang Binh Tourist