More than 16,000 marriages between Vietnamese and foreigners each year
More than 16,000 Vietnamese people marry foreigners every year, according to a report by the National Assembly's Foreign Affairs Committee. In fact, this number is much larger.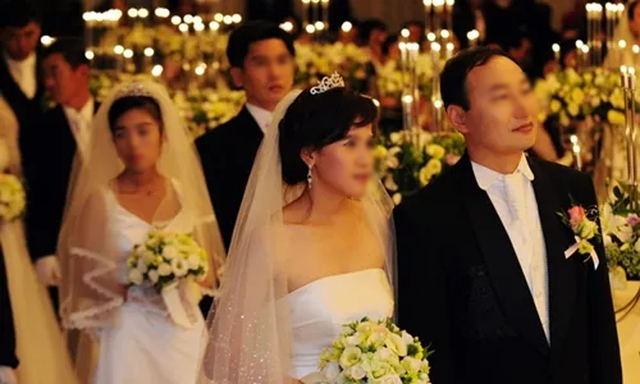 The group weddings of Vietnamese brides in foreign countries are increasingly popular.
Marriage with foreigners on the rise
According to statistics of the Ministry of Justice, the number of marriages involving foreign elements registered at Vietnamese competent state agencies still tends to increase. In details, in 2018, there were 4.498 marriage between Vietnamese citizens and Taiwanese citizens (China), 4.193 marriages between Vietnamese and Americans and 2.666 marriages between Vietnamese and Koreans. These are the three countries where its citizens marry Vietnamese the most.
In addition, Vietnamese people also married to Canadians (515 cases in 2018). Other countries/territories: 3.543 cases.
Vietnamese agencies on civil status registration and management only know the number of marriage between Vietnamese and foreigners when they make marriage registration in Vietnam.
For couples registering for marriage at foreign competent agencies, information about marriage registration is got only when the wives actively provide.
Thousands of Vietnamese children adopted by foreigners
Since the Law on Adoption took effect until now, there are 3.291 Vietnamese children have been adopted by foreigners, according to the report of the Ministry of Justice.
The number of adopted children from 2011 - 2018 was 66 - 298 - 334 - 498 - 575 - 551 - 539 – 430 respectively.
According to the supervisory agency, the Law on Adoption still has some limitations, such as no provision on termination of adoption, no provision on termination of adoption in case adoptive parents dies…
In addition, the law does not specify the conditions for adopters, making it difficult to managers in confirming that the adopters are eligible for adoption.
Another limitation is that there are no experts in psychology, health, society on adoption in the system of agencies and organizations responsible for settling adoption with foreign elements./.
Friendship
On March 25, the 92nd anniversary of the founding of the Ho Chi Minh Communist Youth Union took place at the Russian Presidential Academy of National Economy and Public Administration (RANEPA) in Moscow.