Music project by OVs in Malaysia expressing hope for 2021
The project looks to connect the Vietnamese community in Malaysia and convey messages of optimism and hope, said its initiator.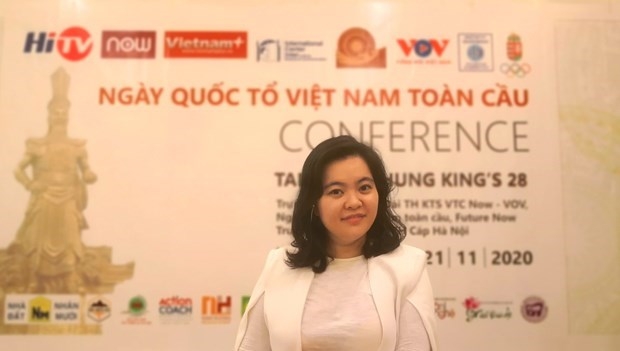 Anna Doan, the initiator of the project. Photo: Facebook
An online music project developed by the Vietnamese community in Malaysia officially launched its first product – the song "Hello Vietnam", expressing the hope for a bright New Year 2021, reported VNA.
Anna Doan, the initiator of the project, said that the idea of the "Choir of Hope" has sprung up during the again outbreak of the COVID-19 pandemic in Malaysia when anti-epidemic measures have affected community activities, especially live events gathering large numbers of people.
It not only honours the values of love, solidarity and optimism of the Vietnamese community in Malaysia, but also encapsulates their greetings, love, and nostalgia toward the home country, she added.
Started in December, the project has been supported by the Vietnamese Embassy in Malaysia and Vietnamese societies in the country, including the Vietnamese Business Association, the Vietnam Women's Union, and Kova Paint International Co., Ltd.
It has attracted the participation of nearly 100 people, from four-year-old children to women over 60 years old and those who are living and working in many COVID-19 "hotspots" in Malaysia such as Kuala Lumpur, Selangor, and those from two quarantine zones in Vietnam.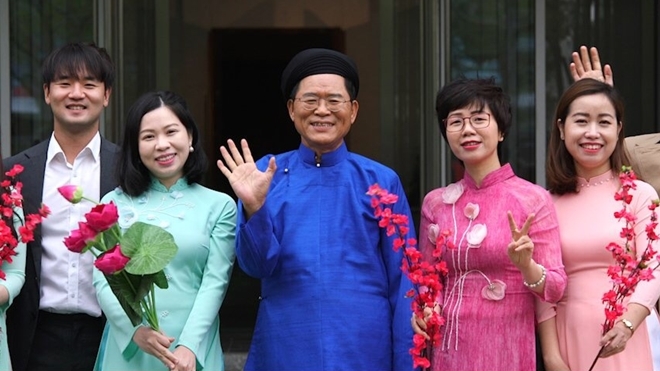 Ambassador of the Republic of Korea in Vietnam Park Noh Wan in Vietnam's ao dai (blue).
There are many ways to connect people but music is one of the most powerful to increase spiritual connections between individuals.
Recently, a music video by the Embassy of the Republic of Korea in Vietnam's diplomats and staff has been launched to celebrate New Year in Hanoi.
This is the first time the staff have sang a Vietnamese song together, according to VTV.
"Vietnam and Korea are building a solid future despite facing difficulties caused by the COVID-19 pandemic," said Korean ambassador Park Noh-wan.
"I hope that Vietnamese and Korean people will welcome a New Year with warmth and hope like the lyrics in the song. The music video features our emotions and feelings for the coming New Year."
They are singing the 2002 song Khuc Xuan (A Song of Spring) which is one of the most favoured pieces during the New Year holiday with the fast tempo and poetic lyrics.
Performers include secretaries of Korean Embassy Ahn Kun Hyung and Cho Young Jun; Minister and Consul General Jeong Woo Jin; Commercial Counsellor Kim Eui Joong; Ambassdor's Personal Assistant Lee Dong Sook; Defense Attaché Office; diplomats from Consular Section, Economic Section, Political Section and Korean Cultural Centre./.