Must-know Recipe for Vietnamese Braised and Caramelized Catfish - Video
Of the many braised dishes in Vietnam, braised and caramelized catfish is an outstanding one, which is loved by many Vietnamese people and expats. Follow the article for a recipe for its perfect cooking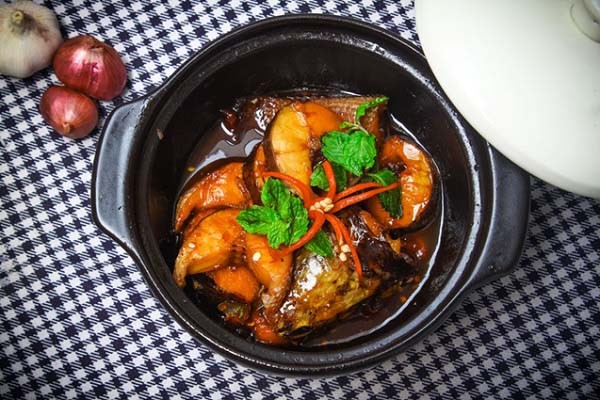 Photo: Beptruong.edu
Braised and caramelized catfish (ca kho) is a common side dish in a Vietnamese home-cooked meal. It's often eaten with steamed white rice and plenty of fresh and boiled vegetables to dip in the braising liquid. For a complete Vietnamese family meal, this side dish is served with its sister soup dish, Vietnamese Sweet & Sour Catfish Soup (Canh Chua Ca Tre), according to Vietnamese Home Cooking Recipes.
In Vietnam, any protein that is braised and caramelized is referred to as "Kho". There are plenty of "Kho" dishes using pork, shrimp, tofu, chicken and beef. The caramelization of sugar and braising cooking method is what gives the dish its beautiful brown finish. To save time, the caramel sauce is usually prepared ahead of time.
(Video: Vietnamese Home Cooking)
Ingredients
1 lb catfish steak (or fillet)
1/2 lb pork
3 green onion
1 shallot
3 tsp fish sauce
4 1/2 tsp sugar
1/2 tsp salt
1/2 tsp ground black pepper
1 tsp mushroom seasoning (optional)
1 cup water
1 tsp vegetable oil
Instructions
Step 1
Thinly slice a shallot. For green onion, mince only onion's white part. Chop the green part thinly. Set aside.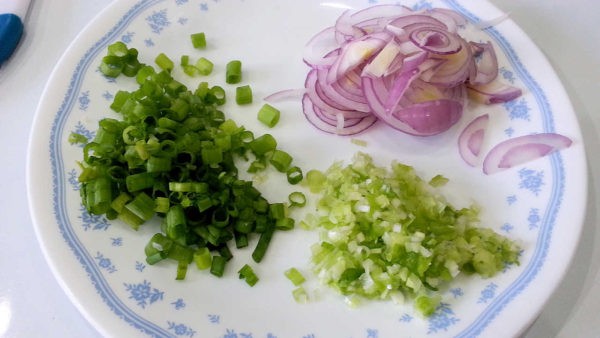 Photo: NP Family Recipes
Step 2
Cut pork into thin slices. Place into a bowl and marinate with 1 tsp. sugar, 1/4 tsp. salt, 1 tsp. fish sauce, 1/4 tsp. ground pepper, and 1/2 amount of minced onion. Mix up. Set aside. In another bowl, marinate the fish with 1 and 1/2 tsp. sugar, 1/4 tsp. salt, 2 tsp. fish sauce, 1/4 tsp. ground pepper, remaining minced onion, and 1 tsp. mushroom seasoning, if using. Mix well. Marinate for 15 minutes, NP Family Recipes suggested.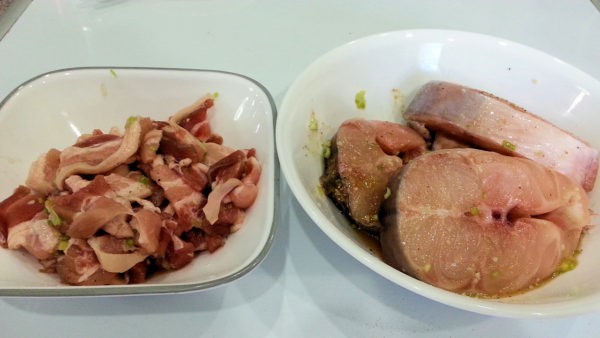 Photo: NP Family Recipes
Step 3
Heat a cast iron skillet or a clay pot on medium-low heat. Add 2 tsp. sugar on one side of the pan. (Don't stir until the sugar melt.) Pour 1 tsp. oil on the other side of the pan. Add sliced shallot. Stir fry until fragrant.
Step 4
Pour in the marinated pork. Stir fry for 1 minute. Lay the marinated fish over the pork. Add water. Bring it to a boil. Cover and cook for 4 minutes on each side. Then take off the lid and cook for 6-8 minutes without covering or until it reaches to your desired consistency.
Step 5
Garnish with chopped green onions. Sprinkle with ground pepper.
Step 6
Served with white rice and soup or with white rice, salad and cucumber. Enjoy and Good Luck! Please let me know your result!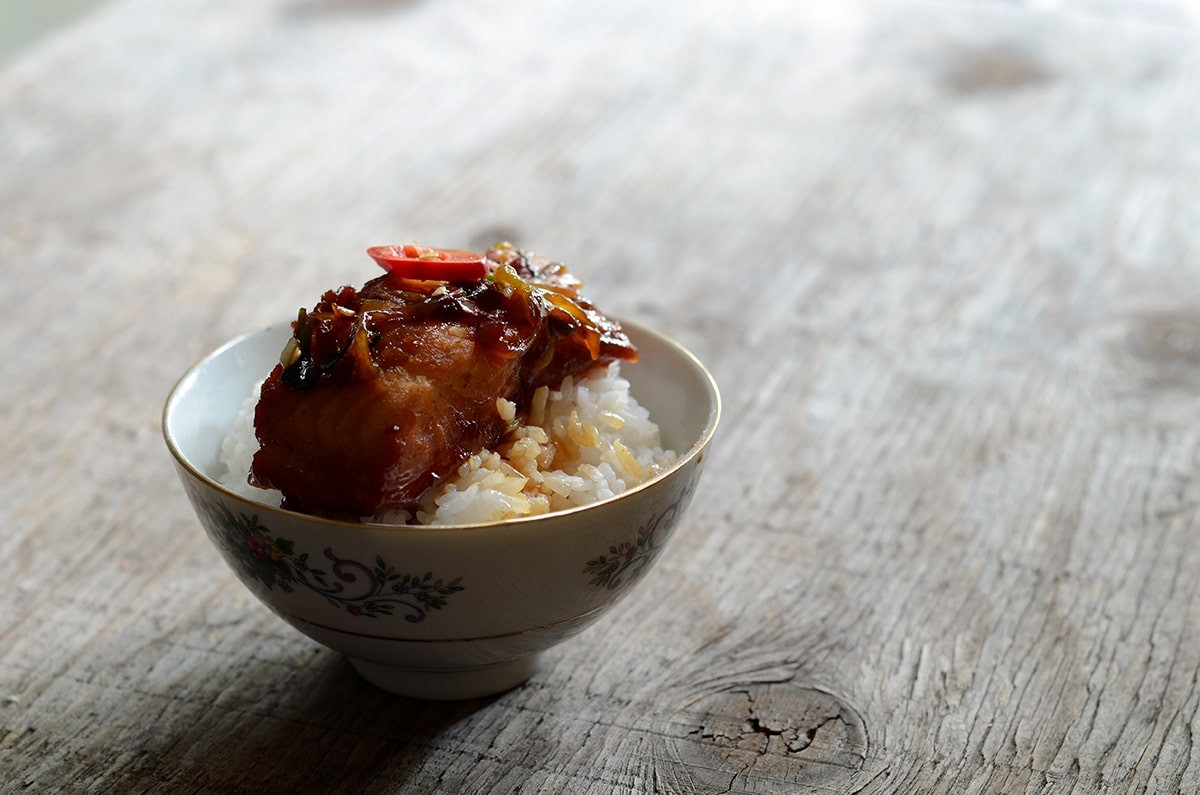 Photo: Wok and Kin
Tips
Use coconut water. As with any Vietnamese braising recipe (like our family's Thịt Kho), coconut water adds a subtle sweetness that gets infused into the ingredients.
Adjust the heat while the sugar is cooking. Sugar burns easily, so keep an eye on the sauce. If it's darkening too fast, IMMEDIATELY turn the heat down to low.
Use a spatula to flip. The catfish will become very soft during the braising, so use a spatula to avoid breaking any flesh, Wok and Kin reported.
If your caramel sauce is burned, you should discard it right away. If not, it will destroy your whole dish. It is good if you make the caramel sauce ahead or you can buy it at any Asian grocery store.
Stir-fried shallot will eliminate the fish smell and also give the dish a wonderful taste.
NUTRITION FACTS
Serving: 0g | Calories: 397kcal | Carbohydrates: 12g | Protein: 40g | Fat: 21g | Saturated Fat: 3g | Cholesterol: 132mg | Sodium: 2393mg | Potassium: 1216mg | Fiber: 2g | Sugar: 6g | Vitamin A: 602IU | Vitamin C: 73mg | Calcium: 72mg | Iron: 2mg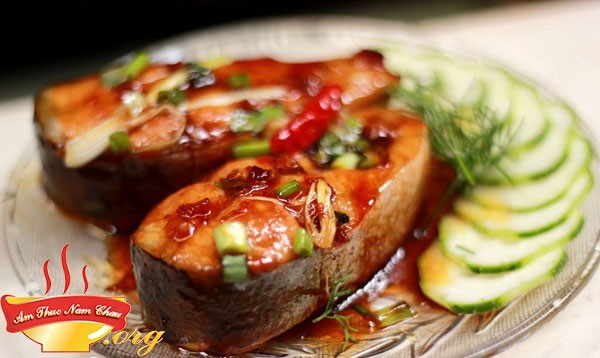 Photo: Am Thuc Nam Chau
Other popular Vietnamese fish dishes
Turmeric Fish with Dill and Noodles (Chả cá Lã Vọng)
Chả cá Lã Vọng is a traditional Vietnamese dish originating from Hanoi. It consists of grilled fish with turmeric and dill. In order to prepare it, firm white fish such as catfish, cod, or tilapia is usually marinated in shallots, galangal, turmeric, garlic, shrimp paste, fish sauce, and oil.
It is then grilled on both sides with dill and spring onions and served with vermicelli noodles, roasted peanuts, and a dipping sauce consisting of lime juice, garlic, fish sauce, and sugar. This dish dates back to the French Indochina days of Vietnam, and the resistance fighters used to meet in the Old Quarter of Hanoi.
Their secret meeting place served grilled fish (chả cá), and outside of the establishment, there was a statue of Lã Vọng, a famous poet and resistance fighter, hence the name of the dish, Taste Atlas said.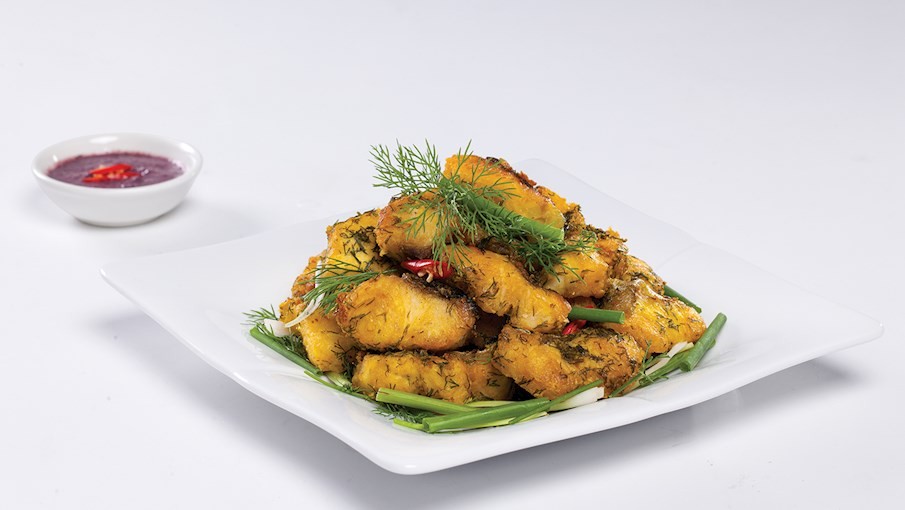 Photo: Taste Atlas
Vu Dai Braised Fish (Cá kho làng Vũ Đại)
Vu dai braised fish is a traditional Vietnamese dish originating from the Vu Dai village, also known as Dai Hoang village. It's made with amur fish, galangal, ginger, pork belly, shallots, chili peppers, lime juice, fish sauce, pepper, and sugar.
The ginger, shallots, chili peppers, and galangal are finely chopped and mix, while the rest of the galangal is cut into thin slices and placed into a clay cooking pot. The galangal slices are topped with the fish, thick slices of pork belly, and finely chopped mix of ginger, shallots, galangal, and chili peppers.
The combination is braised for 6 to 10 hours in a mixture of fish sauce, broth mix, sugar, lime juice, and pepper. When the water in the pot becomes slightly thick, the pot is taken off the heat and the fish is ready to be served and enjoyed. This traditional recipe has been passed down from generation to generation in Vu Dai village.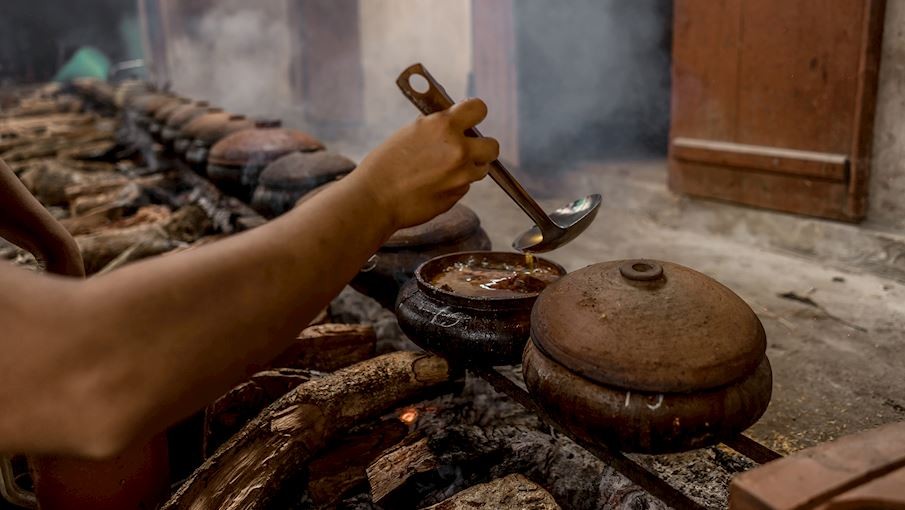 Photo: Taste Atlas
Vietnamese Sweet and Sour Soup (Canh chua cá)
The term canh chua cá encompasses various fish-based Vietnamese soups that are characterized by their combination of sweet, spicy, and sour flavors. The soups are usually made with a tamarind-based broth, and they typically include chunks of pineapple, tomatoes, okra, bean sprouts, or other vegetables.
Most varieties are prepared with catfish, but some versions include carp, snakehead fish, eels, or salmon. These soups are usually topped with cilantro and served with rice on the side.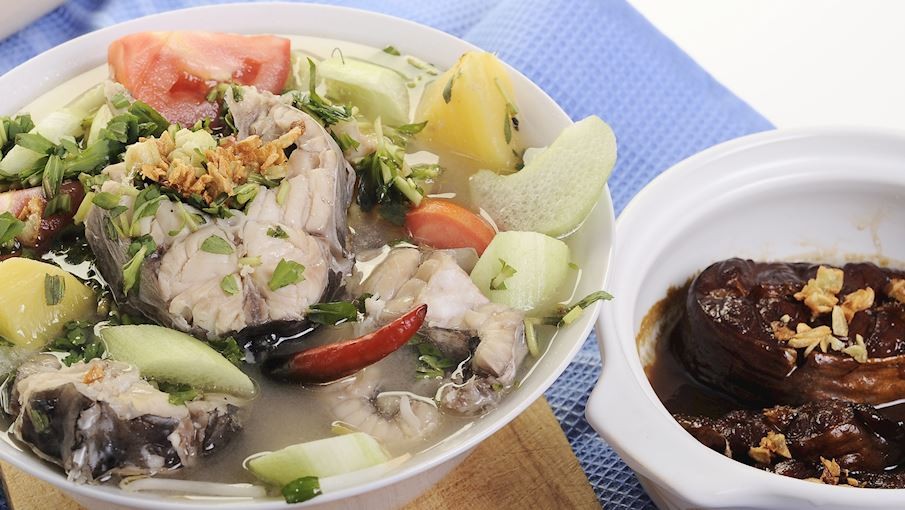 Photo: Taste Atlas
Grilled Freshwater Mountain Fish (Pa pỉnh tộp)
Pa pỉnh tộp is a traditional dish originating from the Thai ethnic minority group in the northwest of Vietnam. The dish consists of freshwater mountain fish that's grilled until soft. The fish eat leaves, crustaceans, and moss, and as a result their flesh is lean and with a unique flavor.
It's best to use carp for pa pỉnh tộp, although any fish can be used. Before the grilling process, the fish is cut and stuffed with ingredients such as garlic, ginger, chili, herbs such as dill, coriander, and green onions, and mak khen – a rare type of pepper from Vietnam's northwestern forests.
The fish is then folded in half and grilled over charcoal until golden brown. The dish is usually served with sticky rice on the side. During local festivities, pa pỉnh tộp is a staple offering to ancestors, and it's also often gifted between relatives, Taste Atlas said.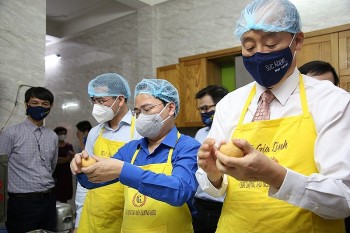 Viet's Home
Messages of hope and encouragement are being sent to medical workers through mooncakes, a seasonal delicacy of the Mid-Autumn Festival.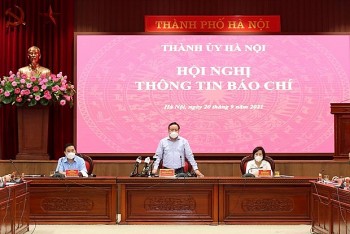 National
Vietnam News Today (September 21): Vietnam records lowest number of daily Covid-19 infections in a month; Hanoi removes zoning, travel permits from September 21; HCMC supermarkets welcome customers in low risk areas; Localities resume tourism services after Covid-19 hiatus.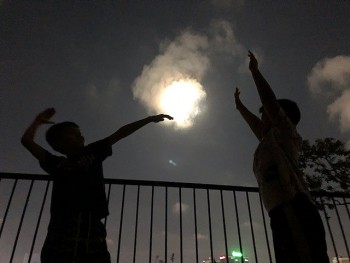 Expats in Vietnam
Vietnamese people have been worshiping the moon during the Mid-Autumn Festival for generations. In anticipation for the holiday, freshly vaccinated locals and expats have taken multiple photos of a stunning harvest moon in Hanoi's night sky.