Recipe for Delicious Vietnamese Sticky Rice with Hand-cut Mung Bean
Vietnamese Sticky Rice with Hand-Cut Mung Bean (Xoi Xeo) is a perfect breakfast choice for generations of Vietnamese. If you are a foodie, scroll through the article for insight into its recipe
(Video: Huong Bui Cooking)
Vietnamese Sticky Rice with Hand-Cut Mung Bean (Xoi Xeo) features soft-chewy golden sticky rice, wholesome mung bean and crispy fried shallots. It is a classic breakfast so many Hanoians love.
In fact, Xoi Xeo is a classic Vietnamese breakfast dish. Xoi Xeo also is a great anytime snack for children. It is made from glutinous or sweet rice. Xoi Xeo typically steamed and combined with a variety of beans. After that, for a sweet and savory taste, it was topped with shredded coconut, chopped peanuts, and fried onions.
The dish makes perfect breakfast choice for generations of Vietnamese and expats alike.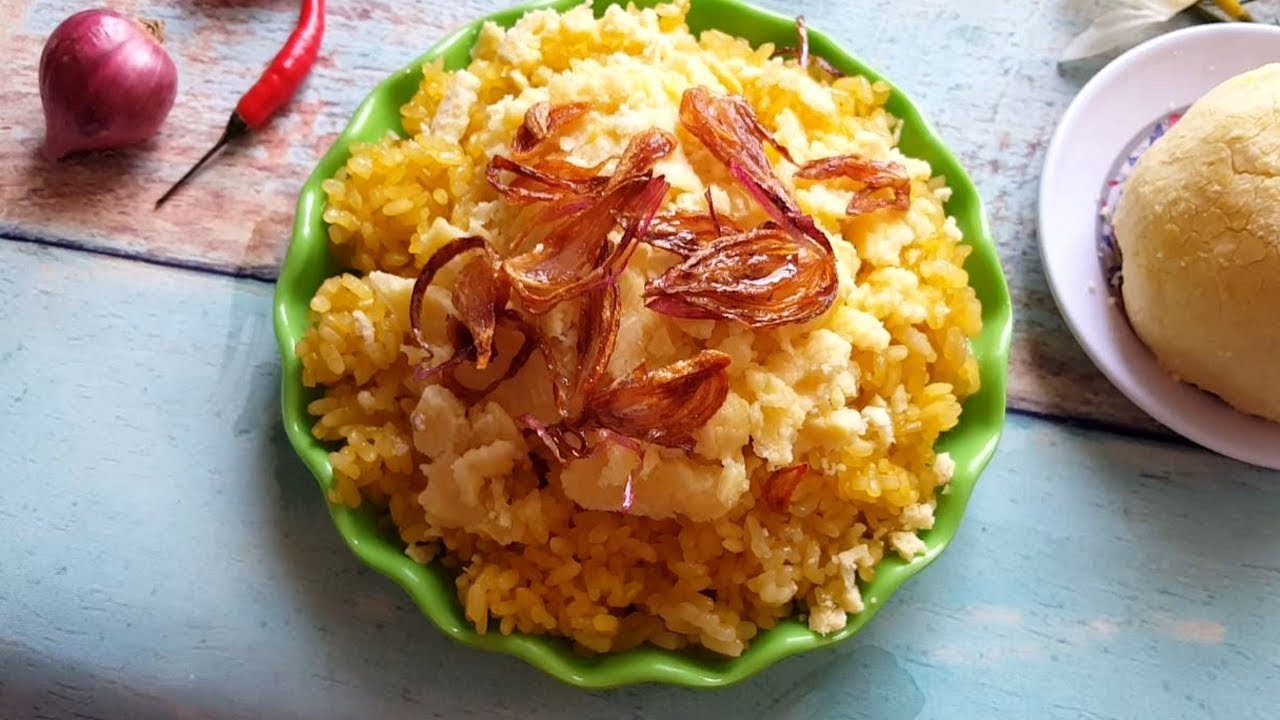 Photo:Youtube
Insider steps to make Xoi Xeo
Ingredients
• 1 cup dry roasted peanuts
• 3 Tbsp roasted sesame seeds
• 3 Tbsp sugar
• 1 tsp salt
• 3/4 cup peeled split mung bean
• 1 1/2 cups glutinous/sweet rice
• 1/2 tsp salt
• 1 1/4 cups water
• Onions, etc.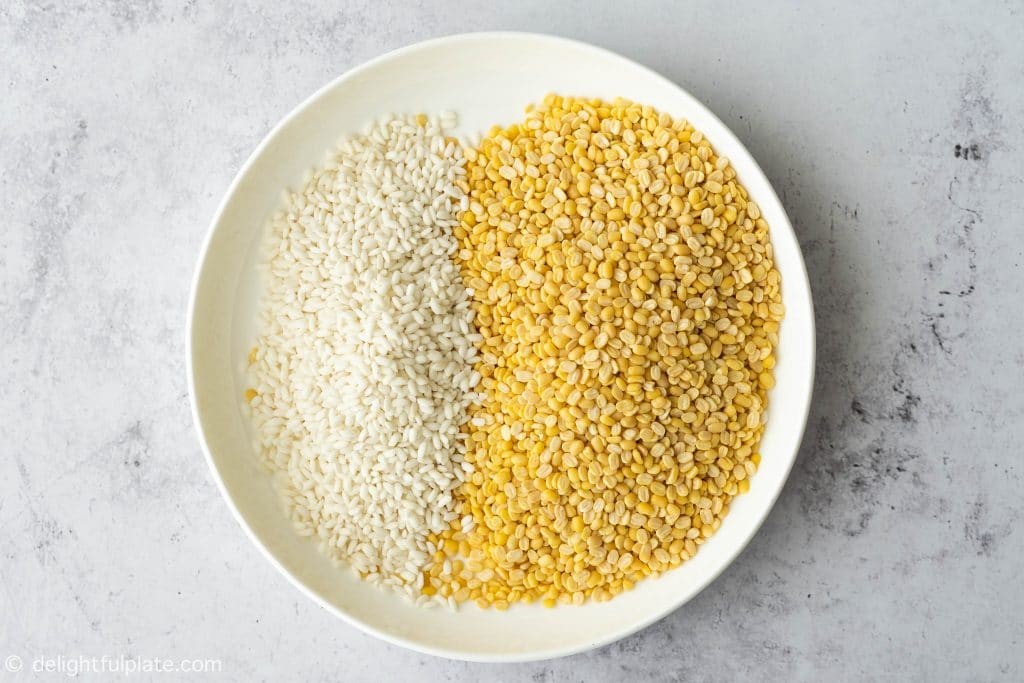 Sticky rice and split mung bean. Photo: Delightful Plate
Steps to cook Xoi Xeo
Wash the green beans until the water is clear (about 4 times). Soak the beans for 2 hours. Wash sticky rice until the water is clear (about 3 times). Soak the rice for 1 hour. Then, drain both green beans and glutinous rice and place them in a separate bowl. Put green beans in the pot to steam. Steam the beans for about 15–20 minutes. After the beans are cooked, put them in a blender or mortar. The onion is peeled, sliced into thin pieces. You should chop the onions before frying for a few hours, Best Price Travel suggested.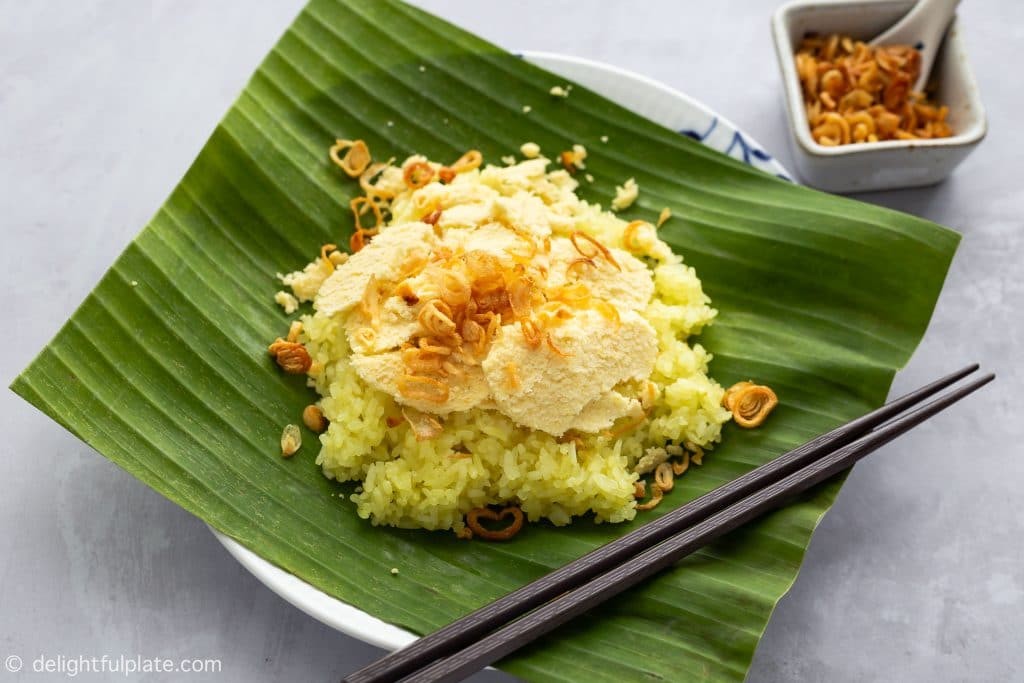 Photo: Delightful Plate
There is no denying that Xoi Xeo is good and easy to eat. However, the time to make this dish is quite time-consuming. You will have to work right from the stage of choosing glutinous rice and green beans. The cook must choose a good kind of sticky yellow flower. Then pick up, soak in warm water for about 5 hours and then add a little salt, put in the pot, and cooked it. Onions are sliced, sun-dried, put in a pan of fat, and fry it up. Chicken fat is heated, then put into a bowl. On the other hand, the Sticky Rice and Mung Bean just need to be warmed in the microwave for about a minute.
Some good places to eat Xoi Xeo in Hanoi
1. Ngon Restaurant
• Address: 18 Phan Boi Chau Street, Hoan Kiem District- 5 minutes by walk from Silk Path Hotel Hanoi and 5 minutes by taxi from Silk Path Boutique Hanoi
• Opening hours: 06:30 a.m – 09:45 p.m
2. Xoi Yen
• Address: 35 Nguyen Huu Huan, Hoan Kiem – 5 minutes by taxi from Silk Path Hotel Hanoi / Silk Path Boutique Hanoi
• Opening hours: 05:30 a.m – 11:00 p.m
3. Xoi Cat Lam
• Address: 24B Duong Thanh, Hoan Kiem District, Hanoi
• Phone: +84 965 464 858
• Opening hours: 07:00 am - 10:00 p.m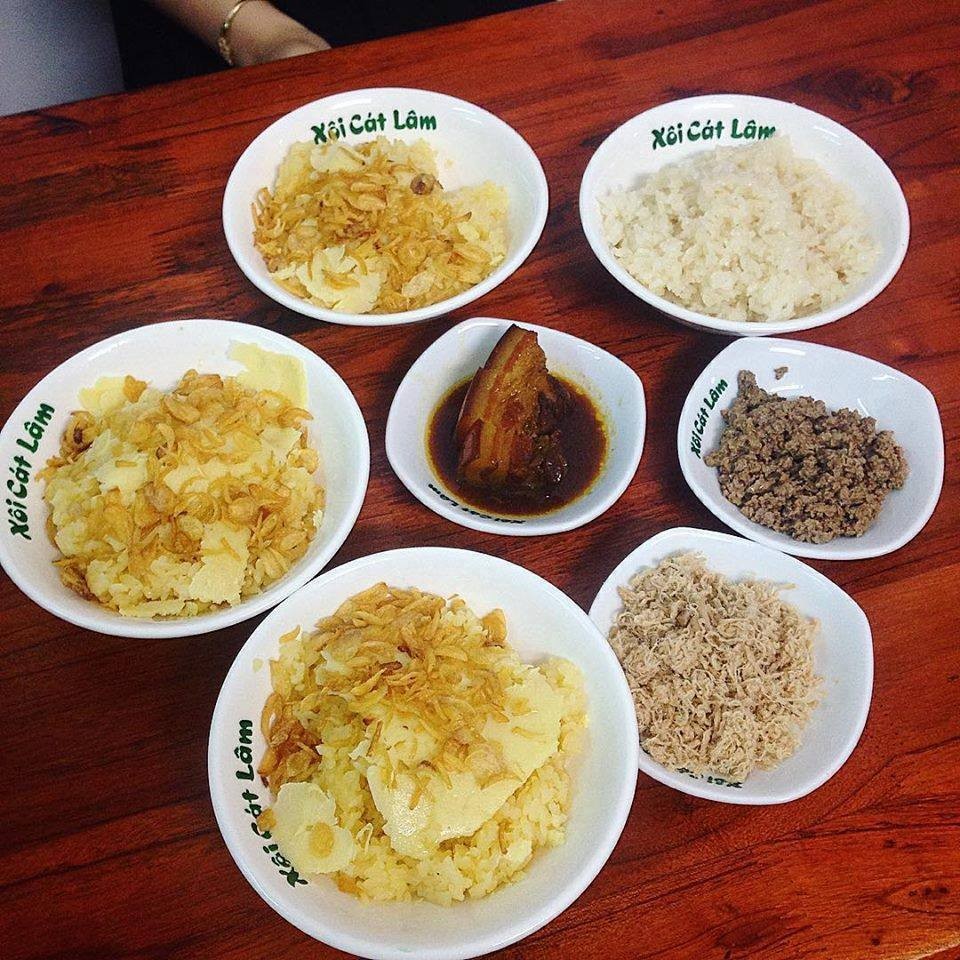 Xoi Cat Lam. Photo: Best Price Travel
Other Sticky rice choices to try in Vietnam
Xoi Gac (Gac Sticky Rice)
This distinct sticky rice gets its orange-reddish colour from the fruit gac, a type of melon first discovered in Vietnam and grown across Southeast Asia. People pair gac sticky rice with shredded coconut and sesame salt for a sweet treat or Vietnamese ham to make it savoury. Because of its bright colour, it is often used for special occasions, like birthdays or weddings, as reported by Quang News An.
Xoi Ngo (Corn Sticky Rice)
Sweet and savoury, soft and crunchy – a combination of contrasting flavours and textures best describes corn sticky rice. This starts with the base, followed by a handful of chewy steamed corn, crushed mung beans, shredded coconut and a generous amount of roasted peanut. Wait for the surprising topping: fried shallots!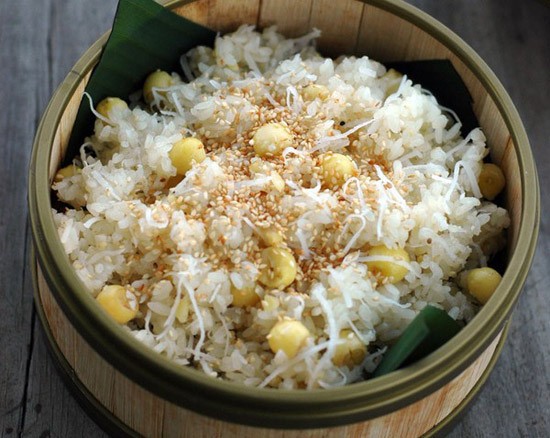 Xoi Ngo. Photo: Com Nam - Muoi Vung
Various Types of Xoi Ngot (Sweet Sticky Rice)
The base for these is glutinous rice cooked in coconut milk or infused with different leaves or herbs for natural colouring and flavour, such as pandan (for green) or magenta (for purple).
Vendors also steam peanuts, red or white beans together with the glutinous rice. Regular toppings include mung bean paste, shredded coconut, roasted peanuts, sesame salt and coconut milk.
Xoi La Cam (Magenta sticky rice) gets its purple colour from magenta leaves. The toppings are mung bean paste, shredded coconut and roasted peanuts. Some enjoy it with scallion oil for a savoury touch.
Proven health benefits of Sticky Rice
Sticky rice does have a unique nutritional profile that may include high levels of protein, as well as roughly 170 calories per cup of cooked rice. There might also be various B vitamins, selenium, zinc, magnesium, copper, and phosphorous. This rice may even contain fiber, but not as much as is found in brown rice and other forms of white rice. There is almost no fat or cholesterol of any kind in this rice.
The health benefits of sticky rice may include its ability to regulate diabetes, prevent chronic diseases, reduce inflammation, and optimize digestion, among others.
May Help Prevent Chronic Disease
Selenium and various other vitamins and minerals in sticky rice may help take on antioxidant properties in the body, which can lower your risk of chronic diseases and reduce oxidative stress in the body. [4]
May Reduce Diabetes
A recent study published in the Asia Pacific Journal of Clinical Nutrition states that eating sticky brown rice for a day may improve glycaemic control in patients with type-2 diabetes which was assessed by continuous glucose monitoring.
May Help Cure Inflammation
The copper, zinc, and B vitamins in this form of rice are known to potentially boost the strength of the immune system, which may help reduce unnecessary inflammation and reduce strain on your system.
May Improve Bone Density
With a variety of essential minerals in sticky rice, this popular variety might help build strong bones and lower your risk of osteoporosis as you age. [8]
May Improve Heart Health
With no fat or cholesterol to speak of, this variety of rice may even be a wise choice for those with heart conditions, high blood pressure, or those struggling with their weight.