Recipe for Boiled Chicken, A Simple yet Unique Taste of Vietnamese food
Boiled chicken is often considered a symbol of purity and best offering to ancestors during Tet and other spiritual occasions in Vietnam. If you're new to the dish or still don't know how to make a perfect boiled chicken, follow the article for its recipe.
(Video: Thu Ha Noi)
Ingredients
• 1 chicken
• 1 dried lime peels
• 1 tsp salt
• 2 tsp ginger
Directions
• Wash the chicken with salt and water, let it dry.
• Add 3 liters water, ginger, salt and the chicken into a pot, boil in 30 minute.
• Dust the chicken with chopped lemon leaves.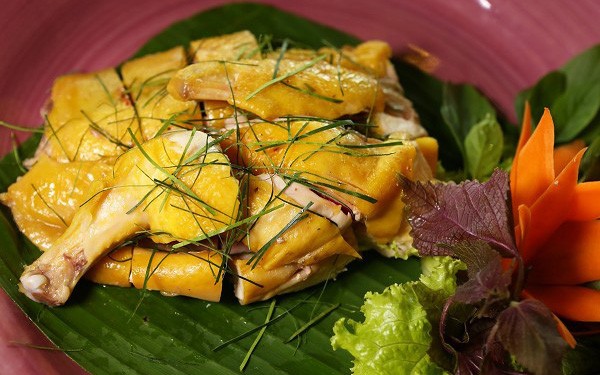 Boiled chicken is best sprinkled with shredded lemon leaves on top. Photo: Bao Dan Sinh
Chicken in Vietnamese's life
Living in a culture of wet rice civilization, Vietnamese has a deep connection with nature and to them, besides the buffalo, chicken is one of the six most familiar animals (including: chicken, pig, goat, buffalo, and horse).
Chicken was domesticated a long time ago and has occupied an important role in Vietnamese life.
Chicken for Tet
During Tet, boiled castrated cock is essential – it is often considered a symbol of purity and best offering to ancestors.
Cocks using for Tet need to meet the strict demands such as: crests must be bright red, feather is smooth, and legs are small – signs of a strong cock. After being boiled, the cock holding a rose in its beaks will be respectfully displayed on the family's altar. In some families, people trim a carrot into a flower to replace the rose, whether it is a rose or a trimmed carrot, it shows the Vietnamese's yin-yang concept, as the flower demonstrates the yin (female).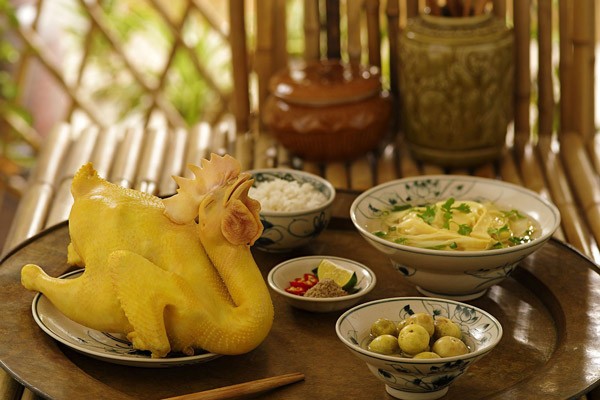 Photo: Meta.vn
The custom of telling fortune by chicken feet
Vietnamese believe that feet of the chosen cock (the one offered to Gods at New Year Eve) will let them know about the coming year of each generation in the family, Vietnam Online reported.
It requires an old and experienced person to read the message from a pair of cock's feet, but in general, nice yellow feet with clustered claws are good. As according to ancient people's explanation, "chicken use 3 claws to dig land to find food, 4 claws to fight against enemies. When a chicken clusters its claws, it shows the voluntary dedication".
Chicken feet which inform good signs will be hung on the kitchen's roof till the next New Year Eve, in the hope to bring about good luck for the family in the new year.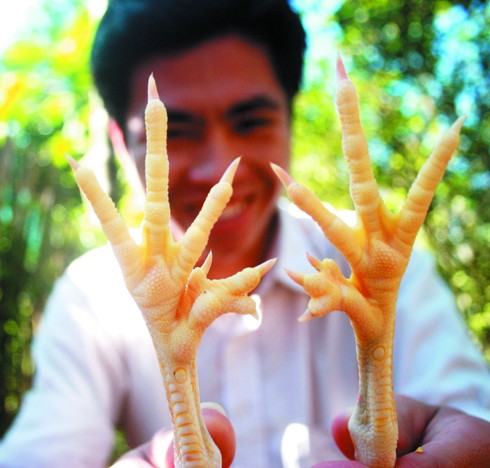 Photo: Amthuc365
The Vietnamese perception of chicken
Chicken brings many values such as rich-nutrient food, natural clock (Vietnamese farmers wake up as the chicken starts their dawn song) or in spiritual life, chicken or more precisely cocks symbolize for the divine relationship because they feature for 5 virtues of:
- Knowledge (Văn): cock' crest looks like ancient civil mandarin's hat.
- Martial art (Vũ): cock's spurs and beaks are used as powerful weapons in fighting.
- Bravery (Dũng): cocks protect hens and chicks.
- Care (Nhân): a cock can combine with many hens.
- Prestige (Tín): cock always crows on time, whether it is sunny or rainy.
The above aspects contributes to an indispensable role of the chicken in Vietnamese daily life.
Health Benefits of Chicken
Chicken makes a fantastic substitute for red meats. A great source of protein, the meat has been linked to a variety of health benefits:
Stronger Bones and Muscles
The lean protein in chicken is an excellent source of amino acids. Our bodies use amino acids to build muscle tissue, something that is particularly important as we age. Studies have also shown that higher protein intake helps to maintain bone mineral density. Eating chicken can help to build stronger muscles and promote healthier bones, decreasing the risk of injuries and diseases such as osteoporosis.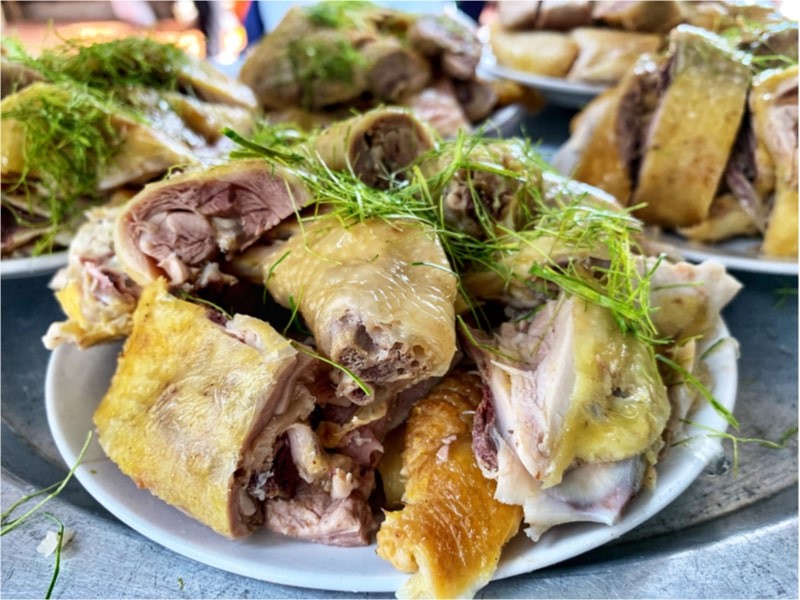 Boiled chicken - a very popular food in Vietnam, especially during Tet Holiday! Photo: Vietnam Online
Weight Management and Heart Health
Research suggests that 25-30 grams of protein per meal can help us feel more full. Protein rich meals can make us feel fuller despite us eating less, which helps to promote better weight management. Healthier weight leads to improvements in risk factors for heart problems such as high triglyceride levels and high blood pressure. A food rich in protein, chicken can help with weight management and reduce the risk of heart disease.
Better Mood
Chicken contains the amino acid tryptophan, which has been linked to higher levels of serotonin (the "feel good" hormone) in our brains. The tryptophan levels in chicken aren't high enough to make you feel instantly euphoric, but studies show it could help to boost serotonin levels when paired with other factors.
Nutrition
Chicken is filled with high-quality proteins and doesn't contain much fat — especially if you eat lean cuts. Beyond its rich protein content, chicken also contains:
Vitamin B12
Tryptophan
Choline
Zinc
Iron
Copper
Nutrients per Serving
A raw, boneless skinless chicken breast fillet contains:
Calories: 120
Protein: 26 grams
Fat: 2 grams
Carbohydrates: 0 grams
Fiber: 0 grams
Sugar: 0 grams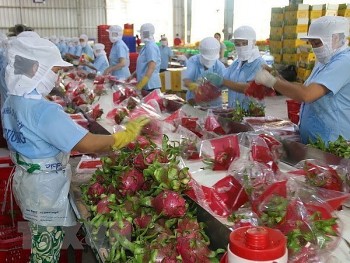 Make in Vietnam
Denmark and Vietnam strengthen cooperation in production, certification and management of organic products