National Flag Making Tradition Preserved By Three-Generation Family In Hanoi's Outskirts
A family in the outskirts of Hanoi has three generations of making national flags.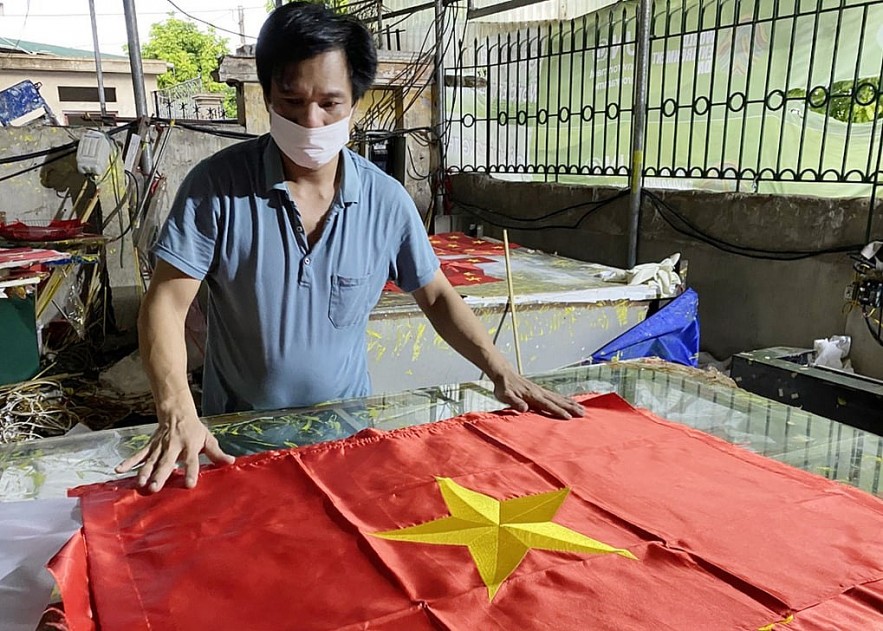 Nguyen Van Phuc is making a national flag at his workshop in Tu Van Village. Photo VnExpress
Carefully wrapping 200 national flags in a bag, Nguyen Van Phuc rode his motorbike in the rain to the post office located 10km far from his house to send the flags to a customer in Son La Province.
He wanted the flags would be send to the customers on time for the National Independence Day's decoration.
Phuc is a craftsman of Tu Van Village, which is well known for embroidering and weaving national flags for more than 75 years.
Phuc, now at the age of 45, has been doing this work for 30 years. Growing up in a family with three generations making national flags, he said "My happiness is to see the red-colored and yellow-starred flags flying on the streets."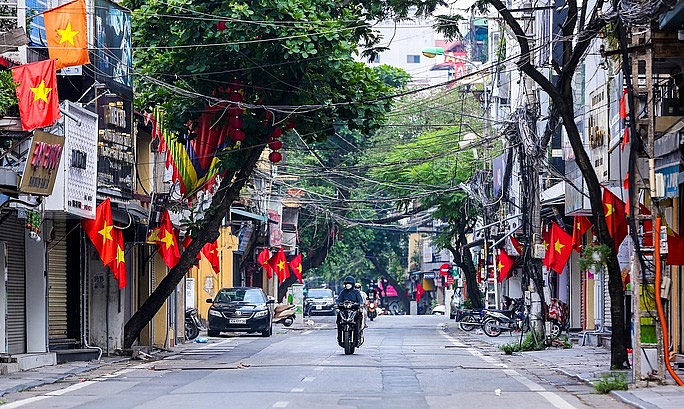 A quiet street in Hanoi during the social distancing period is brighten up by the red color of national flags on the National Indepence Day. Photo Nguoi Lao Dong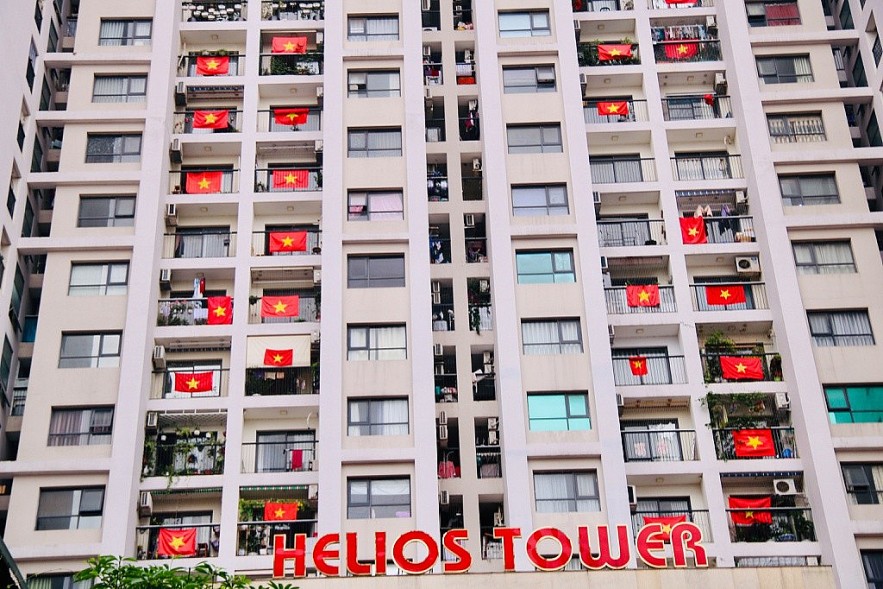 An apartment building in Hanoi was decorated with national flags last year in a Covid fighting campaign. Photo Thanh Nien
His favorite daily work is to send flags to the fellows of his age who are about to leave to village to work far from home.
In a small house in Tu Van Village, Phuc's wife, Dao Thi Duyen, still works hard every day to embroider the flags.
Having done this work for 30 years, it now takes Duyen about 10 minutes to finish embroidering a flag.
This year due to social distancing orders in many places, the demand for national flags on the National Independence Day has declined.
"In the previous years, my family had to hire more tailors to help in order to meet huge demand from localities across the country," Duyen told VnExpress.
"Children in the village also came to help in their free time and earned more money to afford textbooks. It is also a chance for them to listen to the older generation who tell stories about the national flag making tradition," Duyen said.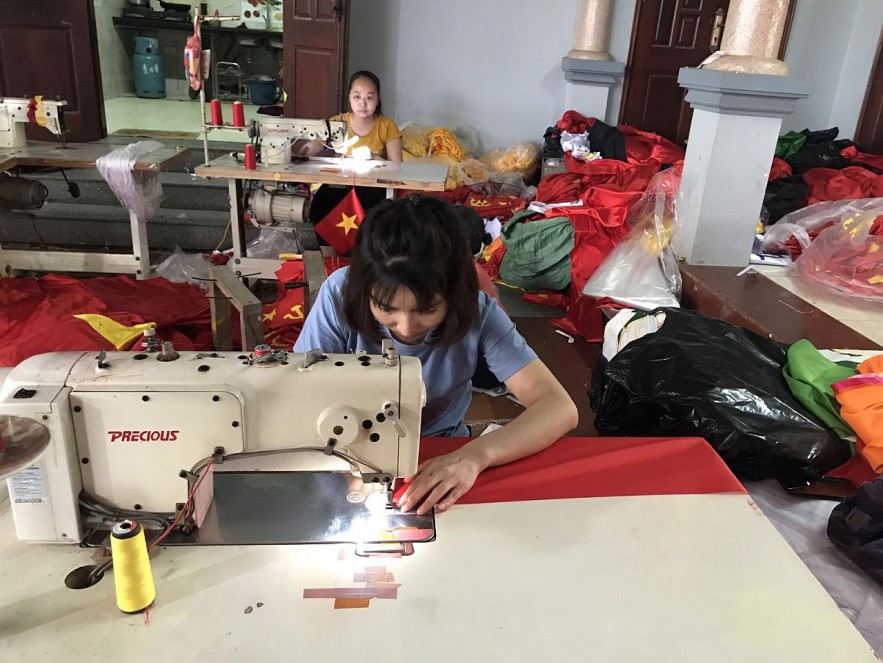 Not only adults, children of craftsmen also help at Phuc's workshop on high-demand days. Photo Bao Tin Tuc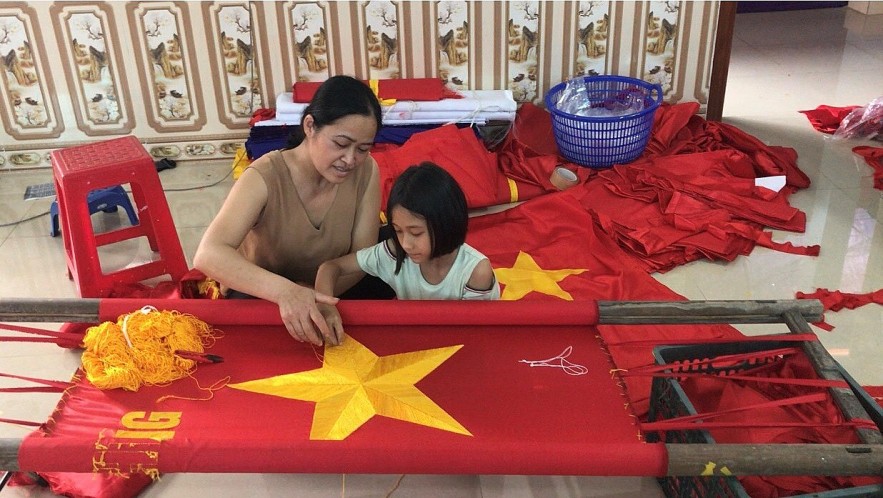 Photo Bao Tin Tuc
Dang Thi Dam, Phuc's mother, said Tu Van Village had embroidered folk paintings since the 16th century, but flag sewing and embroidery only started around 1945. In 1945, to prepare for the national General Uprising, the Revolutionary Committee visited the village to order national flags.
"My father told me that the flags which are the biggest, the most beautiful and embroidered the most sharply are flags made by craftsmen from Tu Van Village," she said.
When peace was restored in the north, tailors and craftsmen of Tu Van Village were recruited into cooperatives on Hang Bong Street to make national flag.
"At that time, fabrics were bought from La Khe Village, Ha Dong District, while tassels could only be bought from Trieu Khuc Village in Thanh Tri District," Dam said.
After 1975, especially when Vietnam opened the economy, many people in the village put aside the flag embroidery and switched to trading.
"More than 30 years ago, when my son was young, I told him to learn the traditional flag making craft of the family. Seeing that Phuc learned quickly, me and my husband encourage my son to expand the national flag production to preserve the tradition."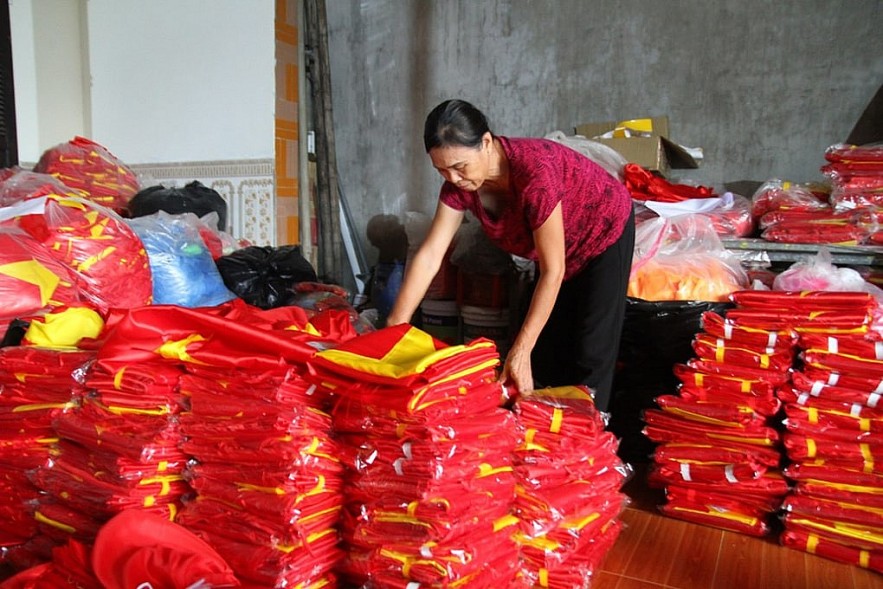 Dang Thi Dam helps her son fold and pack national flags. Photo VnExpress
Dam said she named his son 'Phuc' which means 'Revive' in English hoping his son can revive the village's traditional craft.
Before opening a flag making workshop, Phuc started to learn how to embroider the flags like other craftsmen.
Dam always tells his son "In order to be able to sew a national flag, you must first know how to embroider on a red canvas. This is a foundation to preserve and develop the craft."
In order to keep up with the requirements of the market, Phuc and his wife applied modern machinery to sew flags to make the products more beautiful and increase productivity.
Phuc adjusts a fabrics-cutting machine. He applies technology to increase productivity. Photo VnExpress
He said "My passion for embroidering national flag has been inherited from my parents and grandparents so I chose this job to make a living."
Phuc made a 54-square-meter flag, representing 54 ethnic groups in Vietnam. The flag is being hung at the Lung Cu flagpole in Dong Van District, the northernmost province of Ha Giang.
According to Nguyen Van Nham, head of Tu Van Village, there are now only about 20 people in the village who keep doing the flag making craft because embroidery takes a lot of time while the number of orders is declining.
During the pandemic, Phuc said the number of orders declined by two thirds. Sometimes he receives small orders from localities which are not applying social distancing rules.
In spite of difficulties, Phuc and his family members are still trying to preserve the tradition and believed that one day Viet Nam can win over the pandemic.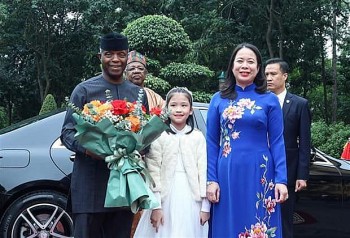 National
The two countries have strived to raise their bilateral trade to over USD 500 million and become important trade partners of each other in respective regions.