National Independence Day: Weather forecast, celebrative events across Vietnam
Vietnam expects nice weather patterns on September 2, known as the National Independence Day. Given the COVID-19 pandemic, the celebration this year is a little bit different than normal, however, significant events and offerings will still take place.
Vietnam expects pleasant weather on September 2
Vietnam National Independence Day is expected to be a pleasant day with temperature ranging from 29-37C, mild sun in the daytime, which facilitates people's commuting and outdoor gathering.
According to the National Center for Meteorological and Hydrological Forecasting, the North is going to be sunny during daytime though there might be torrential rain and thunderstorms by the evening and at night. Temperature might range from 33-36C.
The Central Highland and southern regions are expecting the same weather patterns as the north, though the temperature might be a little lower at 27-30C and 29-32C, respectively. Central provinces from Thanh Hoa to Quang Tri will experience a hot holiday, with temperature ranges from 32-37C.
Bus stations in Hanoi turn to online ticket selling to reduce gathering
On national holidays such as the National Independence Day, people's transporting demand often jumps high as a large influx of city dwellers move back to their hometown to reunite with family, packing bus stations. This year, however, given the straining COVID-19 situation, the number of bus goers and travelers might be lower than previous years.
Major bus stations in Hanoi are strengthening online ticket selling, in a bid to lower the number of ticket buyers gathering. The capital is also adding more buses, staff, and ticket counters to meet social distancing rules in case the demand rises high.
Moreover, all citizens must wear face masks and strictly follow protective measures against the coronavirus.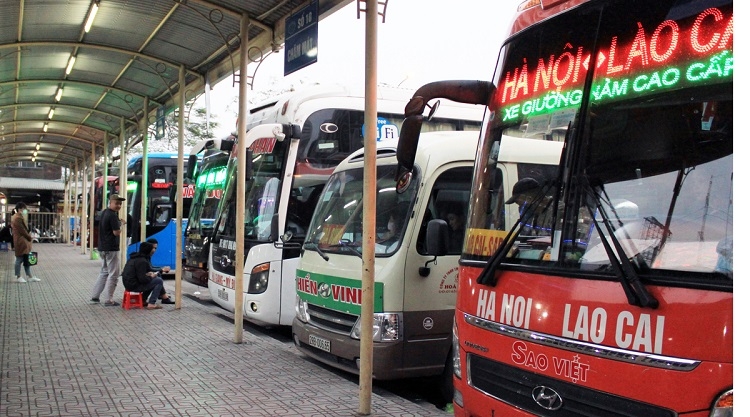 This year, the number of bus goers and travelers might be lower than in previous years (Photo: BGTVT)
Strings of celebrative activities in Hanoi capital
In celebration for the significant event, streets in the capital city of Hanoi are decorated with national flags, colorful flowers, banners, and slogans to celebrate the 75th anniversary of National Independence Day.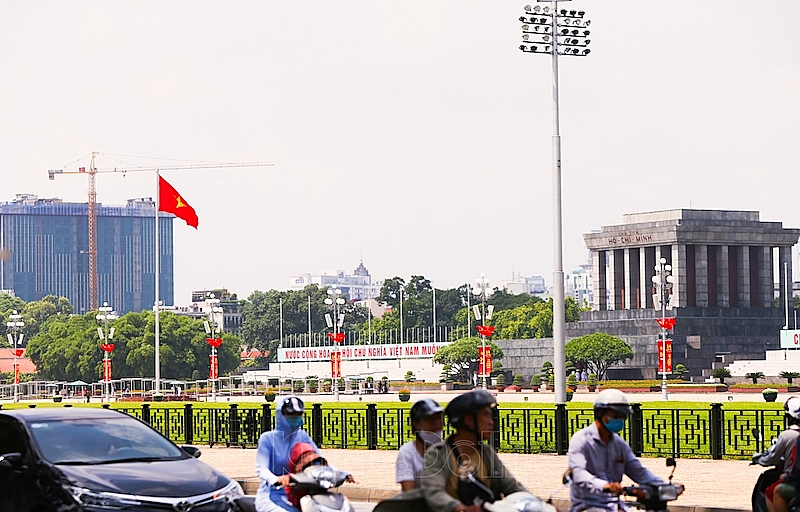 The streets in Hanoi is full of flags and banners (Photo: Hanoi Times)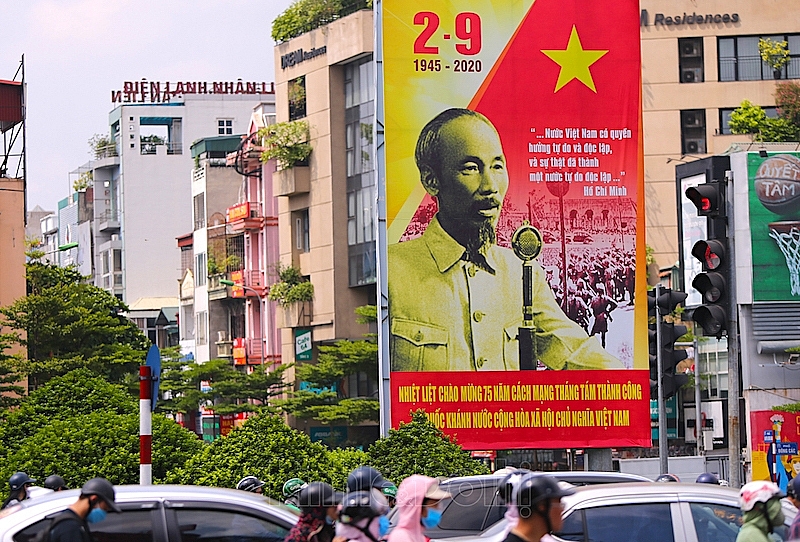 (Photo: Hanoi Times)
An exhibition entitled "Chap Canh Uoc Mo" (Wings of Dream) is also among the celebrative programs in Hanoi. The exhibition was held at Hoa Lo Prison Historical Relic Site, Hanoi starting August 28.
The event exhibits historical documents, photos, and objects which affirm the great significance of the August Revolution in Vietnam's history. The highlights of the exhibition are photos of old-styled classrooms attended by students who were all middle-aged and above, all went in to learn basic literacy and numeracy skills. As there was no electricity back then, the special classes – normally held in cottages, high-walled houses, or even hospitals – were illuminated with the iconic oil lamps.
On top of that, photos of ill children treated at the Central Children Hospital are also on display, aiming at bringing these patients a flicker of hope and a will to win over the diseases.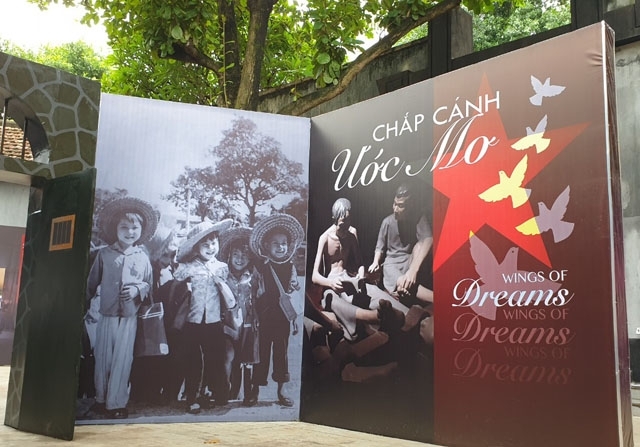 "Chap Canh Uoc Mo" exhibition in Hoa Lo Prison (Photo: To Quoc)
Moreover, a book entitled "August Revolution 1945 - the first great victory of the Vietnamese people in the 20th century" has been released by the Ho Chi Minh City Publishing House.
The six-chapter book is co-authored by Prof, Dr and People's Teacher Trinh Nhu and Assoc. Prof. Dr. Tran Trong Tho, emphasizing the tremendous successes of the August Revolution.
Events in the South
In the South, a string of celebrative events is also scheduled to take place.
From 7 am to 5 pm on September 1, there will be incense offering and flower offering ceremony at the Ho Chi Minh Museum, Ton Duc Thang Museum, and President Ho Chi Minh's Monument Park.
Ho Chi Minh People's Committee will also hold a meeting with the diplomatic missions, and international organizations in Ho Chi Minh City. Musical performance is also among the events to celebrate on September 2.
In addition, outstanding literary, artistic, and journalistic works under the theme "Studying and following Ho Chi Minh's moral example" had earlier been awarded on August 28.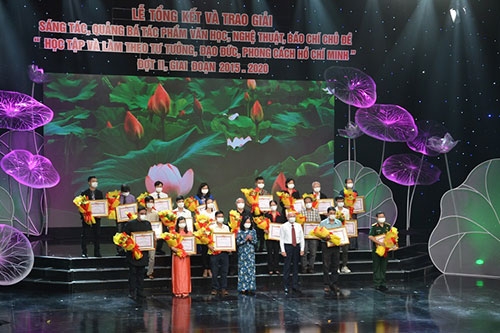 Outstanding literary, artistic, and journalistic works were awarded on August 28 (Photo: Thoi Bao Tai Chinh)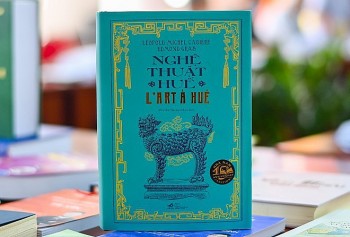 Expats in Vietnam
Inspired either by Vietnamese art or the people themselves, foreign authors often find inspiration in the S-shaped nation.