Nationwide social distancing only adopted if pandemic 'out of control'
The country will only use social distancing across the country as a last resort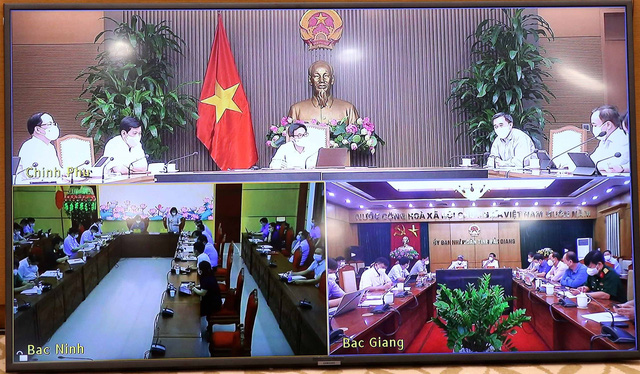 At the online meeting. Photo: VNA
Vietnam will only apply nationwide social distancing if the Covid-19 pandemic is out of control, experts affirmed at an online meeting of the National Steering Committee for Covid-19 Prevention and Control with Bac Ninh and Bac Giang Province.
Speaking at the meeting, Deputy PM Dam warned of the high risk of contagion in Bac Giang and Bac Ninh, requesting the latter to screen and conduct testing for workers in industrial zones.
He assigned the ministries of health, defense and public security to organize training for personnel in taking samples for testing to provide timely support for both provinces.
At the meeting, experts also asserted that nationwide social distancing would only be adopted if the pandemic was uncontainable. Vietnam is currently handling the pandemic well and implementing isolation effectively.
Tran Dac Phu, senior advisor to the Health Ministry's Public Health Emergency Operations Center, said it was not necessary to carry out social distancing nationwide, or even at provincincial level. Issuing a national social distancing order too soon could have great effects on realizing the dual goals of dealing with the pandemic while developing the economy.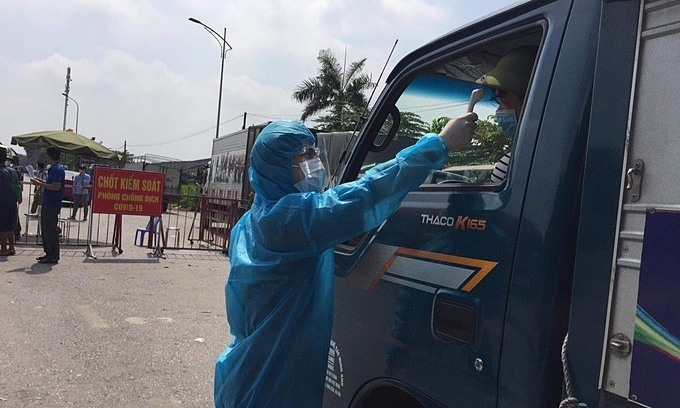 A medical worker checks the temperature of a driver in Bac Ninh Province. Photo by VnExpress/ Ngoc Ly.
The deputy prime minister also underscored the need for making health declarations, and tasked the ministries of information and communications and health to establish a hotline to help residents to make such declarations possible.
Leading medical experts from the health ministry were dispatched to lend a hand in Bac Giang on Saturday night after the northern province reported rapid transmission of Covid-19 over the weekend, according to Vietnamnews.
The working group included leaders of the Institute of Occupational and Environmental Health, National Institute of Hygiene and Epidemiology, Department of Preventive Medicine, Department of Health Environment Management and Hanoi's Bach Mai Hospital.
Also on Saturday, more than 200 medical workers from Vietnam-Sweden Uong Bi Hospital and the health department of northern Quang Ninh Province were sent to Bac Giang.
Associate Professor Tran Nhu Duong, deputy director of the National Institute of Hygiene and Epidemiology, a member of the health ministry's working group to Bac Giang, said the province should track down cases not only at industrial parks but also in the wider community.
He urged the local medical sector to mobilize Covid-19 community working groups to track down cases.
The health ministry presented 4,000 quick test kits to assist Bac Giang in the short term.
Vietnam recorded 37 new cases of Covid-19 community transmission, all in quarantine sites or sealed-off areas, in the 12 hours up to 6 a.m on May 17, raising the national count to 4,212, the Ministry of Health said.
Twenty-two of the new cases were reported in Bac Giang, 11 in nearby Bac Ninh Province, three in Vinh Phuc Province, and one in Tuyen Quang Province. There are no new hot spots.
So far, Vietnam has seen 2,746 domestic infections and 1,466 imported ones. The number of Covid-19 cases since April 27, when the new outbreak began, now stands at 1,176.
Among those still under treatment, 46 have tested negative for the coronavirus once, 26 others twice, and 28 three times.
Thirty-six patients have succumbed to the disease while 2,668 others have recovered.
A total of 108,288 people have had close contact with confirmed cases or come from foreign pandemic-hit regions and are under quarantine at present.
Meanwhile, 979,238 people have been inoculated against Covid-19 as of 4 p.m. on May 16, with 22,561 getting two shots.