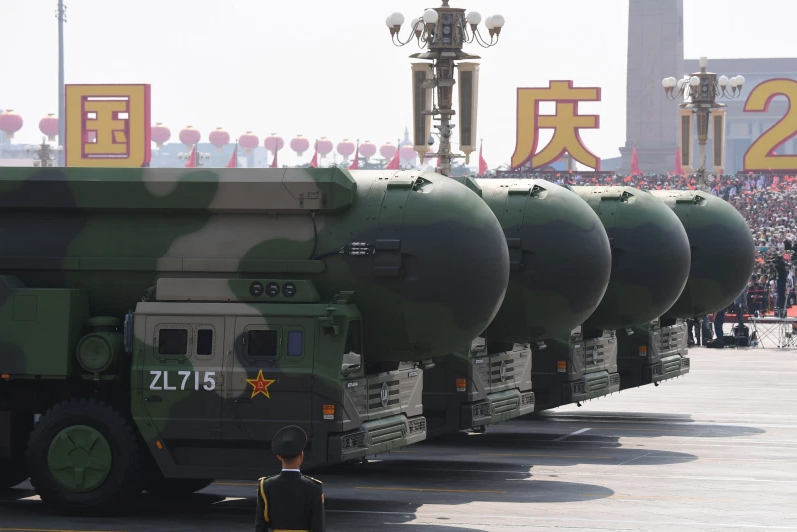 China's DF-41 nuclear-capable intercontinental ballistic missiles at a military parade on Tiananmen Square in Beijing on Oct. 1, 2019. (Photo: AFP)
Kotaro Fukuoka, a Nikkei Asian Review writer claimed in an article named "China poised to overtake the US in nuclear power by 2030" that China is on track to surpass the U.S. as the world's top producer of nuclear energy as early as 2030, reflecting hesitance to build new capacity in Japan and Western nations even as emerging economies move ahead.
Reasons behind China's emergence
According to the World Nuclear Association, China's total nuclear power generation capacity, including reactors under construction and in planning, came to 108,700 megawatts as of April, more than America's 105,120 MW.
The trend reflects diverging approaches to nuclear power after the March 2011 Fukushima meltdowns in Japan. While the U.S., Europe, and Japan grew risk-averse in response to public fears, emerging nations have been keener, China and Russia have emerged as the main suppliers.
Even though the U.S. still leads in terms of capacity in operation, with about 98,000 MW by decommissioning reactors with few new ones in the pipeline to replace them, China has 11 new reactors under construction and more than 40 in the planning stages.
Japan imposed tough regulations on nuclear plants after the Fukushima disaster and moved to scrap aging facilities. China, by contrast, has started about 30 new reactors since the disaster. Russia and India have nuclear plants in the planning stages or under construction that would double their capacity. These three countries are developing next-generation nuclear technology and have a plethora of research reactors and prototype units in the works.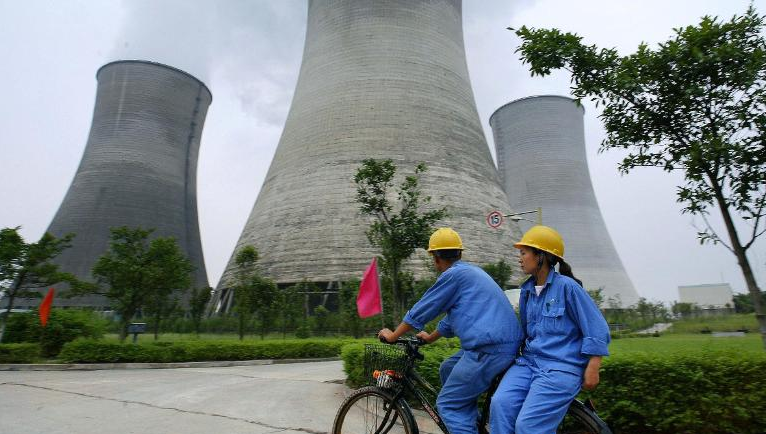 Workers cycle past power stations in Guangan, in southwest China's Sichuan province. (Photo: AFP)
China's big plan for nuclear power
China's ambition to become a nuclear giant is not unfamiliar with international experts. In an article in 2019, CNN Business stated that with around a dozen nuclear power plants in the works, China will overtake France as the number two producer of atomic energy worldwide within two years. If it continues with its aggressive plan, it will surpass the United States to become number one by 2030. BMI Research also analyzed that China's rapid nuclear expansion will result in it overtaking the U.S. as the nation with the largest atomic power capacity by 2026, Bloomberg cited in a 2017 journal.
"For a long time, China was basically subsidizing the (nuclear) industry, and now they're trying to put it on a market footing," said Miles Pomper, a Washington-based expert in nuclear energy at the James Martin Center for Nonproliferation Studies.
China has committed to boosting nuclear power, which accounted for about 1.7 percent of its total generation in 2015, to help reduce reliance on coal, which accounts for about two-thirds of the country's primary energy. The nation has 20 reactors currently under construction, according to the International Atomic Energy Agency. Another 176 are either planned or proposed, far more than any other nation, according to the World Nuclear Association.
Beijing, in parallel with its rapid domestic build-up, is marketing nuclear power equipment to developing countries that face electricity shortages, Nikkei Asian Review said.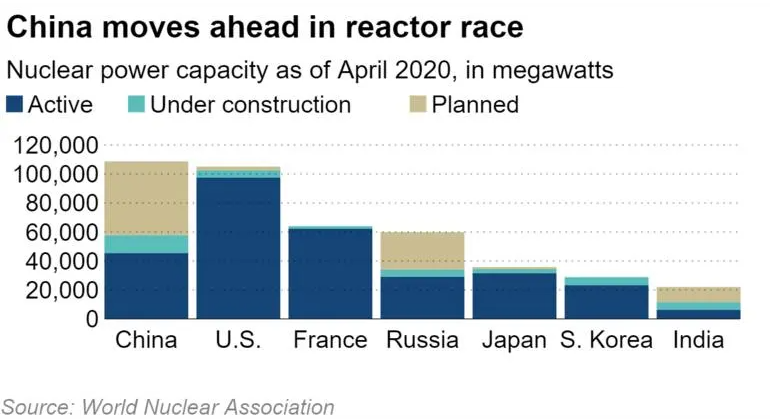 Beijing's rise in nuclear power: Concerns of proliferation. (Photo: WNA)
Beijing's rise in nuclear power: Concerns of proliferation
In the mentioned article, Nikkei Asia Review quoted: "China and Russia have looser conditions than countries like Japan and the U.S. when it comes to requiring buyers to have safeguards to prevent nuclear power exports from being diverted to use in weapons," said Hirofumi Tosaki, a senior research fellow at the Center for Disarmament, Science and Technology within the Japan Institute of International Affairs.
Maria Korsnick, president and CEO of the U.S. Nuclear Energy Institute, said last year that Chinese and Russian "efforts to promote nuclear power internationally are core parts of their foreign policy."
On 16 October 1964, China exploded its first nuclear device. China has since consistently asserted that its nuclear doctrine is based on the concept of no-first-use, and Chinese military leaders have characterized the country's nuclear weapons as a minimum deterrent against nuclear attacks.
China formally acceded to the NPT in March 1992, as a nuclear-weapon state. The People's Liberation Army is fielding a large variety of modern, nuclear-capable missiles, of various ranges, some fitted with penetration aids and multiple independently targetable warheads, Foreign Policy journal stated.
Valerie Mai