Odd-looking lingula forms soul of Ha Tien cuisine
Despite their strange appearance, lingula are the main ingredient in many signature dishes in Ha Tien city of Kien Giang province
It is impossimbe to discuss the cuisine of Ha Tien, a city in Kien Giang famous for its fusion of Vietnamese, Khmer, and Chinese food, without mentioning lingula (cà xỉu).
Lingula is a genus of brachiopods (lamp shells), animals that have hard shells and valves on their upper and lower halves. The lingula has green outer part and soft flesh that is full of umami flavor. They live along the estuaries, in brackish water. The front of a lingula can be opened for feeding and closed for protection.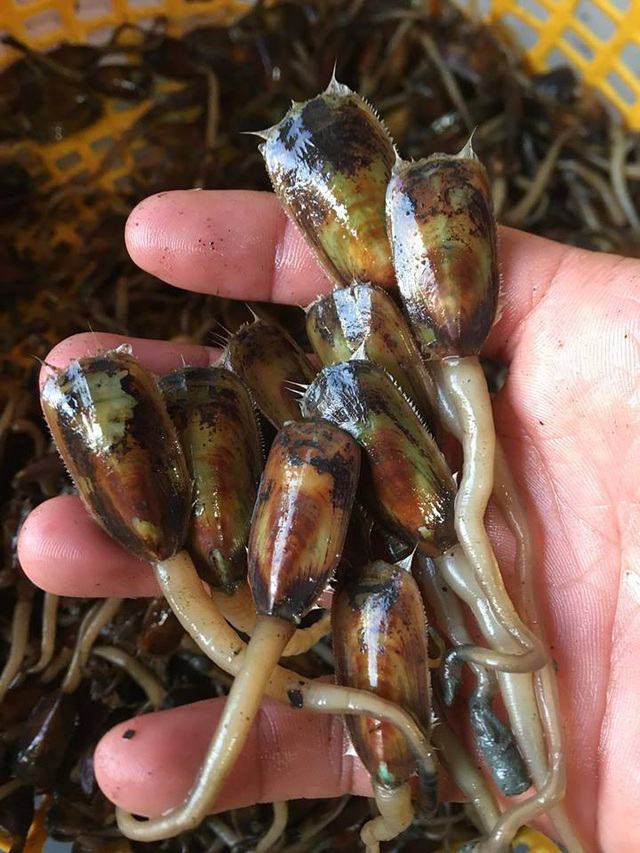 Lingula has an unattractive appearance that drives many away / Dantri
Locals say lingula can be caught all year round, but the best period to catch this peculiar shellfish is from June to August. Lingula spends most of its time hiding in muddy sediments and can be found in the Dong Ho Lagoon of Ha Tien.
The shellfish has an unattractive appearance that can drive tourists away when they see it for the first time. Despite its look, lingula is an indispensable ingredient in various signature dishes that have been part of Ha Tien cuisine for generations.
To make quality food from lingula, locals select the freshest ones, similar in size. Because lingula lives in mud, cooks need to be meticulous.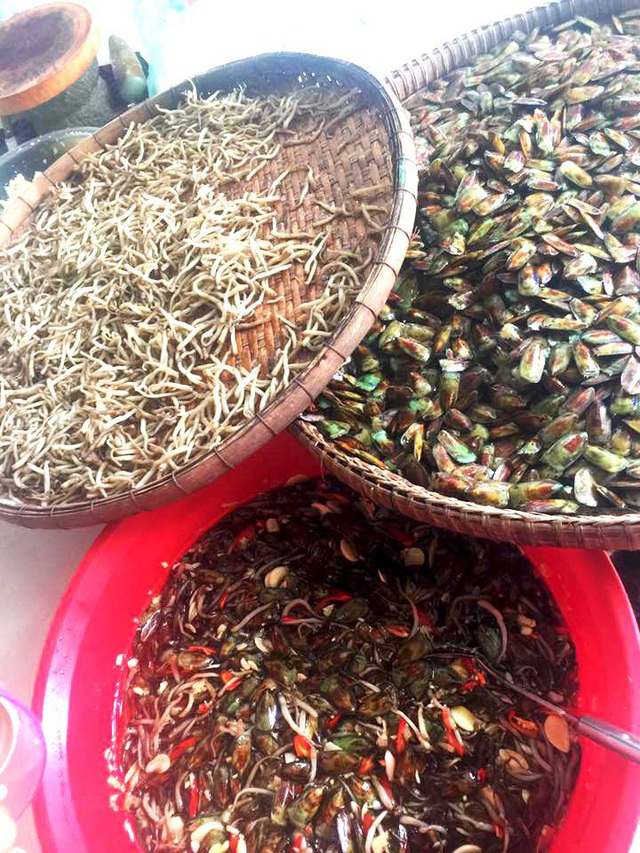 Preparing lingula is a painstaking process / Dantri
After catching lingula, they must be soaked in freshwater for several hours, so the dirt inside their bodies can be released, then cleaned in freshwater again. Lingula is usually salted before being used.
The most nutritious part of a lingula, according to locals, is the tongue because of its crunchiness. In addition, the tongue is considered a miraculous medicine that can boost testosterone in males.
Fermented lingula, or mắm cà xỉu, is one of Ha Tien's signature dishes. Although it is not popular amongst tourists, fermented lingula has become a part of people's lives in Ha Tien.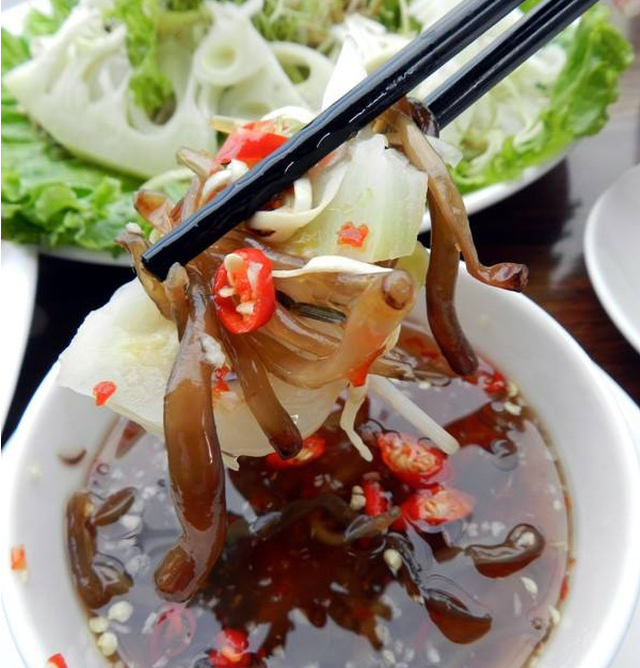 Fermented lingula, or mắm cà xỉu, a signature dish of Ha Tien / Dantri
After being cleaned, the lingula is mixed with salt to create mắm cà xỉu, by putting lingula and salt in a jar and alternating one layer of salt between two layers of lingula. Depending on personal taste, some make fermented lingula using saltwater or rock salt, while some prefer to add sugar to speed up the fermenting process.
Lingula fermentation may sound like a simple process, but it requires good cooking skills and experience. The quality of the final product depends on the techniques applied. If adding too much salt, the lingula will turn black; not enough, and the fermented lingula can become inedible.
While lingula can be fermented or cured, the best way to cook it is by sautéing. When preparing sautéed lingula, cooks usually keep the shells intact. This method of cooking lingula is believed to retain all its flavors. Although lingula can be cured to make mắm cà xỉu, locals usually ferment lingula for a few hours beforehand. Some start fermenting lingula in the morning and cook it in the afternoon to retain its freshness.
Lingula is sautéed with fried shallot and seasonings such as fish sauce, pepper, and sugar. Sautéed lingula tastes best when served hot. To eat the dish, people need to crack open the shell to take out the flesh inside. Sautéed lingula is considered a dish that can improve one's patience!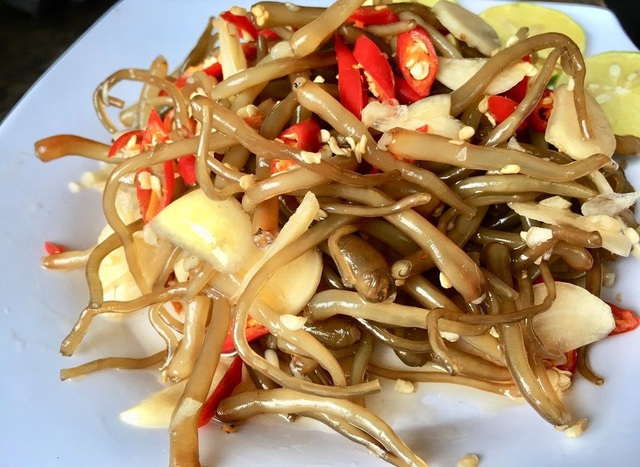 The tongues of lingulas are crunchy and believed to boost testosterone in males / Dantri.
Lingula salad is another famous dish in Ha Tien. Salted lingula is parboiled to reduce salinity, then mixed with julienned mango, Thai basil, and sweet-sour fish sauce. Roasted peanuts and fried shallots are added before serving to boost the dish's flavor.
The umami flavor mixing with the crispy tongues and the flavorful dressing will leave a lasting impression on those who taste the dish, despite its slightly scary appearance.
In Kien Giang, tourists can enjoy dishes made with lingula in local markets, food stalls or restaurants. Dishes usually cost between VND 30,000 to 70,000.