Ant egg cake - the gift of forest that can only be tasted once a year.
Ant egg cake is made from sticky rice flour, ant eggs, and young fig leaves. As summer begins, the Tay ethnic minorities in Cao Bang province go foraging to find the eggs of black ants to make ant egg cake.
Ant egg cake is a unique dish created by the Tay ethnic minority group who lives in the northeastern region of Vietnam, around the Bac Kan and Cao Bang areas. The main ingredient for an ant egg cake is the eggs of black ants. Ant egg cake is usually made at the end of April through May because this is the reproduction season of wild black ants.
After being washed, ant eggs are sauteed with minced pork, dried shallot, finely crushed roasted peanuts, and thinly sliced scallion leaves. The leaves used to wrap ant egg cake are not banana leaves but young fig leaves. When eating, people will also eat the leaves.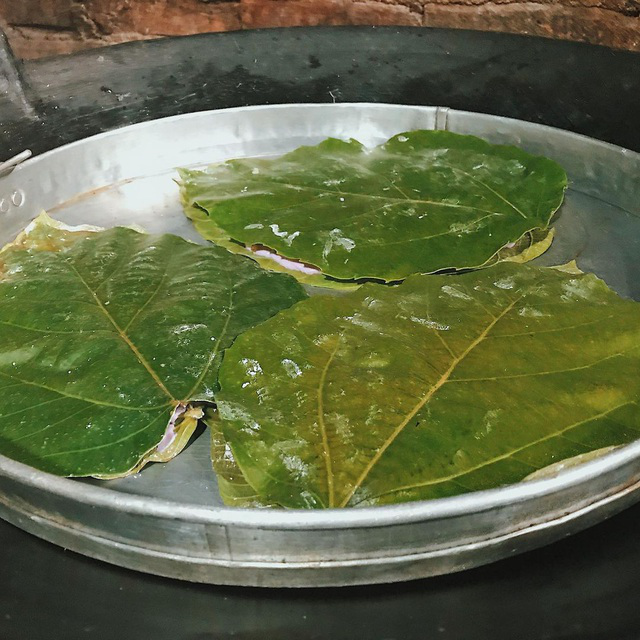 Photo: Young fig leaves are used to wrap ant egg cakes. They can relieve body heat and detox the liver / Dantri.
To make a delicious ant egg cake, the cooks must undergo many steps. Sticky rice must be sifted to remove impurities, then soaked in cold water overnight. After being drained, the rice is grounded into flour and kneaded with water.
Once the rice flour dough is smooth and soft, it will be rolled into square pieces roughly 0.5 centimeters thick and about the size of the palm. These pieces are then pasted on young fig leaves and sprinkled with the fillings.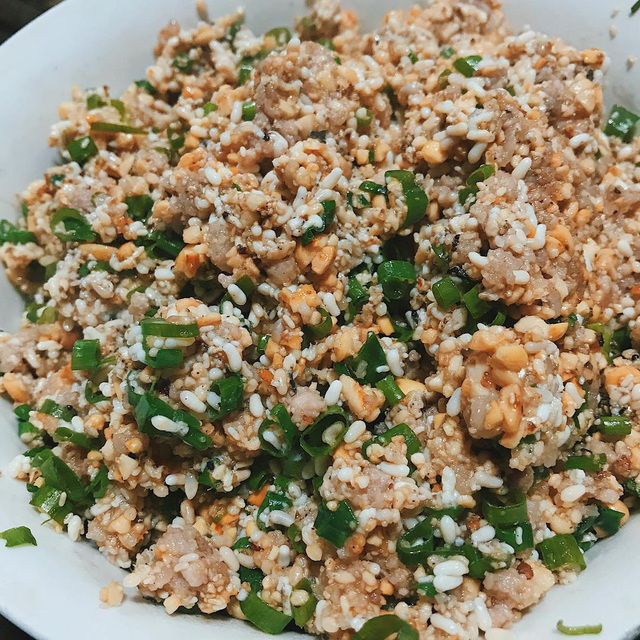 Photo: Wild black ant eggs mixing with minced pork, dried shallot, roasted peanuts, and scallion leaves / Dantri
Afterward, the cooks will cover the raw cake with another layer of fig leaves and roll the cake so that the dough and the filling are covered entirely. Ant egg cake is steamed for about 45 to 50 minutes until fully cooked.
When served, ant egg cake is cut into a small square before arranging on a dish. People can immediately feel the richness of the fillings complementing the soft, chewy sticky rice. Ant egg cake is eaten with fig leaves, which can relieve body heat and detox the liver. Therefore, eating ant egg cakes is beneficial to health.
Photo: Ant egg cake has its unique flavor / Dantri
To gather young ant eggs, the Tay ethnic minorities must go foraging and find colonies of harmless ants like the black ants, which have small bodies and pointed tails. This type of ants usually lives on bamboo trees or randias. The eggs of black ants are as big as grains of rice, white in color, and oval in shape.
If you can come to Cao Bang and other provinces in northeastern Vietnam, don't forget to try this unique cake and buy some for your friends and families.
In Hanoi, ant egg cake is sold at VND 10,000 to VND 20,000/piece (US$0.4 to US$ 0.8/piece), depending on the sizes and quantities.