WHO speaks highly of Vietnam's vaccine management system
Vietnam's vaccine management system reaches the second-highest level in the Global Benchmarking Tool (GBT), WHO confirms Wednesday.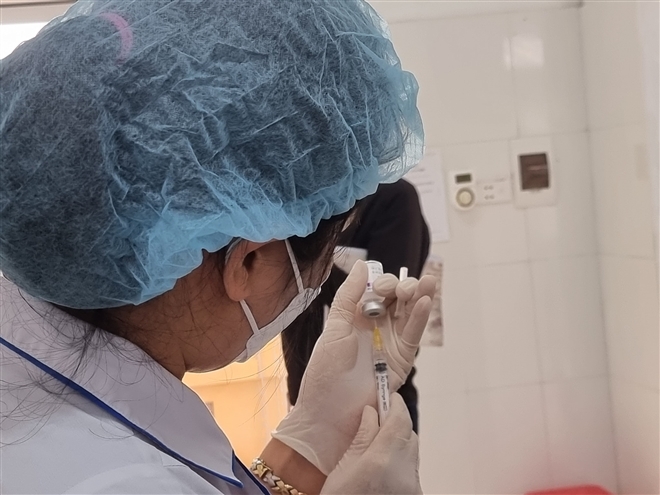 (Photo: VTC News)
According to the World Health Organization (WHO), Vietnam's vaccine National Regulatory Authority (NRA) reaches level 3 of completion – the second-highest rank in WHO's rating scale.
Vietnam's vaccine NRA, which has been maintained and developed over the past years, not only serves domestic vaccine demand but also paves the way for homegrown vaccine exportation, contributing to the global vaccine chain.
Vietnam has currently produced 11 vaccines against 11 diseases for its Extended Immunization Programs. These vaccines include vaccines for tuberculosis, diphtheria, pertussis, tetanus, hepatitis B, Japanese encephalitis, cholera, typhoid, measles, rubella, polio. The country is also capable of manufacturing other candidates for the treatment of seasonal flu, H5N1, rotavirus, VTC News reported.
The Global Benchmarking Tool (GBT) represents the primary means by which the World Health Organization (WHO) objectively evaluates regulatory systems, as mandated by WHA Resolution 67.20 on Regulatory System Strengthening for medical products. The tool and benchmarking methodology enables WHO and regulatory authorities to:
- identify strengths and areas for improvement;
- facilitate the formulation of an institutional development plan (IDP) to build upon strengths and address the identified gaps;
- prioritize IDP interventions; and
- monitor progress and achievements.
According to MHS, the GBT assesses regulatory system maturity using four levels, from Level 1 (no formal approach) to Level 4 (a sustained international level of performance with systematic continual improvement). More than 260 indicators related to nine broad categories of regulatory functions help regulatory authorities objectively identify strengths and areas for improvement. The GBT also allows countries, donors, and partners to plan for and work toward sustainability in a stepwise manner. Rather than relying on disease-focused or vertical assessments and interventions, it measures the varied system components that must work interoperably to make regulatory activities effective and efficient.
Regarding Covid-19 vaccines, Vietnam is having four potential indigenous candidates studied and developed by Nanogen, Vabiotech, Polyvac and the Institute of Vaccines and Medical Biologicals (IVMB), all have completed the laboratory production process.
While Vabiotech and Polyvac's vaccines are still under evaluation on animals, Nanogen's Nanocovax completed its first phase trial in late March and is currently under the second phase. The human clinical trials protocol, which includes three phrases, was approved by the Ethics Council of the Ministry of Health on December 9. Each phrase consists of two injections, 28 days apart.
Nanocovax is priced at VND120,000 ($5.17) per dose.
Along with injections, Vietnam's COVID-19 Nanocovax vaccine will also be developed in the form of eye-drop and nasal spray for special subjects.
Meanwhile, IVAC's Covivac vaccine entered the first phase of human trial in March 8. The trial is expected to end on April 20, involves 120 volunteers. The remaining 144 people will be divided into groups of 12-18. Each group is scheduled to receive the vaccine 8 days apart. All recipients will be injected with two doses of Covivac, 28 days apart.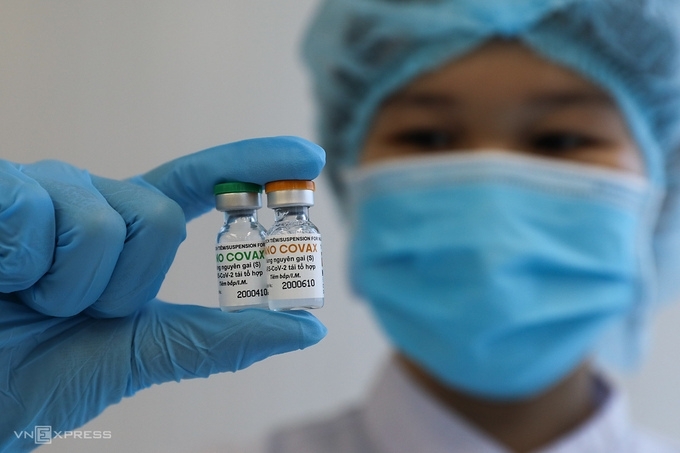 One medical staff in Nanogen Pharmaceutical company holding two Nanocovax vaccine vials (Photo: VNE)
The Covivac vaccine is the research work of the Institute of Vaccines and Medical Biologicals (IVAC) under the Ministry of Health (MOH). It had earlier yielded safe results and strong immunity responses on mice, rabbits, etc. Given promising results on animals, the vaccine is granted to enter human trials starting January, two months earlier than expected.
The Government Office is collecting comments on the Draft PM Decision on Covid-19 Vaccine Research and Development Project, aiming at having enough vaccines available in 2022.
Vietnam is expecting 60 million doses of the UK's AstraZeneca vaccine, with 30 million sourced via Covax and another 30 million by order.
The 811,200 doses of AstraZeneca vaccine arrived at Noi Bai International Airport Thursday morning is the first batch among the 30-million-dose allocation from the global vaccine access mechanism Covax. Over 3,3 million more doses are scheduled to land in Vietnam in May while the rest will arrive by late 2021, according to Zing News.
The 30 million doses, which are supplied by the United Nations International Children's Funds (UNICEF) via Covax, are deemed to cover 20 percent of the Vietnamese population, prioritizing frontline workers.
On February 24, the first 117,600 purchased doses arrived in the country and have been administered to nearly 50,000 prioritized recipients in the National Expanded Vaccination program.
On March 23, Vietnam greenlighted Russia's Sputnik V vaccine for emergency use.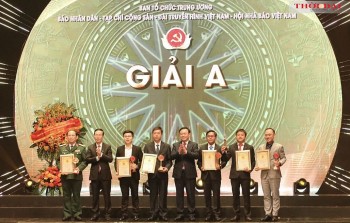 Viet's Home
The 7th National Press Prize on Party Building (named Golden Hammer and Sickle) - 2022 has been bountiful with thousands of entries on a variety of topics, rich in genres, closely following hot topics, outstanding events, key tasks of the political system and the country. Content relating to party building process was clarified and further exploited compared to previous years.