Overseas Vietnamese Encourages Young People's Study Abroad Dreams
An overseas Vietnamese from Finland encourages young people to study abroad for free.
In the past two years, a company has recruited students to Finland to study abroad for free. It has created favorable conditions for a number of Vietnamese students and developing countries to enjoy the world's top-quality education. The co-founder of this company is a Vietnamese overseas named Bambi Dang.
One of the co-founders of Finest Future Company with Bambi Dang is Peter Vesterbacka, the father of the most successful mobile game named Angry Birds. The other is Tuomas Tiilikainen, who is running the business in Vietnam. Tuomas is in charge of recruiting 15-year-old Vietnamese students who want to go to Finland to study, solving all related procedures, and preparing with students for a new life.
Photo: Bambi Dang
In 2021, with the support of the Ministry of Education and Training and the Vietnamese Embassy in Finland, Finest Future's scholarship program including many full scholarships is quickly known and supported by many people. Finest Future recruits seven Vietnamese students and eight Uzbek students to study in Finnish high schools. With the educational model in Finland, the selection requirements for academic performance are not too high: GPA of 7.0 subjects and basic English. Another remarkable requirement is that they need to have good attitude and skills in group activities, as well as good independence.
Before going abroad to study, students attended an online Finnish class taught by a local teacher. After that, they were sent to high schools and were exempted from tuition fees, lunches, living expenses. They were introduced to part-time jobs and had many free college opportunities. The first 15 students have gone to Finland from August 2021. After only a short time, they have made remarkable changes. Students became more confident and are able to speak fluently in front of teachers and local employers.
Born in Nghe An Province in a poor family with many children, Bambi Dang had a disadvantaged childhood. Her family has many children because the parents want to have a son. Bambi is named "Ba" because she is simply the third daughter and she also has a younger sister named "Bon" (the fourth daughter). Her family became broke when his younger brother Bambi Dang was born.
In 2013, Bambi Dang decided to quit her job to go to Finland to study, even though she didn't have any money. Finland has a tuition-free program for students, but requires international students to have at least VND 200 million (USD 8,714) in their annual account to ensure stable living conditions. Persuading his parents to take the pink book (a legal document that you should secure as proof of ownership when buying real estate in Vietnam ), the family's only major asset, Bambi Dang borrowed VND 200 million from a bank and then went to Finland to live in a way that she wanted.
"I don't go for a living, I want to change who I am inside. Because of the disadvantages in the past, I used to have the guilt of being hated by others. If you can get rid of that feeling, you will see the life is optimistic" - Bambi Dang confided.
Memories of childhood and experiences in 35 countries make Bambi Dang cherish to do something to bring the quintessence of Finnish education to children in disadvantaged areas. Finest Future Company was established in accordance with Finnish policy. With an aging population, this country is facing a labor shortage and needs to attract the world's talent. It is expected that in 2022, about 130 students will be sent by Finest Future from Vietnam, Uzbekistan, Myanmar, Iran, Mexico, Brazil... to Finland for high school.
Photo: Bambi Dang
Finest Future is building a program called Low English so that students with limited English knowledge in remote areas can participate. At the same time, Finest Future also designed a study abroad program associated with sports for students to develop in the direction of playing professional sports. This program is aimed at rural students, where they have a lot of space to do sports.
Non-profit projects are also of interest to Finest Future. Aspiring Asia, with the focus of Aspiring Vietnam, is being built for teams to transfer knowledge and experience from Finland to other countries, including Vietnam. In Vietnam, the project has attracted more than 100 volunteers in many provinces and cities, who are active with the ambition of creating opportunities for young people through education and start-up activities.
Volunteers are trained from Finland and pass on their acquired knowledge and skills to others. With the spread to the Americas and Africa, Aspiring Asia is creating favorable conditions for Vietnamese youth to meet international friends, increase communication ability, expand learning opportunities and connect globally.
"Some people consider success to be a lot of money, while I consider success to be living my true self with the passion to travel a lot, experience a lot, but always aspire to contribute to my homeland. I hope that overseas Vietnamese, even though they are becoming global citizens, always remember that they are Vietnamese", Bambi Dang shared.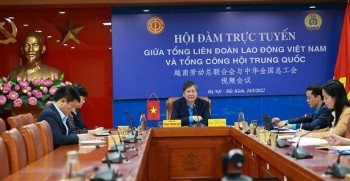 Friendship
The Vietnam General Confederation of Labour (VGCL) and the All-China Federation of Trade Unions (ACFTU) on May 24 shared their operational experience and agreed to step up their exchanges.