Overseas Vietnamese in China receive Covid-19 vaccine
Many Vietnamese people in China have received the made-in-China Sinopharm Covid-19 vaccine to protect their health and community.
The authorities in Daxing District, southwest of Beijing on April 13 required all foreigners living in the Tiangongyuan area to get the Covid-19 vaccine. A 40 seat-car carried Doan Thi Quynh and her mother and other foreigners to a vaccination center about 15 km from her home, VnExpress reported.
There were about 30-40 people waiting for their turns to receive the Covid-19 vaccine. Everyone was requested to wear face masks and maintain a safe distance from each other. The vaccination center is spacious. Guards were seen everywhere. Medical workers were very friendly.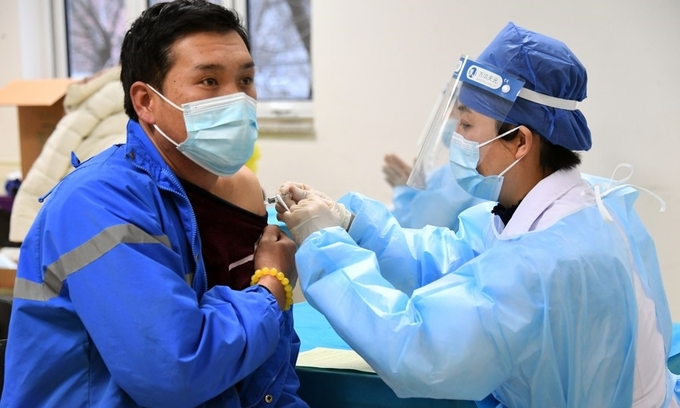 A resident in Haidian District, Beijing is injected with the Covid-19 vaccine. Photo: Xinhua
Quynh, 35, was vaccinated for free because she has an insurance card and a green card to settle down. Quynh, from Quang Ninh Province, graduated from a university in Beijing and married a Chinese man. She has lived in China's capital for more than eight years.
Doan Thi Vui, 59, Quynh's mother, arrived in Beijing to visit Quynh's family and has been stuck there since the beginning of 2020. Because she doesn't have an insurance card, she had to pay 186 yuan (about 29.2 U.S. dollars) for two doses of the made-in-China Sinopharm vaccine which was approved for emergency use by the World Health Organization (WHO).
"Before inoculation, I felt a little hesitant because through the foreign media, I knew that the Chinese vaccine causes serious side effects. However, I was then explained by a Chinese doctor that every vaccine has side effects and whether they are severe or mild depends on each person's body," Quynh told VnExpress.
"Doctors said anyone suffering allergies, chronic diseases or fatal illness need to inform them for thorough examination and screening before administration."
After the first injection, Quynh felt a little tired, while, her mother experienced pain at her bicep, headache, fatigue. Nevertheless, these reactions disappeared several days later. On May 8, Quynh and her mother were administered the second shots.
"Now, I feel really secure," she said.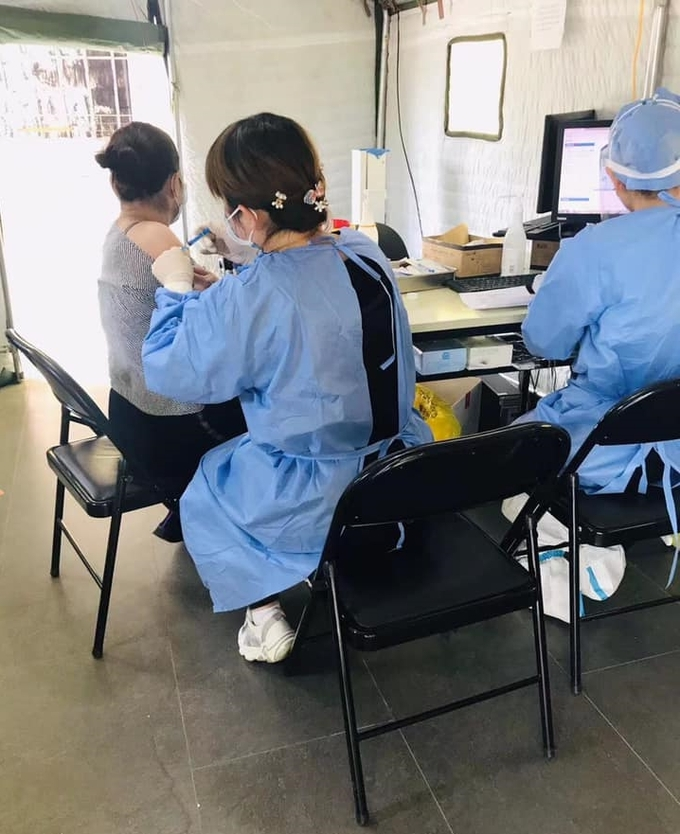 Doan Thi Quynh receives the second Covid-19 vaccine shot. Photo courtesy of Quynh
Being a post-doctoral graduate from Tsinghua University, Nguyen Thi Thu Ha, 36, the only Vietnamese working for the Chinese Institute of Academic Research and Economic Practice, was among the foreign Covid-19 vaccine recipients in Beijing.
"The Beijing authorities require all residents to get vaccinated, especially those working at the educational systems," said Hai Phong-born woman.
Ha completed two vaccine shots in April and only suffered a little pain at her bicep after vaccination.
As of May 22, China has given 497,3 million Covid-19 vaccines to its citizens, making it become the leading country in the world in terms of vaccine shots administered, followed by the United States with 283,94 million shots, according to the National Health Commission (NHC).
The Chinese government has encouraged its citizens to participate in the free national immunization rollout to reach the target of 40% of its population, equivalent to 560 million people, being inoculated two shots by the end of June.
NHC said the increasing number of people wanting to get vaccinated resulted in the shortage of vaccine. Guangzhou, the capital of Guangdong Province has temporarily suspended the vaccination since May 22.
Nguyen Phuong Giang, 34, living in Nanning, the capital of Guangxi Province, said 30% of people in the province had been injected with the vaccine. Her husband and she had been waiting for their turns since early March.
"I am looking forward to getting vaccinated because I want to return to Vietnam," Giang said.
Ha also has the same desire.
"I have many projected in Vietnam needed to be resolved. I hope that people of China and Vietnam will soon receive vaccine so that the trade and travel activities between the two countries will become easier," Ha said.