Overseas Vietnamese in Russia Organize Community Football Tournament
In Moscow, the Vietnamese Association in Russia, the community at the Sadovod shopping complex and the management board of the complex on May 10 held the opening ceremony of the 2022 Sadovod football tournament. The tournament is held on the occasion of the 132th anniversary of President Ho Chi Minh's birthday and major holidays in May.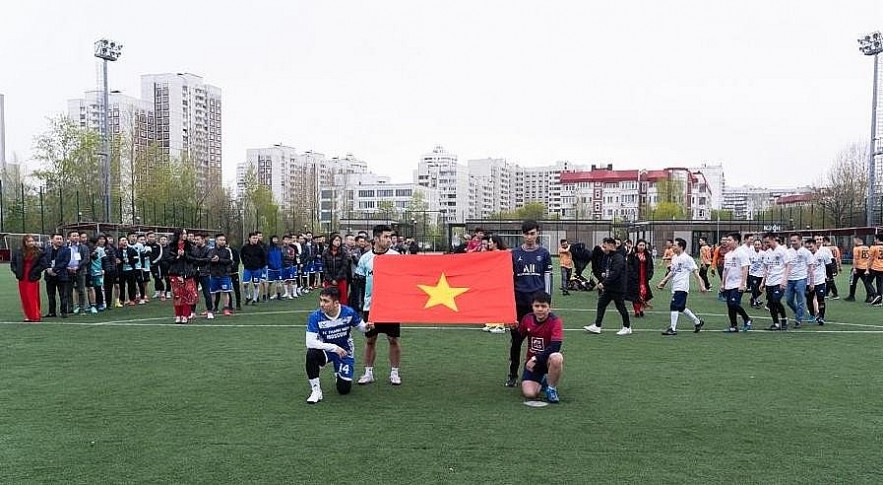 6 teams participated in the Vietnamese football tournament Sadovod 2022. Photo: NDO
The event attracted representatives of Vietnamese associations, Sadovod shopping complex, community members doing business in Russia, as well as Vietnamese students in Moscow.
At the opening ceremony, Tran Phu Thuan, standing vice chairman of the Vietnamese Association in Russia appreciated the efforts of the organizers.
He said the Vietnamese football tournament Sadovod 2022 continues to show the solidarity of the Vietnamese community at the Sadovod shopping complex. That has been proven in the fight against Covid-19 and the movement to support people to evacuate from Ukraine to Russia.
Tran Phu Thuan expressed his hope that the players would uphold their sports spirit and show the audience great matches.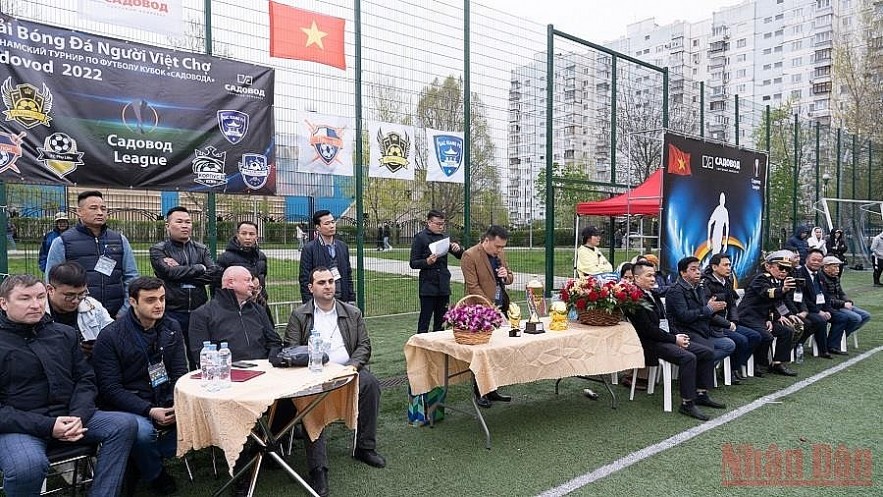 The opening ceremony attracted a large number of people. Photo: NDO
The Head of the Organizing Committee, Nguyen Anh Tuan, said that the tournament was organized to create a playground for the community, for them to help each other overcome current difficulties. The event is also an opportunity to call on people to practice sports and improve their health.
According to Nguyen Anh Tuan, at Sadovod shopping complex, the Vietnamese community currently has about 2,000 people. The Vietnamese football tournament will contribute to enhancing the image of Vietnamese people to Russian and international friends.
Alexey Negashev, head of Sadovod shopping complex, said the complex and the Vietnamese community here have a close relationship. Events organized by the Vietnamese community here always attract great attention from the people.
Negashev said the football tournament helps the community get closer and understand each other better. It also shows the image of Vietnamese people who work hard and know how to enjoy life.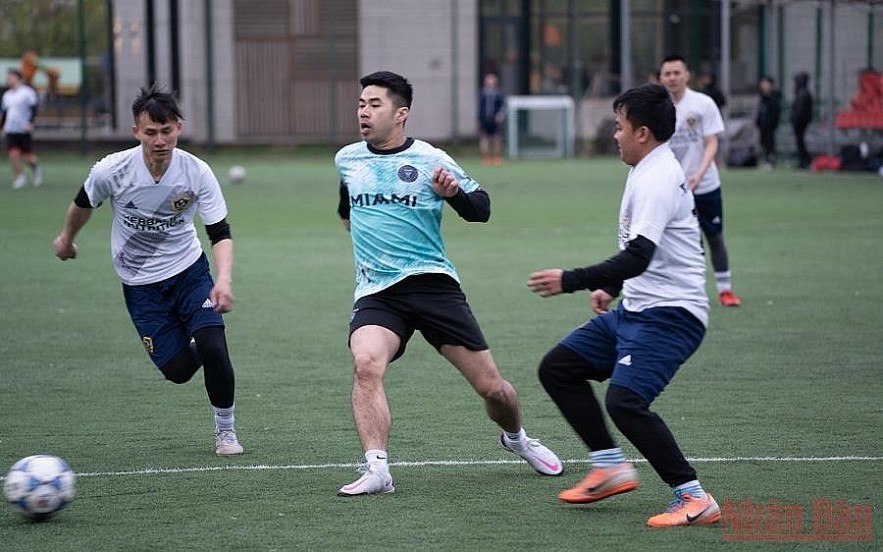 After the opening ceremony, exciting matches took place. Photo: NDO
After the successful tournament in 2021, this year's tournament, with the participation of 6 teams, promises to bring a vibrant atmosphere and tighten the spirit of solidarity in the community.
Duong Duc Hieu, a member of the football team, shared the joy of having the opportunity to participate in the summer playground. He hopes the tournament will be held every year so that everyone has the opportunity to gather, and forget the hardships of daily life.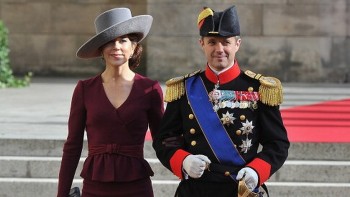 Friendship
Denmark's Crown Prince and Crown Princess will visit Vietnam to celebrate 50 years of diplomatic relations and promote green solutions.