Paragliding - Flying Sport in Hanoi You Should Try This Weekend
Only an hour drive away from Hanoi, you can try flying in Chuong My, Hoa Binh this weekend and find out if you have what it takes to star in the Vietnamese version of "Crash Landing On You".
First time paraglider Thu shared her experience of paragliding and watching the sunset over Bu Hill in Chuong My in late November.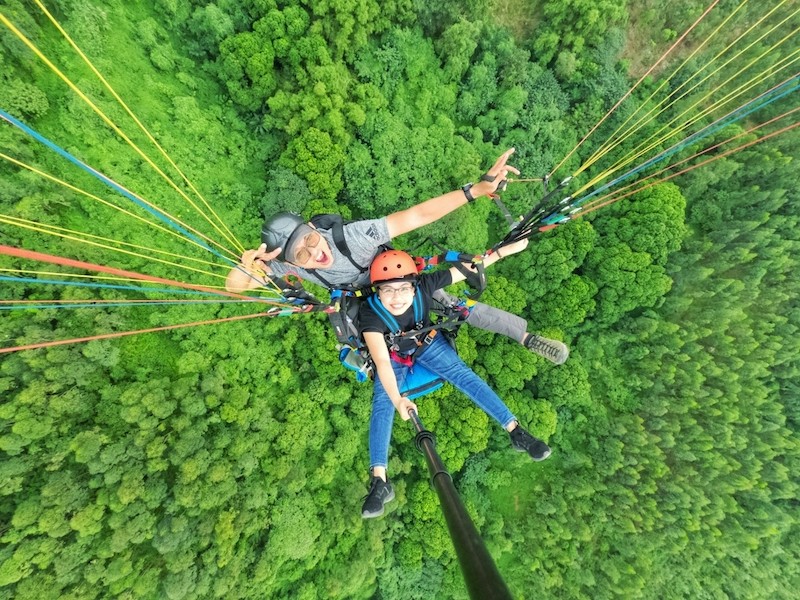 Paraglider enjoy the ride. Photo; VnExpress
"I love new experiences so paragliding is something I can hardly ignore. At first I was a little nervous because I was afraid of heights, afraid of... falling, afraid of everything. I decided to give it a try at last. This is really my most thrilling experience in the sky," the female flyer shared.
How to take to the skies
Paraglider will fly with an instructor. This person is responsible for controlling the parachute, taking off and landing, ensuring the safety of guests. Many can stay in the sky for about 25 minutes.
Someone with less experience like Thu can ask to land earlier. She said that many parents also brought their children to fly. There are 4-year-old children who have been taken to the sky by their parents, and the children are excited instead of scared. "I bow my hat to those babies," she said.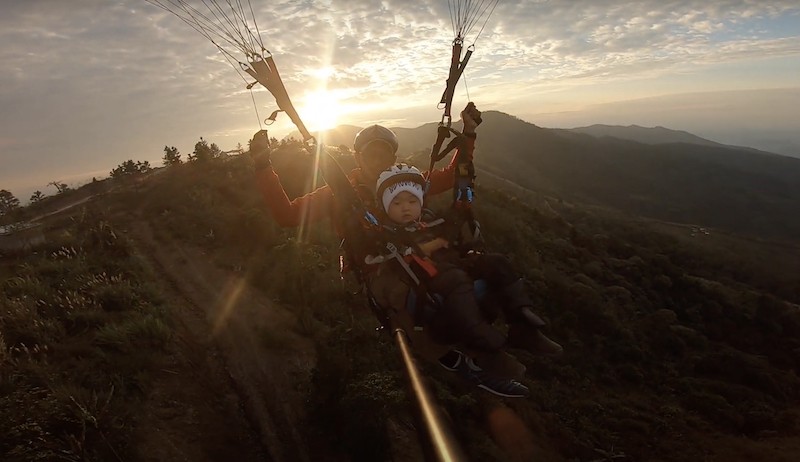 A father and son flying together. Photo: Nam Nguyen Youtube Channel
When flying, paraglider needs to put on protective gear. Recording equipment such as GoPro and Tripods are a must to capture the best moments.
"I realized that flying is not as dangerous as I thought". Thu shared. She plans to stay up in the sky longer and try more stunts like swinging and turning.
Paragliding has been around for nearly 10 years, and started to become a trend in the past 3-4 years. The Korean drama Crash Landing On You phenomenal made many young people curious and want to try paragliding.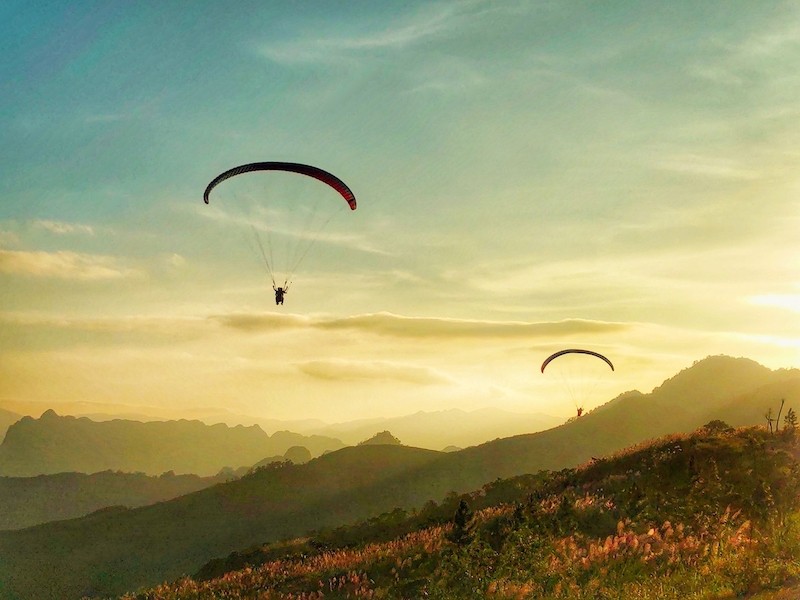 Enjoying the sunset while paragliding. Photo: VnExpress
After trying once, they get hooked to the thrill. This recreation activity is not as dangerous and extreme like sky diving or roller coaster riding. The main point is to sightseeing at different perspective. Some even compare flying to floating on lazy river.
Dangers & costs of paragliding
Keep in mind that you are not allowed to fly if you have heart disease, high blood pressure or pathological fear of heights.
Paraglider preparing the gears. Photo: Vietnamnet
The take-off point is located at Bu hill, Nui Be village, Nam Phuong Tien commune, Chuong My district. This place is only about 40 km from the center of Hanoi. The best season to fly parachute is from October to the end of December.
On top of the good weather which helps smooth the whole flying process, paragliders can also get a stunning view of the dreamy reed-pine hill when the leaves are not yet to fall.
You can book a shuttle bus service to your flight destination for VND 200,000 (US$ 8.76) round trip per person. Pick up and drop off point is at Big C Thang Long Mall.When arriving at the meeting point, passengers are transferred to the transfer vehicle of the organizer, and off they go to the top of the hill.
The transfer vehicle fee is VND 100,000 (US$ 4.5) per person on the way up, for going down it is VND 50,000 (US$2.2) for a distance of 6 km. You can bring your own snacks or ordered food in the restaurant at the meeting point.
The cost of one time flight is VND 1,290,000 (including drinking water), equals to US$ 56. If flying at sunset, the cost is VND 1,990,000 (. If the weather is not good that day, visitors cannot fully watch the sunset due to the clouds, only VND 1,290,000 (US$ 83) will be charged.
The price of parachute flights at other locations in the North is Mu Cang Chai (Yen Bai) or Tam Duong (Lai Chau), the fare is about 2,000,000-2,300,000 VND.
Are you willing to try paragliding? What is your favorite thing to do on weekend in Hanoi?