Pfizer and BioNTech face challenges following announcement about Covid-19 vaccine effectiveness
Germany-based biotech firm, Pfizer and BioNTech, announced that their Covid-19 vaccine showed more than 90% effective, fueling hope for successful preventing infection to human. However, it seems to have to conquer many challenges before there is widespread vaccination.
The news brings "a great day for science and humanity"
The drug company Pfizer said Monday that early analysis showed its vaccine candidate for Covid-19 is more than 90 percent effective at preventing infection, NBC News reported.
Albert Bourla, Pfizer's chairman and chief executive, called the news "a great day for science and humanity."
"We are reaching this critical milestone in our vaccine development program at a time when the world needs it most with infection rates setting new records, hospitals nearing over-capacity and economies struggling to reopen," he added.
The news from the U.S. pharmaceutical giant and its German partner, BioNTech SE, was welcomed as a major step in the fight against a virus that has plagued the global economy, upended daily life for billions and killed 1.26 million people - nearly 240,000 in the United States alone.
Pfizer
and BioNTech said in a joint statement that their preliminary findings have shown higher success rates than many had expected. People who received two doses as part of the trial saw 90 percent fewer symptomatic cases of Covid-19 than participants who were given a placebo, they said.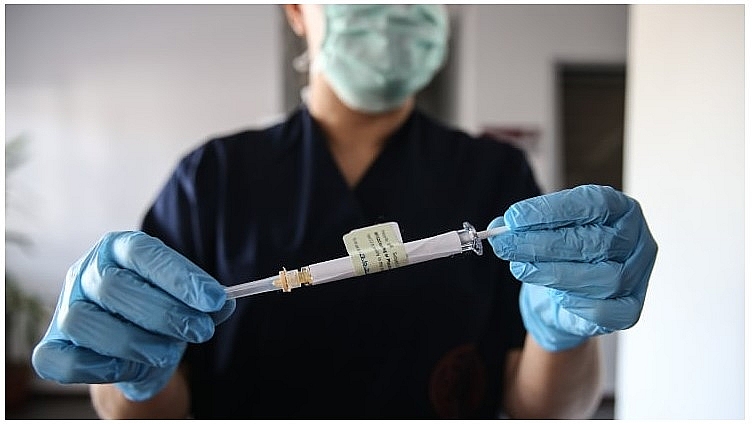 A health care worker holds an injection syringe of the phase 3 vaccine trial, developed against the novel coronavirus (COVID-19) pandemic by the U.S. Pfizer and German BioNTech company, at the Ankara University Ibni Sina Hospital in Ankara, Turkey on October 27, 2020. Photo: Getty.
What are international scientists reactions?
Pfizer and German partner BioNTech SE are the first drugmakers to show successful data from a large-scale clinical trial of a coronavirus vaccine. US News cited comments of some international scientists as below.
ALEXANDER GINTSBURG, DIRECTOR OF MOSCOW'S GAMALEYA INSTITUTE WHICH DEVELOPED RUSSIA'S MAIN VACCINE CANDIDATE, SPUTNIK V
"We welcome the progress shown by our foreign colleagues in the development of a vaccine against the new coronavirus. The more vaccines are available in the world, the better people will be protected."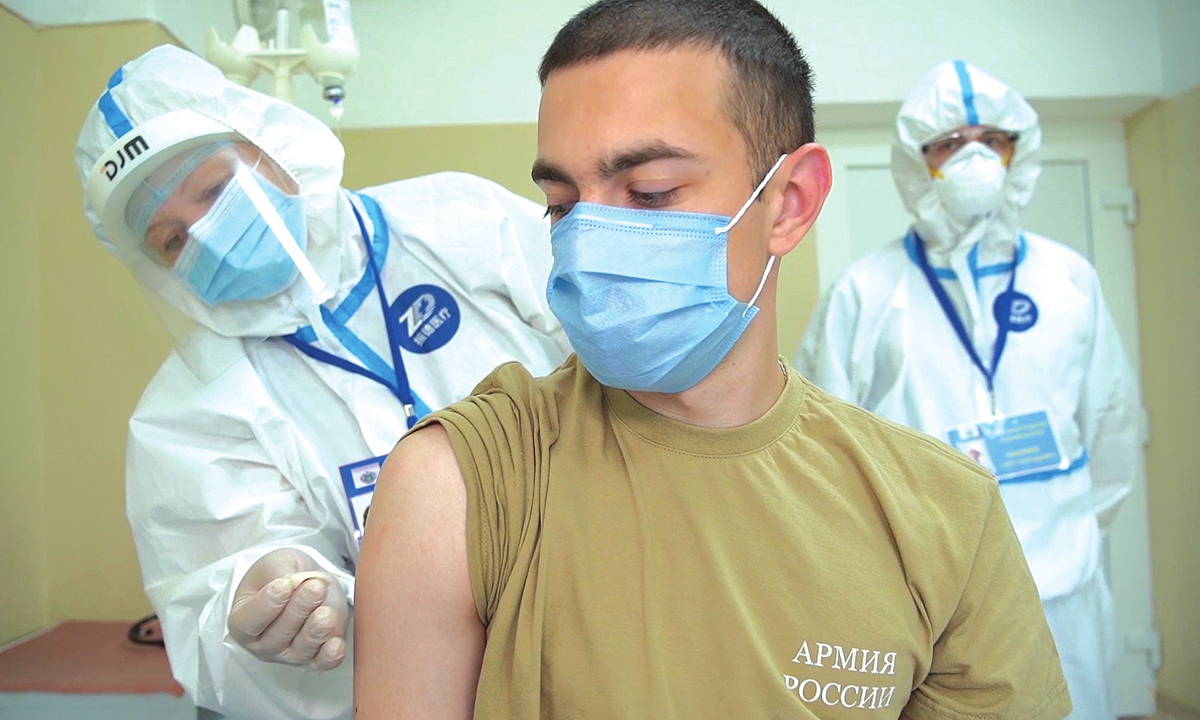 A volunteer takes part in a clinical trial of a COVID-19 vaccine in Moscow, Russia. Photo: VCG
"People at high risk of infection - primarily medical workers - are already being actively vaccinated in our country. Production is being scaled up and new production sites are joining the process. In the near future we expect to publish interim results of the post-registration trial of the vaccine Sputnik V, the so-called Phase III trials. I am sure that its effectiveness level will also be high."
CLEMENS WENDTNER, CHIEF PHYSICIAN OF INFECTIOLOGY AND TROPICAL MEDICINE AND HEAD OF THE SPECIAL UNIT FOR HIGHLY CONTAGIOUS LIFE-THREATENING INFECTIONS, MUNICH SCHWABING CLINIC, GERMANY
"This is remarkable, as many ongoing vaccination studies on COVID-19 currently only assume a success rate of at least 50%. In addition, it should be emphasized that a sharp end point has been defined - infection yes or no. Alternatively, with less high expectations of a vaccine, already attenuated disease courses, so-called mitigated courses, could be considered a success. In addition, the mRNA vaccination appears to be effective after only four weeks, which means that one does not have to wait long for protection."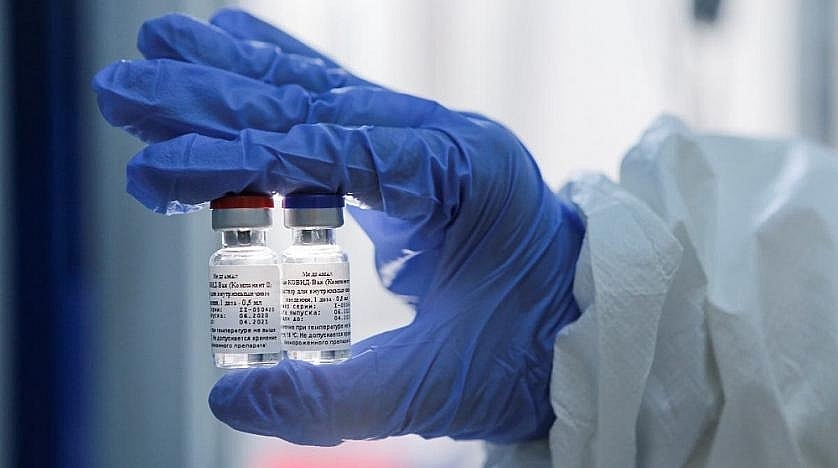 A handout photo shows an employee demonstrating vials with 'Gam-COVID-Vac' vaccine developed by the Gamaleya Institute, Moscow, Russia August 7, 2020. (Handout via Reuters)
WALID GELLAD, PROFESSOR OF MEDICINE, UNIVERSITY OF PITTSBURGH, UNITED STATES
"This is a hint that these mRNA vaccines are likely to work, and there's at least one other. And they're likely to be safe, at least from this trial. So that's highly encouraging. The other thing that's highly encouraging is that science can now create a vaccine in a relatively short amount of time and test it, which gives a lot of hope for the future when these things happen again."
ANDREW HILL, SENIOR VISITING RESEARCH FELLOW IN THE DEPARTMENT OF PHARMACOLOGY AT THE UNIVERSITY OF LIVERPOOL, BRITAIN
"This vaccine needs to be stored at -80c. This could create major logistical challenges for mass treatment outside major urban areas and in low or middle income countries."
"However, overall this is a huge step forwards in the fight against COVID-19. We will need to see whether updated versions of this vaccine are needed to protect people against new strains of the virus which might emerge in future."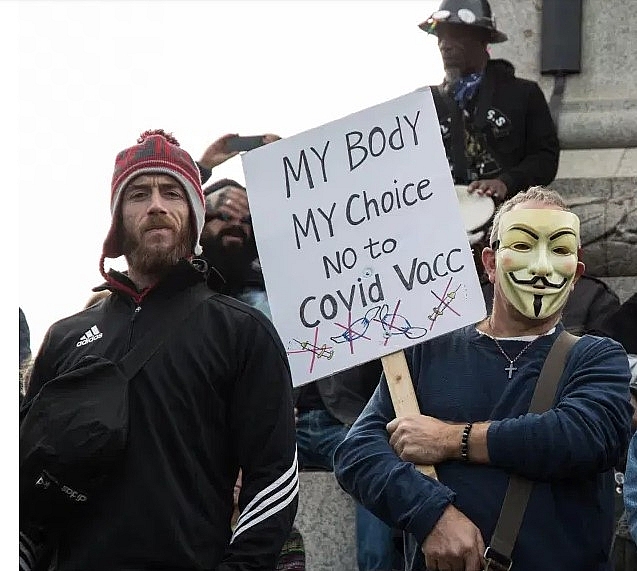 Many came to protest against having the vaccineCredit: Alamy Live News
Facing distribution challenges and "the end of the battle against Covid-19 is still months away"
President-elect Joe Biden said he welcomed the news, which he said he learned Sunday night, but warned it was "important to understand that the end of the battle against Covid-19 is still months away."
Even if "some Americans are vaccinated later this year, it will be many more months before there is widespread vaccination in this country," Biden said in a statement. "Today's news does not change this urgent reality. Americans will have to rely on masking, distancing, contact tracing, hand washing, and other measures to keep themselves safe well into next year."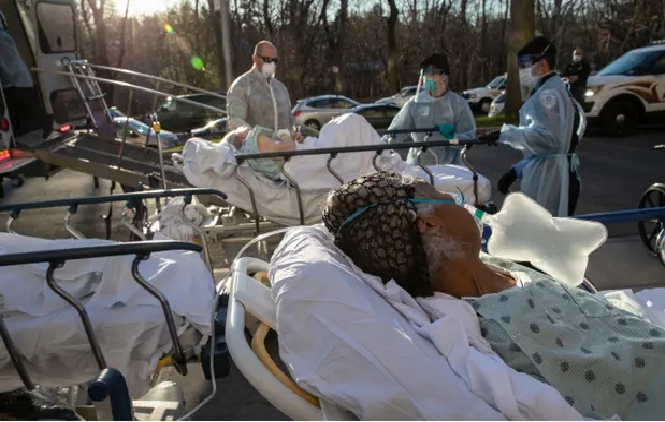 Covid-19 patients arrive at the Montefiore medical center in the Bronx, New York City. Photograph: John Moore/Getty Images
The companies have not released the data backing up the study, and many experts urged caution before those details have been independently scrutinized.
Besides, plans to deliver hundreds of millions of coronavirus vaccines around the world raise questions about logistics and distribution in part because of the need to store and transport them in supercooled containers, CNBC reported.
Pfizer's vaccine requires a storage temperature of minus 94 degrees Fahrenheit. By comparison, Moderna has said its vaccine must be stored at minus 4 degrees Fahrenheit.
The company reportedly plans to load suitcase-sized boxes from distribution sites in Kalamazoo, Michigan, and Puurs, Belgium, onto as many as two dozen trucks per day, allowing for the daily transit of roughly 7.6 million doses to nearby airports.
The companies said they plan to submit data from the full phase three trial, which began on July 27, for scientific peer-review publication.