Phillipines turn to India, Vietnam for COVID-19 vaccination lessons
Philippines' Foreign Secretary Teodoro Locsin on January 29 stated that the Manila Government would turn to Asian countries, particularly India and Vietnam, to learn how to inoculate millions of people against COVID-19.
Foreign Secretary Teodoro Locsin (Photo: Asia Society)
"We're looking to India to teach us. We're certainly not looking to the West. But we need to look elsewhere to teach us how to get it done," the Foreign Secretary wrote on his twitter account on January 29. Locsin then retweeted the post two days later.
According to Locsin, India is one of the countries with the biggest drug-making capacity worldwide. Its Serum Institute of India has been licensed by Oxford University and British-Swedish drug firm AstraZeneca to produce Covishield – its locally-produced COVID-19 vaccine. Unlike Western countries, India has no shortage of COVID-19 vaccines and has even begun to export its indeginous candidate. The Indian government has also granted emergency use authorization to Hyderabad-based Bharat Biotech International to make Covaxin, which was developed by Indian scientists.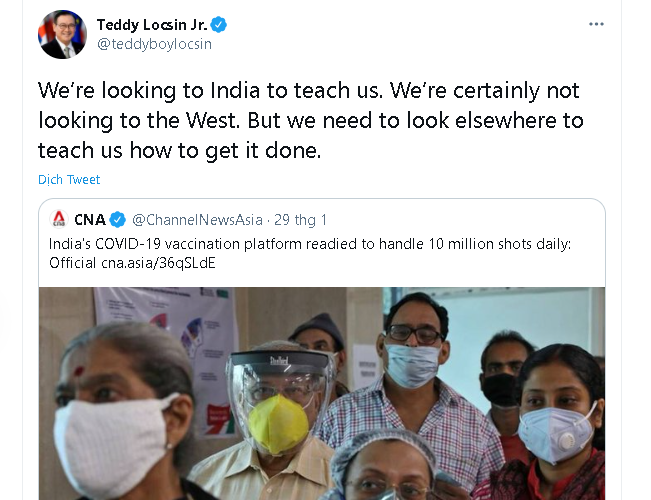 Teodoro Locsin's tweet (Photo: Captured)
India has the second most number of cases in the world—10.7 million cases with 154,000 fatalities–but it has also made the most number of vaccines and has begun the world's biggest inoculation drive, starting with three million healthcare workers who were vaccinated over the past two weeks, according to Inquirer.
Locsin also spoke highly of Vietnam, saying the country was another potential spot on the world's COVID-19 map. Vietnam has been showered with compliments for its

successful containment of the first wave of infection

s and the quick development of "made-in-Vietnam" COVID-19 vaccines – just months after the start of the pandemic.
Vietnam is having four COVID-19 vaccines candidate on hand, with two (NanoCovax and COVIVAC) currently under human trials yielding high immunity response. The remaining two have shown promising results after testing on animals.
To date, Vietnam reported a total of 1,851 cases, including 964 domestically infected. Meanwhile, 1,460 cases have been given the all-clear. The death toll remains at 35. The country is battling the so-called third wave of COVID-19, with dozens of new community transmission reported every day. Vietnamese government and local authorities are urgently deploying containment measures, trying to curb the spread in the shortest time as Lunar New Year – its biggest festival is drawing near.
Meanwhile, Philippines' tally hits 527,272 cases, at least 10.807 have succumbed to the deadly virus. The number of new cases has increased steadily since August.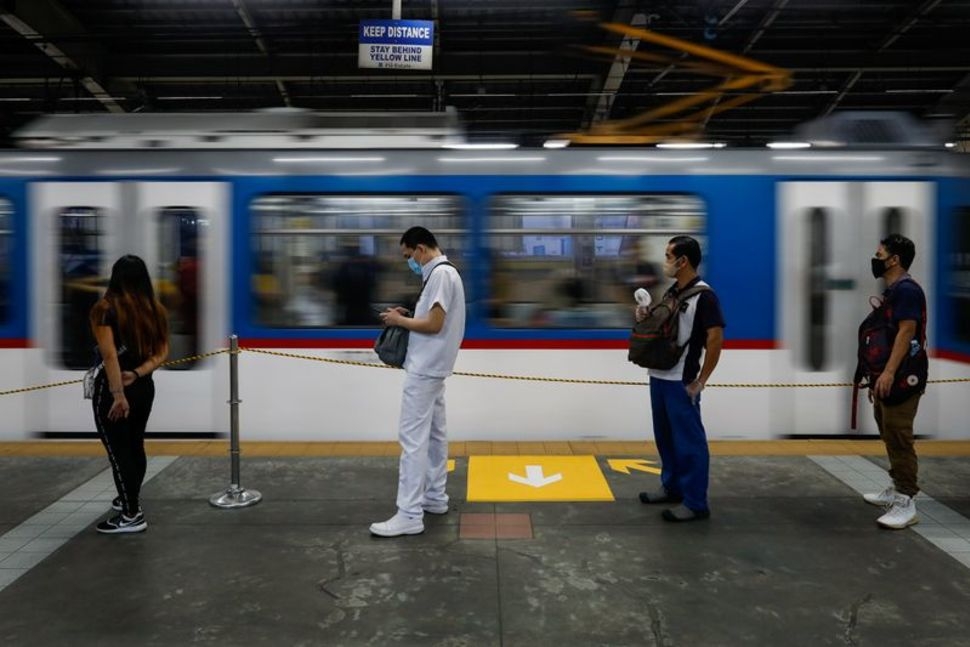 Passengers wearing face masks for protection against the coronavirus disease (COVID-19) maintain social distancing while queueing to ride a train in Quezon City, Metro Manila, Philippines, July 21, 2020. (Photo: Reuters)
As of January 27, authorities continued to adjust restrictions to stem the spread of disease. Jan. 28 through at least Jan. 31, the government will ban foreign nationals with travel history to the Czech Republic within the previous 14 days due to concerns over a new COVID-19 variant. The same rules are in place through at least Jan. 31 for travelers with recent travel history to Australia, Austria, Brazil, Canada, China, Denmark, Finland, France, Germany, Hong Kong, Hungary, Iceland, India, Ireland, Israel, Italy, Jamaica, Japan, Jordan, Lebanon, Luxembourg, the Netherlands, Norway, Oman, Pakistan, Portugal, Singapore, South Korea, South Africa, Spain, Sweden, Switzerland, the US, the UK, and the UAE.
Exemptions are in place for high-level state visits, people in an emergency situation, employees of international organizations, and spouses and minor children of Filipino nationals, among others; foreigners who can enter the Philippines must adhere to health protocols. Authorities may extend or further expand the restrictions at short notice, as reported by GARDA World.
The country remains under Code Red Sublevel 2 on its code alert system, indicating ongoing local virus transmission with greater numbers of cases than the government can address. Community quarantine restrictions of varying levels are also in effect nationwide.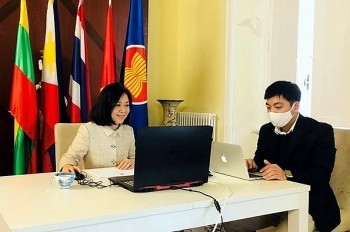 Overseas Vietnamese
The Vietnamese Embassy in Italy hosted an online gathering on January 15 to celebrate Vietnam's 2022 lunar New Year holiday (Tet).