Pickled mustard greens, traditional side dish for the taste of Vietnam
Pickles in general is a popular side dish cooked in different ways in many parts of the world. In Vietnam, pickled mustard greens (or dưa muối in Vietnamese) is a rustic, flavorful dish favored by most Vietnamese.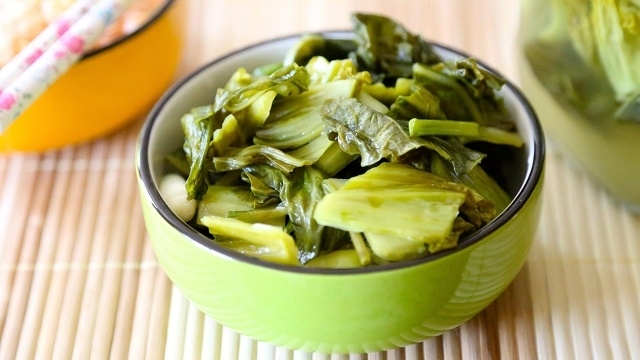 Pickled mustard greens is a popular side dish across Vietnam (Photo: Nhan Dan Online)
This simple pickle will help the body to digest all the heavy food it consumes. With its alluring crunchiness and tartness, pickled mustard greens is perfect to pair with almost any rich and savory dishes. There are so many things you can do with the food: You can stew with fish, pork, stir-fry with eggs, make soup or curry with it or simply serve it plain next to any salty home-cooked dishes like caramelized pork, fish or shrimps or simply a bowl of fish sauce, according to Danang Cuisine.
Several types of vegetables can be used to make pickles but mustard greens are the most popular vegetable. The fresh mustard greens are left on the counter under the sunlight till they get withered. The leaves and the stems will be cut into small pieces about 2-inch long, and washed under running water then rinse well a few times to get rid of all the dirt.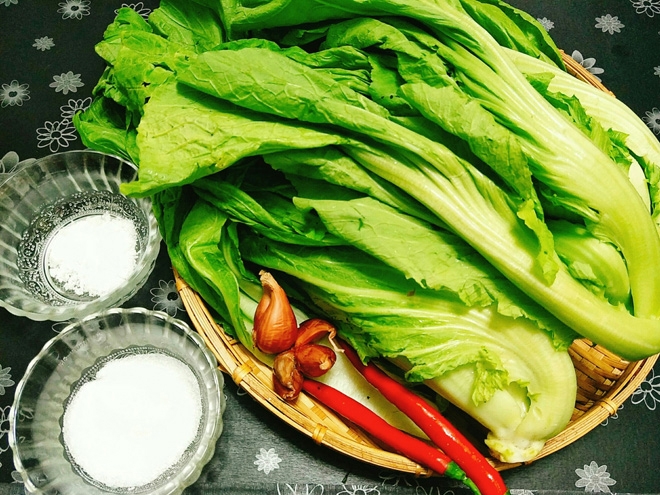 Several types of vegetables can be used to make pickles but pickled mustard greens are the most popular vegetable (Photo: Yeu Tre)
Boil water and wait for it to cool down to be able to touch. Put all the water in a pot or a jar and add veggies into it. Make sure that all the mustard greens are submerged in the water.
Vietnamese people usually use a small plate or rock to place on the top to weigh the veggies down so that they cannot be exposed directly to the air, however, make sure that the plate does not cover the pot completely as we need the steam to escape. You can add some salt and sugar into it too. Leave it for at least 4 hours or overnight.
To avoid any type of contamination, wash the jar thoroughly with soap and water and sterilize with hot water. Make sure utensils and pots are clean including the pickling jar. Any unwanted oil or grease will cause the greens to not pickle properly. Glass jar is ideal for pickling. Thinly slice the shallot (you can also use onion) and chop up the scallions.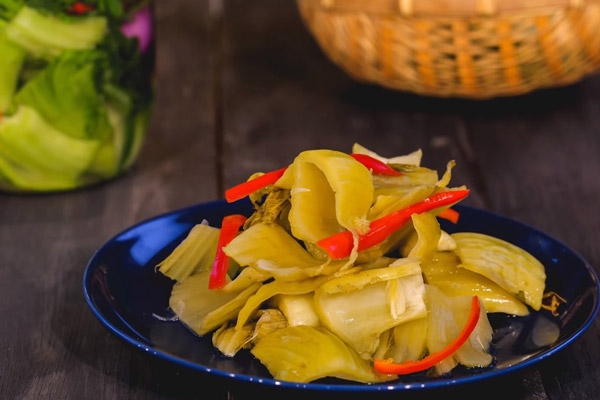 (Photo: Bep Truong A Au)
To make the brine, bring a saucepan of water (1.5 liters or 6 cups) to a boil. Add salt and sugar. Stir to dissolve and leave to cool completely.
After soaking overnight, the mustard greens change the color to light yellow and release the strong mustard smell. Drain and squeeze off the excess water. Combine with the shallot and scallions and put in the jar. Pour in the brine into the jar covering the mustard greens.
When everything is done, put the jar in a warm place and wait for it till the pickle turns slightly yellow and gets sour enough. It might take from 1 to 4 days depending on the temperature. A "standard" pickled mustard greens is slightly yellow, crunchy, sour, and tart, Nhan Dan online describes.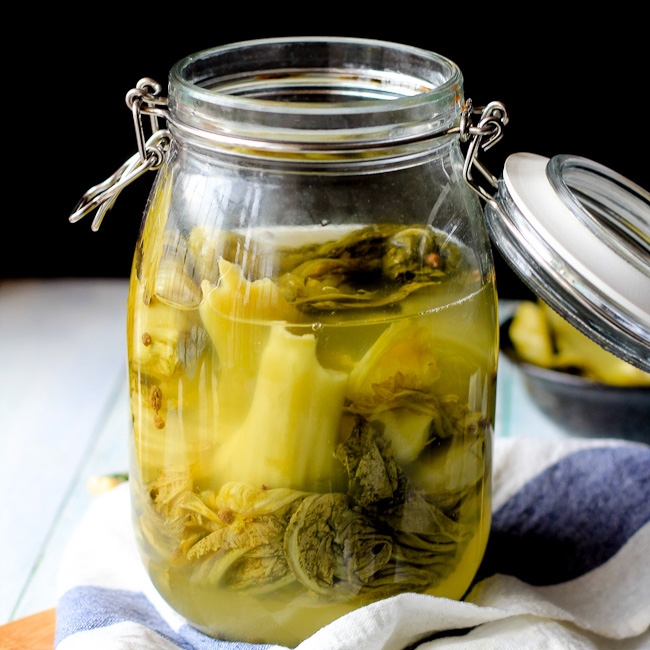 The pickle is normally put in a jar for 3-4 days to get ready to serve (Photo: China Sinchuan food)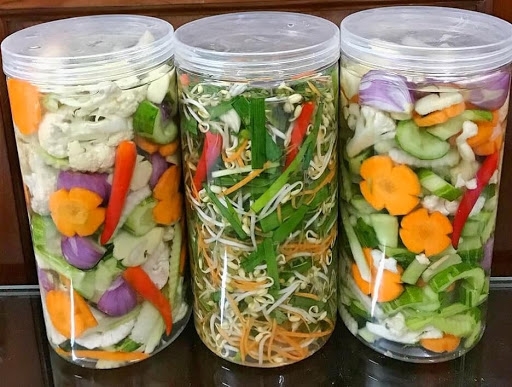 Other types of Vietnamese pickle (Photo: Vietinfo)
After 3 days, use clean chopsticks to take out a piece and have a taste. If it is nice sour and tart, it is ready to serve. It will get more sour the following days. To slow down the pickling process, keep it in the fridge. To stop the pickling process, drain the liquid and refrigerate the mustard greens. Once refrigerated, enjoy the greens within the month, according to Danang cuisine.
Pickled mustard greenscan go with different kinds of meat and sausages. People eat it with meats, soups, seafood, and noodles. When the pickles get too sour, Vietnamese people use it to make the fried rice, cook sour soup, or make fish stew.
Roasted grasshoppers, the alluring crunchiness

Grasshoppers are closely intertwined with childhood memories of Vietnamese people. Roasted grasshoppers, moreover, have long made a rice harvest's delicacy and a nutritious dish on ...
Crispy pancake, the tase of Hue

Crispy pancake, or "khoái" cake, is a delightful specialty of Hue. The crispy pancake is pretty much similar to rice pancakes (bánh xèo), but is ...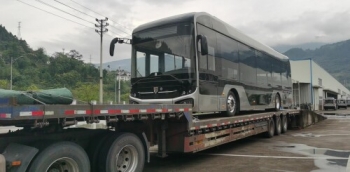 Economy
Ev Dynamics (Holdings) Limited is a pioneer and a prominent player in China's new energy commercial vehicles market, as well as a whole-vehicle manufacturer of specialty passenger vehicles and new energy passenger vehicles.