PM: 4th Covid-19 wave basically under control
The new coronavirus wave in Vietnam has been put under control, even though there is still a very high risk of infection surge.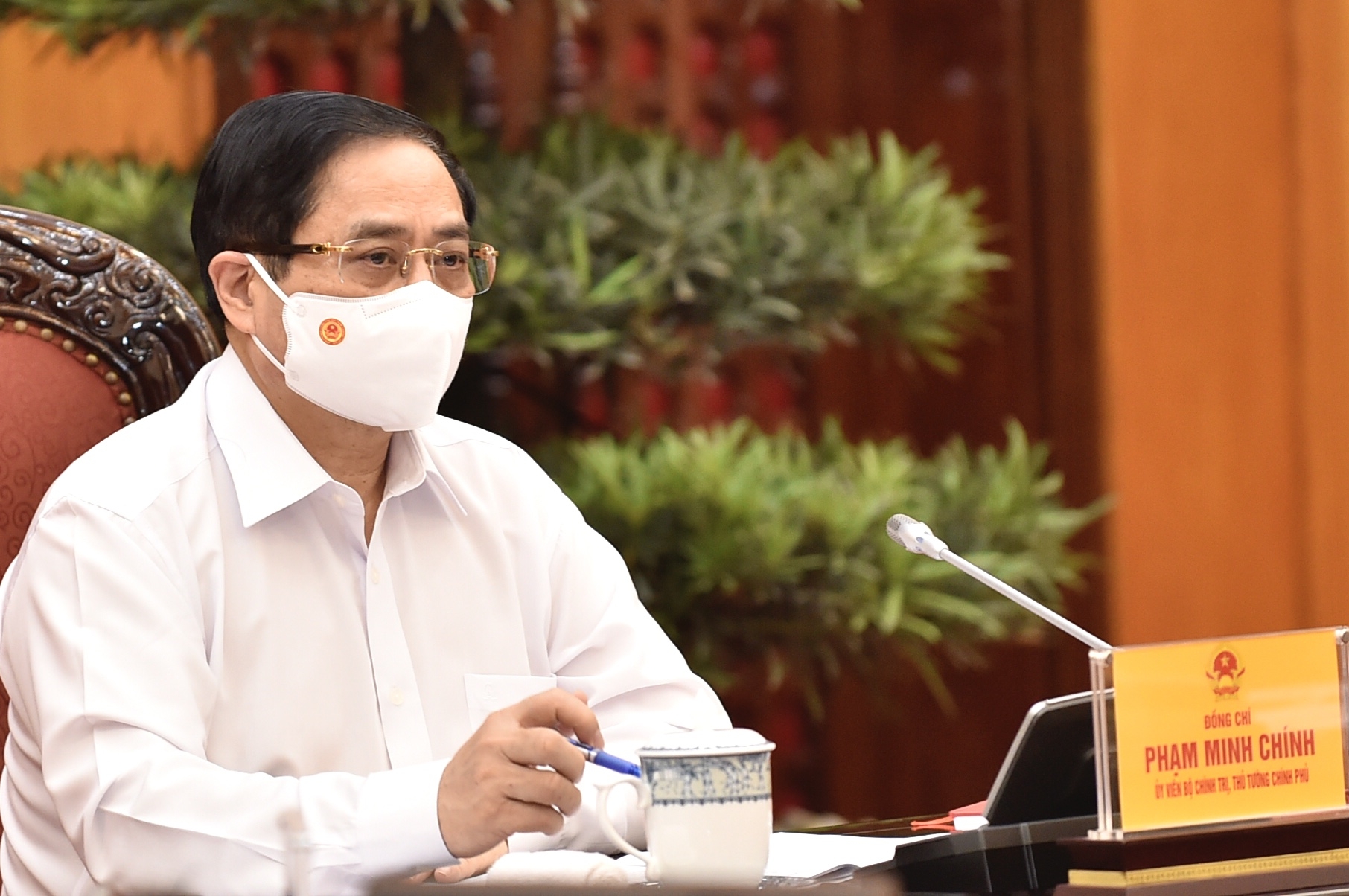 PM Pham Minh Chinh (Photo: VGP)
Vietnam has virtually contained the new outbreak which spreads across 27 localities since its onset on April 27, Prime Minister Pham Minh Chinh said at the Government's regular meeting on Covid-19 prevention and vaccination Monday afternoon.
"In provinces with hotspots whose infection sources are confirmed, things are gradually controlled. No epicenters with sources unknown are reported so far. People can be rest assured," the prime minister added.
Even in the northern Bac Giang province - the country's current biggest hotspots, new patients are all discovered at either quarantine centers or blockaded areas. Anti-pandemic measures have been promptly deployed. Local authorities will further ramp up screening, especially at industrial zones, to comprehensively assess the situation.
Chinh, however, stressed that Vietnam is still highly vulnerable to new outbreaks, calling for relevant agencies and people not to lower their guards.
"This wave might be more widespread and last longer with more epicenters and dangerous mutated variants. All localities must crackdown on inspection and punishments on violators, especially at factories, enterprises, and manufacturers," Health Minister Nguyen Thanh Long said. "Social distancing must be adopted appropriately to ensure socio-economic development target."
He affirmed that the upcoming National Assembly Election will not be affected by anti-pandemic regulations in place.
The minister also credited drastic efforts of the National Steering Committee members with residents' compliance and local authorities' responsibility in the Covid-19 fight.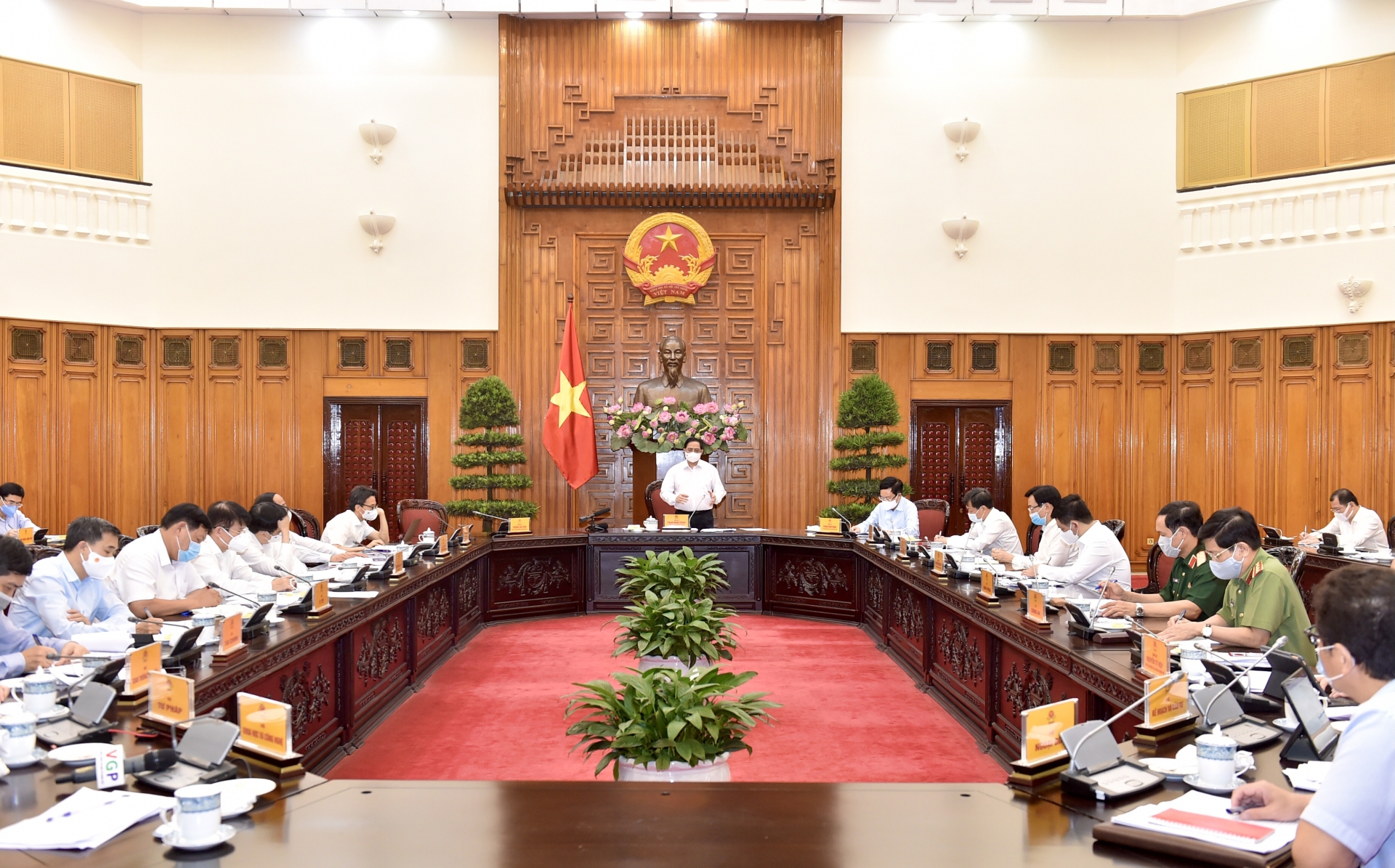 At the meeting on Monday afternoon (Photo: VGP)
Vietnam is gearing up for the 3rd nationwide vaccine rollout.
On May 16, a new batch of AstraZeneca vaccine, sourced via the global Covax facility, reached Hanoi.
The batch has been transferred to the National Institute of Hygiene and Epidemiology for preservation and checking before being distributed to provinces and cities for rollout. All vaccine boxes are transported at a prescribed temperature of 2-8 degrees Celsius. The shipment is part of 4.1 million doses committed in free support for Vietnam under the Covax facility.
Medical authorities will organize training courses on Covid-19 inoculation at all sites, focusing on screening and handing of post-vaccination reactions, Duong Thi Hong, deputy director of the institute said. She emphasized that localities must go all out to ensure safety and avoid cross-infection at vaccination sites.
"The health ministry is trying to obtain more vaccines, and we expect to receive more by the end of 2021, but it won't be enough for community immunity," Deputy Prime Minister Vu Duc Dam said in a statement Tuesday. "At least from now until the end of 2021, Vietnam will have to take anti-Covid measures as if it had not received any vaccines."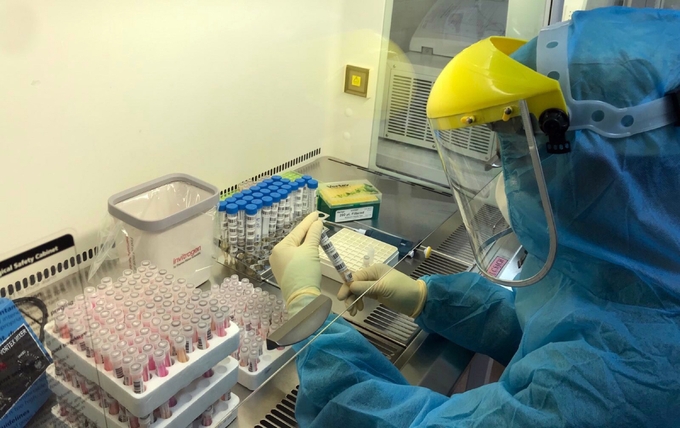 One medical staff in Ho Chi Minh city is doing Covid-19 test (Photo: via VNE)
The country will receive a total of 110 million doses by late 2021, including allocation from Covax, Astra Zeneca and Pfizer. The Ministry of Health has also purchased another 10 million doses from Covax under a cost-sharing mechanism. It is also negotiating with other vaccine sources, including Moderna, Johnson & Johnson, Sputnik V and Sinopharm.
Nationwide vaccine rollout started on March 8. In late February, the health ministry purchased over 117,000 doses via Vietnam Vaccine JSC. Over 800,000 doses supplied by the Covax facility arrived in March. All the doses have been administered to prioritize individuals in 62 provinces and cities, including frontline medical personnel, the Steering Committee for Covid-19 Prevention and Control members, police and military forces.
Vietnam is grappling with the 4th outbreak which is evaluated as the biggest one since early last year. Within 21 days since its onset, a total of 1,340 cases have been reported. Bac Giang, Bac Ninh and Hanoi are having the highest tally, which stands at 411 cases, 290 and 239 respectively.