Polish Expat's App Assists with Home Hospitalizations for Health Care
As a honorary Vietnamese, Adam Skoneczny is committed to helping Vietnam tackle Covid in order to protect his second home.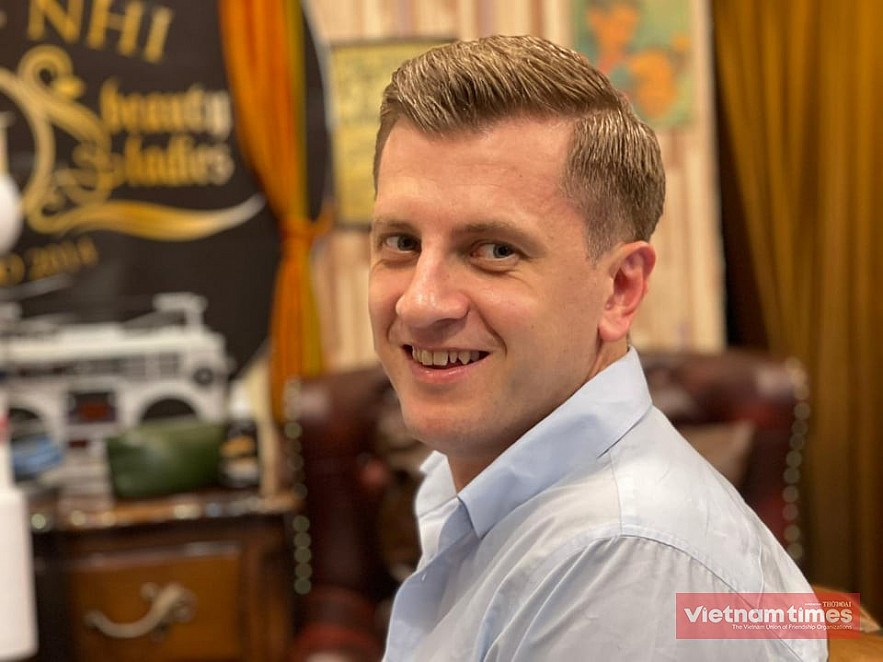 Adam Skoneczny, a Polish director and founder of EVIT. Photo: ThuyHang VNT
After traveling around the world, a Polish man decided to settle in Vietnam. He is Adam Skoneczny, a young 28 year old director and founder of Polish company in Vietnam, also the writer of a book named "Chém Gió của Tây" (Vietnam Expats Talks) about expat life in Vietnam, which is followed by thousands of Vietnamese friends on his page.
Adam came to Vietnam for traveling and he was surprised and excited by Vietnamese way of life. He was enchanted by Vietnam's chaotic traffic and delicious street food. Vietnam is very special, unique and quite strange to him, especially Vietnamese people strongly touch his heart when first time walking in Ho Chi Minh street, some Vietnamese guys invited him for beer. He sat down with them, drunk and talked more than 2 hours with the merry drinkers. Like many visitors in Vietnam, Skoneczny became fast friends with Vietnamese people over many glasses of beer.
That was the fate to keep the Polish young man's heart and he decided to live in Vietnam for his second life which is absolutely different from the previous. When Adam moved to Hanoi 4 years ago, the another reason for Adam to know that his life would be in Vietnam to see and get married with his wife, a Vietnamese beauty born in Thanh Hoa.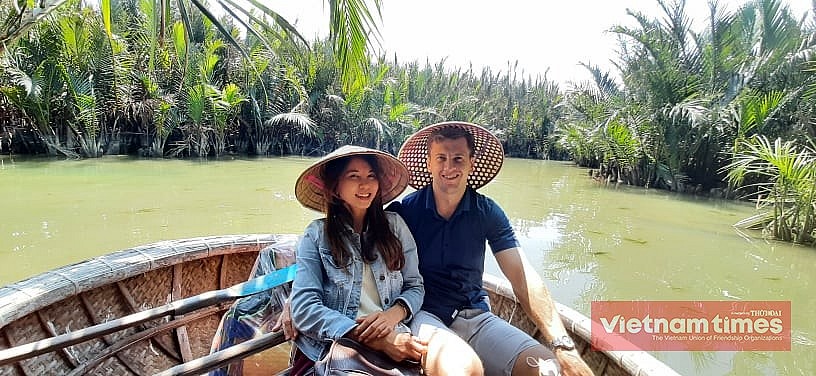 Adam and his wife Trang travelling to the south west of Vietnam. Photo provided by Adam.
After becoming a Vietnamese citizen and a member in Vietnamese society, Adam always feels that he takes responsibility to contribute to both his family and country he is living. Currently, Adam has been running a company named EVIT to promote business cooperation between Vietnamese and Polish SME companies.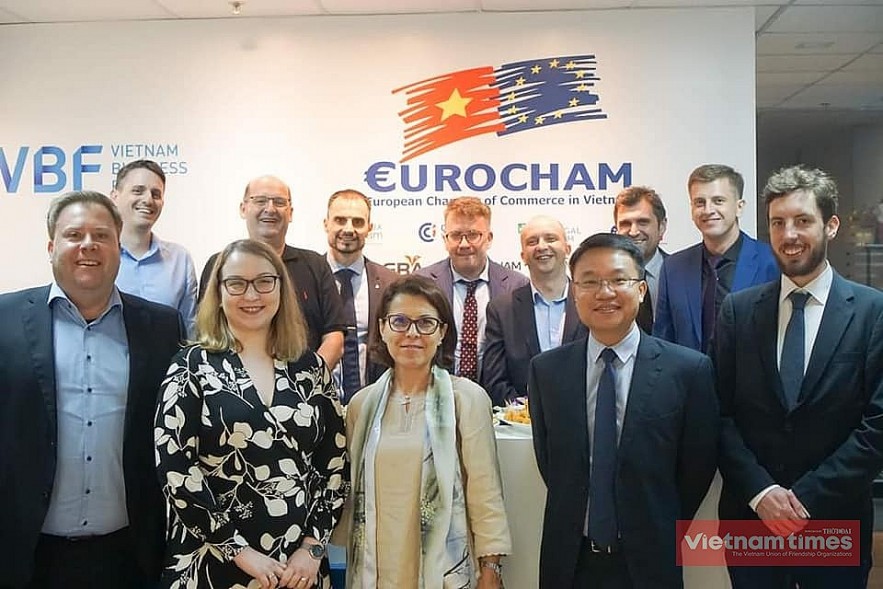 Adam in the meeting promoting business cooperation between Vietnamese and European companies in March 2021.
After becoming a Vietnamese citizen and a member in Vietnamese society, Adam always feels that he takes responsibility to contribute to both his family and country he is living. Currently, Adam has been running a company named EVIT to promote business cooperation between Vietnamese and Polish SME companies.
Recently, during the 4th pandemic outbreak in big cities in Vietnam, Adam has been still working with his Vietnamese and European friends to create an app for health in want of helping people. In an interview with Vietnam Times, Adam shares his purpose and target for the app creation:
"I have noticed that Vietnam is struggling with amount of patients in hospitals, beds are full and doctors are too busy to fully look after them. We have noticed that Vietnam is going to apply same solution like in Europe namely home hospitalization. From now on, people will stay at home and isolate themselves and only will be hospitalized if essential.
The challenges for people and doctor is how to monitor health of patients and here is coming Halo4Med. The application which is connected with device that you put on your finger and its measure level of oxygen in your blood. Next information is transmitted to application and analyzed by Artificial Intelligence.
This technology helps diagnoses health of patients and in case of any danger of patient, it will automatically inform doctor and ambulance. This technology is so advanced that it can detect dangers for patient life even 24 hours before something wrong starts happen. Thanks to this system in Poland, most of patients are not hospitalized. Ever day over 30.000 people using system which is helping to save life, time and money.
At this moment in Vietnam, home hospitalization is very challenging, because there is no way to measure patient condition and social workers must go to visit sick people and ask them "how they feel". And the time-consuming process issue can be solved instantly by applying Halo4Med."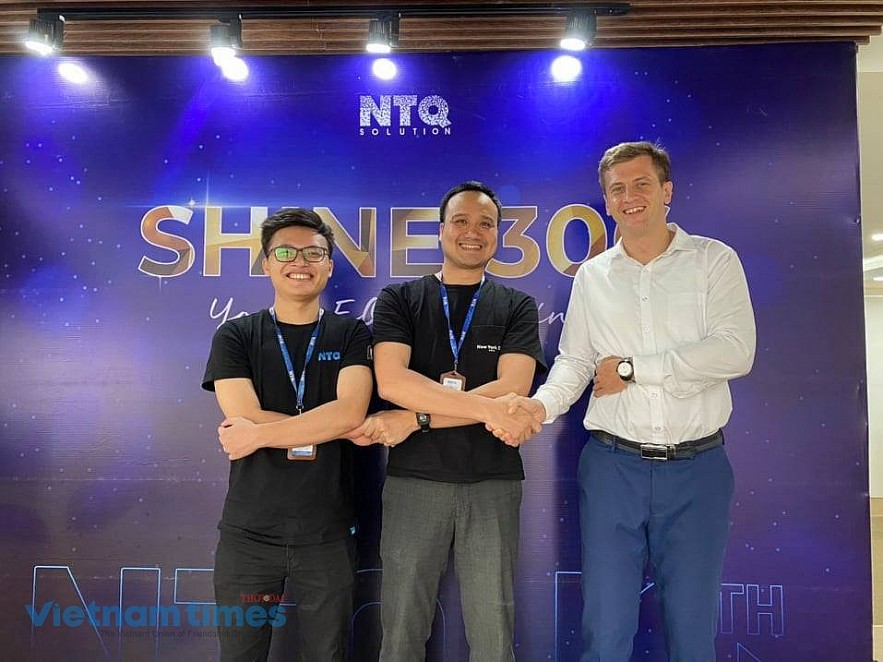 "Adam and his Vietnamese team from NTQ- solution , together working on better future of Vietnam". Photo: ThuyHang VNT in early 2021
"Living here last five years makes me feel like it's my home , and I do truly feel sad when my Vietnamese friends ding from this dangerous disease. Because of that I have decided to do something to support my Vietnamese friends. I have reached to my business partners in Europe and I asked them for support.Adam believes that he is not an expat any more, but a Vietnamese returning home from a long journey:
I have explained that we are in difficult situation and urgently we need support. Very quick I have reached my friends in government, Polish Investment and Trade agency and also private business owners who would be able of supporting us. After contacting with my friends from company Tenderhut I understood that finally I have found right people who can help us with fighting covid here in Vietnam.
My friends from Tenderhut, promised me to help implement system in Vietnam with priority. Tenderhu has created technology ( phone application connected with device which measure oxygen in blood) which help you measure your health condition and diagnose if any danger for you health is coming. Application has very complicated system of Artificial intelligence which automatically inform doctor 24 hours before patient will have dangerous health condition.
This system has been working in some European countries already and just in Poland every day more that 30.000 patient using it. Thanks to this, any patient infected by COVID 19 do not need to be hospitalized because if there will be any danger for health the application will automatically inform doctor and only after that patient will be transported to hospital.
However, at this moment I do not know who could help me locally to introduce system to Vietnamese people. I hope there is someone who can support me to provide that system to Vietnamese people and help me save many lives. Covid-19 is affecting most people in the world. Nearly everyone could feel some kind of effect of pandemic on their life.
Along with busy work, Adam still takes time for social activities, he also volunteers to be a sponsor for homeless children in Bo De Pagoda in Long Bien, Ha Noi.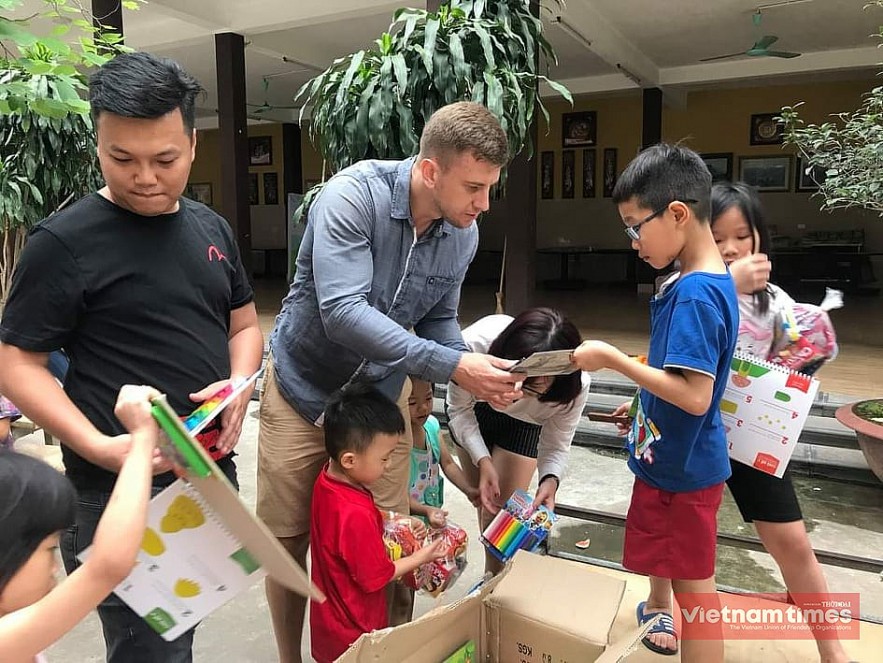 Adam brang gifts to homeless children in Bo De Pagoda in 2019. Photo provided by his Vietnamese friend.
Now, Adam can speaks and writes Vietnamese very well, he always says to his family and friends that he is really happy and satisfied of life this time depite much difficulty during the period of Covid time. And, these are sentences Adam shares to people everyday in Vietnamese on his page.
Đừng quên sống hạnh phúc mỗi ngày - Don't forget to live in happy way everyday
Mỉm cười với người lạ - Smile with strangers
Nói với người bạn yêu thương rằng "Tôi yêu bạn" - Tell your lovers that " I love you"
Trò chuyện với thành viên trong gia đình - Always talk and share with your family' members
Giữ tinh thần lạc quan - Keep an optimistic spirit
Chúc các bạn sức khỏe - And God bless all of us with good health.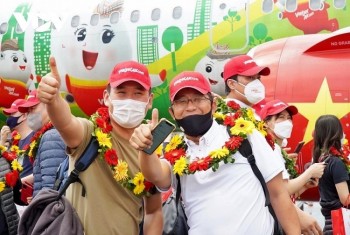 National
Vietnam News Today (Jan. 26): Vietnam reports 15,699 more domestic Covid-19 cases; Vietnam told to reopen to international tourism ahead of SEA Games 31; Germany donates four million more vaccine doses to Vietnam; Vietnam has opportunity to become global leader in renewable energy.