Promoting National Culture for Overseas Vietnamese
According to the Government Committee for Religious Affairs, the overseas Vietnamese community currently has about 5.3 million people, living and working in 130 countries and territories, of which over 2.5 million are followers of religions.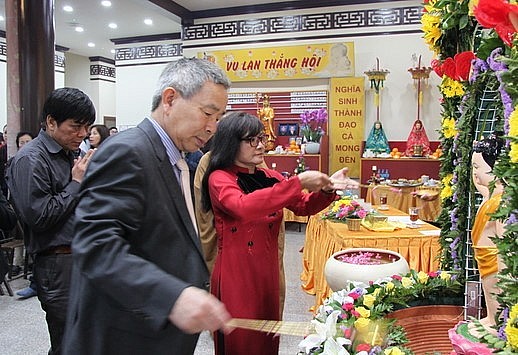 Overseas Vietnamese in Poland celebrate Buddha Day.
Although they follow different religions and are influenced by different living environments and conditions, the majority of overseas Vietnamese who are followers of different religions always towards the homeland, preserving and promoting the nation's traditions.
In the coming time, to develop belief and religious activities of overseas Vietnamese, many experts have shared and contributed opinions. This is to better support overseas Vietnamese religious believers in their religious activities, thereby contributing to preserving and promoting national culture in the overseas Vietnamese community.
Sharing at the conference "Supporting religious activities in association with preserving and promoting national culture for the overseas Vietnamese community," Venerable Thich Duc Thien, vice president and secretary general of the Vietnam Buddhist Sangha Central Committee said that the Vietnam Buddhist Sangha now has Buddhist associations and Buddhist cultural centers of the Vietnamese community in 33 countries and regions.
Every year, the Vietnam Buddhist Sangha organizes many delegations to visit countries, teaching Buddhism and holding ceremonies to pray for peace, Lunar New Year Festival, Buddha's birthday, and Vu Lan Festival to serve overseas Vietnamese at Buddhist cultural centers in countries, opening Vietnamese language classes for the second and third generations of Vietnamese people in foreign countries.
Pastor Tran Thanh Truyen, president of the Vietnam Seventh-day Adventist' Church, said that it is necessary to open Vietnamese cultural centers to teach Vietnamese, teach cooking, baking, and crafts for Vietnamese living abroad. The center is also to exchange, visit and learn about the guidelines and policies of the Party, State and Government of Vietnam on investment, tourism, belief and religion.
According to Deputy Head of the Government Committee for Religious Affairs Tran Thi Minh Nga, in the coming time, the Committee will propose and advise appropriate guidelines and policies in support of belief and religious activities of overseas Vietnamese. The policies are on aspects such as teaching Vietnamese, opening Vietnamese cultural centers; supporting overseas Vietnamese to return home to participate in religious activities.