Protests in America update: Protestors set fire to the restaurant where Rayshard Brooks shot
Atlanta police chief steps down after Rayshard Brooks shot and killed by a cop, protestors ste fire to restaurant near place of Rayshard Brooks' shot, at least 450 businesses in New York damaged in looting and vandalism and protesters in California require investigation over the death of Robert Fuller are remarkable news updated today.
Atlanta police chief resigns after Rayshard Brooks shot and killed by a cop
Atlanta Police Chief Erika Shields resigned her post on June 13 less than 24 hours after a black man was shot and killed by a police. Atlanta Mayor Keisha Lance Bottoms also said that she does not "believe that this was a justified use of deadly force," and the cop who shot should be fired, The Washington Post reported.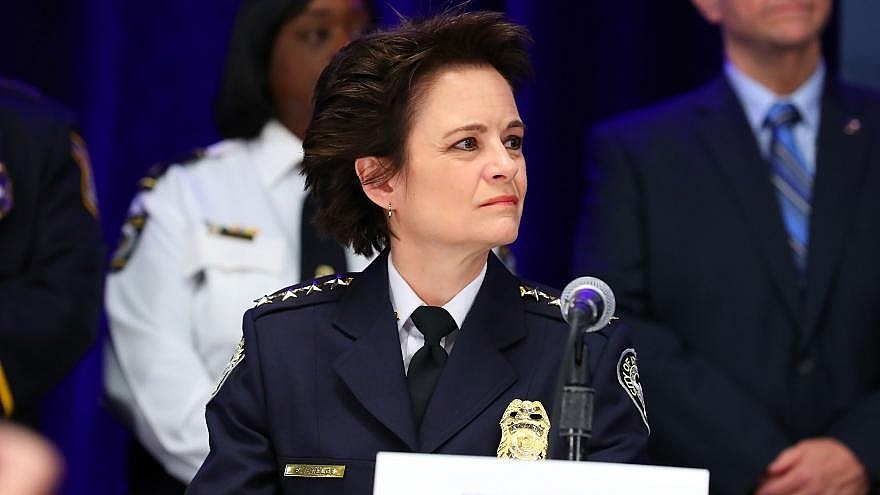 Atlanta police chief. Photo: abc57.com
The change comes as protesters take to the streets demanding action over the death of a black man named Rayshard Brooks.
According to Georgia Bureau of Investigation (GBI), Brooks was shot in the parking lot of a Wendy's in southeast Atlanta on June 13 after he clashed with officers and ran away with a cop's stun guns.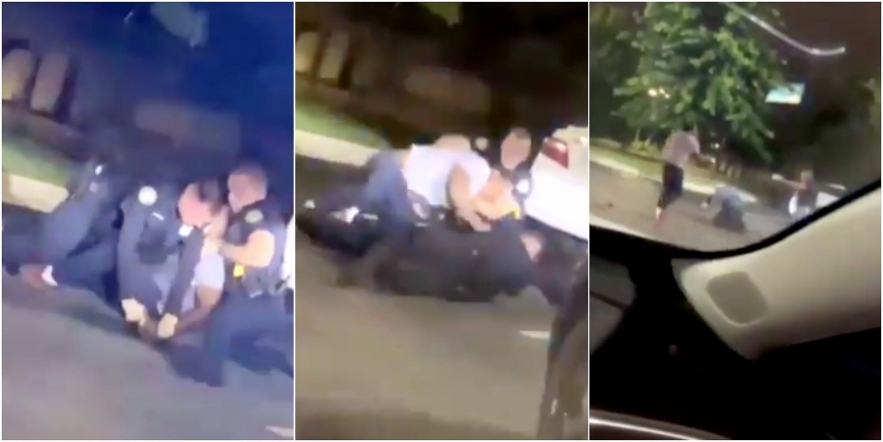 Photo cut from video. Source: Business Insider
The incident came after a call to police at 10:33 p.m. informed about a man sleeping in a parked vehicle in the restaurant's drive-thru lane, which made other people to drive around it, the GBI cited in its statement. Cops came and made a test on Brooks. He failed the test and resisted arrest.
Rayshard Brooks, a 27 year old black man shot by an Atlanta cop. Photo: CNN
"A field sobriety test was performed on the male subject. After failing the test, the officers attempted to place the male subject into custody," reads a press release from police. "During the arrest, the male subject resisted and a struggle ensued. The officer deployed a Taser."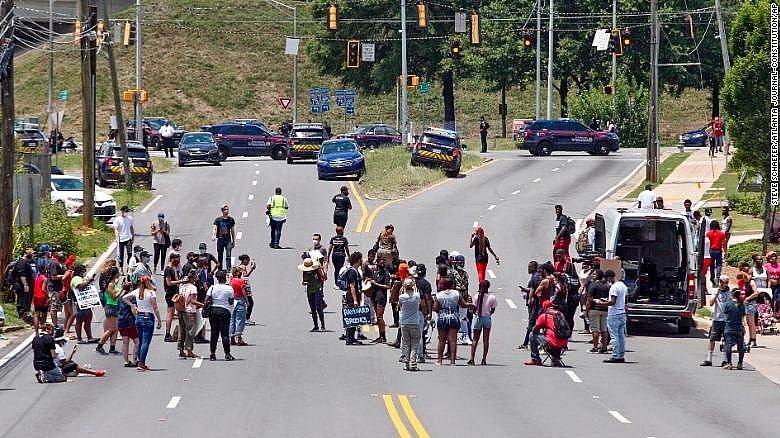 Atlanta protestors gathered near the place of the incident. Photo: CNN
"Officers pursued Brooks on foot and, during the chase, Brooks turned and pointed the Taser at the officer. The officer fired his weapon, striking Brooks," the GBI wrote Saturday on Twitter. Currently, the police who fired the fatal shot has not been identified.
At least 450 businesses in New York damaged in looting and vandalism
In New York city, around 450 businesses had been damaged in storefront were looted in some cases from late May to early June, CNN cited from information of Department of Small Business Services.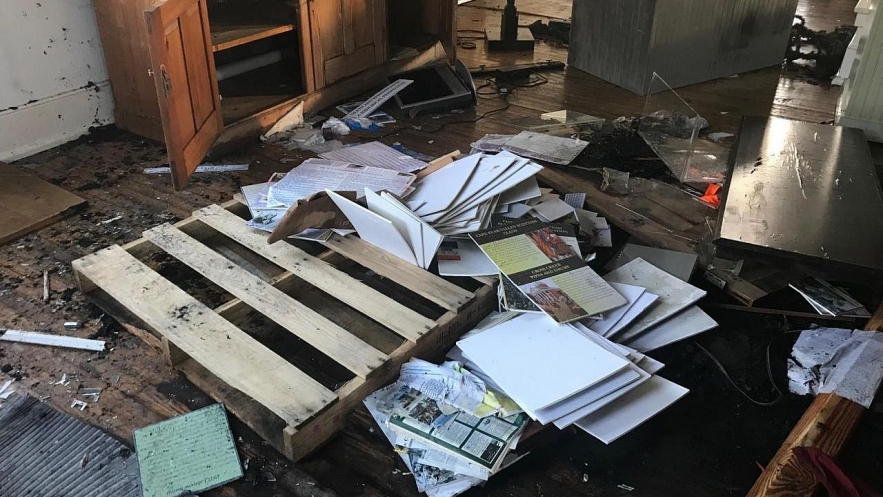 Photo: WRAL
Samantha Keitt, the department's spokeswoman saif that the department does not have an estimate for the total cost of damages,therefore, the estimate of the amount of damaged buildings can be changed. The estimated damage reported between May 29 and June 9.
Mayor Bill de Blasio announced last week that the Small Business Emergency Grant, which would give grants of up to $10,000 to small businesses impacted by looting and damage to their storefronts, starting in the Bronx.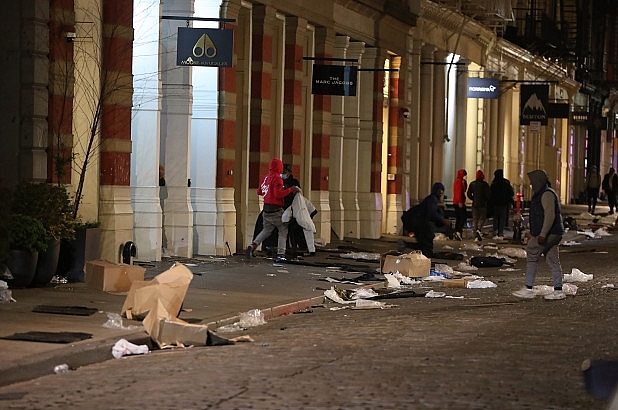 Looters are seen in New York City. Photo: NY Post
According to a press release, these grants will help "impacted minority and women-owned businesses as well as those with annual revenues of less than $1.5 million, with their recovery efforts, including repairs, security systems, locks, inventory and more".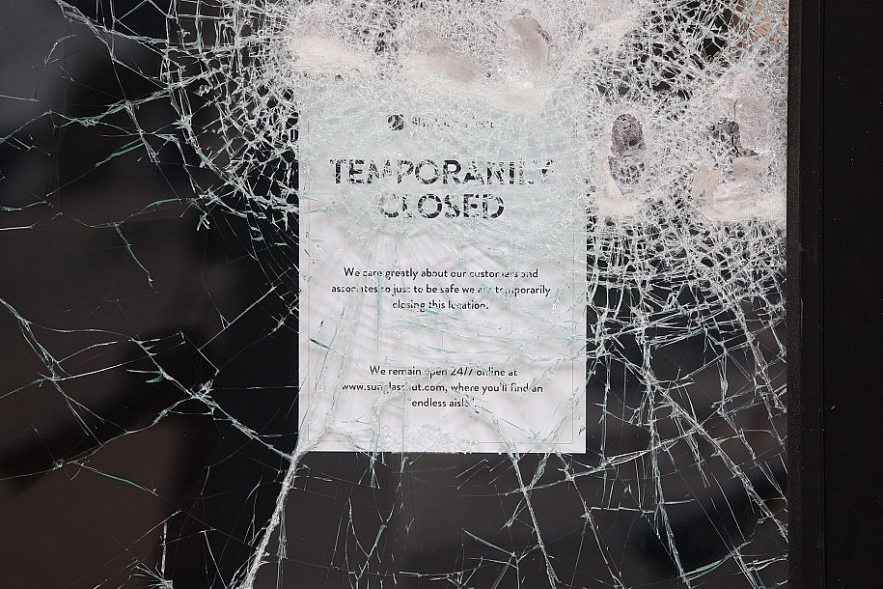 Smashed glass in the door of a shop. Photo: NY Post
"The only way we will move forward and get small businesses back on their feet is by coming together as a community," Mayor Bill de Blasio said in a press release. "Our small businesses are not going anywhere. They are strong and resilient and they will be back, and we are here to help them do that."
Funding for the grant was provided by SOMOS Community Care and Signature Bank, which pledged the donation of $500,000 and $750,000, respectively.
Protestors set fire to the restaurant
where Rayshard Brooks shot
A Wendy's restaurant has been set fire by Atlanta protestors who shut down a major highway after the death of Rayshard Brooks, a 27-year-old man shot by a cop.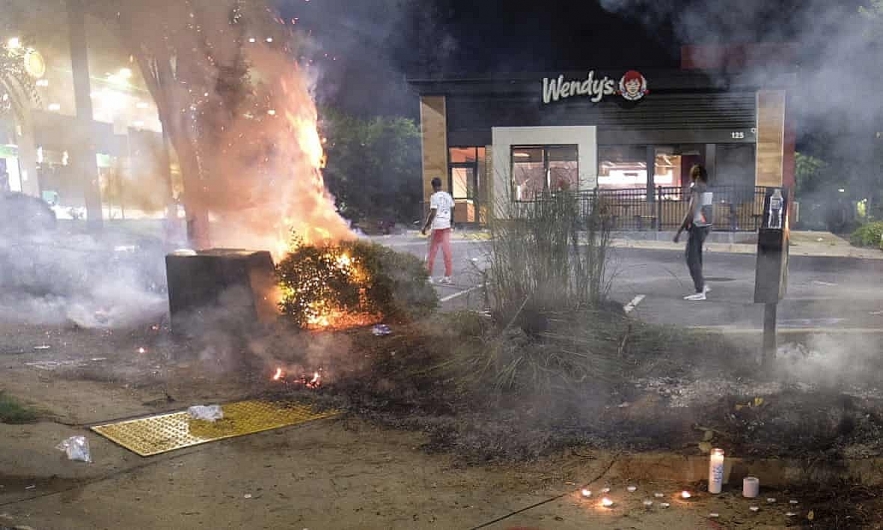 he Wendy's restaurant where Rayshard Brooks was shot dead burns. Photo: AP
According to The Guardian, after police were called to the Wendy's over reports that he had had fallen asleep in the drive-through line, Rayshard Brooks, 27, was shot dead on Friday night.
The unrest broke out after dark in Atlanta on Saturday. Images on local television showed the restaurant in flames for more than 45 minutes before fire crews arrived to extinguish the blaze, protected by a line of police officers. By that time the building was totally damaged.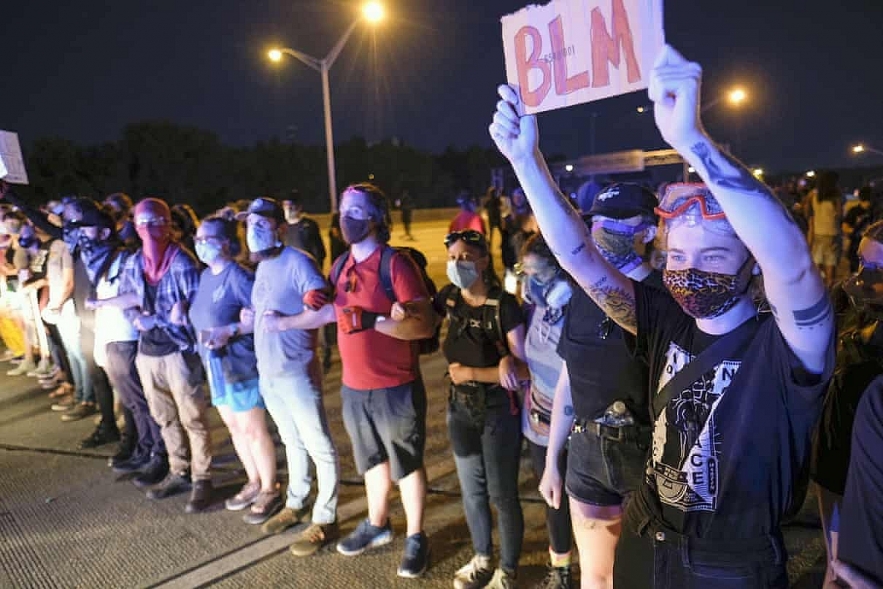 Demonstrators block the I75 highway in Atlanta on Saturday. Photo: AP
Other demonstrators marched onto Interstate-75, stopping traffic, before police used a line of squad cars to hold them back.
Earlier in the day mayor Keisha Lance Bottoms said she had accepted the prompt resignation of police chief Erika Shields over the death of Brooks.
"I do not believe that this was a justified use of deadly force and have called for the immediate termination of the officer," Bottoms said at an afternoon news conference.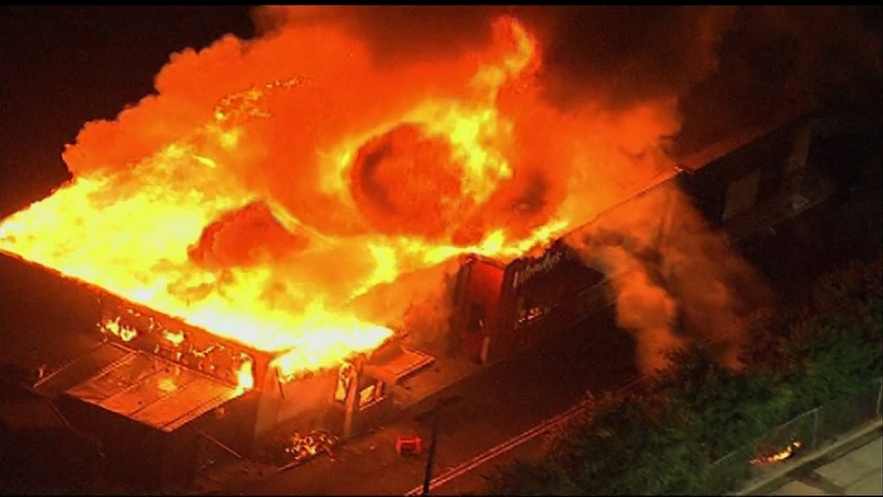 Photo: WGCL
Authorities have not yet announced names of the two white officers involved in the shooting. Brooks' lawyers said he was the father of a young daughter who was celebrating her birthday on Saturday. His death came after more than two weeks of another black man named George Floyd, a 46-year-old black man who died on May 25 under the knee of a Minneapolis cop.
Protesters in California require investigation over the death of a black man hanging from tree
Hundreds of protesters gathered on streets of Palmdale, a city of 150,000, and marched from the park where Robert Fuller's body was found. Many carried signs calling on "Justice for Robert Fuller", ABC News reported.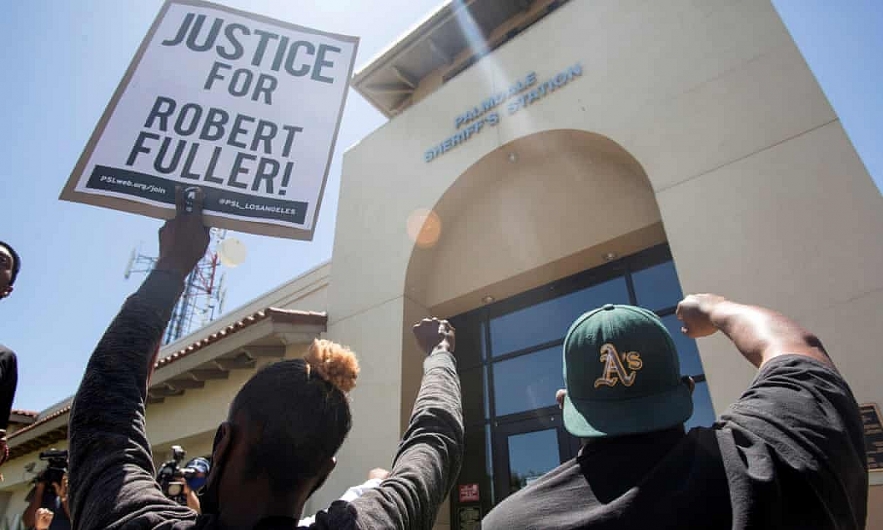 Protesters gather at the Palmdale sheriff's station to demand an investigation into Robert Fuller's death. Photo: Reuters
More than 100,000 people signed an online petition requiring an indepth investigation into Fuller's death, a 24-year-old black man. Community members confronted city officials and demanded an independent autopsyand after authority's quick label his death of suicide.
"I have doubts about what happened," Marisela Barajas, who went to the press conference and joined a crowd gathered at the tree where Fuller's body was found, told the Los Angeles Times.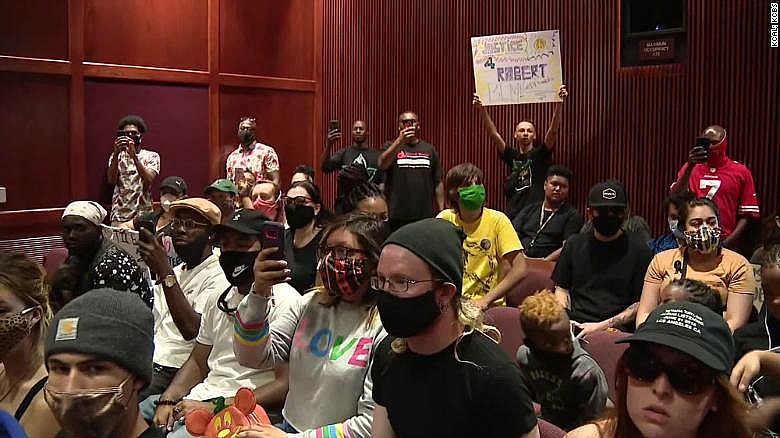 Palmdale residents attend a meeting on the death of 24-year-old Robert Fuller.. Photo: CNN
"All alone, in front of the City Hall - it's more like a statement," she said. "Even if it was a suicide, that in itself is kind of a statement."
It is reported that Fuller's sister Diamond Alexander insisted her brother didn't suicide. "Robert was a good little brother to us and it's like everything they have been telling us has not been right ... and we just want to know the truth," she said.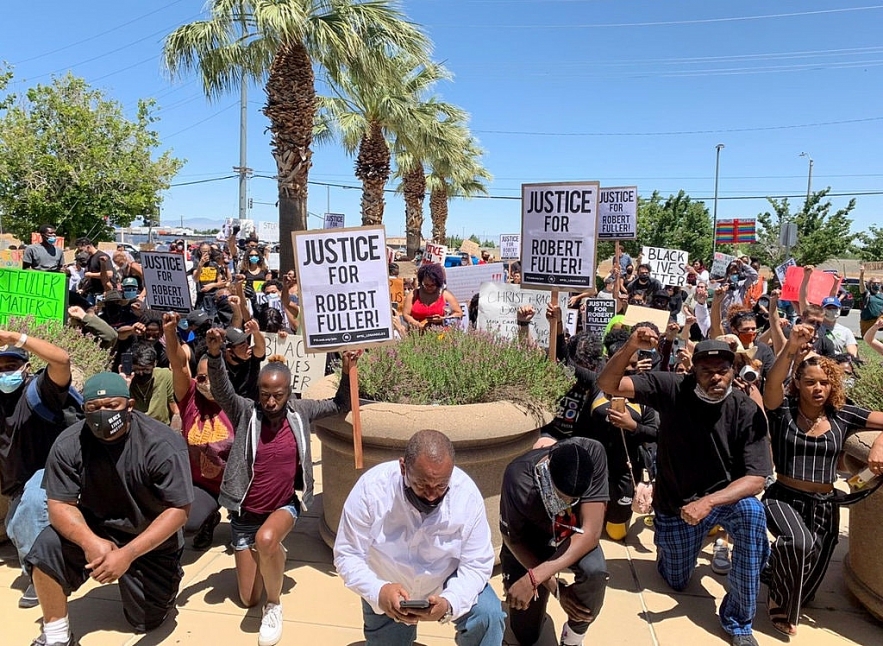 Protestors over Fuller's death. Photo: NY Times
Palmdale authority said homicide detectives were investigating the circumstances leading to Fuller's death to determine if foul play was involved. Investigators have been in contact with Fuller's family. The city said there were no outdoor cameras that could have recorded what happened.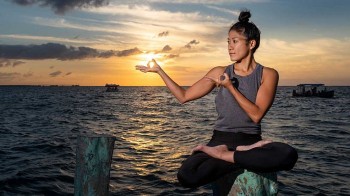 Overseas Vietnamese
With a view to inspire greater compassion, kindness, and empathy in the world, Caroline Vo left her high-paid job and came up with the idea to build an online yoga practice community.