Provinces, cities consider allowing students to return to schools as Covid-19 situation relieved
Many provinces and cities have actively implemented epidemic preventive measures so that students can come back to schools soon.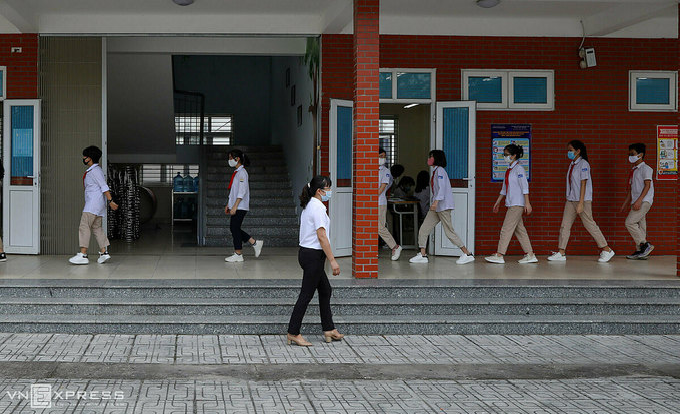 Students at a secondary school in Hanoi keep their distance as they return to school after a long Tet break due to Covid-19, May 4, 2020. Photo by VnExpress/Ngoc Thanh.
11 days without fresh cases, Hanoi mulls allowing students to return to schools
At a meeting of the Ha Noi's Steering Committee for COVID-19 prevention and Control on February 26 afternoon, Vice Chairman of Hanoi People's Committee Chu Xuan Dung said that the city was considering allowing students to come back to schools.
Hanoi leader requested the Department of Education and Training, the Department of Labor, Invalids and Social Affairs to continue coordinating with the Department of Health to update information and specifically instruct schools on making medical declarations, managing students, especially those returning to Hanoi from other localities.
Schools must check students' body temperatures, regularly disinfect classrooms, etc. The municipal Department of Health will dispatch groups to schools to guide and inspect the preparation work in welcoming students back.
Students in Hung Yen, Ba Ria-Vung Tau province will return to school from March 1
Vice-Chairman of the Hung Yen province People's Committee Nguyen Duy Hung signed an express letter regarding permitting students to return to schools.
Accordingly, students at kindergartens, primary, secondary, high schools, and centers for continuing education will come back to schools from March 1.
To ensure safety, Hung Yen province required schools to suspend extracurricular activities and extra classes.
The People's Committees of districts and communes take responsibility for directing and regularly monitoring the work on COVID-19 prevention and control at educational establishments.
Hung Yen also assigned the Department of Education and Training, in coordination with the Department of Health to guide educational establishments to strictly carry out anti-pandemic measures.
The schools must regularly disinfect classrooms, provide hand sanitizers, comply with the 5K message, install the Bluezone app, etc.
Students in Ba Ria-Vung Tau province will also return to schools from March 1.
The Department of Education and Training and the Department of Labor, War Invalids and Social Affairs of Ba Ria- Vung Tau direct education establishments to strictly abide by Covid-19 safety protocols. Students coming from the pandemic-hit localities are forced to make health declarations.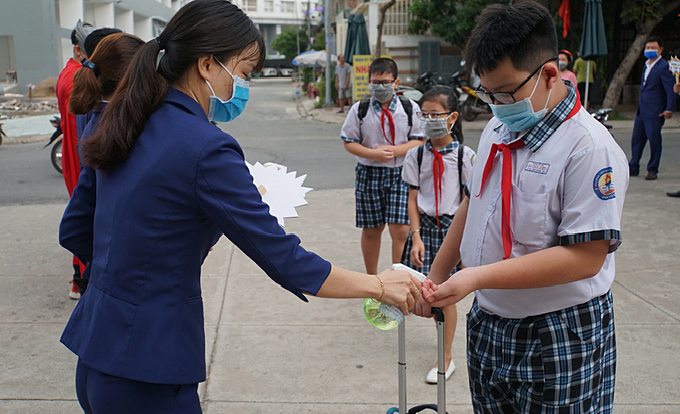 Students receive hand sanitizer upon arriving at a school in HCMC, May 2020. Photo by VnExpress/Manh Tung.
Ho Chi Minh City has prepared to welcome students back to schools
As reported by the Vietnam News Agency, as of February 26, many universities and colleges in Ho Chi Minh City announced to allow students to come back to schools. Besides, several schools continue organizing online teaching in the next 1-2 weeks and are scheduled to let students return from March.
The principal of Ho Chi Minh City University of Technology Nguyen Quoc Anh said that his students would return to schools from March 1.
HCMC University of Technology has reviewed the number of students coming from pandemic-hit areas and requested them to quarantine in accordance with the rules before returning to study offline.
Other universities in HCMC such as the University of Finance and Marketing, the University of Medicine and Pharmacy, the University of Transport, Cao Thang Technical College, etc also informed the returnning to schools starting March 1.
Students were ordered to wear face masks and refrain from contacting with each other.
The new infections brought the total number of patients in the country to 2,426, including 831 domestically-transmitted cases since new outbreaks hit Vietnam on January 27, according to the National Steering Committee for COVID-19 Prevention and Control.
The Subcommittee for Treatment reported that 35 more patients were declared to recover from the disease on February 26, raising the total number of recoveries to 1,839. Meanwhile, the number of deaths related to COVID-19 was still kept at 35.
Among active patients undergoing treatment at medical establishments, 45 tested negative for coronavirus SARS-CoV-2 once, 60 twice, and 72 thrice. As many as 76,495 people who had close contact with confirmed patients or entered Vietnam from the pandemic-hit regions are being quarantined nationwide, including 580 in hospitals, 12,038 in concentrated quarantine establishments, and the remaining 63,877 at their residences.
Make in Vietnam
Vietnam introduced potential for trade and investment to Algeria's localities