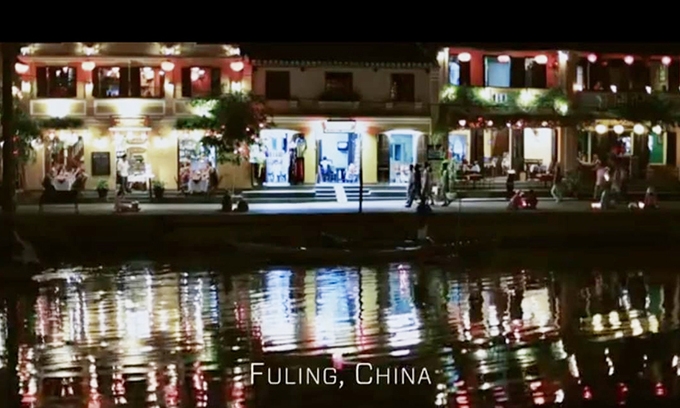 The shot, which appears at the fourth episode of Season 1, features the iconic Thu Bon River and old houses in Hoi An Ancient Town while being incorrectly annotated as 'Fuling, China.'
The ancient town of Hoi An was recognized as a UNESCO world cultural heritage site in 1998 and has become one of the top holiday destinations in Vietnam.
The image of the world-famous city appears in episode four in season one of the US political TV series with the caption Fuling, China, causing anger among Vietnamese, according to the posting.
Fuling is a district in the Chongquing municipality in southwest China.
The Quang Nam's Department of Information and Communications, submitted a document to the Ministry of Information and Communications and the Ministry of Culture, Sports and Tourism to request the reference be removed from the episode.
According to the authority, many viewers consider the incorrect annotation an offense to the locals' pride in the historical and cultural values of Hoi An and can "seriously affect" Vietnam's tourism promotion.
The provincial department also proposed companies that own the copyright of the TV series should not broadcast it in Vietnam until the issue is resolved.
"The scene in question is from a licensed title called Madam Secretary, which aired in 2014 and is a work of fiction," Netflix said in a statement from its media agency in Vietnam.
"The show is not available in Vietnam and any resemblances to real life situations or locations are unintentional."
"Madam Secretary", produced by broadcasting company CBS, stars Téa Leoni as Elizabeth McCord, a former CIA analyst and political science professor turned Secretary of State and later U.S. President. It was released in September 2014, wrapped up sixth seasons in December 2019, and was later purchased by Netflix for broadcast purposes.
It was no longer available on Netflix from Vietnam at the time of writing.
Vietnam in 2019 ordered theatres to pull the movie Abominable over depictions in the film of China's "nine-dash line" in the East Sea that violates Vietnam's waters sovereignty.
DreamWorks' animated feature, 'Abominable', also has been banned in Malaysia, and the Philippines.
The removal of the movie from Vietnamese cinemas follows a similar incident with "Operation Red Sea", a Chinese movie that was banned in 2018 from being shown Vietnam./.
Hannah Nguyen