Phan Thanh Nhien: The First Vietnamese to Scale Everest Twice
Climbing Everest is no easy feat, nor is doing it twice! Miraculously, climber Phan Thanh Nhien did just that!
At about 5:30 pm (Nepal time) on May 13, Phan Thanh Nhien officially successfully scaled Mount Everest for the second time after 14 years since his first time on Mount Everest.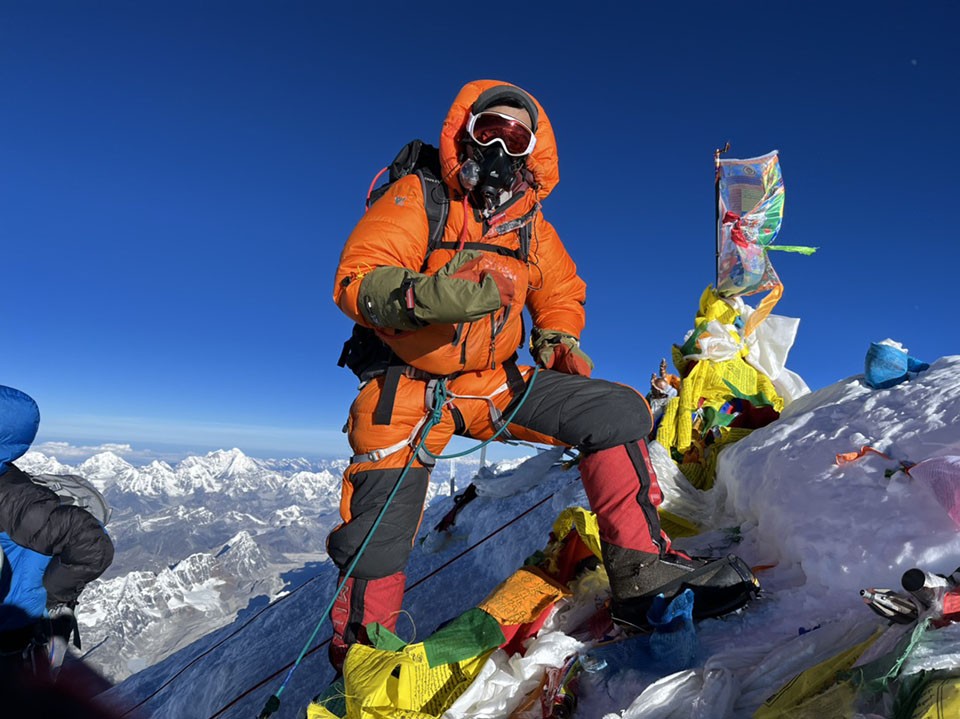 Photo: Phan Thanh Nhien
His initial goal was to become the first Vietnamese to fly the flag on the summit in 2022, but due to bad weather and incidents along the way, that title went to a Portuguese climber.
"I still remember the feeling in 2008 when I climbed to the foot of the mountain, I was no longer myself, with my headache I couldn't even stand up to station 1, I saw the tent but couldn't enter. But this time it was different, I went to the foot of the mountain feeling like I was in Vietnam. Before reaching the base camp, I also set myself the challenge of conquering the tops before, I climbed all the surrounding peaks and then reached the rest station. That's when I discovered I had a special ability on this trip," he revealed.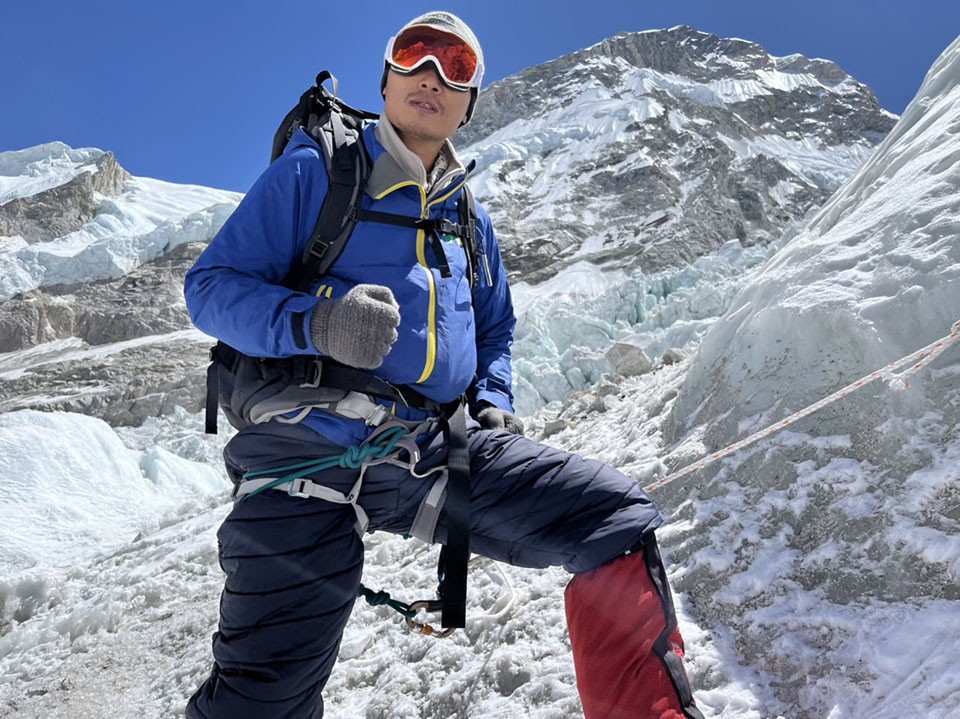 Photo: Phan Thanh Nhien
Since his first time reaching the peak of Mount Everest in 2008, Nhien always wanted to break his own record: "I never thought I would come back because it was a horrible journey, haunting me, then I accidentally saw images of snow climbing, in my head, I kept thinking about Mount Everest. At that time, I knew I was no longer afraid of Everest and wanted to go back and see how my body reacted,".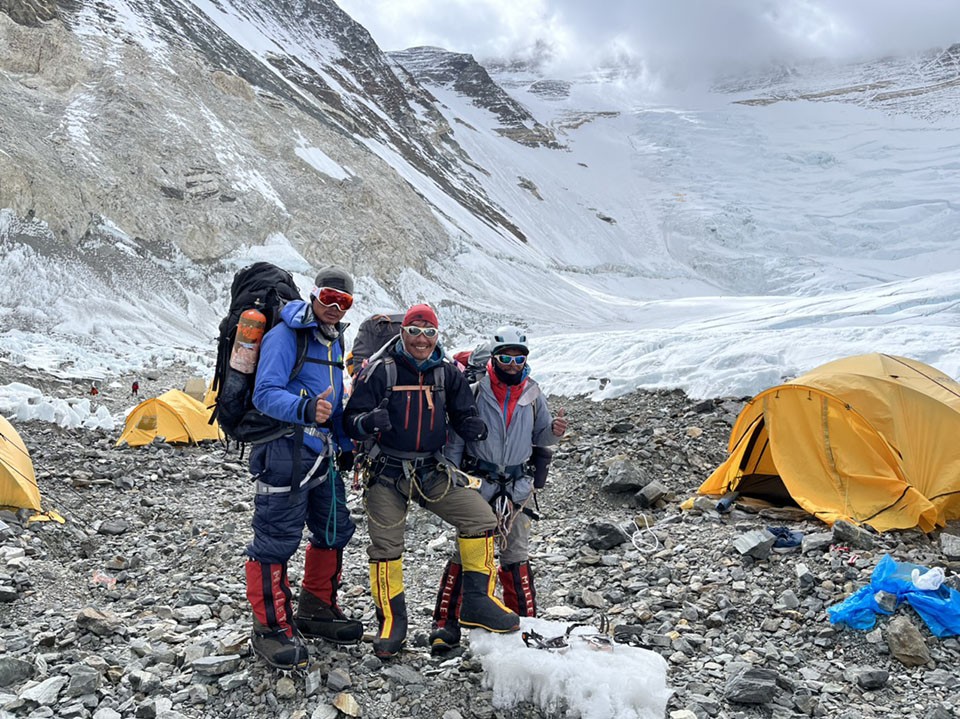 Photo: Phan Thanh Nhien
The day before he came to Nepal, he discovered that he was healthier and had a better climbing ability than ordinary people.
"At that moment, I was aiming for a different goal, coming up with a special route that no climber has ever done except for the Sherpa ethnic people who specialize in supporting climbers here," he shared.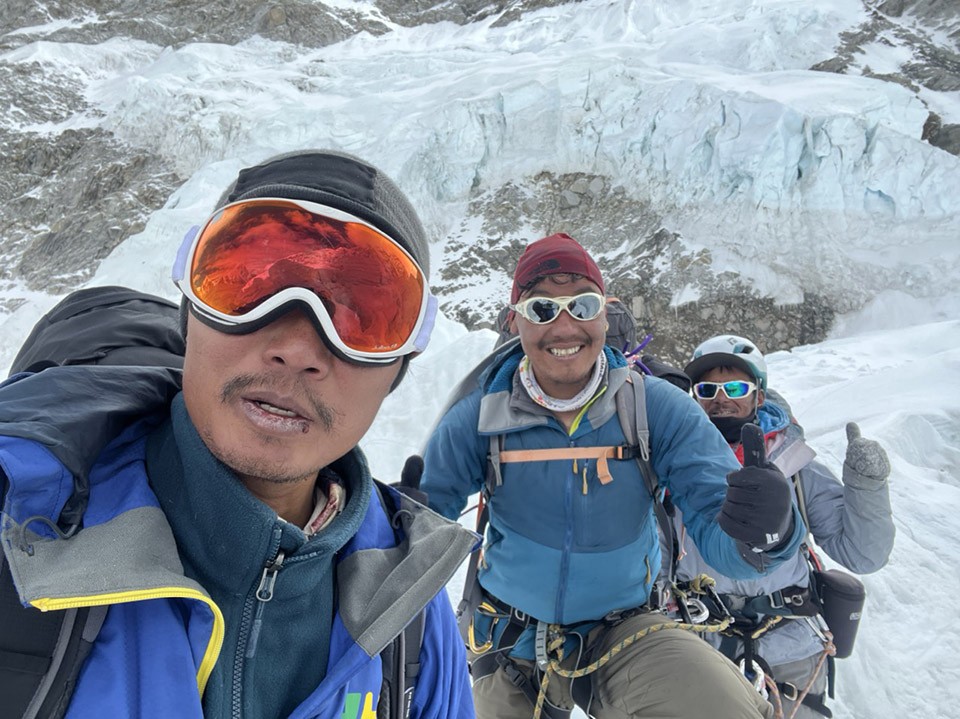 Photo: Phan Thanh Nhien
In 2022, at the age of 37, Phan Thanh Nhien set bigger goals to honor Vietnam on the roof of the world with new records. He said that in this group of eight people from six different countries, all of them were surprised by Nhien's reckless plan.
Up to station 2 with an altitude of more than 6,000 meters with extremely good physical strength, he said he still carries heavy things, eats native food, and was just fine.
"This surprised my companions and fellow climbers, doing things the average climber could not do. They called me Sherpa Vietnam, not Nhien anymore," he said happily.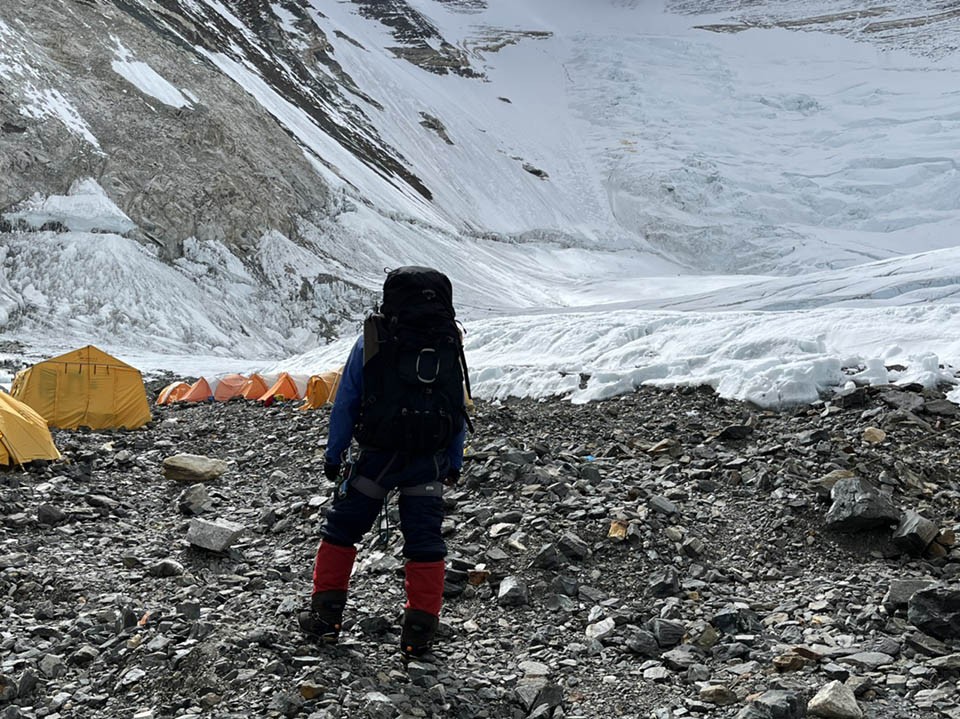 Photo: Phan Thanh Nhien
In order to test in climbing skills, he also revealed that he had had time to practice in Vietnam, choosing to climb the six highest peaks in Vietnam with a "terrible" time in just three days and six hours. These are Fansipan peak, Ngu Chi Son peak, Bach Mong Luong Tu peak, Nhiu Co San peak, Lao Than peak, and Putaleng peak.
Although going through a time of raging epidemic, his training has been interrupted, but Nhien has always thought of himself as an ordinary person and this journey's success is obvious. "I think that I must have a strong mentality to dare to do bigger things to change the way foreigners see Vietnamese people and turn Vietnam into a strong mountain climbing country. I plan to climb Mount Everest again next year without using an oxygen tank. As far as I know, only about 20 people in the world can do this. If it can be done, Vietnam will be in the top of successful climbing Mount Everest", he confided.
Video by Phan Thanh Nhien
Recalling the last moment of life and death, he said there was a time when he recorded a video saying goodbye to his family because of unexpected bad weather. He had a problem at the last station with an altitude of more than 8,000 meters and couldn't get to the top, so he had to return to station two, at this time the amount of oxygen dropped to a low level just enough to sustain life. With the worry of losing the Vietnamese flag and his declining physical strength, Nhien began to doubt his alpine adventure.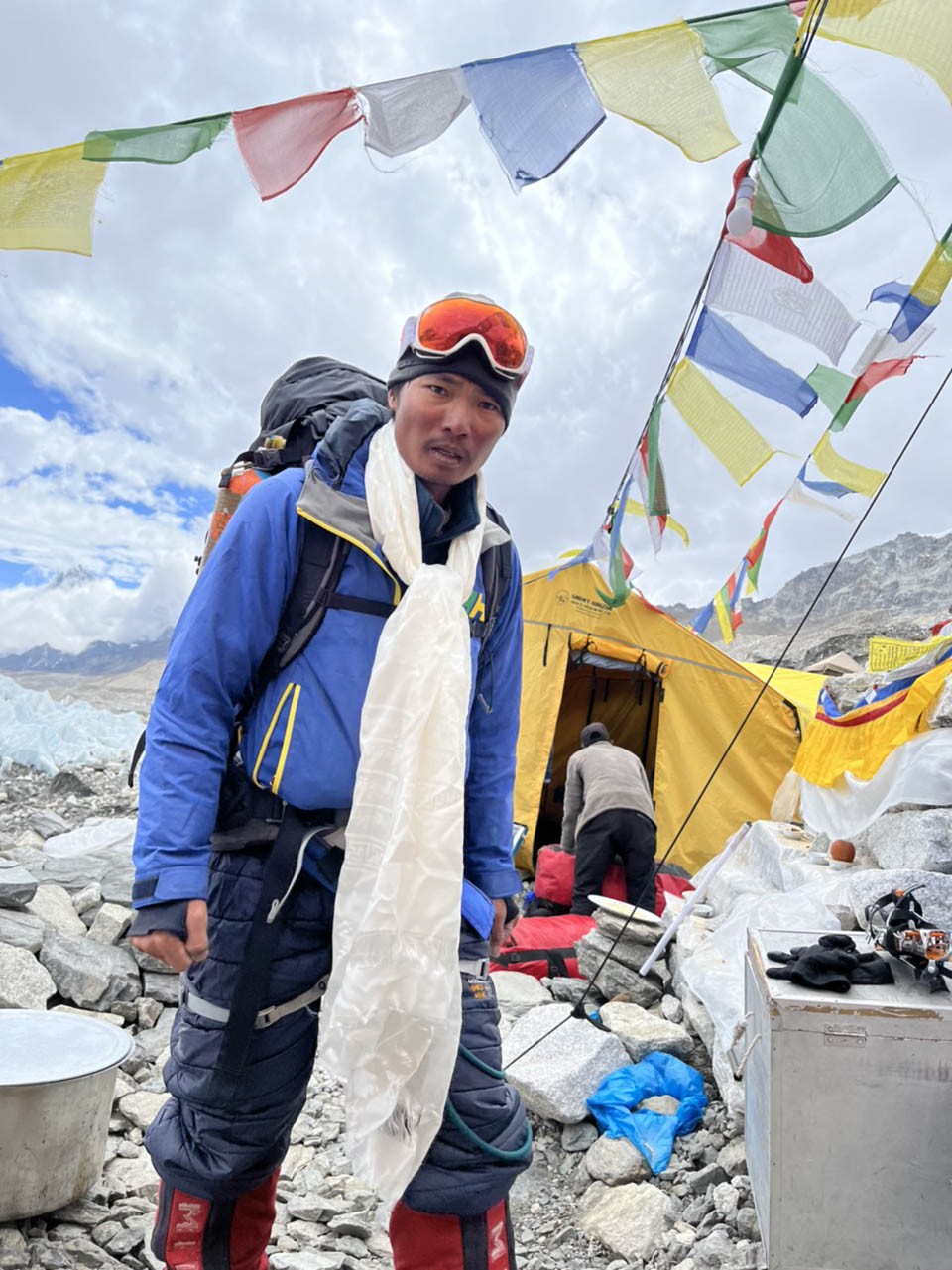 Photo: Phan Thanh Nhien
"I stopped eating, very sad and desperate, because I was just a little bit away from my peak. Before performing the second time, I recorded a video to send back to my family because I was exhausted, could not eat or sleep anymore. But after resting for a day and a night, I was less tired and told myself I would start over again, wherever I would go. Seeing everyone calling me Sherpa Vietnam revived my will and I didn't want to give up," he confided.
After the first failure, the second time his limbs were numb from lack of oxygen and his health had not yet recovered. Nhien had to train walking while counting steps, thinking to himself that there was only a little more left. He thinks that for a mountain trekking enthusiast, Everest is a milestone marking their success, as he says this world peak is "a measure of the spirit of a country".
"I will never forget the moment when the Vietnamese flag flew over the top and all the members of your country chanted the two words Vietnam. Lifting my neck to look around, it's only cloudy, people don't call Nhien just say Vietnam, Vietnam, I really want to cry more than laugh," he confided.
Video by Phan Thanh Nhien
After successfully setting foot on the top of Everest twice, Nhien hopes to fuel his passion for young Vietnamese who are cherishing their own dreams. He shared that climbing Everest is not easy, but that doesn't mean it can't be done. Currently, he is training and preparing for female climbers to be ready to conquer this peak in the future.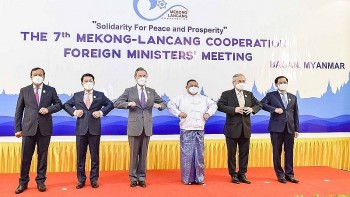 National
Foreign Minister Bui Thanh Son led a Vietnamese delegation to the seventh Mekong-Lancang Cooperation (MLC) Foreign Ministers' Meeting that was held in Bagan, Myanmar on July 4.