Several Vietnamese provinces ease social distancing measures
After many days without community transmissions, Dien Bien, Son La and Quang Ninh provinces and Da Nang city have relaxed social distancing measures.
Starting June 8, inter-provincial passenger transport routes including fixed routes, contracts, tourism, taxis from Dien Bien province to Hanoi city have been allowed to resume operation after 14 days of suspension.
However, transport units are only permitted to carry out 50% trips/route/day, ensure a distance of one seat between passengers and operate with no more than 50% of the licensed seats.
Dien Bien has not detected new infections in the community over the past 20 days. Nevertheless, it has still shut down the food and beverage business.
From June 9, Da Nang city has allowed on-site restaurants to reopen. Residents can go to the beach in two frames of time: morning from 4:30 to no more than 7:30 and afternoon from 16:30 to 18:30.
Citizens can also exercise and play outdoor sports but must don face masks.
Da Nang has gone through 21 days without any community transmissions. The city has recorded 158 Covid-19 cases in the latest wave.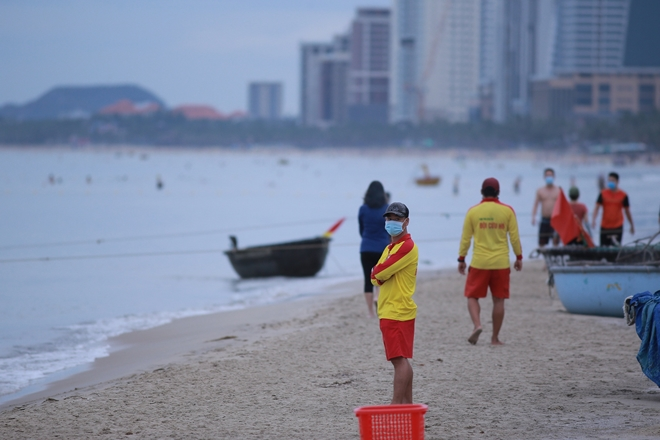 The functional forces remind people to comply with pandemic prevention measures at a beach in Da Nang. Photo: CAND
Son La province has allowed the organization of meetings and conferences with no more than 20 peoples.
Eateries and coffee shops can reopen but must adopt pandemic prevention measures such as arranging customers to sit at least one meter apart, erecting shields and not serving over 20 people at one time. The owners and employees must wear face masks while serving customers, VnExpress reported.
Hair salons and inter-provincial passenger routes have also been permitted to resume operation.
In the latest coronavirus wave hitting Vietnam on April 27, Son La has documented only one domestic case.
Quang Ninh province has permitted tourist destinations, religious sites and services to reopen starting June 8. The move was taken after the city has gone 30 days without any domestically transmitted cases.
Coffee shops, restaurants, eateries and gyms (except karaoke parlors, discotheques, bars, pubs and game rooms) can resume operation. Golf courses have only been allowed to serve visitors in the province.
Life at some places loosened social distancing measures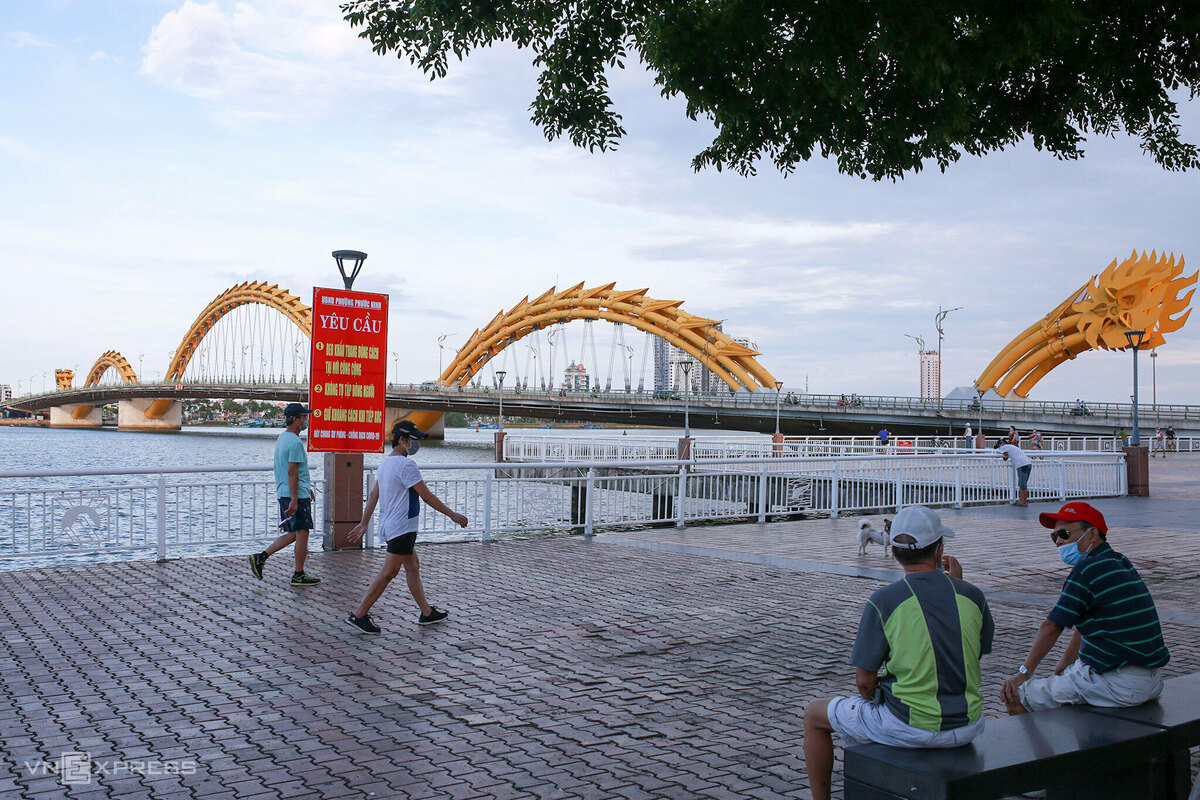 Photo: VnExpress
At a park near Han river in Da Nang, residents adhere to the regulations on Covid-19 prevention and control.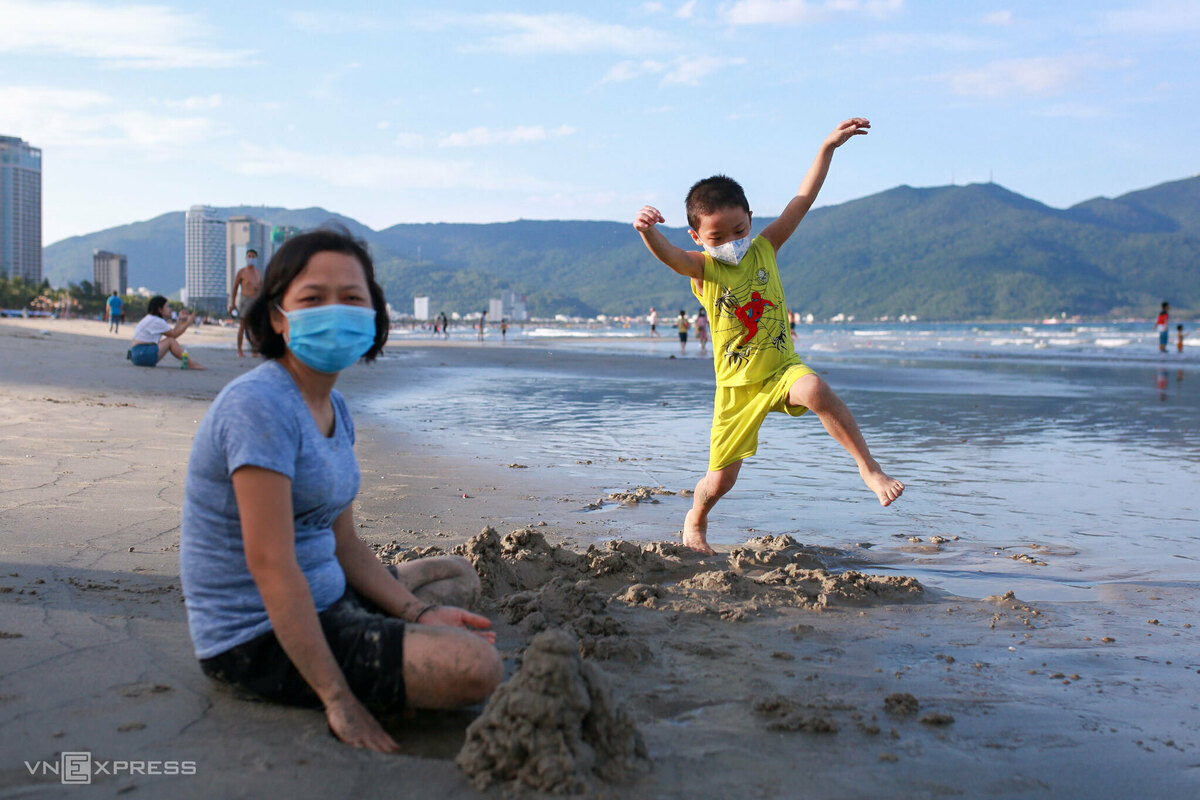 Photo: VnExpress
Huynh Thi Diem Trinh, 41, and his son, Vo Phuc Hung, 6, play at the beach.
Trinh said: "My son really likes swimming at the beach. Although the pandemic has basically been under control, we wear face masks all the time and maintain a safe distance from each other," she said.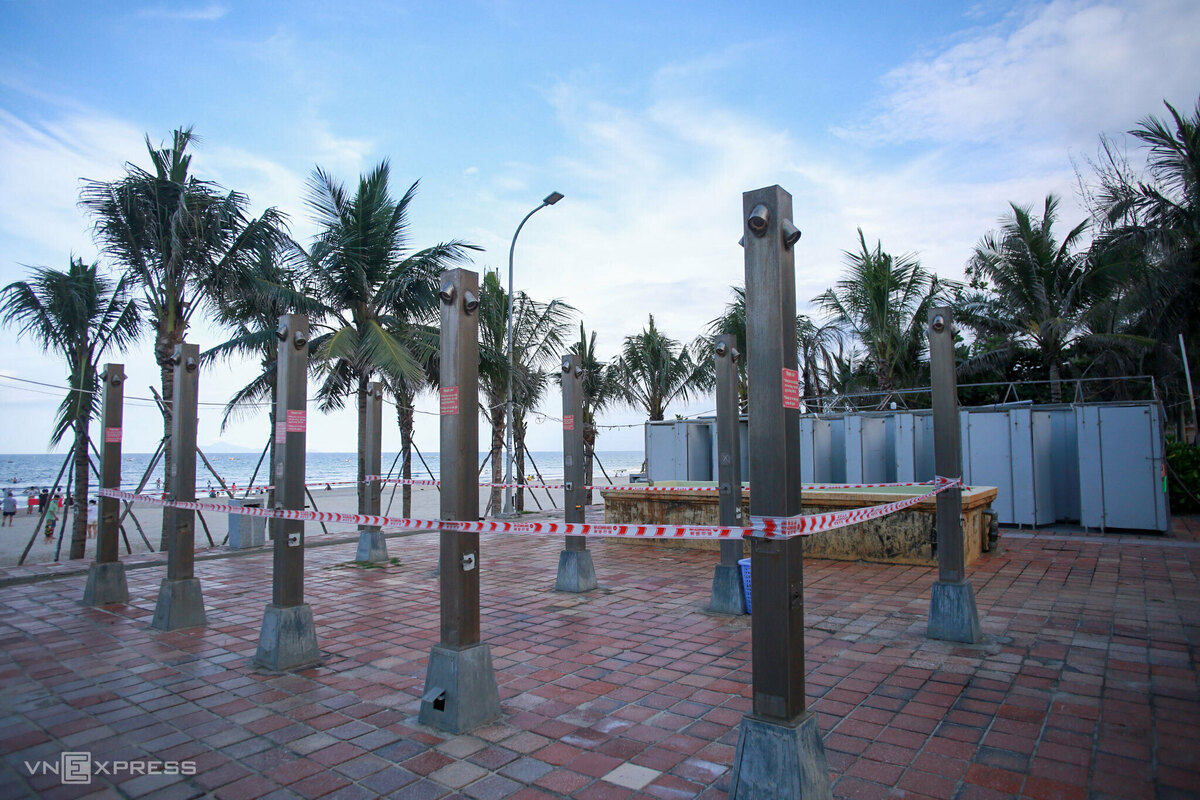 Photo: VnExpress
The freshwater bathing area has not been allowed to reopen. The local authorities have requested residents to only swim in permitted areas, not to gather at the beach and keep a distance of one meter from each other.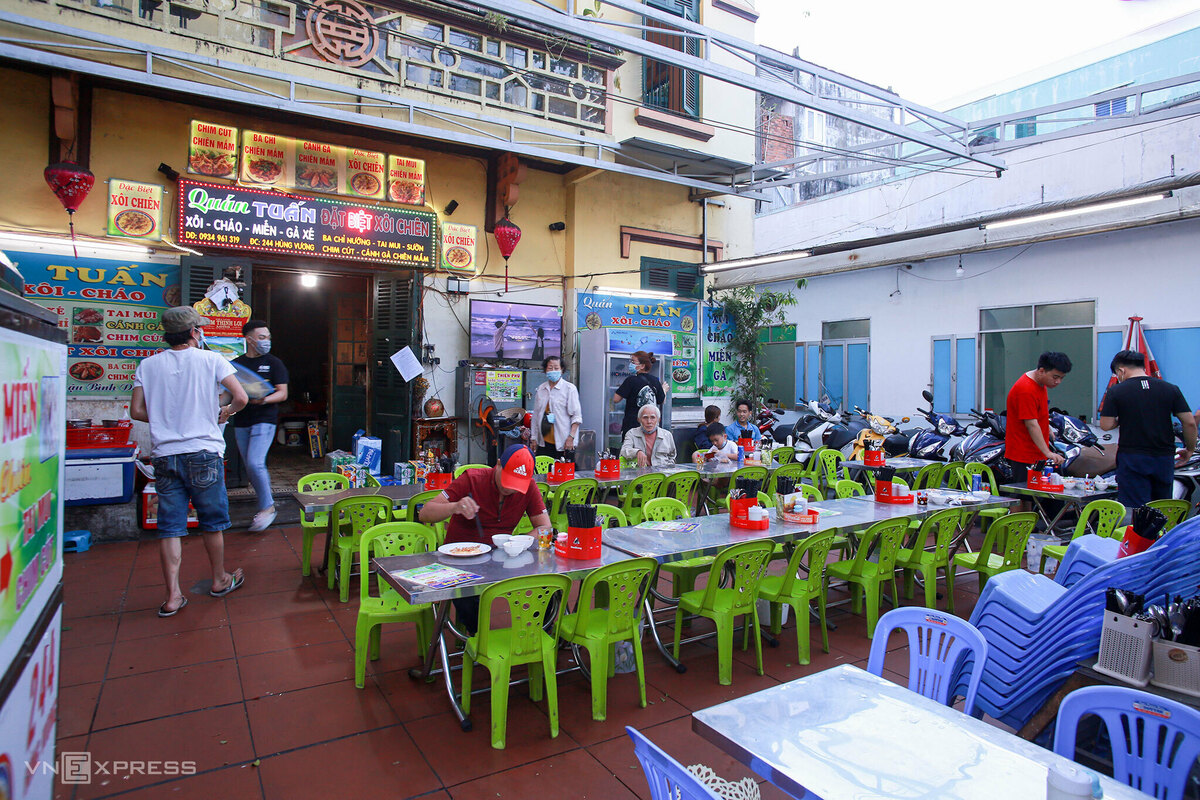 Photo: VnExpress
At a restaurant selling noodles and sticky rice on Hung Vuong street, Hai Chau district, the number of eaters is only equivalent to one-fifth compared before the pandemic. The restaurant's owner and staff abide by donning face masks.
Meanwhile, restaurants and eateries in coastal streets such as Vo Nguyen Giap and Vo Van Kiet have remained closed since there are no tourists.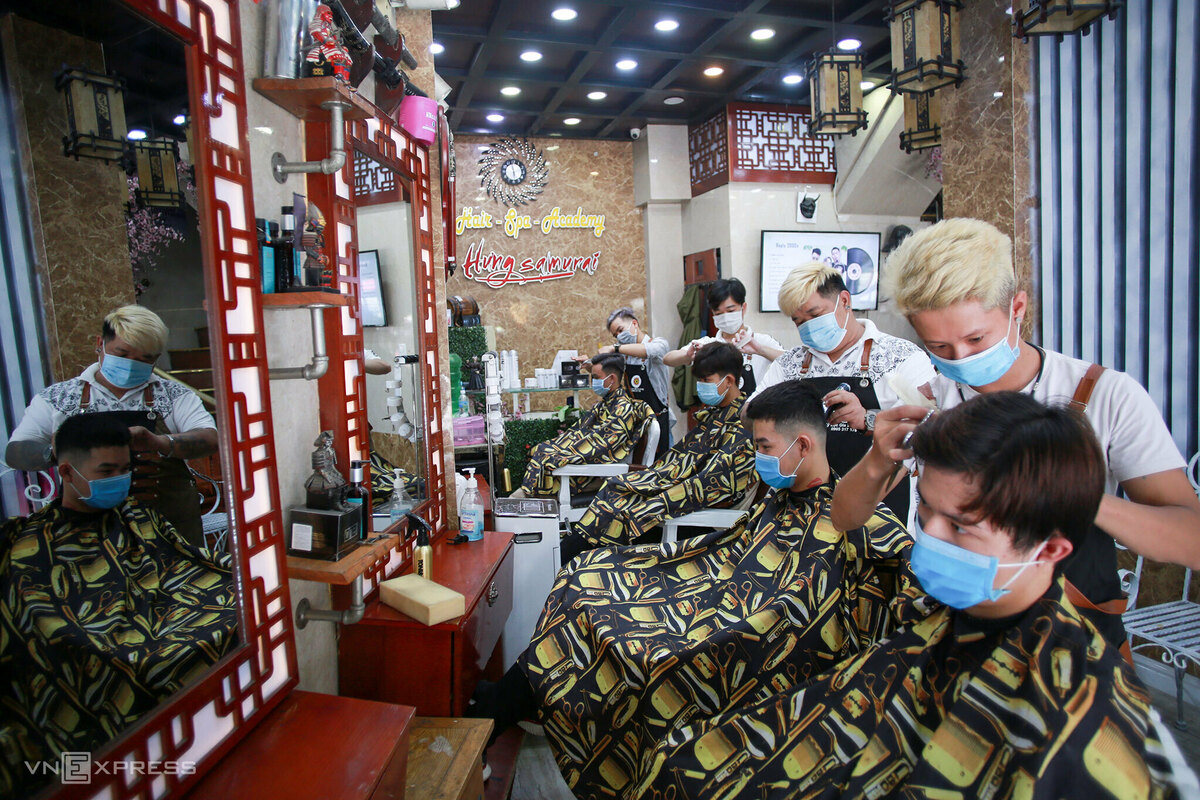 Photo: VnExpress
A hair salon at 23 Le Do, Thanh Khe district welcomes the first customers after 35 days of closure.
Nguyen Hoang Hung, 41, the hair salon's owner, said all customers were asked to wear face masks, wash their hands with sanitizer and make online health declarations.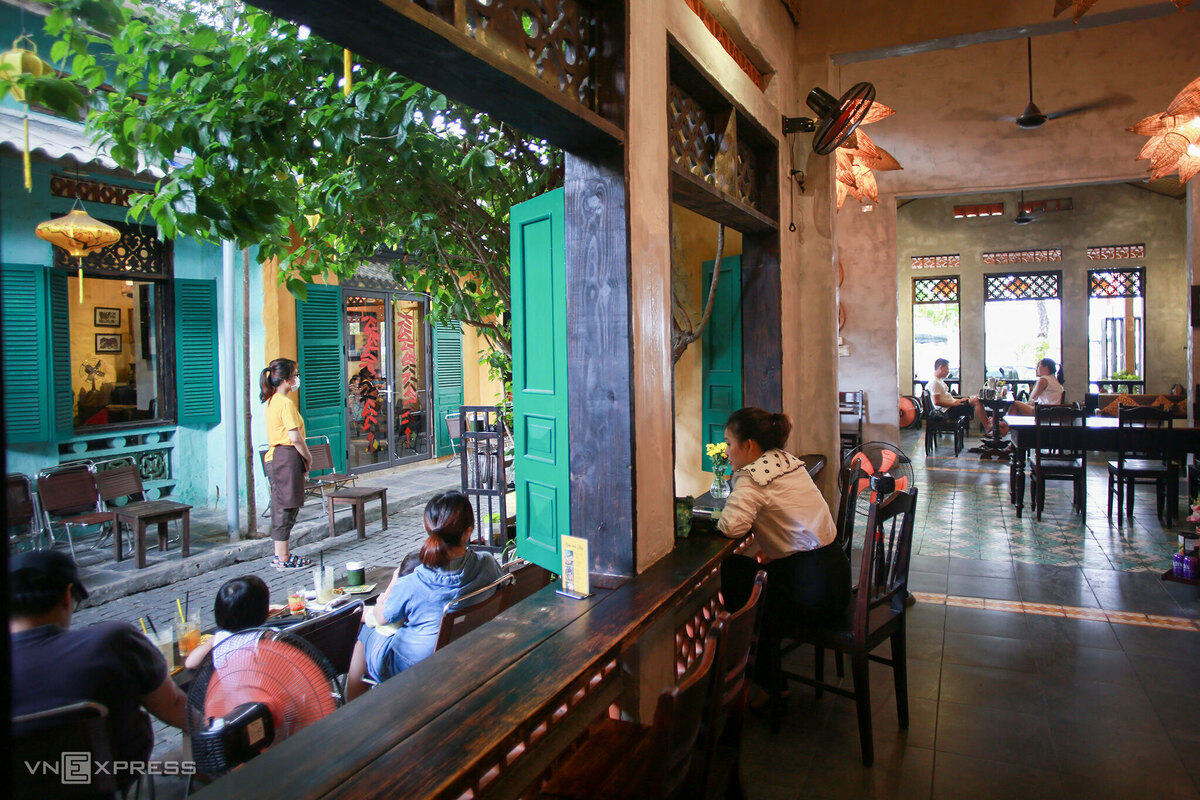 Photo: VnExpress
People keep a distance at a coffee shop on Nguyen Thi Minh Khai street in Hai Chau district.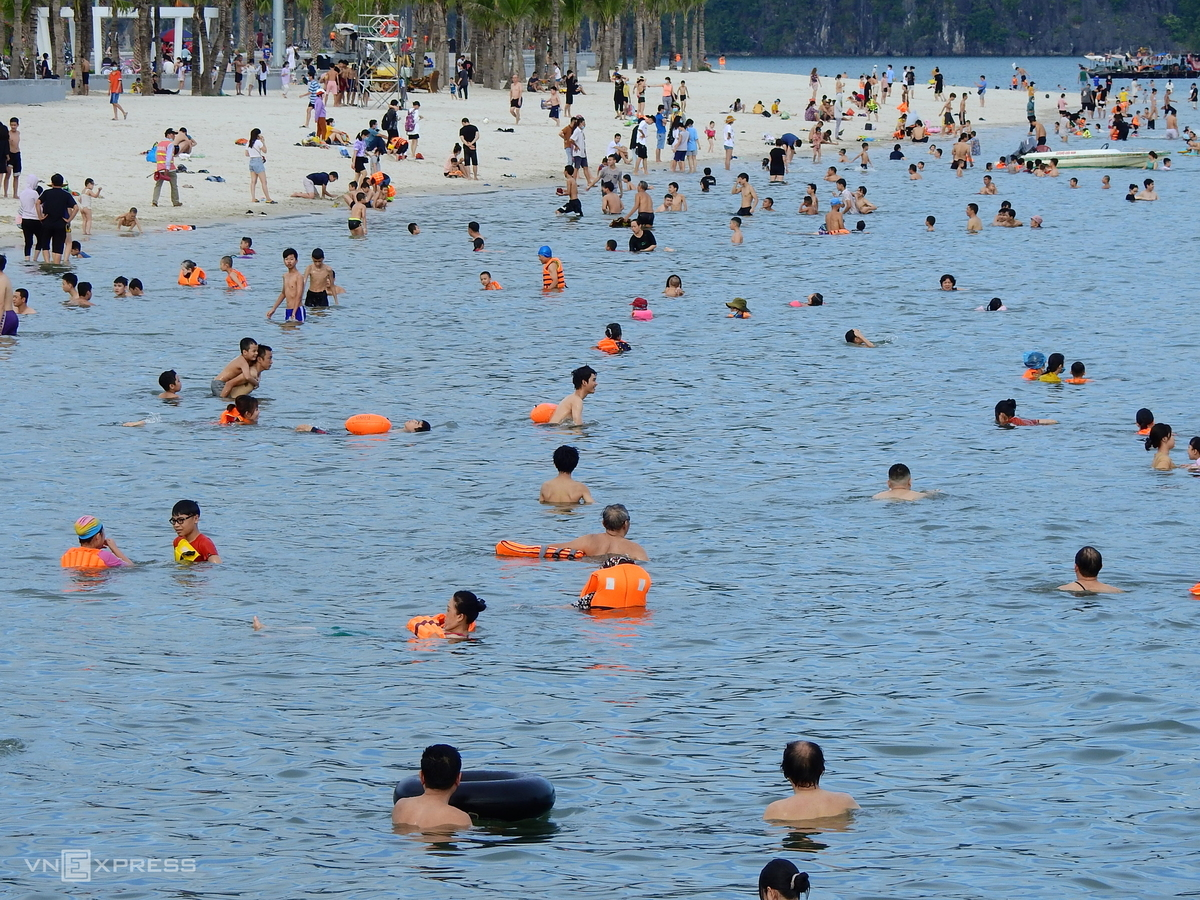 Photo: VnExpress
On the afternoon of June 9, many people went to Hon Gai beach in Ha Long city. The beach was inaugurated on the occasion of April 30 and May 1, with a length of 900 m and a width of nearly 100 m.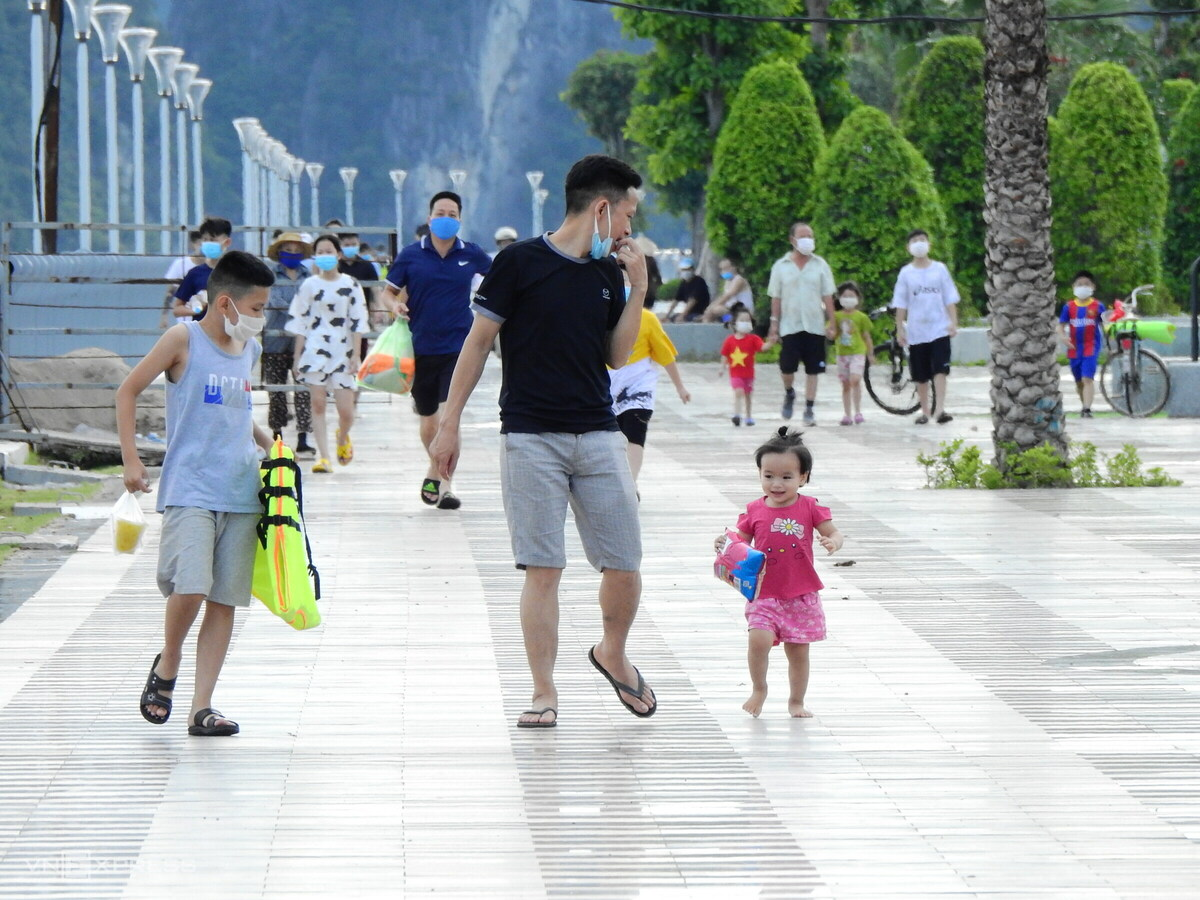 Photo: VnExpress
Tran Quoc Nghien Street is crowded with people walking and cycling.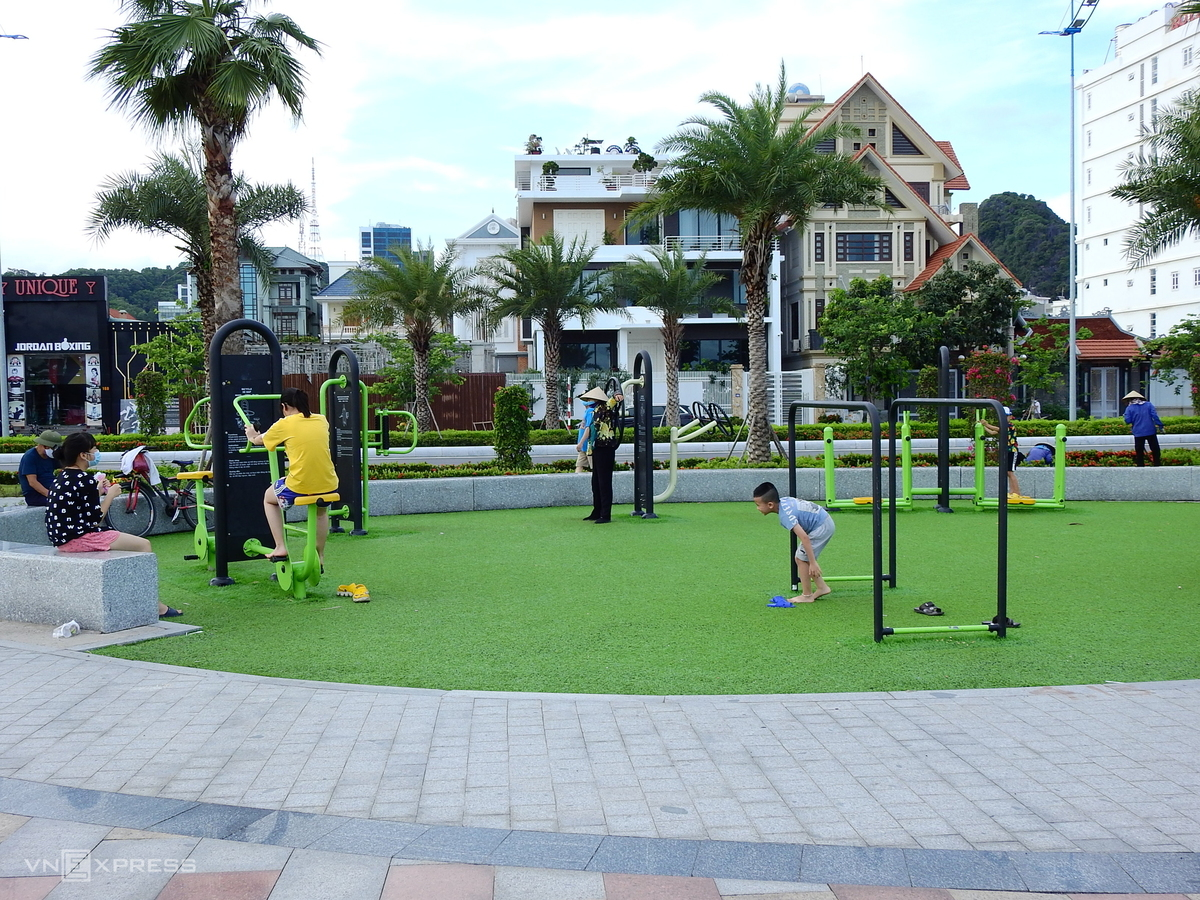 Photo: VnExpress
Residents are allowed to exercise again.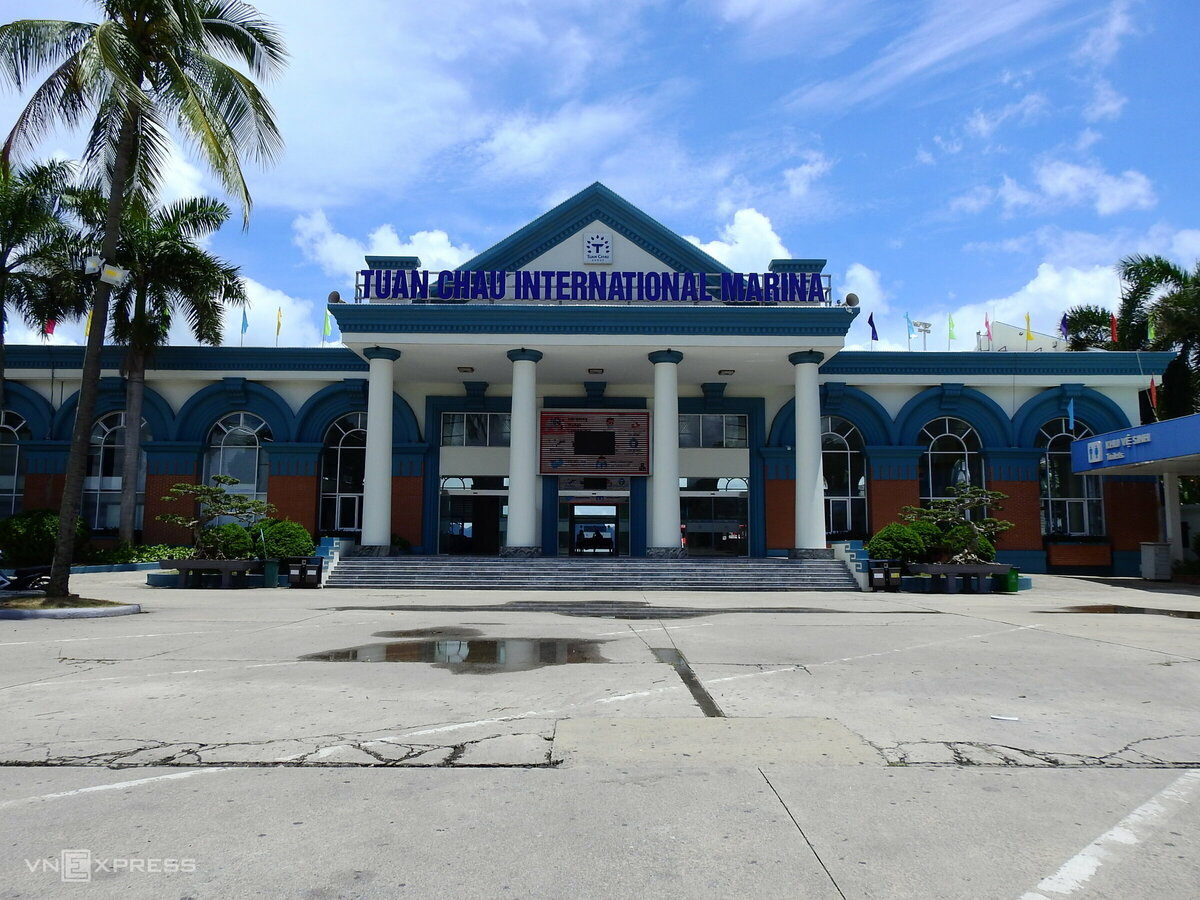 Photo: VnExpress
However, tourist attractions are still deserted. No visitors are seen at Tuan Chau international passenger port.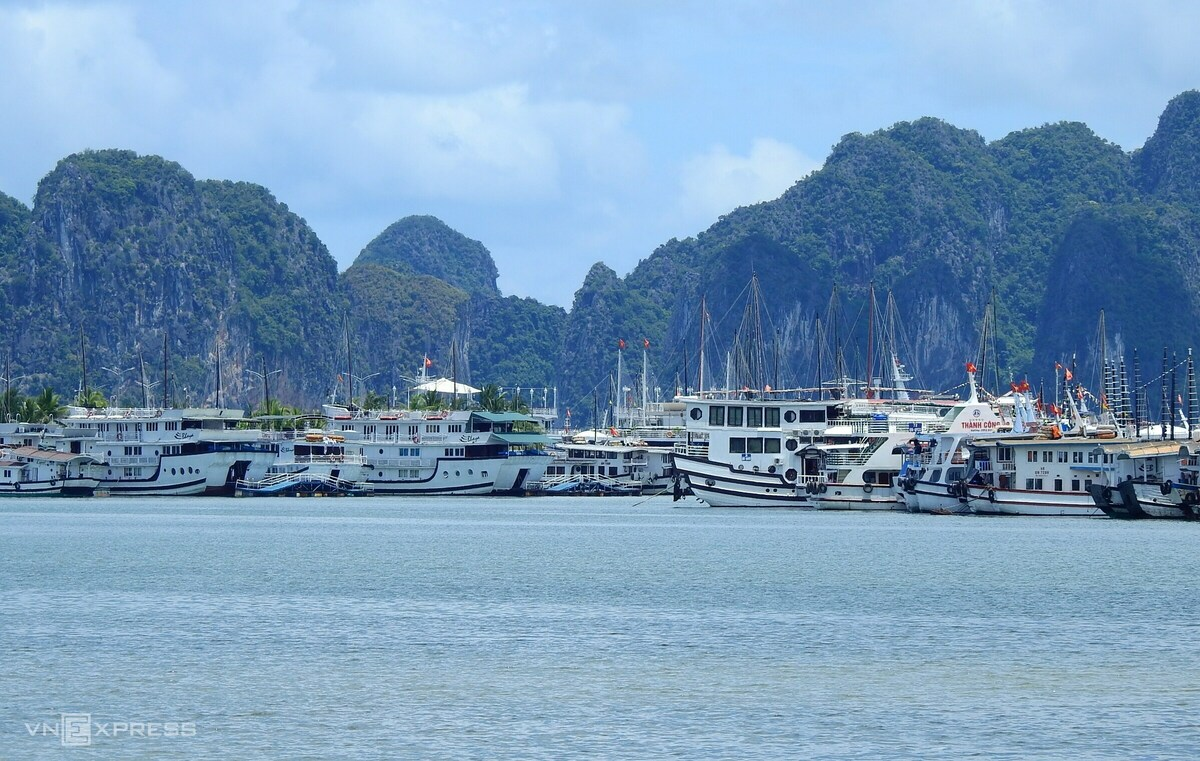 Photo: VnExpress
Without tourists, hundreds of cruise ships have laid ashore for a long time.
Previously, Quang Ninh province shut down tourist sites such as Ha Long and Bai Tu Long Bay as well as suspended island routes from May 6.
Vietnam has recorded 6,451 infections in 39 cities and provinces so far in the new wave of Covid-19, which started on April 27 and has been the nation's most challenging outbreak yet.
Bac Giang and Bac Ninh account for most patients, at 3,621 and 1,205, followed by Ho Chi Minh City with 527 and Hanoi with 447, including 95 in a locked-down hospital.