Six volunteers receive second shot of 2nd Vietnam homegrown Covid-19 vaccine
A total of six volunteers on April 12 were given their second shot of the domestically-produced novel coronavirus (COVID-19) vaccine known as COVIVAC, which is being developed by the Institute of Vaccines and Medical Biologicals (IVAC).
The group is made up of the same six volunteers who were previously injected with the first shot of the vaccine on March 15, VOV reported.
According to Assoc. Prof. Dr. Pham Thi Van Anh, Director of Centre of Clinical Pharmacology at Hanoi Medical University, 96 volunteers have now received a dose of the experimental vaccine as part of the first phase of trials.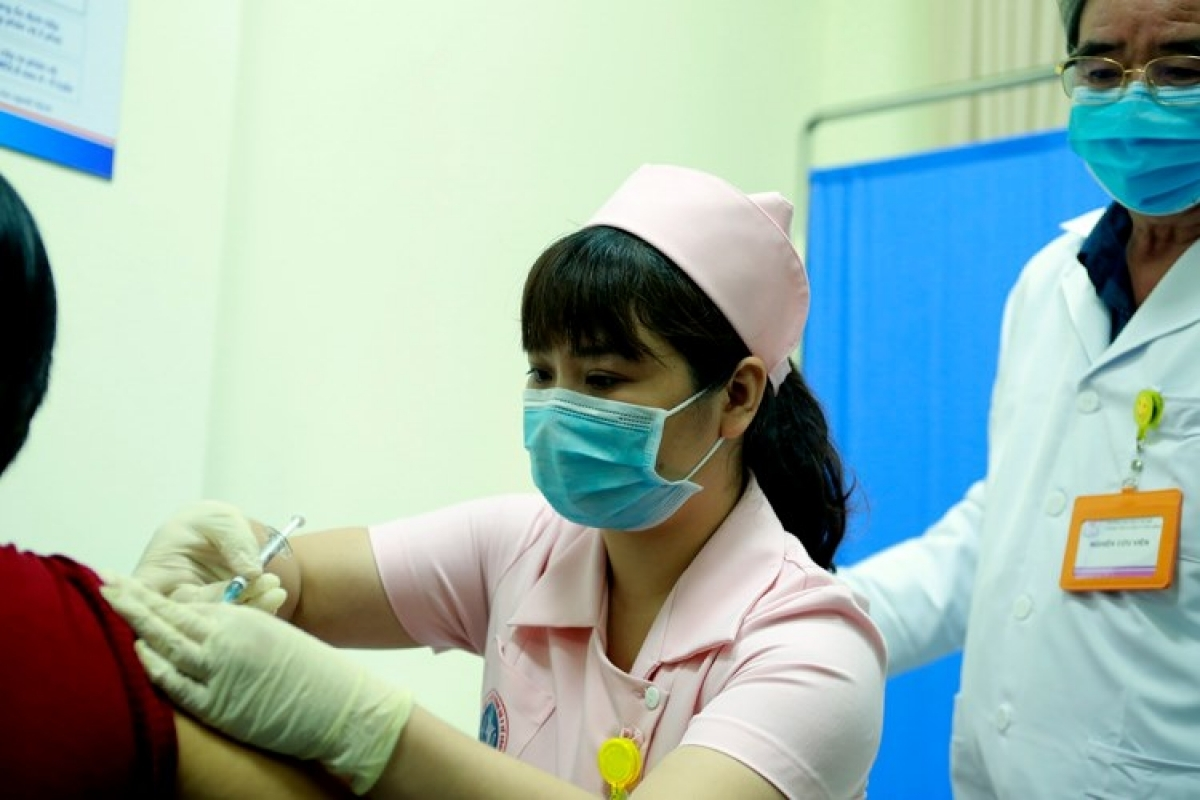 A volunteer receives the second shot of COVIVAC vaccine. Photo: VOV
Dr. Anh states that the majority of subjects remain in a stable condition following the vaccination, with only a few recording symptoms such as a mild headache and mild pain around the injection site.
Following the administering of the first dose, the remaining 120 volunteers will be injected before April 18.
Covivac is the research work of IVAC under the Health Ministry. It had earlier yielded safe results and strong immunity responses on mice, rabbits, etc. Given promising results on animals, the vaccine is granted to enter human trials starting January, two months earlier than expected. The first phase of Covivac's human trials, which takes place at Hanoi Medical University, involves 120 volunteers who are divided into 5 groups of 12-15 people. Each group receives a different dose of vaccine (1 mcg, 3 mcg, 10 mcg, and placebo).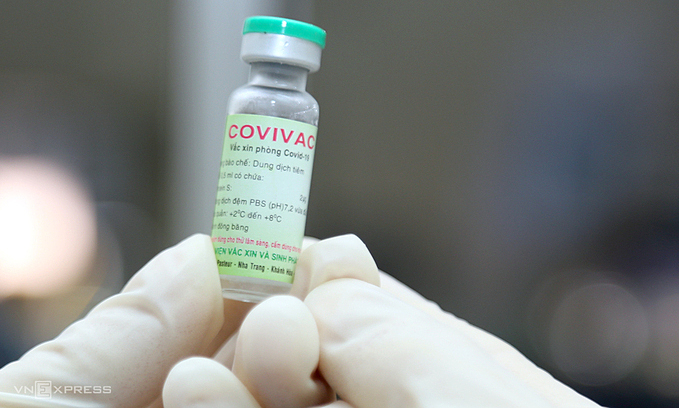 A vial of Covivac, Vietnam's second Covid-19 vaccine, January 2021. Photo by VnExpress/Xuan Ngoc.
All volunteers will get two jabs of the made-in-Vietnam vaccine, the second is 28 days after the first one. They will have their health monitored throughout the researching process.
"To date, 66 volunteers have been given the first jab. It is expected that the first leg of Covivac's human trials will be completed in the next one or two weeks", Thai was quoted as saying. "All of the vaccinated ones are currently in stable health, some experienced mild post-injection reactions, but the symptoms wore off within one day".
If reports in July show the vaccine meets all safety standards, capable of generating antibodies, and granted approval from the Ministry of Health, Covivac will enter the second human trial phase with 300 volunteers in Thai Binh provinces.
Meanwhile, NanoCovax, known as Vietnam's first domestically-developed COVID-19 vaccine, is expected to be introduced for use this September, according to the National Steering Committee for COVID-19 Prevention and Control on March 22.
NanoCovax, developed by the Nanogen Pharmaceutical Biotechnology JSC, is the first COVID-19 vaccine of Vietnam to be tested in clinical trials.
Vietnam recorded three new COVID-19 cases in the past 12 hours to 6 am on April 12, lifting the national tally to 2,696, the Ministry of Health (MoH) said.
All the new infections are imported cases and have been quarantined since their arrival in the country.
According to the MoH's Medical Service Administration, 2,429 patients have successfully recovered as of April 10, while the death toll remained at 35.
Among active patients undergoing treatment at medical establishments nationwide, 22 tested negative to coronavirus SARS-CoV-2 once, 11 twice and 17 others thrice.
The ministry reported that an additional 6,005 people were given COVID-19 vaccinations from April 5-11, bringing the total number of vaccinated people to 58,418.
To live safely with the pandemic, the MoH advised people to continue preventive measures, including the "5K message" (in Vietnamese) - Khau trang (facemask) - Khu khuan (disinfection) - Khoang cach (distance) - Khong tu tap (no gathering) - Khai bao y te (health declaration).