Southeast Asia in World Powers' Foreign Policies
Foreign countries have put a higher focus on building better relationship with Southeast Asia in their foreign and security policies.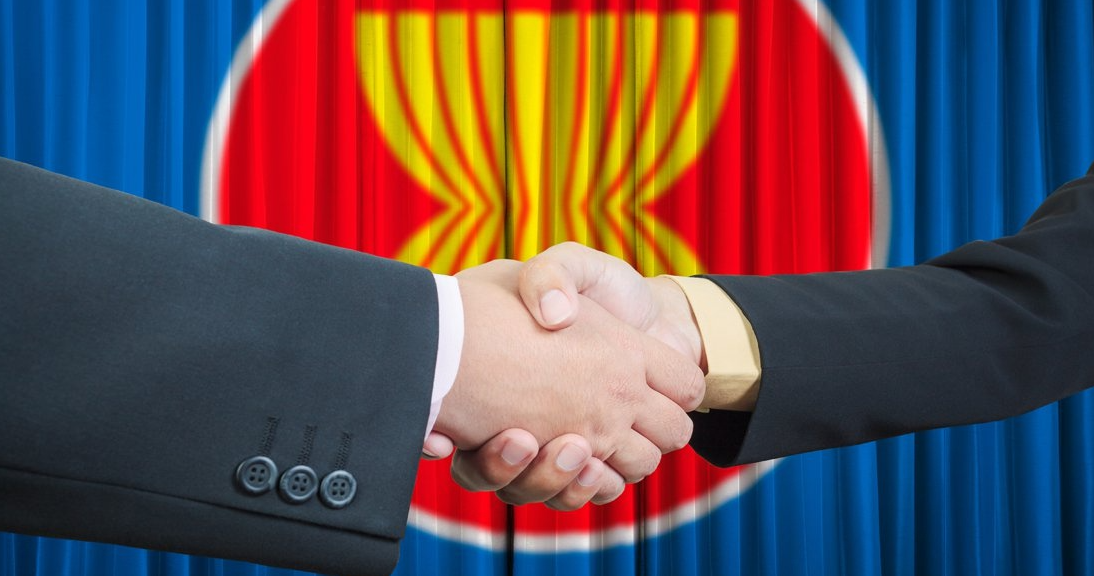 Photo: Thanh Nien
As US Secretary of Defense Lloyd Austin has just finished his visit to three Southeast Asian countries, the White House announced Vice President Kamala Harris' August visit. Southeast Asian countries account for most of the destinations in her visit. Many other partners have also shown special interest in Southeast Asia recently.
Message from the United States
During last week's trip to Singapore, Vietnam, and the Philippines, Defense Secretary Austin conveyed US policy views to Southeast Asia as a region and each of three countries. According to senior expert Greg Poling of the Center for Strategic and International Studies (CSIS - USA), Austin's trip reflects the USA's two approaches to Southeast Asia, which, on the one hand, sends out strong signals of supporting ASEAN's central role, on the other hand, promotes bilateral relations with each country in the region.
In an article on the CSIS website, the expert said that the US defense minister did a good job of reassuring its allies and partners about the importance of Southeast Asia in US foreign policies, and recommitted US actions half a year after Joe Biden became the country's president. Prior to Austin, no one in the Biden administration's cabinet had visited Southeast Asia, and so far there has been no bilateral phone call between Biden and leaders of countries in the region.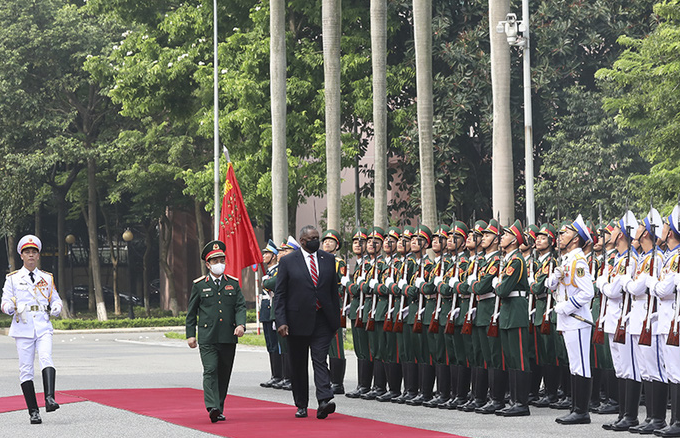 The Vietnamese defense minister and his US counterpart Lloyd Austin. (Photo: NLD)
It is no coincidence that Southeast Asia has attracted the interest of such powers. Throughout history, the region has been the "battleground" of great power rivalry. In peacetime, Southeast Asia still possesses geostrategic advantages in terms of navigation, resources, economic potential, and markets. More importantly, Southeast Asia is considered the "influence center" where any major power wants to win to deploy greater strategies in the region. Not to mention each Southeast Asian country holds its own special role. Experts say that those advantages not only benefit Southeast Asia but also bring a big challenge amid the whirlpool of foreign countries' strategic competition.
Sharing the same opinion, senior analyst Derek Grossman (RAND - USA) told Thanh Nien that the Biden administration had long stepped up the "game" in Southeast Asia. The US still has a lot to do to enhance the role of this region in its foreign policy. According to Grossman, through the past visits and two other trips, by Vice President Kamala Harris and Foreign Secretary Antony Blinken, scheduled to take place in August, Southeast Asia clearly holds an important role and position in US policy.
Coordinator for Indo-Pacific Affairs on the US National Security Council Kurt Campbell said that to have an effective Indo-Pacific strategy, the United States must make efforts. Greater engagement and commitment to the region are key to America's success.
Vietnamese defense minister and UK defense secretary. (Photo: Baoquocte)
A chess game with many players
Other than the United States, other powers outside Southeast Asia have recently attempted to enhance relations with the region. Secretary of State for Defence of the United Kingdom paid a visit to Vietnam a few days before Lloyd Austin, saying that the UK would like to boost relations with ASEAN countries, especially Vietnam.
Similar to the USA, United Kingdom confirmed its support to ASEAN's central role in regional stability, while aiming to deepen bilateral relations with member states. UK Secretary of State for Foreign Dominic Raab visited Vietnam, Cambodia, and Singapore in June. Observers said that the trip could be considered an important step for the UK to seek opportunities and pillars to re-establish influence and presence in Southeast Asia in the post-Brexit era.
Though not receiving much attention from observers, Russia still maintains a certain engagement with Southeast Asia as the year 2021 marks 30 years of Russia - ASEAN relations. Russian Foreign Minister Sergey Lavrov in early July said that the two were each other's reliable strategic partners, and Russia placed great importance in cooperation with ASEAN to solve challenges. In addition, Myanmar issue is also of concern to Russia. It should be noted that when ASEAN still had many difficulties in approaching the issue after the February 1 coup, it was MyanmaresePrime Minister who visited Russia.
Meanwhile, Japan has played an important role in relations with the region for decades. Japan is considered the most reliable and comprehensive partner of ASEAN in many fields. Senior Japanese officials have repeatedly emphasized the country's desire to promote effective strategic relations with ASEAN and share common policy views with countries in the region.