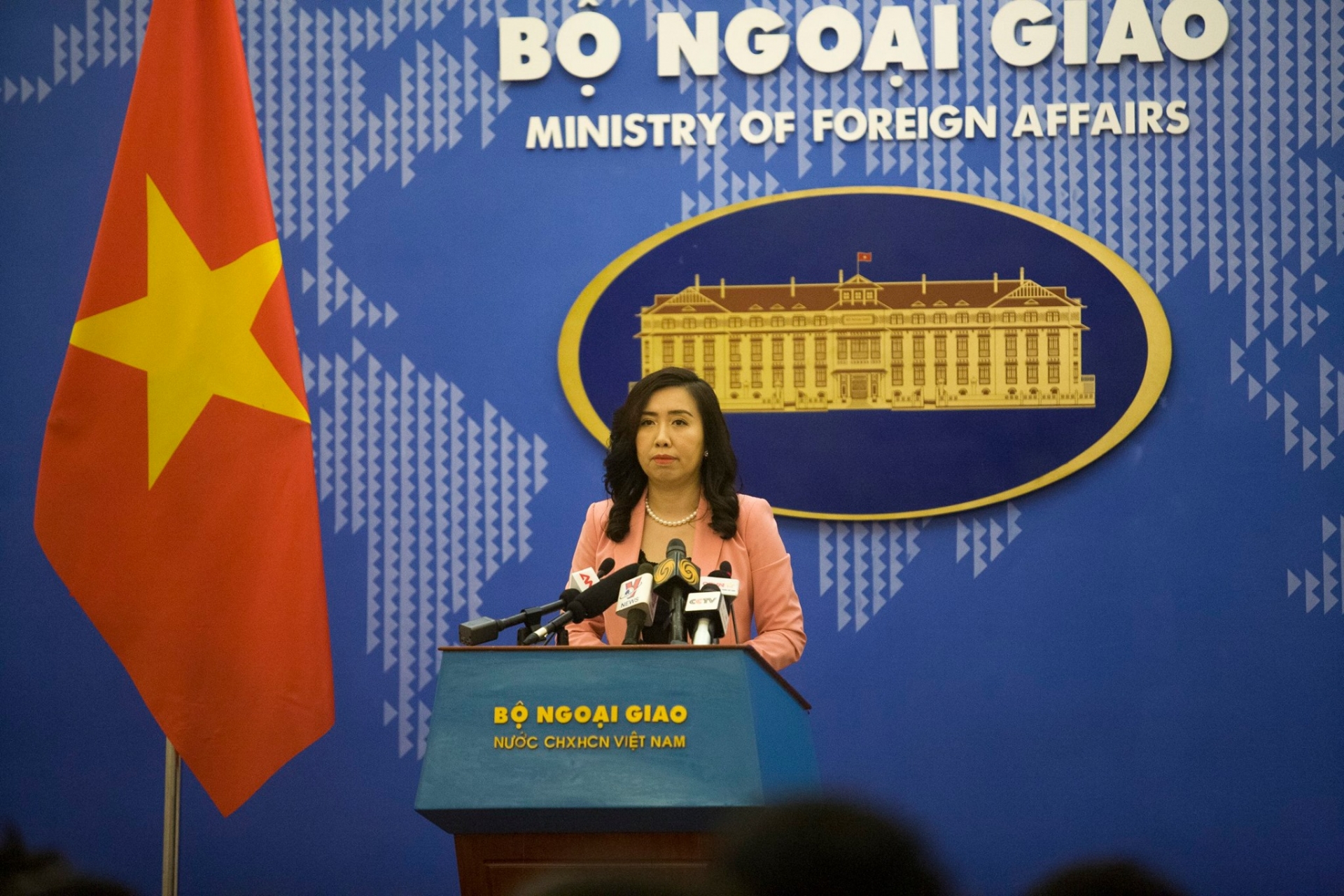 Foreign Ministry spokesperson Le Thi Thu Hang. Source: Foreign Ministry
Regarding Secretary of State Mike Pompeo's Declaration on the US Position on Maritime Claims in the South China Sea released on July 13, Foreign Ministry spokesperson Le Thi Thu Hang stated:
"Peace, stability, cooperation and development in the East Sea are the common aspirations and goals of the countries in the East Sea, the region and the international community. Respect for the maritime legal order and the full implementation, goodwill and responsibility of the 1982 United Nations Convention on the Law of the Sea (UNCLOS) are important to achieve those goals.
Vietnam welcomes countries' positions on the East Sea issue in line with international law and shares its views, as stated in the statement at the 36th ASEAN Summit, that the UNCLOS is a legal framework for all activities in the oceans and seas.
Vietnam hopes that countries will make efforts to contribute to the maintenance of peace, stability, cooperation in the East Sea and resolve disputes through dialogues and other peaceful measures in accordance with the provisions of international law for the sake of common interests, in line with the aspirations of regional countries and the international community. Vietnam always contributes positively and responsibly to this process."
US Secretary of State Mike Pompeo on July 13 announced a formal rejection of "most" of China's maritime claims in the South China Sea, marking the turning point as Washington officially directs to Beijing's ambition to assert control in the strategic waters.
In the statement, Pompeo said the US now regards virtually all Chinese maritime claims outside its internationally recognized waters to be illegitimate. The shift does not involve disputes over land features that are above sea level, which are considered to be "territorial" in nature.
"The world will not allow Beijing to treat the South China Sea as its maritime empire," Pompeo said. "America stands with our Southeast Asian allies and partners in protecting their sovereign rights to offshore resources, consistent with their rights and obligations under international law. We stand with the international community in defense of freedom of the seas and respect for sovereignty and reject any push to impose 'might makes right' in the South China Sea or the wider region".
CNN on July 14 cited a US Navy statement saying that two Navy aircraft carriers sent to the South China Sea last week in order to "conducted several tactical exercises designed to maximize air defense capabilities and extend the reach of long-range precision maritime strikes from carrier-based aircraft" in the context of heightened tensions between the two nations and after China completed naval exercises in the contested waters.
It is the first time since 2014, and only the second since 2001, that two US carriers have operated together in the South China Sea, said Lt. Cmdr. Sean Brophy, a spokesperson aboard the Reagan./.
Hannah Nguyen