Standard Chartered Vietnam supports women-owned businesses
Standard Chartered Bank Vietnam (Bank) and Vietnam Women Entrepreneurs Council (VWEC) of Vietnam Chamber of Commerce and Industry (VCCI) signed a Memorandum of Understanding on the implementation of the financial assistance program for women-owned businesses on June 8 in Hanoi.  
Accordingly, the Bank will provide short-term loans with a total credit limit of 25 million USD and a term of up to 365 days to help businesses meet the financial needs for business development. In particular, businesses operating in priority areas under the policies of the State Bank of Vietnam will enjoy preferential interest rates of the Bank, currently at 5% per year. The program will apply for loans made between June 8, 2020, and June 8, 2021, or earlier when the credit limit has been fully used.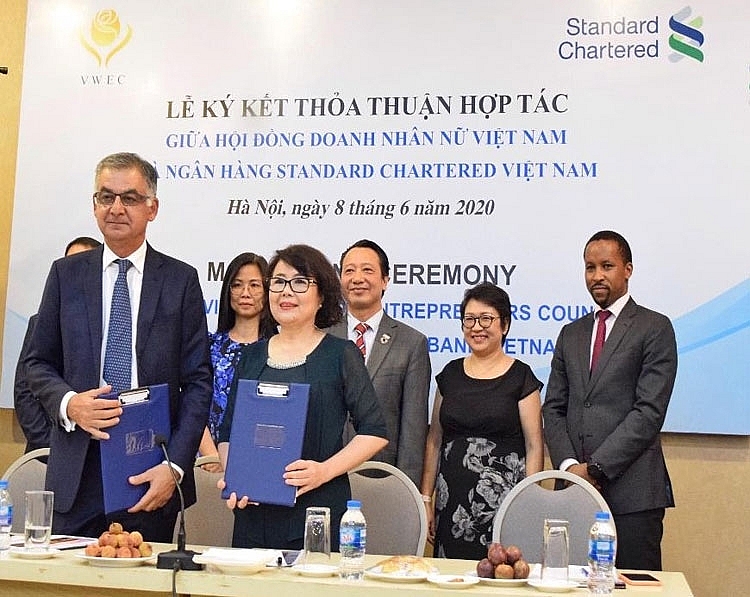 Photo: kinhtevn.com
In addition to credits, women-owned businesses will also have access to the Bank's leading international experience and expertise through free financial education training programs, up-to-date market reports, and sharing sessions on topics of interest.
Mr. Nirukt Sapru - General Director of Standard Chartered Bank Vietnam and a group of 5 ASEAN and South Asia countries, said: "Women-owned businesses account for 24% of all businesses in Vietnam and we are committed to bringing support to help women achieve success in their fields. Currently, many domestic enterprises are facing unprecedented challenges caused by Covid-19 pandemic. Through the financial support program, we hope to help businesswomen overcome this difficult period and access capital and leading financial advisory solutions to develop their business. business activities. "
Ms. Nguyen Thi Tuyet Minh - Chairman of the Vietnam Women Entrepreneurs Council, shared: "Women are playing an increasingly important role in Vietnam's economic development process. Therefore, supporting women to achieve success will contribute to the sustainable development of the country. We are very pleased to partner with Standard Chartered Bank Vietnam to bring meaningful support to businesswomen, especially in this challenging time. "