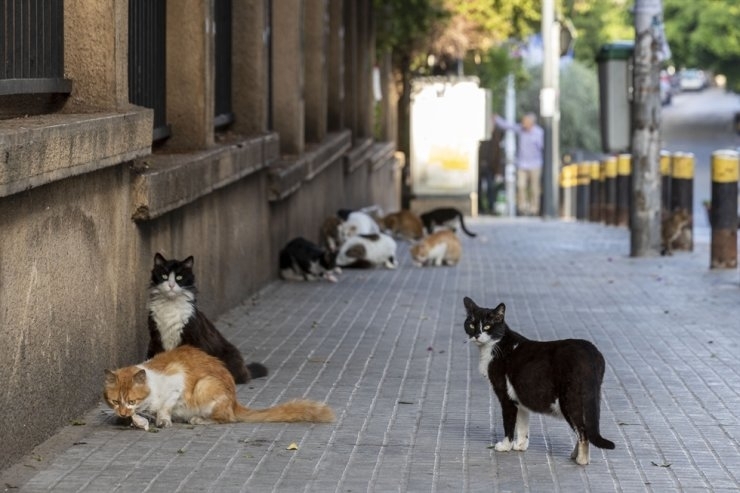 Cats eat food on a street that is almost empty before a nighttime curfew imposed by the government to help stem the spread of the coronavirus in Beirut, Lebanon, Friday, April 3, 2020. Photo: AP
According to the Japanese-language article by Ryo Watanabe, the team's report was published on May 14 in the electronic edition of the US science journal "The New England Journal of Medicine."
It said that reports of transmissions from humans to cats and its own findings showed "there is a public health need to recognize and further investigate the potential chain of human-cat-human transmission."
Accounts have emerged of felines including lions and tigers being found infected with the novel coronavirus in the US and India, as have reports in the US and Belgium of domestic cats being infected, but at this time there are no confirmed cases of infections from cats to humans.
The pet dog fed by a coronavirus patient in Hong Kong (China) - the first pet found infectious for noval coronavirus died on March 16 after testing negative for the disease and returning home.
According to South China Morning Post, the 17-year-old Pomeranian, which belonged to a now-recovered COVID-19 patient, had been under mandatory quarantine at a government facility since February 26, and returned home on April 14.
Vets say the dog's death could have been because of the stress and anxiety of being in quarantine and away from its family.
The research team took liquid samples that included the coronavirus from infected people, and inoculated three cats aged between 15 and 18 weeks with the pathogen by administering it to their nasal tracts, mouths and eyes. Checks on their mucous membranes showed that after three days all three cats were testing positive for the infectious coronavirus, and that they were reportedly shedding the virus for over 6 days from exposure.
Each of the infected cats was then kept in separate cages with another uninfected cat, and all three pairs were later found to have the coronavirus. It's thought that cats easily pass the virus on to one another due to their behavior, such as grooming each other, offering numerous opportunities for close contact.
In all six cats, symptoms such as an abnormal temperature, weight loss or conjunctivitis were not detected. According to the research team, it's possible that cats without underlying health conditions won't show symptoms from the novel coronavirus.
Yoshihiro Kawaoka, a professor in virology at the Institute of Medical Science and a member of the research team, said, "It's possible that humans could infect cats, so people with the virus should avoid interacting with cats. Also, to avoid infection (from cat to cat), it's important not to let them outside."
On May 1, the Japan Veterinary Medical Association released a written statement saying that there were no reports of people being infected by animals, and cited the views of its counterparts in Belgium in judging that "there is no danger of infection from pets."
Cats can become infected with the coronavirus but dogs appear to be less vulnerable, according to published on the website of the journal Science on April 8.
The study, based on research conducted in China in January and February, said that researchers found cats and ferrets highly susceptible to the virus when they attempted to infect the animals by introducing viral particles via the nose.
They also found cats can infect each other via respiratory droplets. Infected cats had virus in the mouth, nose and small intestine. Kittens exposed to the virus had massive lesions in their lungs, nose and throat.
Antibody tests showed dogs were less likely to catch the virus, while inoculated pigs, chickens, and ducks were not found to have any strain of the virus./.
First two cats positive for nCoV in the US

Both animals, which are from separate areas of New York state, had minor respiratory symptoms and are expected to make a full recovery, federal agencies announced Wednesday ...
Hannah Nguyen