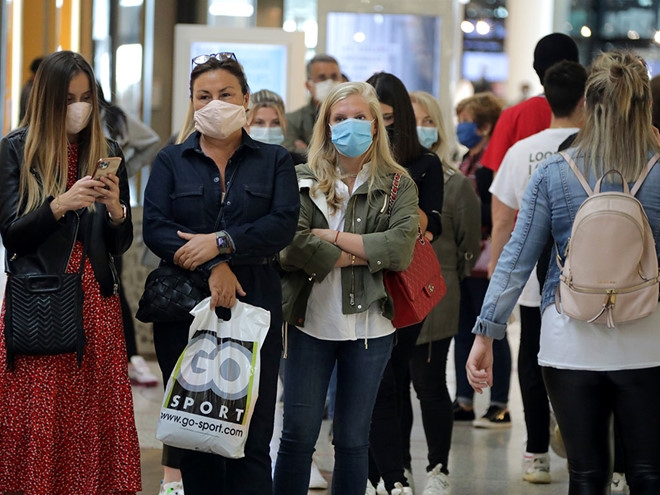 Countries should be cautious about the risk of Covid-19 recurrence when removing the lockdown (Photo: Reuters)
As governments around the world plan to loosen restrictions imposed to contain the coronavirus pandemic, some countries have reported a resurgence in cases — prompting fears that a new wave of infections is imminent.
Public health experts, including those at the World Health Organization, have for weeks warned authorities against lifting containment measures too early, which could cause a rebound in new coronavirus cases. Meanwhile, investors and analysts said another round of lockdowns would exacerbate the damage already inflicted on the global economy.
Several countries including China and South Korea have experienced an uptick in cases after restrictions were eased. In some instances, authorities have had to reimpose measures that restrict interactions between people to once again fight the virus spread.
For most of the past month, China consistently reported small numbers of daily new cases, most of which were "imported." But health authorities in recent days said there were new local clusters of infections in cities including Wuhan and Shulan.
The new cases found in Wuhan were the first in the city in more than a month, while Shulan — located in the northeast province of Jilin — had not registered any new infections for more than 70 days, reported Reuters.
Officials raised the risk level of Shulan to high from medium and reimposed some lockdown measures on the city this week including closing public spaces such as sporting facilities and libraries, and halting some train service in and out of the city, according to Reuters.
That's not the first time that China has had to reintroduce measures to contain the virus after lifting them. Last month, authorities reportedly tightened restrictions in Harbin city in Heilongjiang province after a rise in imported cases; while gyms in Beijing were ordered to shut again a few weeks after being allowed to resume operations.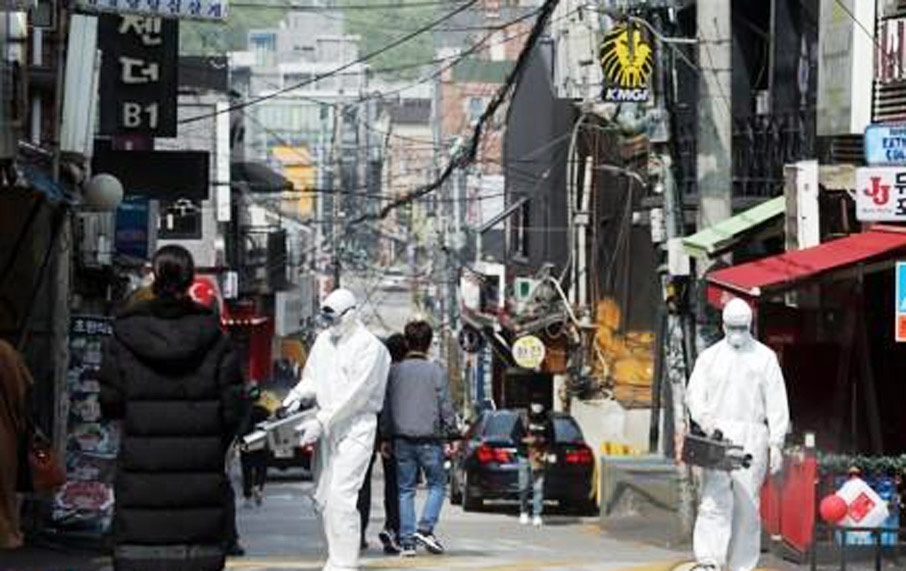 Disinfection spray in the Itaewon neighborhood, Seoul (South Korea), where many cases have been confirmed with Covid-19 (Photo: Ha Noi Moi).
South Korean government responded to the outbreak by quickly ramping up testing capacity and aggressively tracing and isolating potential cases. The country also introduced some social-distancing measures, which restrict gatherings and close schools and workplaces.
New cases in the country fell from hundreds a day to single-digit levels for most of the past two weeks as South Korea started lifting social-distancing measures. But over the weekend, the country reported its biggest daily jump in infections in a month — according to WHO data — with many of those new cases linked to several nightclubs and bars in capital city Seoul.
Authorities are now tracking down the thousands more people who went to those same night spots. Health Minister Park Neung-hoo said the government will decide whether to continue with its plans to reopen schools in stages starting Wednesday, reported Reuters.
Japan experienced a second wave of Covid-19 before the latest jump in cases in China and South Korea.
The measures appeared to work and by mid-March, Hokkaido lifted the state of emergency after the number of new cases declined. But less than a month later on April 12, the prefecture reinstated the emergency declaration after an increase in new infections, reported Kyodo News.
Earlier this month, Japanese Prime Minister Shinzo Abe extended the nationwide state of emergency to May 31, reported Reuters. But the country's Economy Minister Yasutoshi Nishimura reportedly said on Monday the declaration could be lifted in some regions this week if the number of new Covid-19 cases remain under control, reported by CNBC.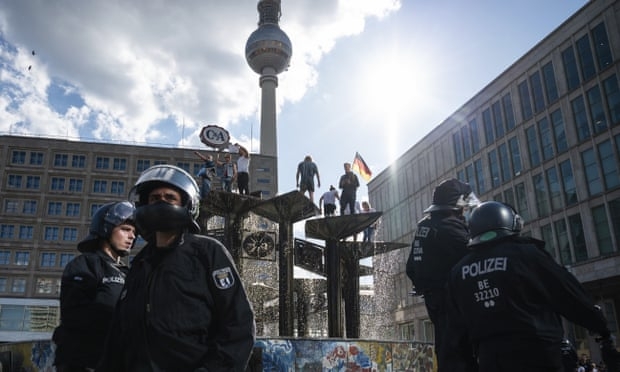 Police at Alexanderplatz, Berlin, where a demonstration against lockdown restrictions was held on Saturday (Photo: AP).
In Germany, mathematicians analysing the spread of the pandemic also believe they are witnessing a new dynamic, however. "There are signs that the reproduction number is going back up again," said Prof Thomas Hotz of Technische Universität Ilmenau, Hotz added: "And if you see how people have started acting in the big cities, it doesn't completely surprise me.", reported by The Guardian.
The Robert Koch Institute yesterday released data showing 933 new infections, up from 357 on 11.5, after the government began to relax the blockade step by step.
Similarly, when the French government has gradually lifted the national blockade order nearly two months, the Ministry of Health of the country said that the number of Covid-19 deaths on 11.5 increased nearly 4 times and the number of new infections doubled from the previous day, according to Reuters.
In the US, the number of cases and deaths from Covid-19 continue to rise. President Donald Trump yesterday accused Democratic governors of "acting slowly" in easing measures to limit contact and allow businesses to resume operations.
In response to the threat coming from the second wave of coronavirus, some governments have warned that they will re-apply control measures if people do not comply with the social divestment rules. However, experts warn that if this happens, it will cause even more serious damage to the economy than the first lockdown.
The World Health Organization (WHO) recommended that countries should be extremely careful when lifting the lockdown.
"Now we see a little hope when many countries stop the lockdown. But if the epidemic remains low in countries where it is not possible to investigate clusters, there is always a risk of a virus coming back", said WHO emergency program executive Mike Ryan at an online press conference on 11.5, according to Reuters.
Candy Lee