Tan Hiep Phat Takes Community Approach to Coronavirus
Similar to many other corporations in southern Vietnam, Tan Hiep Phat is applying the "3 in 1 spot" model at their factory in Binh Duong province to cope with the Covid-19 pandemic
To lift their employees' spirit, Tan Hiep Phat pays attention to taking care of their everyday needs, from the items they use for activities to their meals. The kitchen and the daily menus are designed by Tan Hiep Phat to ensure their employees' health.
Through collective meals, employees can report to the management board whether the meals are suitable or meet nutrition requirements. As the management board responds to employees' feedback and improves provisions of services accordingly, Tan Hiep Phat employees feel respected and cared about.
With the "3 in one spot" model (work, eat, and rest in one location) becoming popular, Tan Hiep Phat employees strive to maintain healthy habits by incorporating creative activities to encourage each other, such as composing music, writing short stories and writing diaries about their daily experiences during Covid. These activities are integral to the community to overcoming current challenges.
Tan Hiep Phat takes care of their employees from the smallest things such as the items they use for everyday activities to meals. Photo: Thanhtra.com.vn
Tan Hiep Phat's collective efforts are not confined to within each factory but spread to the corporation's factories across Vietnam. Phuong was surprised to see employees working at Tan Hiep Phat factory in the southern province of Binh Duong receiving practical gifts such as facemasks and hand sanitizer gels from their colleagues in Ha Nam province in the north or Quang Nam province in central Vietnam. The support has moved and motivated Tan Hiep Phat employees in Binh Duong.
"These gifts brought positive energy and show employees that they are cared about. They will feel more motivated to continue accompanying the company to support the community and society," Deputy CEO of Tan Hiep Phat Beverage Group Tran Uyen Phuong said. "Leaders are an important factor gluing everyone together from employees to workers."
Phuong also said while Tan Hiep Phat was applying the "3 in one spot" model at the moment, after a month some workers wanted to return home. They are patiently waiting until social distancing orders are lifted in Ho Chi Minh City.
Facing complicated Covid occurrences, the city is likely to extend the social distancing period. Leaders of Tan Hiep Phat decide to stay in the factory with their employees and shoulder a part of their challenges.
"In Tan Hiep Phat, when some high-level leaders lost their family members, they have decided to stay behind out of their respect for the company. Many leaders also skip family activities temporarily to shoulder the burden with their employees. Our leaders serve as an example for our employees. They do not leave the office if their employees are still working. In this way, the management and working staff can become closer. The line between the leaders and employees is blurred," Phuong said.
Phuong believes in the importance of measures to ensure good mental health for employees when applying the "3 in one spot" model.
"If we develop unrealistic measures, we can not apply them, nor can we tighten the bond between everyone. At this point, we need to be flexible and have mutual understanding to create a strong corporation," Phuong said.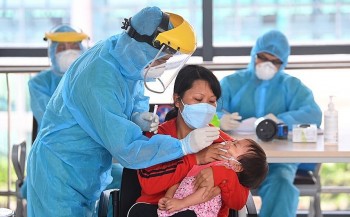 National
Nearly 72 million vaccine doses have been administered nationwide, with 20.7 million people getting their second shot.