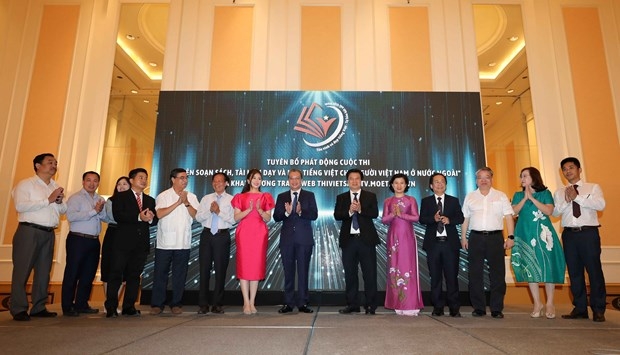 At the contest launching ceremony. Photo: VNA
Accordingly, the contest aims to push ahead with the teaching and learning of the mother tongue among overseas Vietnamese, preserving and promoting the language and the country's culture abroad.
Deputy Minister of Education and Training Nguyen Huu Do said the contest seeks contributions from scientists, organisations, and individuals at home and abroad.
It will run from September to April, with entries being in the form of written or online books, documents, and drafts.
There will be a first prize of VND 300 million (USD 12,900), two second prizes of VND 200 million (USD 8.500) each, and three third prizes of VND 100 million (USD 4.200) each.
Vietnamese government has paid due attention to the teaching and learning the language of OVs over the time.
In June, the Association for Liaison with Overseas Vietnamese also introduced a new Vietnamese textbook entitled "Xin Chao Viet Nam" designed for overseas Vietnamese and foreigners who wish to learn the Vietnamese language.
The textbook comprises 20 lessons on different topics via Hanna's stories regarding family, occupation, the weather, going to hospital, shopping, traveling, and others.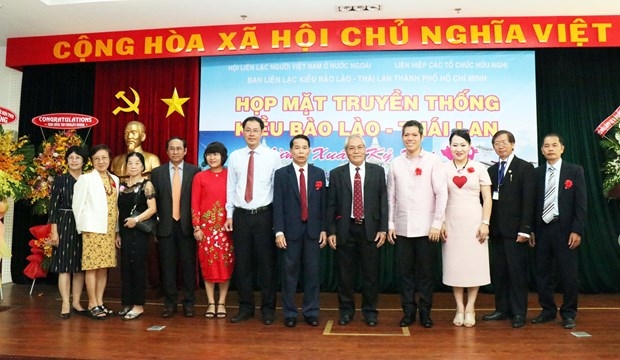 Vietnamese expats from Laos and Thailand gathered in Ho Chi Minh City in February 2019 for the annual Lunar New Year meeting. Photo: VNA
"Learning and teaching Vietnamese is now an inevitable trend as there are 4.5 to 5 million Vietnamese who are living, working and studying in more than 100 countries and territories around the world.
Moreover, Vietnam is boosting integration and more foreigners wish to learn about Vietnamese culture, understand the Vietnamese language, and speak Vietnamese," said Ambassador Nguyen Phu Binh, chairman of the Association for Liaison with Overseas Vietnamese.
The Association for Liaison with Overseas Vietnamese will promote and introduce the new textbook to the Vietnamese community abroad, Binh said, expressing his belief that more Vietnamese learning programmes will be developed to meet the needs of young Vietnamese people abroad as well as foreigners living in Vietnam.
In addition, many training courses have been opened to help teachers improve Vietnamese teachers living in foreign nations' pedagogy and share experience in teaching Vietnamese./.
Learn Korean with K-pop sensation BTS

Big Hit Entertainment, the management agency of K-pop group BTS, announced that it has partnered with the Korea Foundation (KF) and the Hankuk University of ...
Hannah Nguyen