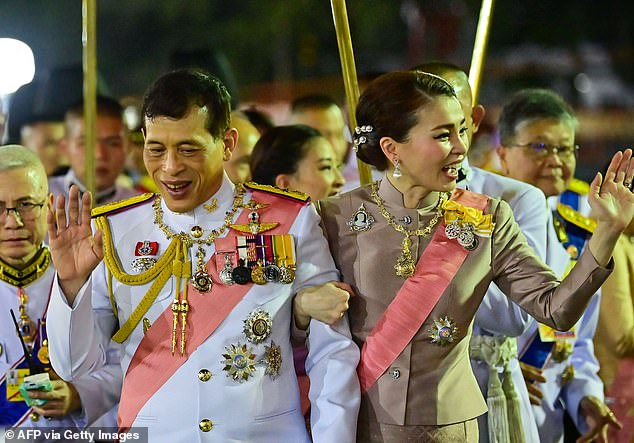 Thailand's King Maha Vajiralongkorn, accompanied by Queen Suthida, greets royalist supporters today after the monarch's recent return to the country to mark the fourth anniversary of his father's death.
Thailand's King Maha Vajiralongkorn has been secretly rushed to hospital at 2am for a coronavirus test after one of his bodyguards tested positive for the virus.
Vajiralongkorn was treated in the Thai capital before leaving the hospital in the early hours of October 21, according to German newspaper Bild.
The newspaper - which has broken numerous stories about the Thai king who spends much of his time in Germany - says that one of Vajiralongkorn's guards recently contracted the coronavirus after the royal entourage flew back to Thailand.
However, the reason for the king's apparent hospital stay has not been revealed and medical staff were reportedly told to keep quiet about it.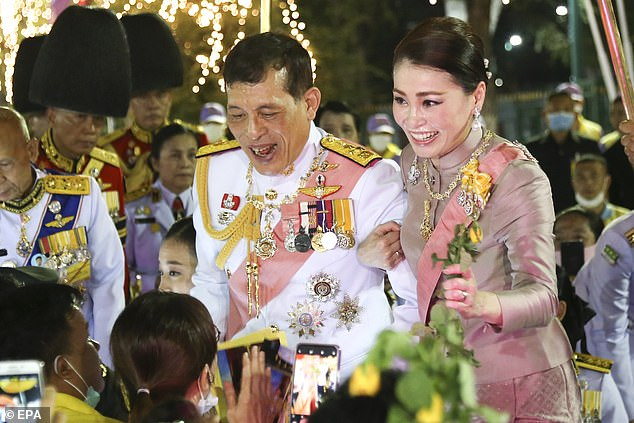 Thai King Vajiralongkorn (centre) and Thai Queen Suthida (right) greet supporters outside the Grand Palace after a Buddhist ceremony for King Rama V, in Bangkok.
It is claimed that nobody in the king's entourage went into quarantine when the bodyguard tested positive.
This included the king's wife, Queen Suthida, and his son and heir presumptive, 15-year-old Prince Dipangkorn.
The king's rare visit from Germany coincided with anti-government protests and clashes between royalists and pro-democracy activists in Bangkok.
Some Thai protesters have complained about the cost of the king's stays in Europe as well as his absence from the kingdom.
Protesters also want to reduce the king's powers under the constitution, which specifically allows him to exercise powers when he is outside Thailand without appointing a regent.
Their demands also include the removal of his direct control of a royal fortune valued at tens of billions of dollars.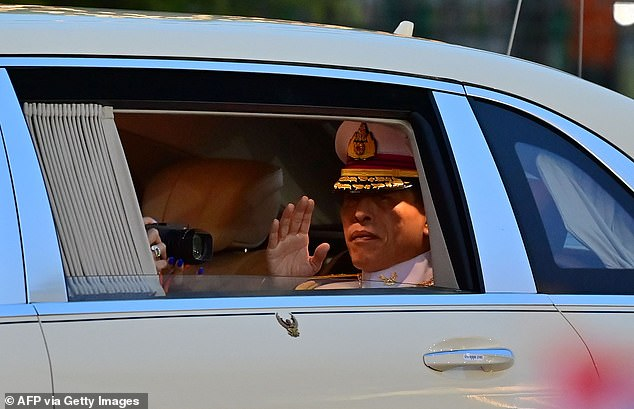 Thailand's King Maha Vajiralongkorn waves to royalist supporters in Bangkok today, after a report claimed he had secretly been taken to hospital earlier this week.
While German media frequently covers the king's exploits in Germany, details of his life there are not carried in Thai media.
Thailand has some of the toughest defamation laws in the world to protect the king's reputation, with sentences of up to 15 years for insulting the monarchy.
Vajiralongkorn succeeded to the throne in 2016 after the death of his father, King Bhumibol, who had reigned since 1946.
The new king was not formally crowned until May 2019 when carried on a golden platform in a six-and-a-half-hour procession through Bangkok, the Daily Mail said./.
Rosy Huong