The key requirement for sustaining a business from one generation to the next
"Responsibility is one of the key requirements for sustaining a business from one generation to the next.", said Tan Hiep Phat Group Deputy CEO Phuong Uyen Tran.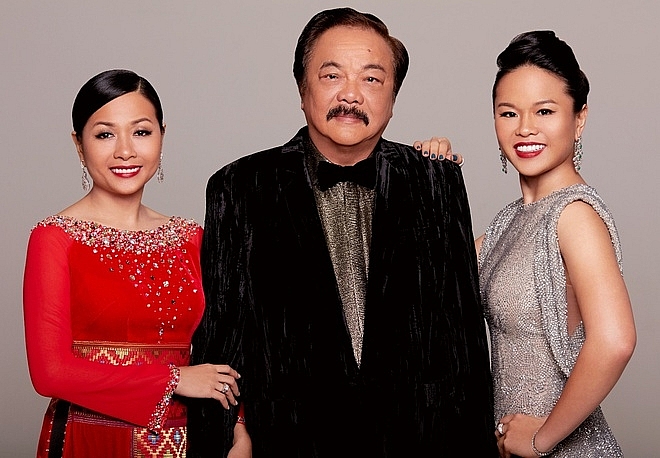 From left to right, Phuong Uyen Tran, Mr. Tran Quy Thanh and Tran Ngoc Bich. Photo: Facebook.
The psychological work our family did really helped us to deeply understand the responsibily we have to each other and ultimately to THP as well, for the responsibility is one of the key requirements for sustaining a business from one generation to the next.
There is a Vietnamese proverb that says, "The rich do not stay rich and the poor do not stay poor for three generations." It underscores the challenges of making sure the second generation stays as motivated as the first when they no longer have financial hardship to spur them on.
Not for nothing does a variant of that proverb suggest that the first generation makes the money, the second generation spends it, and the third generation blows it. From rice paddy back to rice paddy again; the wheel comes full circle.
Much has been written about the best way for family business owners to transfer that sense of responsibility to the new generation. My father has been quoted on CNBC on this question saying, "I have to choose the right person to become the CEP of the company and give this responsibility to the most competent indivisual. I hope my children will work hard to achieve that distinction, instead of automatically assuming they'll be given the position, because inheriting a business is not a privilige, but a responsibility."
My father have been very harsh when we were growing up, but he wanted to create a culture of hard work where merit is rewarded. As a result, my sister and I both work as hard as he does. In fact, these says we get less sleep than he does, as we only sleep for four hours, and he has switched from four to six. He has also started going to the gym six days a week. He is someone who never does anything in half measures.
When he used to sleep for only four hours, he would frequently want to run ideas past us at all times of the day or night. Because we all lived "above the shop," he always knew where we were. Sometimes I would have to beg him to let me sleep. In this instance, the boundaries between work and home were not so strong.
When the company was first established, there were no boundaries at all. We literally lived in the factory. My father's office was also the family living room.
These days we live in an apartment above the factory and try to eat together twice a day. This is when we swap information and ideas. No one tries to hoard information. It keeps the lines of communication open and strong.
But when we are at work, we only refer to each other as Dr.Thanh, Madam Nụ, Miss Bích and Miss Phương. It is how we try to maintain good boundaries and make them clear to all our colleagues.
For example, in the workplace, I need to respect my father as my boss, but he also needs to respect my professional opinion even if it differs from his. He talks to me as a valued colleague and supervisor, not as a father talking to daughter.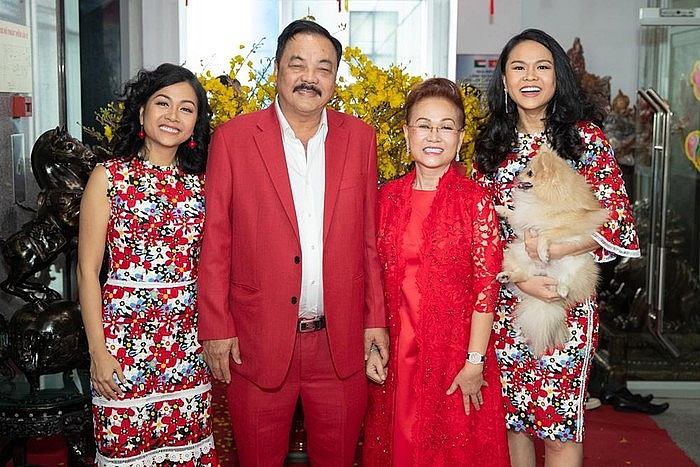 Mr. Tran Quy Thanh's family. Photo: 2dep.vn.
In turn, I also must take responsibility for my mistakes as anyone else at THP does. But it has not always been like this. There was a time when my father would scold me, and my mother would get upset with him for doing so.
She did it out of love for me, but it did not help me to learn from my mistakes. I asked her to let me handle things by myself, and to her credit she stepped back from the situation and did not involve herself in these types of incidents in the future. After all, I needed to gain the trust of my boss just like any other employee.
My father also learned that he needed to pay me a salary when I first joined THP. It was something he had not even thought of, but I successfully argued that I needed to hold myself accountable for the work I had completed, and a salary would reflect my performance. I won the argument, and both my brother and sister were paid when they joined in later years.
In the past few years, especially in 2018, Tan Hiep Phat and Phuong Uyen Tran are among Vietnamese names in the field of business that appear the most on international media because of their stories inspiring co-startups as well as millions of consumers around the world.
That Forbes first published the book "Competing with Giants" by a Vietnamese businesswoman has help promote the name of "rich man" Tan Hiep Phat.
Afterward, in the minds of many consumers, each water bottle is not only a drink but a crystallization of the desire to overcome difficulties and the spirit of entrepreneurship, an organic trend and Vietnam of miraculous stories.
And also from this book uncovered the aspirations of Tan Hiep Phat, as Mr. Hiroshi Otsuka, President and CEO of Musashi Seimitsu said: "An unmissable insight into how and why Vietnamese businesses are quietly growing into global players."
About author Phuong Uyen Tran
Working as a powerful businesswoman, Forbes published author, Phuong Uyen Tran is a model of success in Vietnam. Phuong Uyen Tran is also a special contributor for Vietnam Times. Her writing, including "Competing with Giants" book, and her latest articles are to advise and inspire young people to start-up, overcome challenges and reach out to the world. It is the story of a little girl taking the great responsibilities for a corporation and devoting herself to society.