The risk of a "hot" conflict between the US - China confrontation
US-China diplomatic officials met last month in Hawaii, amid fears of a confrontation that was pushing the two countries to the brink of war.  
The caucus between US Secretary of State Mike Pompeo and Yang Jiechi, the high-ranking diplomatic assistant of Chinese President Xi Jinping, has been recorded the first meeting between the leaders of diplomats of the two countries for nearly a year. The meeting took place at Pearl Harbor, where striking the attack 80 years ago, forcing the United States to declare war on Japan during World War II.
Besides economic and technological competition, Covid-19 "blame game" is joint between Beijing and Washington to criticize each other, as well as conflict in almost every area, from trade tensions to the Bien Dong Sea (internationally called South China Sea), Taiwan, Xinjiang or Huawei. A recent controversy surrounding China's imposition of a new security law with Hong Kong has worsened the situation, pushing the world's two leading economies into a fierce and dangerous confrontation.
According to SCMP commentator Shi Jiangtao, it was not surprising that the 7-hour meeting in two days between Mr. Yang and Pompeo did not seem to make any significant progress in salvaging the relationship or cooling down the fierce confrontation between the two powers.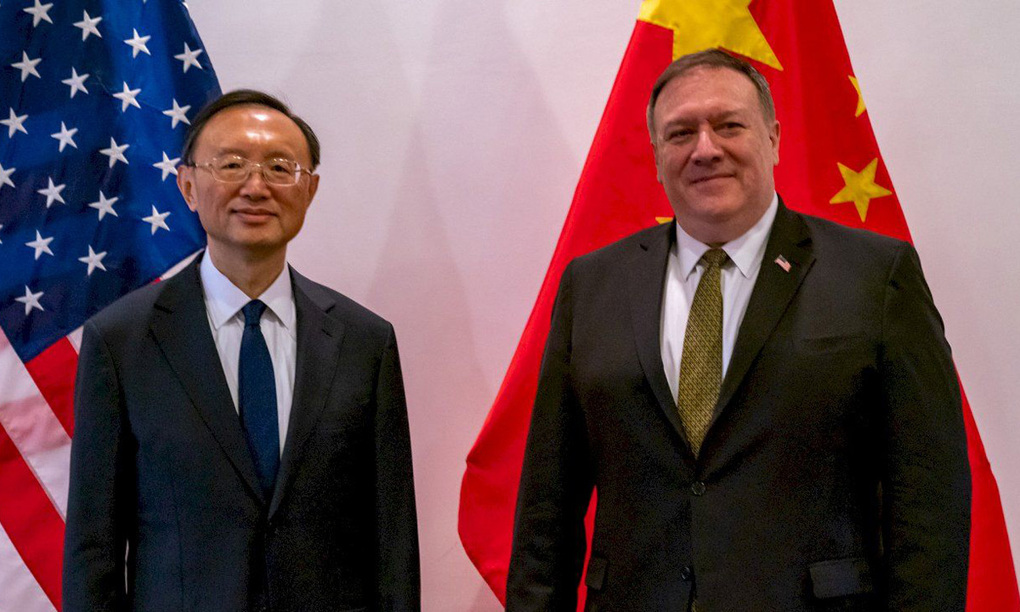 US Secretary of State Mike Pompeo and Chinese diplomat Yang Jiechi. Photo: Reuters
"The remainder of 2020 could pose as severe a test for the US and China as the final five months of 1941 did for the United States and Japan.," said Graham Allison, a professor at Harvard University specified.
Allison judged that Tokyo's sudden attack on Pearl Harbor on December 7, 1941, was beyond Washington's imagination that "a nation less than one-quarter the size of the US would launch a bolt from the blue against the most powerful nation in the world", the expert said.
Although both sides were unwilling to fall into a catastrophic battle, analysts warned the risk of worsening US- Sina confrontation, without any intention.
China has seen the coronavirus as an opportunity to exploit US weaknesses, and so China might be tempted to resolve territorial disputes through force. I think there's a real possibility of miscalculation by Beijing in assuming the US won't or can't respond militarily", said Malcolm Davis, senior analyst at the Australian Strategic Policy Institute.
Stephen Walt, professor of international relations at Harvard University, agrees. According to him, China considers US President Donald Trump to be "a weak and error-prone leader", seemingly believing that Washington's "disastrous" reaction to Covid-19 created a golden chance for Beijing to take advantage.
Professor said the world's two largest economic powers were engaged in a long-term competition over "incompatible strategic visions", including China's desire to dominate Asia.
However, Oriana Skylar Mastro, an assistant professor at Georgetown University, USA, said that the US-Sina tension today is not the same as the Cold War. "On the positive side, we have extensive engagement. On the negative, there is a real possibility of a hot war between the two sides to a degree that never existed with the Soviet Union." Mastro said.
China, she pointed out, owned many options to alleviate US concerns, such as the escalation in the Bien Dong Sea. "But Beijing won't do this because it fundamentally misunderstands the drivers of US policy. It thinks the US is responding to its own decline in power - that no matter how Beijing acts, the US will lash out," Mastro said.
"So there is no impetus to try to moderate its ambitions and how it attempts to achieve them. This is a mistake. And China's failure to do so, to try to assure the US, could lead us into a war," she added.
Yuan Peng, chairman of the China Institute of Contemporary International Relations, a government-related advisory group in Beijing, compared the post-COVID-19 world with the after-World-War-I situation over a century ago. Reuters once cited an internal report from the China Institute of Contemporary International Relations assessing that Beijing should prepare for an armed conflict with Washington amid the worst wave of anti-China in decades.
Chinese Foreign Minister Wang Yi last week rejected the notion that the country was seeking to expand its influence by damaging the United States. "China never intends to challenge or replace the US, or have full confrontation with the US," he said, but acknowledged US-China relations facing the most difficult challenge since its relations establishment in 1979.
Soothing words from Beijing have also become increasingly rare over this year, after their foreign policy aggressively pursuing nationalism in response to the to Xi's call for a "fighting spirit" from Chinese diplomats, under pressure from the US and its allies.
From Beijing's point of view, the most dangerous test reaching its final limit includes military encounters involving Washington's freedom of navigation patrols in the Bien Dong Sea, and the idea of ​​an independent Taiwan. A series of moves in favor of Taiwan by American officials increasingly "aggravated" China.
US policy with China has been largely driven by fears over the rise of a new power that dominates Asia - Europe, and the possibility that Russia - China will become a faction.
Former US Secretary of State Henry Kissinger, who outlined plans to open up with China in the 1970s to isolate the Soviet Union, and also opposed the "hawk" policy that restrained Beijing, is also increasingly pessimistic about the future of US-China relationship. Now, he sees Beijing as Washington's only strategic opponent, even warning that an "unlimited" military conflict between the two countries could be worse than any happened wars
For Kissinger and Allison, Xi's tendency to increase his military strength in recent years, and the emphasis on the need to build an army of fighting and winning, shows another sign proving that China is preparing for armed conflict, the worst scenario.
"From a historical point of view, China and the US are almost destined for conflicts," Kissinger said two years ago.
"The greatest uncertainty for both militaries lies in the fact that both sides have yet to set up an effective crisis management mechanism and there remains ambiguity over each other's bottom lines, rules about interactions as well as the 'red lines' ", said former Chinese Deputy Foreign Minister Fu Ying.
"As a result, both sides need to constantly test each other, increasing the risks of incidents and uncontrollable outcomes," she warned.