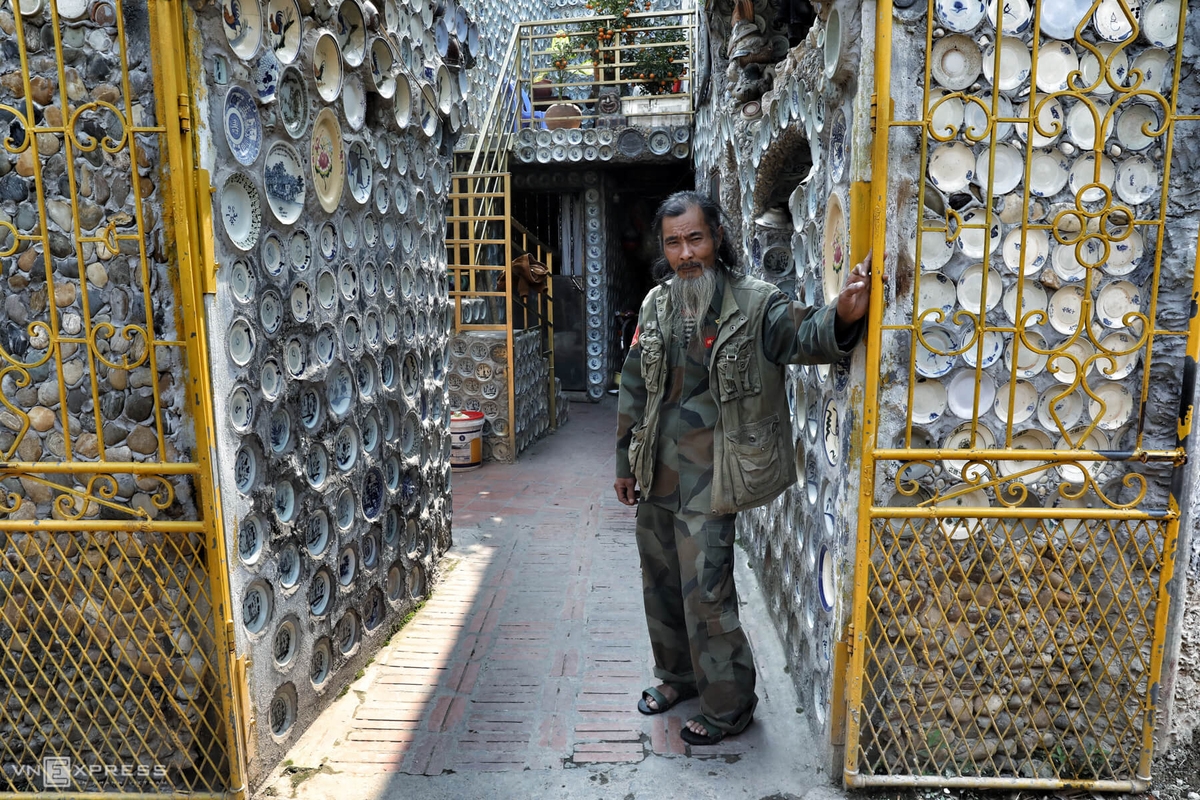 From the gate, the stairway to the entire house are embedded with antiques (Photo: VNE)
Truong's uniquely-decored house located in Chau Hung commune, Vinh Tuong district, Vinh Phuc province. The house becomes prominent with the thousands of old dishes and plates artfully glued to the walls, from the gates, stairways to the interior.
He fist collected antiques for the trading purposes at the age of 24, but his love for the old objects gradually grows without knowing, the middle-aged man became an antique collector.
Truong came up with such a bizarre idea when his house turned too old and needed renovation.
"My house is not spacious enough to contain a growing number of antiques. Embedded all the collected antiques onto walls like this could give us more space, and more importantly, I don't have to worry about thieves or, you know, anyone who wants to buy those valuable artifacts from me", Truong told VNE.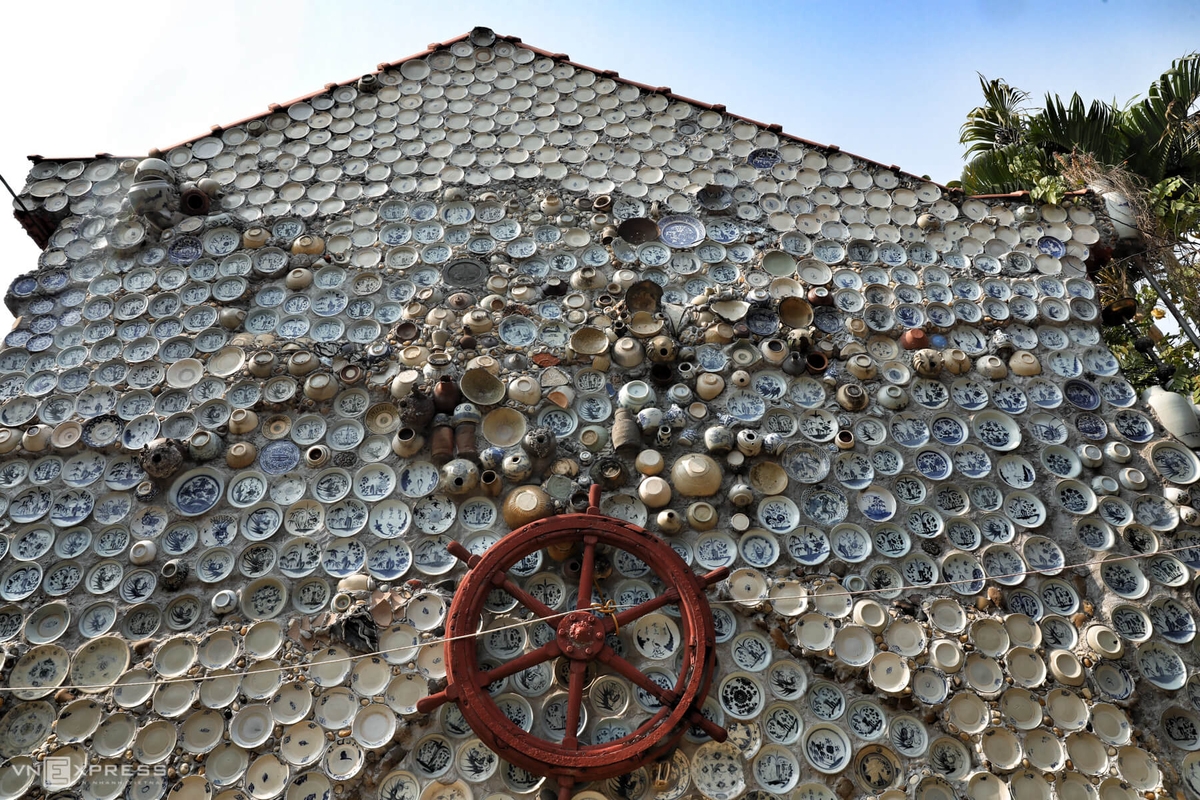 (Photo: VNE)
A corner at Truong's house is embedded with a steering wheel of sailing boat, bottles, and hundreds of plates and bowls.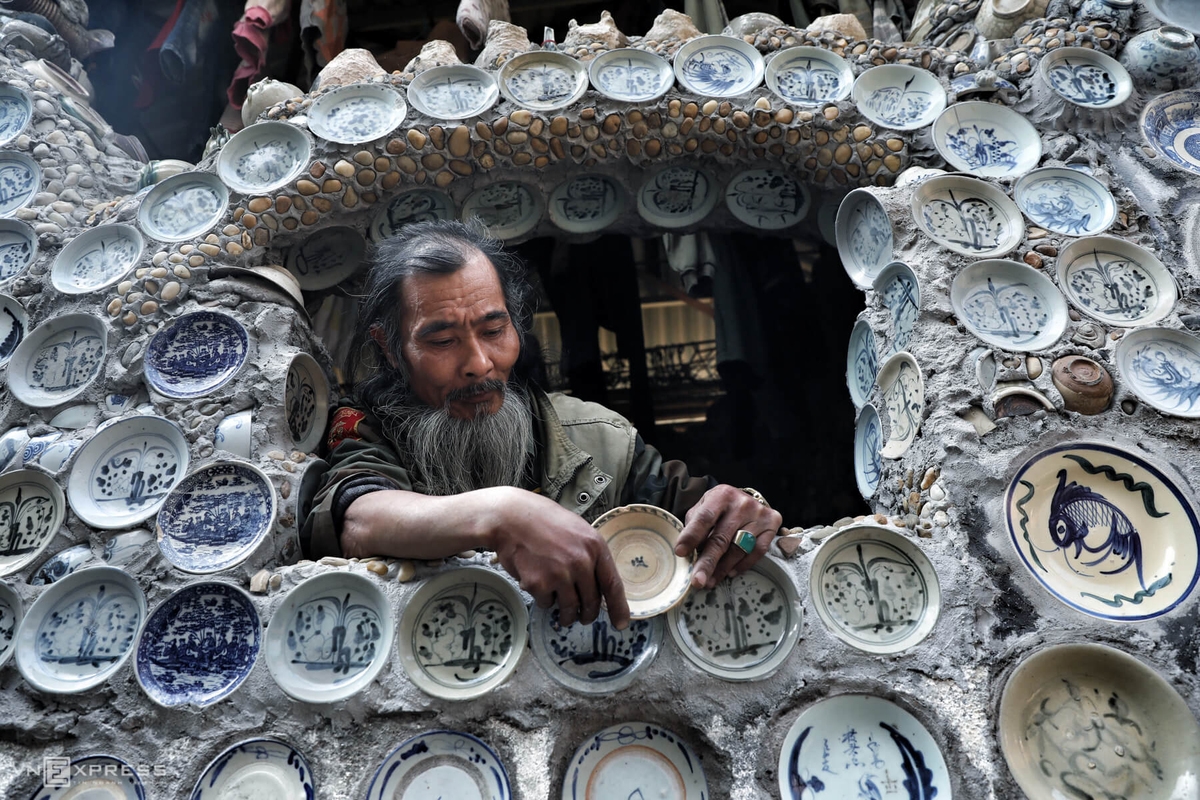 Truong met a lot of difficulties building this one-of-a-kind house (Photo: VNE)
Truong met a lot of difficulties building this one-of-a-kind house.
"No one was on my side when I initiated the idea, some people even asked if I was insane. I was at a financial shortage too. But you know, I overcame all those hurdles with passion. It took me an awful lot of time and efforts", he exclaimed.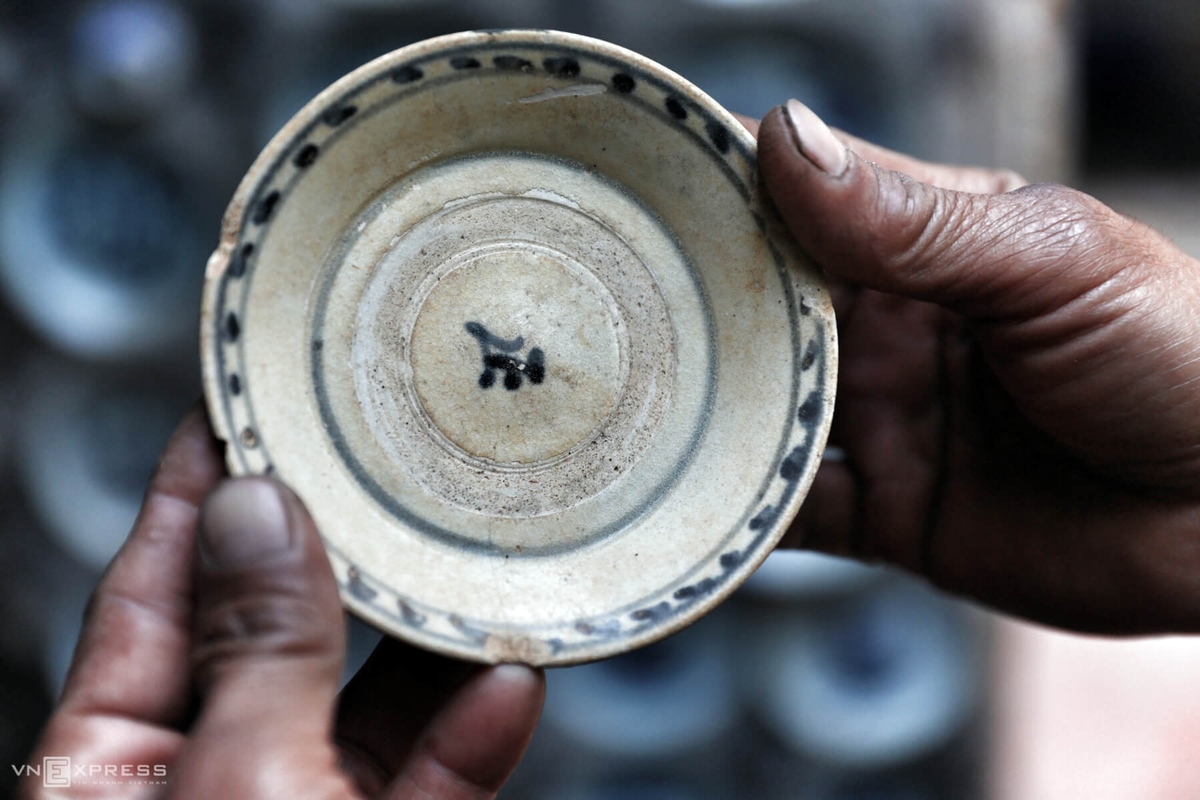 One old-style plate (Photo: VNE)
Over half of Truong's items are plates.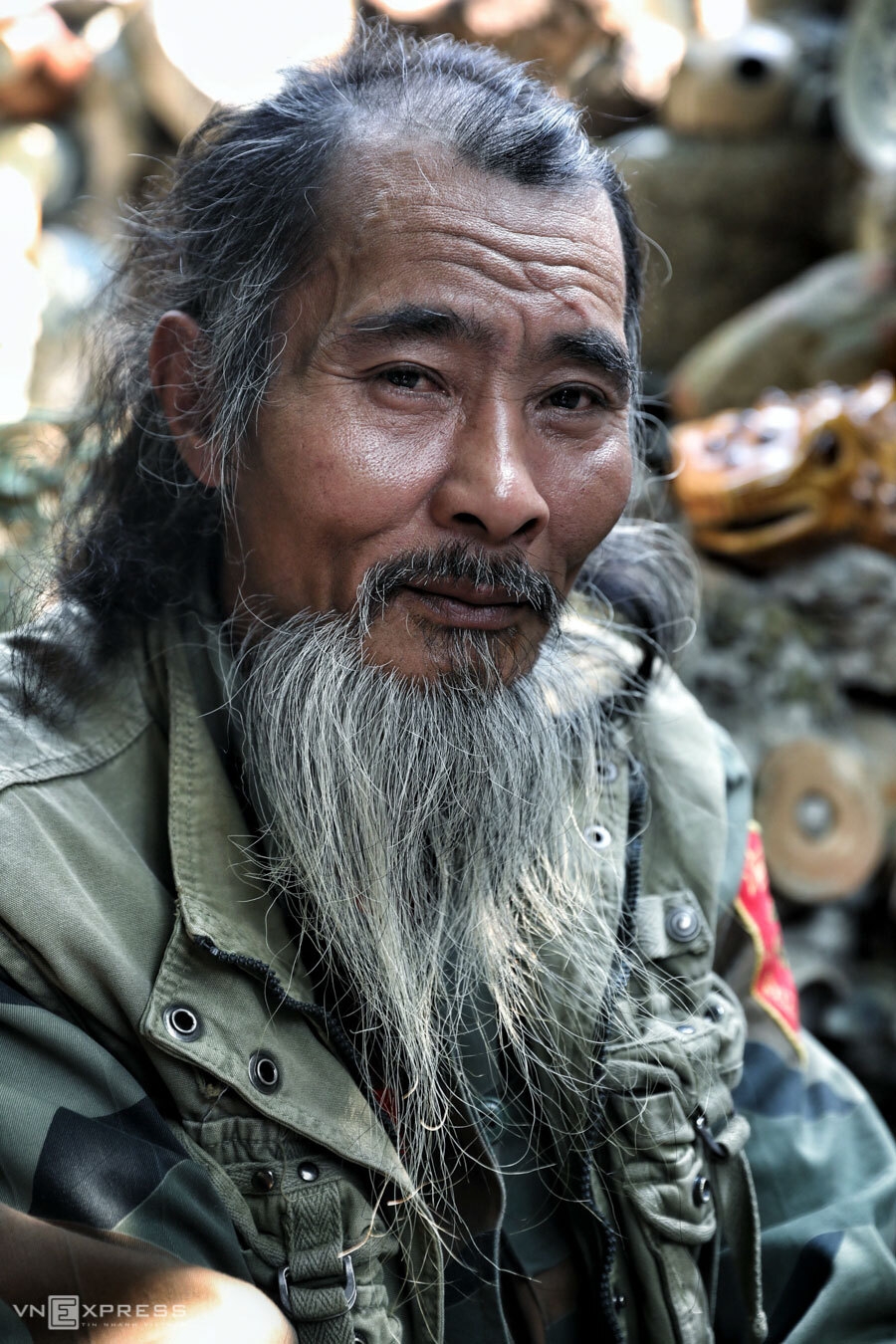 Nguyen Van Truong is a passionate antiques collector (Photo: VNE)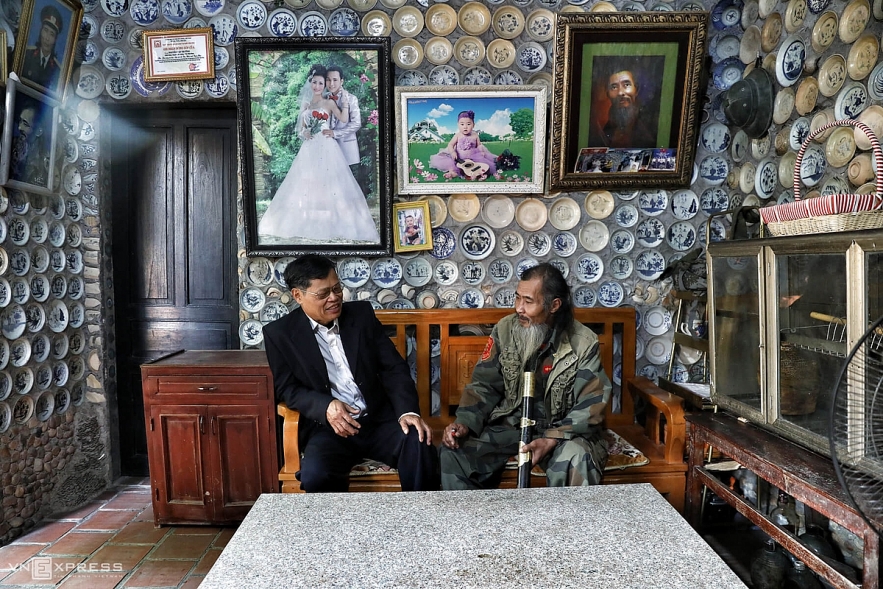 (Photo: VNE)
Truong's house is 14 meter square in size, has four bedrooms, and one guest room. All the plates and bowls embedded on the walls at the guest room are kept intact, which gives the place an old, artful vibe.
Both the interior and exterior are decored with the antique that Truong bought home through years.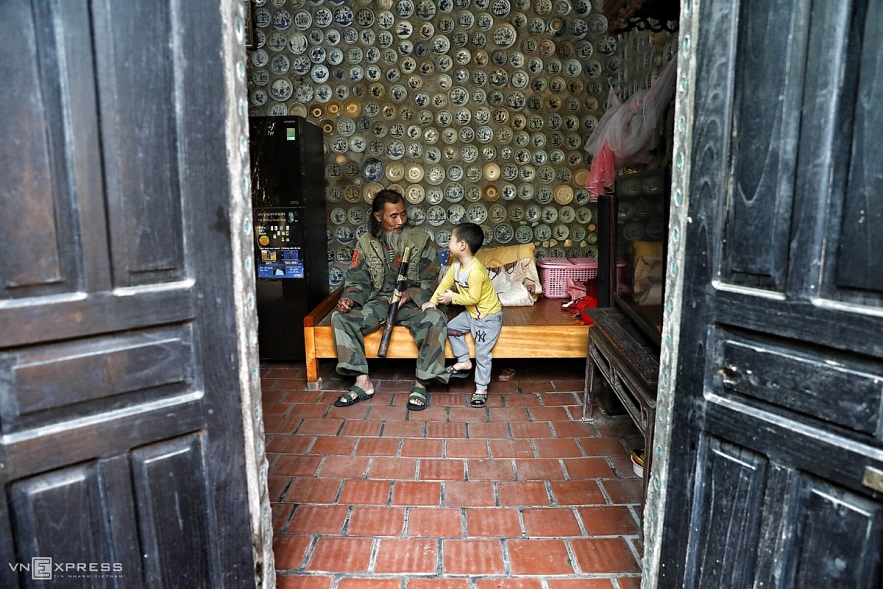 His bedroom is also embedded with antiques (Photo: VNE)
The smallest room is about 8 m2. It's where Truong often takes a rest and chats with his children and grandchildren.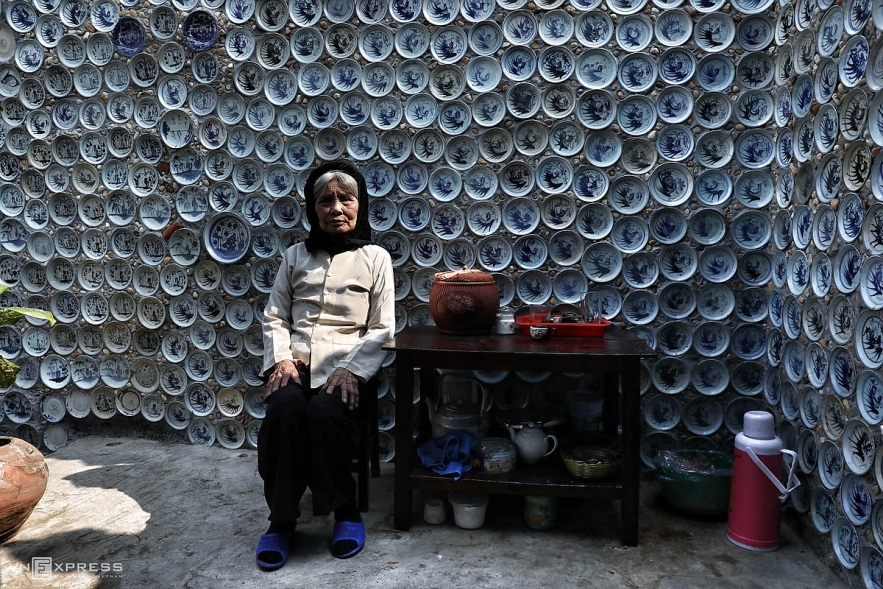 Nguyen Thi An, Truong's mother (Photo: VNE)
"He would spend all of his money to purchase antiques. Even when he doesn't have any, he'd rather borrow from relatives or friend to purchase than miss the items", Nguyen Thi An, 85, told VNE.
"We used to discourage him from buying antiques. But now we know we were wrong. Our house is like the most precious one in this country", his wife, Ho Thi Nga, 57, said.
A corner of Truong's house looked from above.
"I told my children to buy a new house or build another when they get married. This house is my life-long devotion. It can't be sold or demolished", Truong said.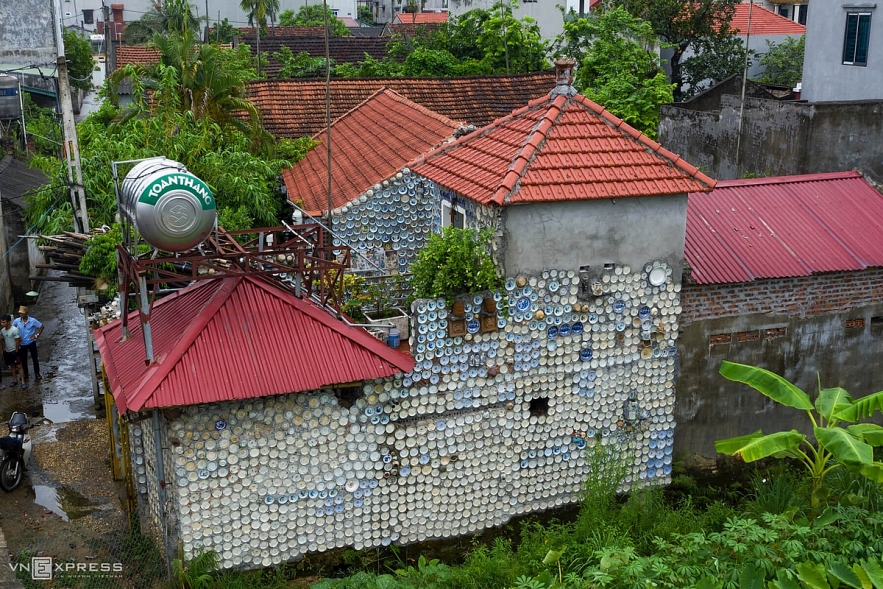 Truong's house stands out in the neighborhood (Photo: VNE)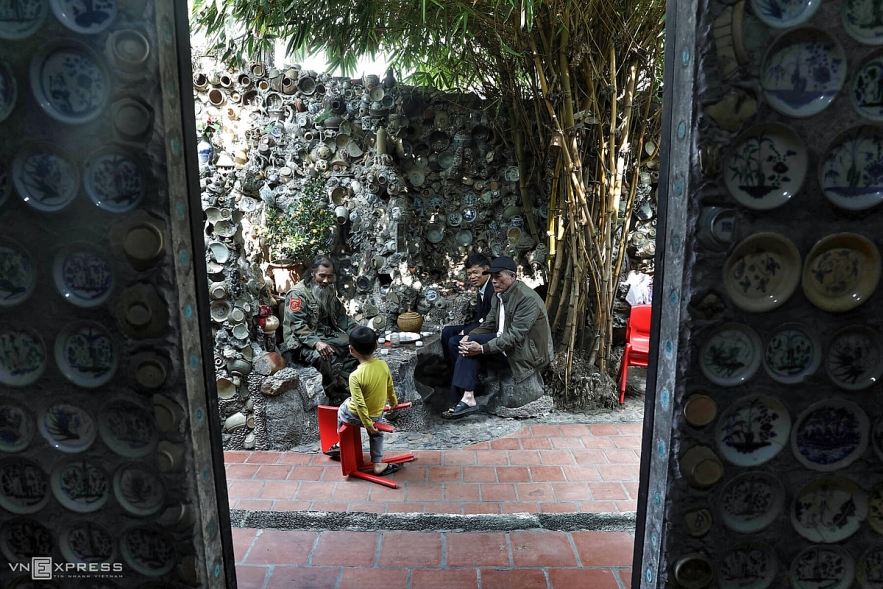 (Photo: VNE)
Jasmine Le