The Trekking Two-Year Old of Cat Ba Island
A two-year-old boy has trekked through a cave in Hai Phong City with his father for the first time and gained memorable experience.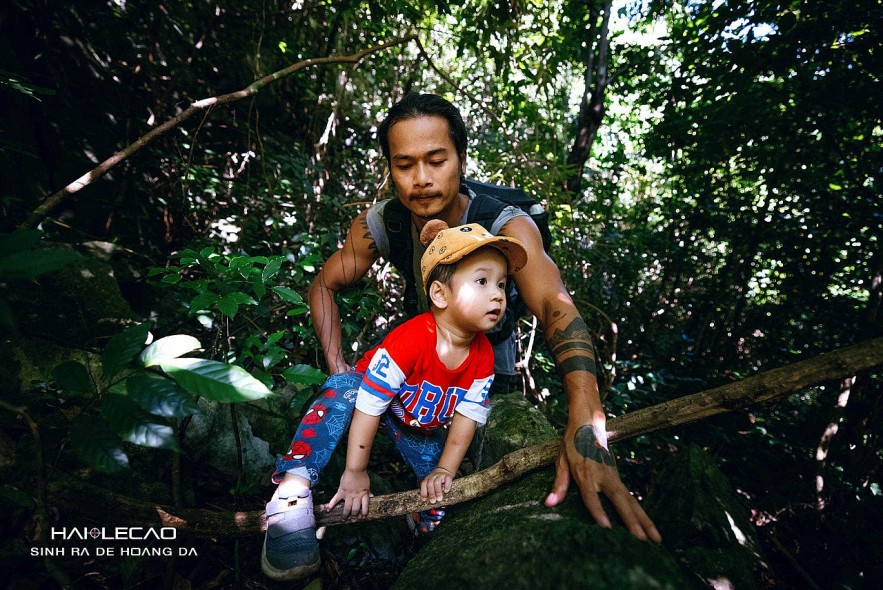 Hai Le Cao always stays behind to support his son on the trekking journey. Photo courtesy of Hai Le Cao
At the end of August, photographer Hai Le Cao and his two-year-old son nicknamed Tao (Apple) went trekking in Tung Set Cave located in the north of Cat Ba Island, Hai Phong City.
Hai Le Cao's family has stayed in Hai Phong City for three months to stay away from the pandemic. Since travel is not limited within the city, his family can still visit favorite places at the weekend to relax.
Tung Set Cave is a new destination where tourism has not been exploited much.

How to travel to Tung Set Cave in Gia Luan Commune:

From Cat Hai's center, tourists drive for 16km to get to Gia Luan Commune. From there, they can park their vehicles at local people's gardens and follow a concrete road to walk about 700m to the gate of the cave.
Hai chose Tung Set Cave as the first trekking destination for his son because this place has diverse terrains including dirt roads, forests with slippery soil, rocks, especially caves, to attract children.
According to measurements of the local guide group, the cave stands at an altitude of about 80m above sea level. The slope is measured at about 40 degrees
It takes about 30 minutes (20 minutes for an adult) to trek from the slope to the cave mouth. Most healthy children can conquer this section, Hai said.
Tiny Steps on a Big Trek
The two trekkers were well prepared for their jungle excursion. Hai brought a backpack with drinking water, insect repellent and a milk bottle. Tao worn long-sleeved clothes, shoes, and brought a hat along with him.
On the first section, the father, the son and four companions crossed a dirt road with cassava gardens of local people along two sides. In order to avoid plants sticking in the eyes, they had to bow their bodies to walk.
The next obstacle is a slippery and dirty road due to rain. Additionally, the higher they trekked, the bigger rocks they encountered. Some of the road sections have quite sharp rugger rocks.
Tao holds his father's hand on challenging sections. Photo courtesy of Hai Le Cao
Hai said that he wanted his son to feel the slippery surface of the soil, the firmness of the trees and the sharpness of the rock.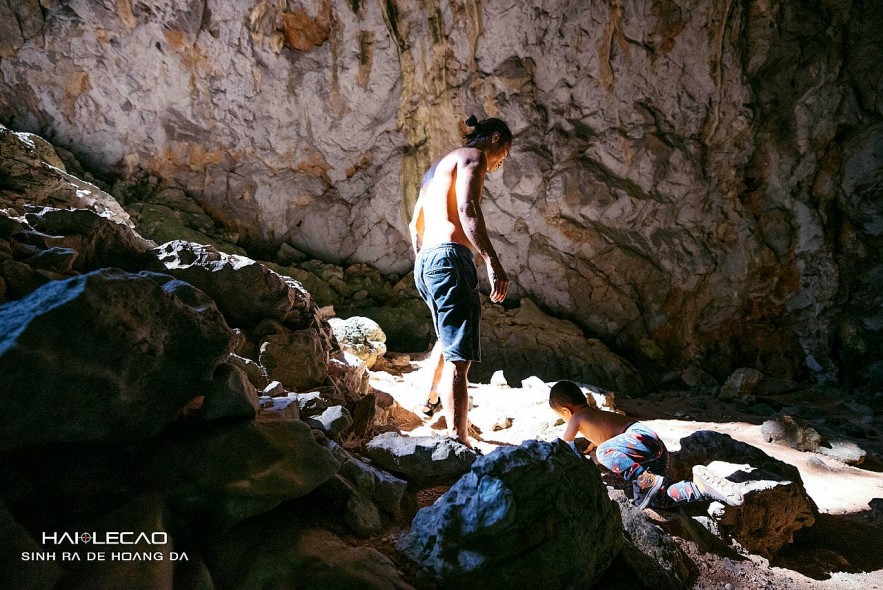 Hai allows Tao to climb the rocks by himself. Photo courtesy of Hai Le Cao
That is the reason why on about 70% of the journey, the child had to move on his own, sometimes walking, sometimes climbing and even crawling on rocks. When the roads are too difficult or dangerous to walk, Hai carried the adventerous youngster.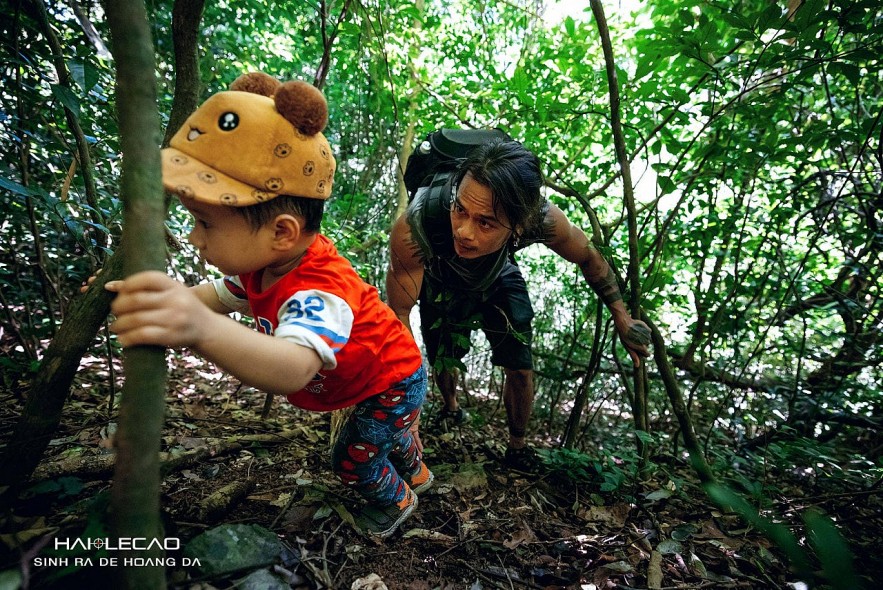 Photo courtesy of Hai Le Cao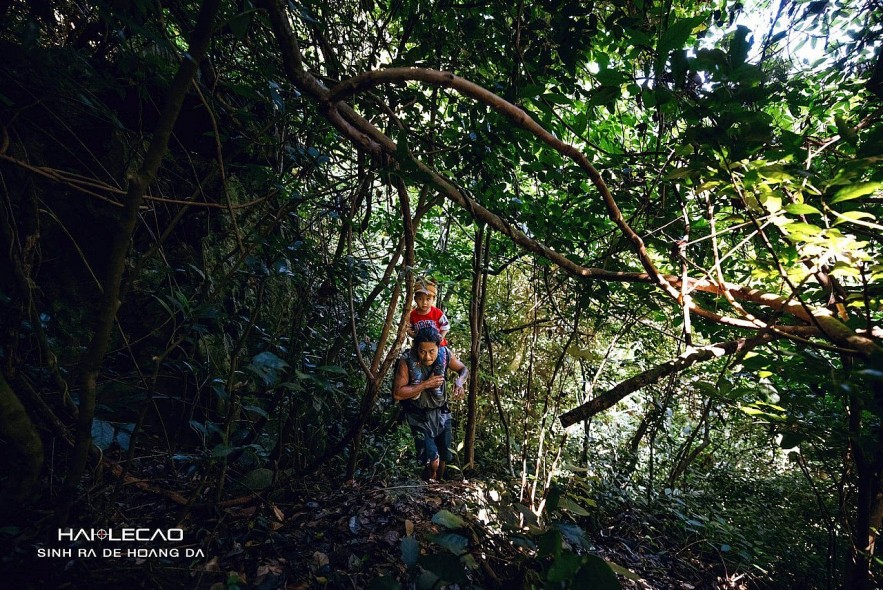 Hai carries Tao on the shoulder when they encounter rocky surfaces. Photo courtesy of Hai Le Cao
They almost did not stop to take a rest at any point because the trekking route is not too long, Hai wants his son to focus to reach the final point and teach Tao the lesson of not being discouraged and lazy.
"I know Tao is an obedient boy but I was still surprised by his determination and effort in the journey. There were times when he fell down and got up on his own without screaming," Hai told VnExpress.
On the journey, Hai always tried to encourage his son to give him the confidence and determination.
"On many sections, I thought Tao would ask for help or surrender, but no, he continued to walk.
"I am very proud of accompanying my son in this trekking journey and seeing my son try his best."
Nguyen Anh Tuan, a local guide who accompanied Hai and Tao on the trekking journey, said he was very surprised at this little boy. He didn't cry or fuss even though he had a few mosquito bites on his forehead. Although the road was long and tiring, he always showed that he is not inferior to his father and others. When he reached the final point, he raised his hands to celebrate and shouted "yee yee" like an adult.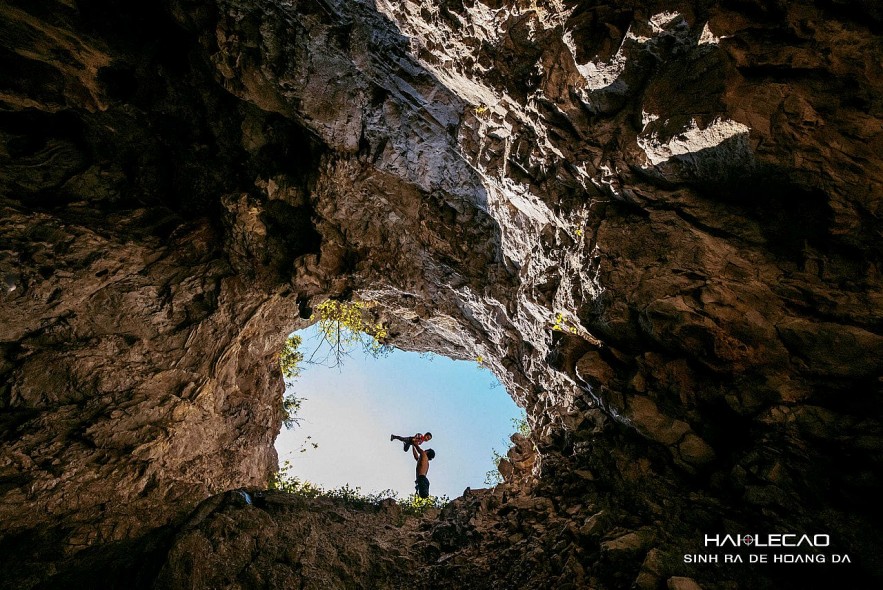 Celebration after reaching the highest point of the cave. Photo courtesy of Hai Le Cao
"What surprised me more was the way Hai taught his son. Whenever Apple encountered an obstacle such as a stone blocking the way, or tree branches lying on the roadside, he taught Tao how to put his feet, cling to each stone and tree trunk to get strength to overcome it," Tuan said.
Nature is Tao's Teacher
As a freelance photographer who loves wildlife and has many years of practicing extreme sports, Hai realizes positive values ​​of those activities. He always thinks about having his son engage in the nature at the early age. He said this could help children fully develop skills and understand the positive values ​​that nature gives to humans.
The rich flora, fauna and insects will help children increase their confidence in learning, he said. Hai wants his son to learn visually by interacting with nature or getting to know about the nature through TV and books.
Before the trekking journey, Hai helped his son improve health and skills. Since Tao knew how to walk, he has been trained to walk on 100-200m road sections, sometimes up to 1km.
Hai has also taught Tao exercises such as balance, climbing stairs, push-ups and kick-boxing.
Hai often does physical exercises with his son. Photo courtesy of Hai Le Cao
During their 'pandemic holiday' in Hai Phong, Hai often takes Tao to the beach and let him climb the mountains.
A lot of people believe that allowing children to take part in those activities too early might cause risks. But Hai, who accompanies his son in every activity and follows his maturity, can observe and understand when his son is ready to take on challenges. He said as a father, he knew what is the best and what is dangerous to his son.
In the post-pandemic future, he plans to take Tao on other adventures across Vietnam.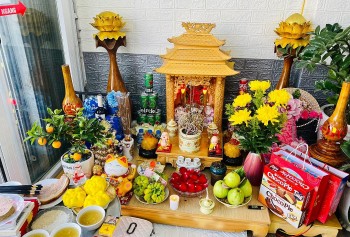 Handbook
Learn more about an ancient Vietnamese tradition that may bring you good fortune!