"Those bringing foreign experts into Vietnam must ensure safety and efficiency"
Vietnam doesn't ban foreign experts from entering the country, but it must ensure safety and efficiency, said the representative of the Health Ministry at the regular Government press conference held on the afternoon of May 5.
The Government press conference presided by Minister- Chairman of the Government Office Tran Van Son took place on May 5. Questions related to the Covid-19 Prevention and Control were put by many news agencies and newspapers.
Answering the question about the detection of new Covid-19 cases linked to foreign experts entering Vietnam, Deputy Minister of Health Tran Van Thuan affirmed that Vietnam didn't ban foreign experts entering the country, but they must be the"right people" and serve socio-economic development.
Deputy Minister of Health Tran Van Thuan at the press conference. Photo: VNA
Thuan said that the Prime Minister requested to reactivate interdisciplinary working groups including five Ministries of National Defense, Foreign Affairs, Public Security, Health and Transport. These organizations may allow foreign experts to enter Vietnam, on a case by case basis.
"[Those] bringing foreign experts into Vietnam must ensure both the efficiency and safety," stressed the Health Ministry's representative.
Responding to another inquiry on the vaccine passport, Deputy Minister Thuan said the Ministry of Health was still working with relevant ministries to study more and would apply the mechanism at an appropriate time.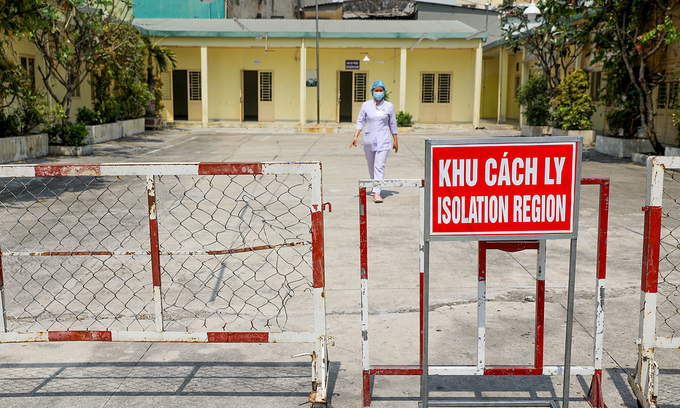 A nurse walks inside a centralized quarantine camp in HCMC, March 2020. Photo by VnExpress/Quynh Tran.
Many countries in the world are also discussing issues associated with the vaccine passport. Many people believe that the vaccine passport should only be adopted if herd immunity is reached which means that 70% of the population get vaccinated. Meanwhile, no vaccine has been 100% effective so far, according to Thuan.
He added that the Prime Minister has issued many documents on Covid-19 prevention and control while directing heads of ministries, branches and localities to keep updated the epidemic situations both at home and in the world to be proactive in any situation.
Residents have been required to strictly adhere to the 5K message, especially wearing face masks. Those breaching the regulations on Covid-19 prevention must face strict consequences.
Vietnam has extended its quarantine policy from 14 to 21 days for both foreign arrivals and those who come into contact with Covid-19 patients, Vnexpress reported.
The decision, which took immediate effect Wednesday, was taken after the Health Ministry consulted experts on ways to keep the larger community safe, said Minister Nguyen Thanh Long.
The decision has been made after several individuals contracted the virus after they'd already completed the 14-day quarantine and tested negative twice or thrice.
Vietnam reported eight new cases of Covid-19 over the past 12 hours to 6 am on May 6, all being patients of the National Hospital for Tropical Diseases in Hanoi's outskirts district of Dong Anh.
As of May 6 morning, the country's caseload stood at 3,030, including 1,634 domestically transmitted cases, according to the Ministry of Health.
Sixty-four cases have been recorded since the latest outbreak hit the country on April 27. The National Hospital for Tropical Diseases in Hanoi's Dong Anh district, the frontline facility in the Covid-19 fight, has recorded 22 cases in the new outbreak.
As many as 2,560 patients have been given the all-clear. Among the patients under treatment, 24 have tested negative for the coronavirus once, 12 twice and 38 thrice.
A total of 40,736 people are under medical monitoring nationwide, with 560 at hospitals, 21,733 at State-designed quarantine establishments, and 18,443 at home or residences.
The ministry said additional 90,417 people were given Covid-19 vaccine shots on May 5, raising the total number of vaccinated people to 675,956.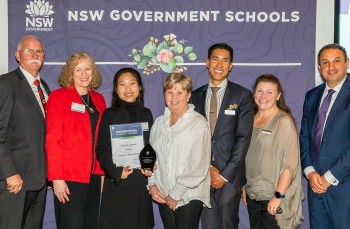 Overseas Vietnamese
The award for international students studying at New South Wales state schools (Australia) honors excellent ones from many countries, including a Vietnamese female student.