Three Vietnam Cities Voted Among World's 100 Greatest Places by Time Magazine
Hanoi, Ho Chi Minh and Phu Quoc are the three voted among 100 greatest places to explore on Earth as voted by Time magazine.
Time recommended travelers to explore Hanoi where they can enjoy a renewed life in the Old Quarter.
"Vietnam's 1,000-year-old capital is embracing change while maintaining a strong sense of identity," Time wrote.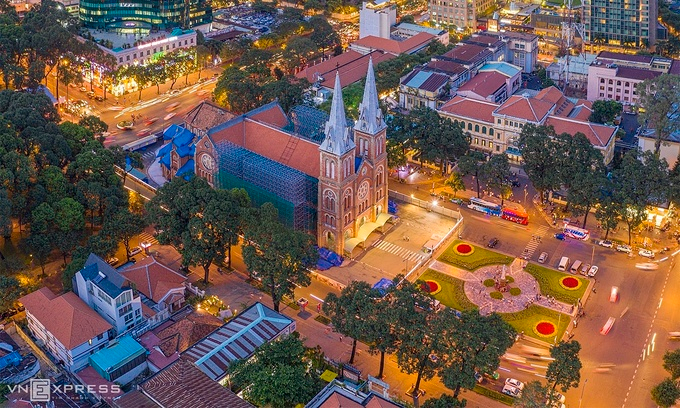 The Notre Dame Cathedral. Photo: VnExpress
The new Capella Hanoi on Le Phung Hieu Street in Hoan Kiem District, a 47-room hotel designed by world famous architect Bill Bensley, and Dolce by Wyndham Hanoi Golden Lake, a 25-floor hotel in Ba Dinh District, billed as the world's first gold-plated hotel, add their charm to the vibrancy of Hanoi.
"Hanoi's incredible street-food culture is another source of fierce civic pride," Time noted.
The magazine suggested visitors try pho, the city's signature dish, at Bat Dan Restaurant on the eponymous street, which has been serving this dish for more than 70 years. The restaurant offers both traditional and stir-fried pho, with prices ranging from VND45,000-75,000 ($2-3.27).
Time defined Ho Chi Minh City as "tastes of Vietnam" where a collection of famous restaurants converge.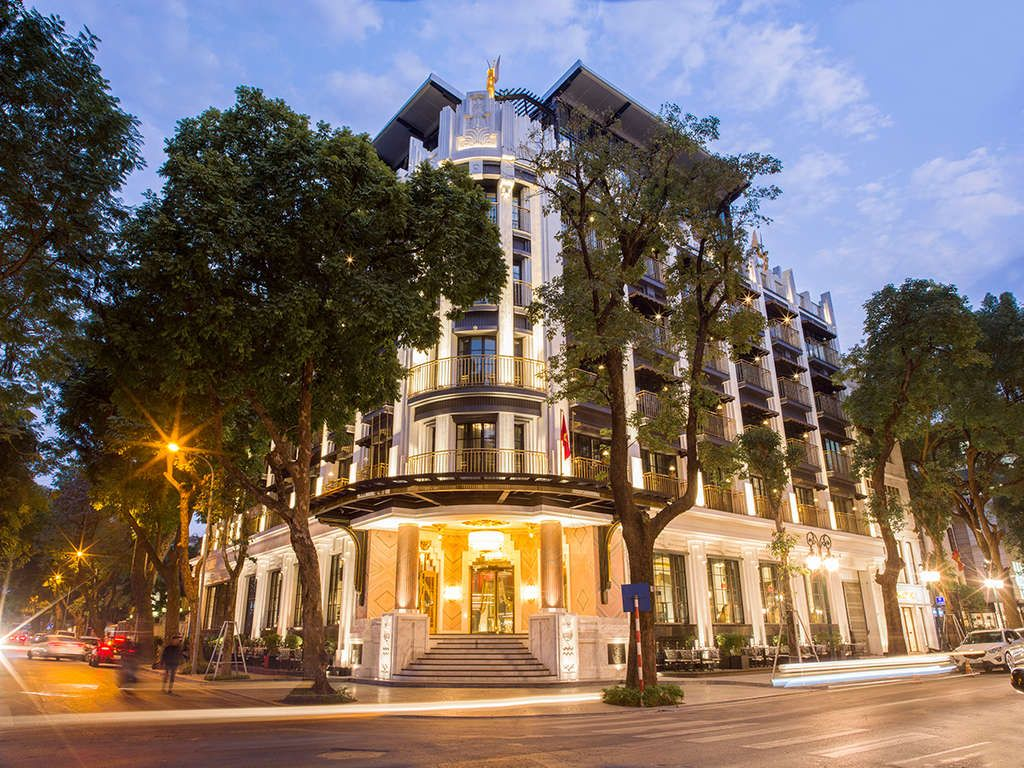 Photo: Capella Hanoi
Among them is Anan Restaurant, which became the first venue in the country's southern hub to earn a berth in Asia's 50 best restaurants in the 2021 annual ranking published by William Reed Business Media, a British business magazine and digital media company.
Located inside an old market on Ton That Dam Street in District 1 near Bitexco Financial Tower, Anan specializes in street food-inspired dishes created by Vietnamese-¬American chef Peter Cuong Franklin.
"Notable recent additions to the local dining scene include Monkey Gallery, where chef Viet Hong merges Vietnamese, French and Japanese techniques and flavors, and Esta, a modern Asian eatery with an ever changing, expansive menu that runs the gamut from smoked-eel pate to veal sweetbreads," according to Time.
The U.S. magazine called Phu Quoc island city an "idyllic paradise."
Known as the "jewel of Vietnam," Phu Quoc Island has become one of the fastest-growing destinations in Southeast Asia as it attracted five million visitors in 2019, a 30 percent increase from the year before.
The island is planning to welcome vaccinated foreign tourists back from this October.
Capella Hanoi
Leave the present behind and discover a world of spellbinding elegance. Nestled on a peaceful boulevard along Hoan Kiem Lake, the art nouveau masterpiece is an ode to the opera artists, designers and composers. Uncover unexpected moments of delightful retrospection in this palace of artistry highlighted by resplendent suites, enthralling dining experiences and the award-winning Auriga Spa. Raise a toast and reminisce the captivating tales behind opera's luminary icons and oeuvre when you walk through the door of Capella Hanoi.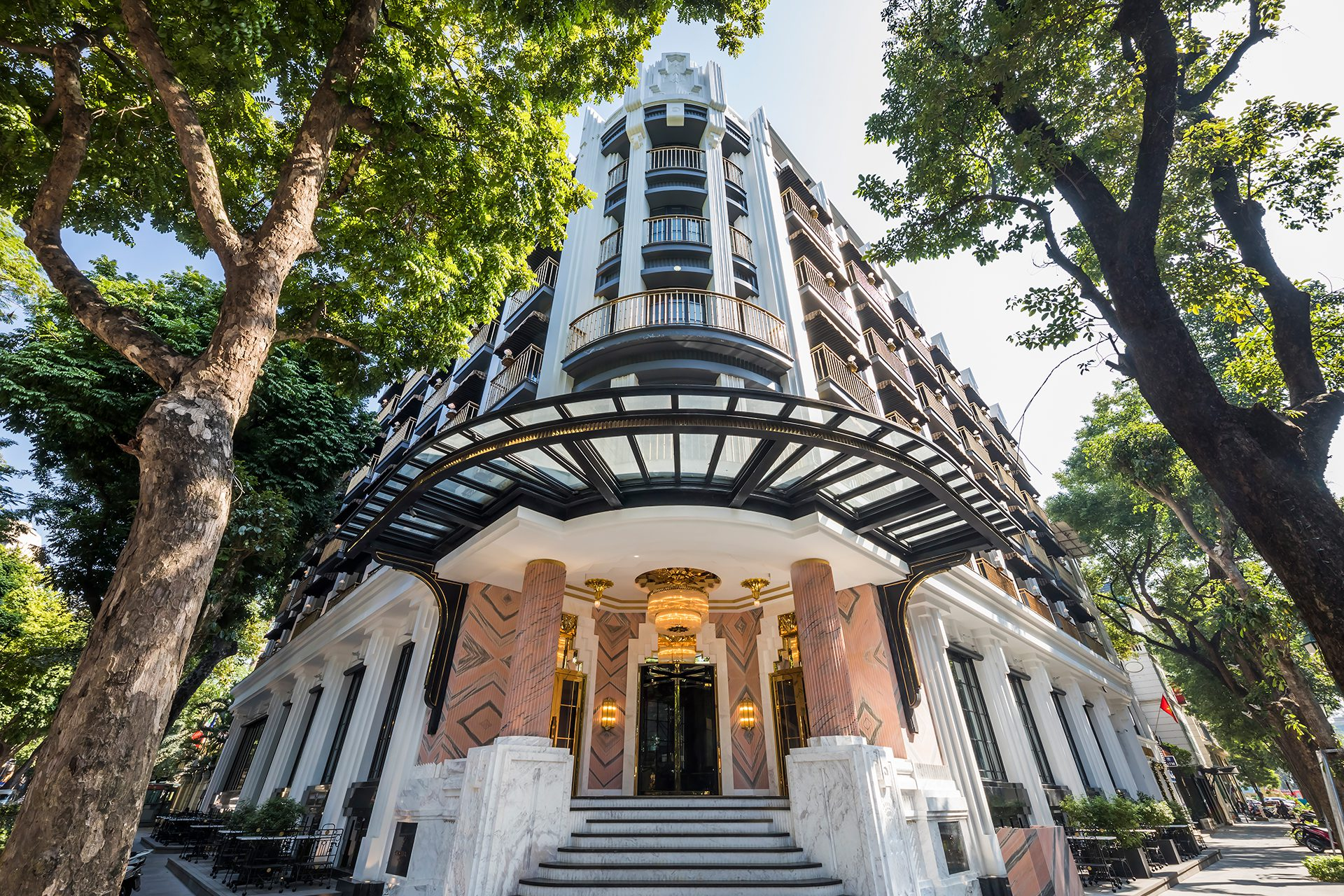 Photo: Bill Bensley
Effortless sophistication meets unexpected design. Embrace the romance of the city and its artistic nuances in this luxury Hanoi hotel. Moments away from the Hanoi Opera House and Hanoi's Old Quarter, each of our 47 rooms and suites are individually styled with operatic memorabilia that pay tribute to Opera's legendary artists, composers, designers and performances. Crafting the perfect stay for you are our Capella Culturist, always on hand to unveil the intricacies of Vietnam's rich culture.
Capella Hanoi has officially opened its doors, ushering in a new era of art and elegance in the heart of Vietnam's vibrant capital city. Located just steps away from the iconic Hanoi Opera House, this beautiful boutique hotel has been dreamt up as a "petite auberge" - a rendezvous spot for the greatest opera singers, composers and artists of a glamorous bygone age.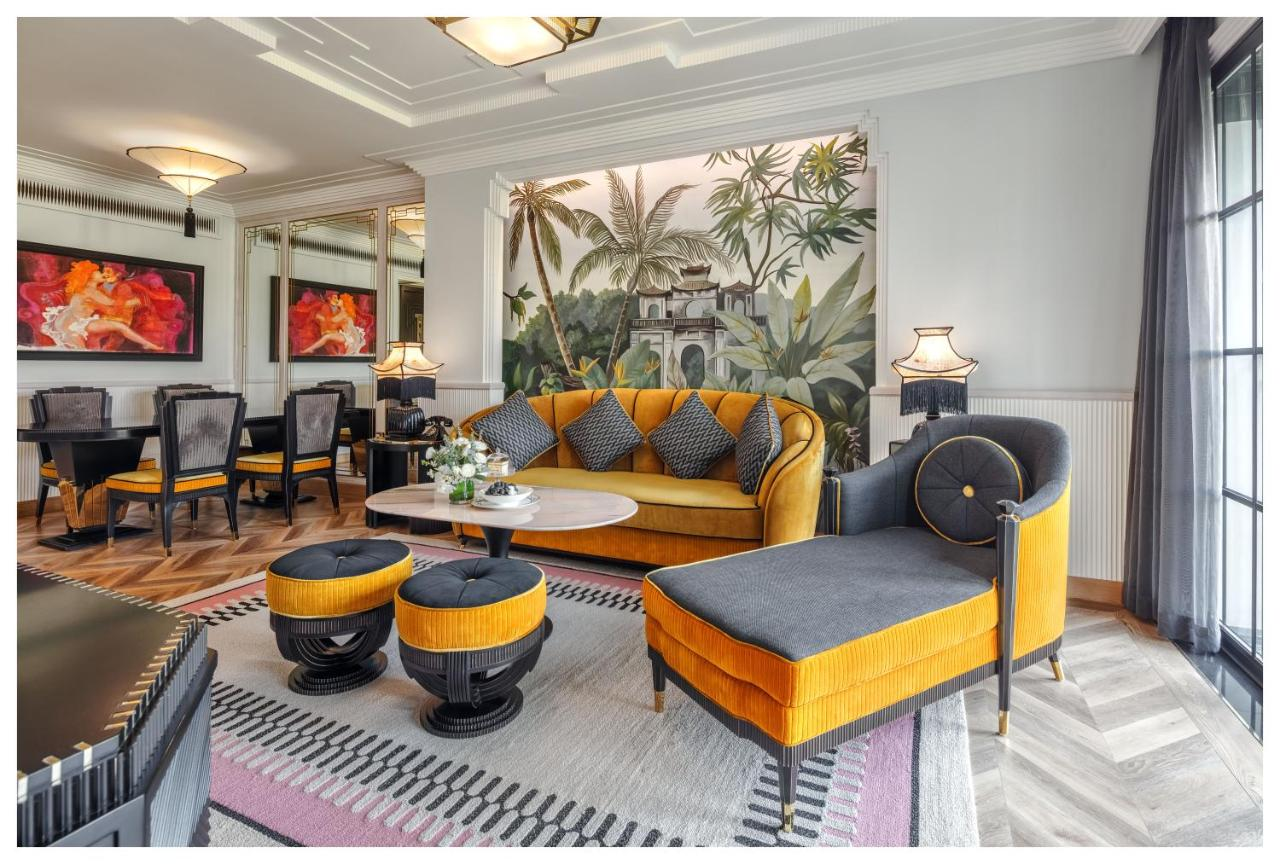 Photo: Booking.com
The hotel's signature restaurant, Backstage, presents a dramatic backdrop of theatrical costumes and vintage tableware, as talented chefs craft exceptional cuisine, including vegan dishes and northern Vietnamese-inspired specialties that fuse locally-sourced produce and contemporary cooking techniques. Diva's Lounge meanwhile, pays tribute to the leading ladies of the 1920s with bohemian cocktails and Opera Punches, accompanied by Diva's Bar bites.
Pho – Hanoi's signature dish
CNNGo emphasized that America has mobile food stalls, but Vietnam is the real "food paradise". The capital, Hanoi, is placed among the top 10 Asian cities said to have the best street food.
Among the delicious street food, pho in Hanoi has been placed at No. 20 among the world's best 500 culinary experiences by the Lonely Planet travel guide.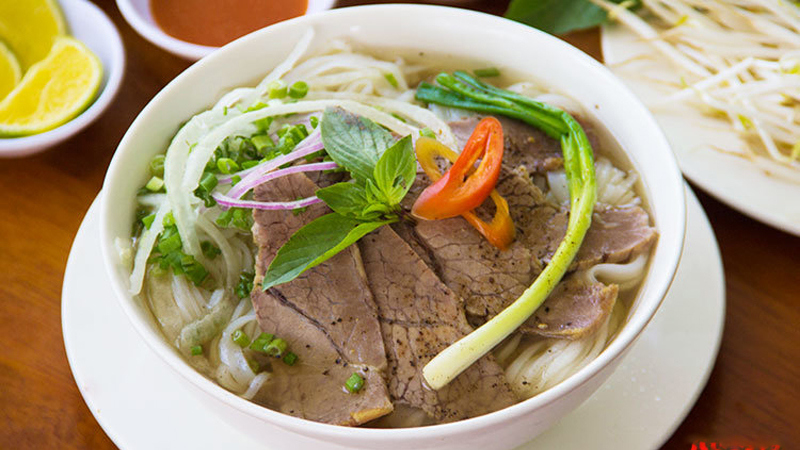 Photo: Bach hoa Xanh
The noodle soup is typically associated with the capital city, as late Vietnamese writer Thach Lam wrote: "Pho is a specialty of Hanoi. You can taste it in other places. But only in Hanoi can you have delicious pho."
Thach Lam also said in his "Hanoi-36 streets of the Old Quarter" that pho is a daily dish of all Hanoians, and although it is available in many other places, it is at its best in Hanoi.
Hanoians are always proud of their subtleness, politeness and aesthetic taste, which are all conveyed in pho. Pho has become a standard of Hanoi's culinary elite, which is a great combination of broth, meat, spices, herbs and banh pho (the rice noodle).
Anan Restaurant
Anan Saigon is all about striking a balance between the traditional and modern. It's located in the center of Ho Chi Minh City's District 1—smack dab in the middle of one of the city's oldest street markets. With a unique location and juxtaposed approach to its menu, Chef Peter Cuong Franklin is taking Vietnamese cuisine to the next level, and doing so with polished mastery.
The location is one its fine points, as visitors get a taste of local life in the buzzing, traditional markets surrounding.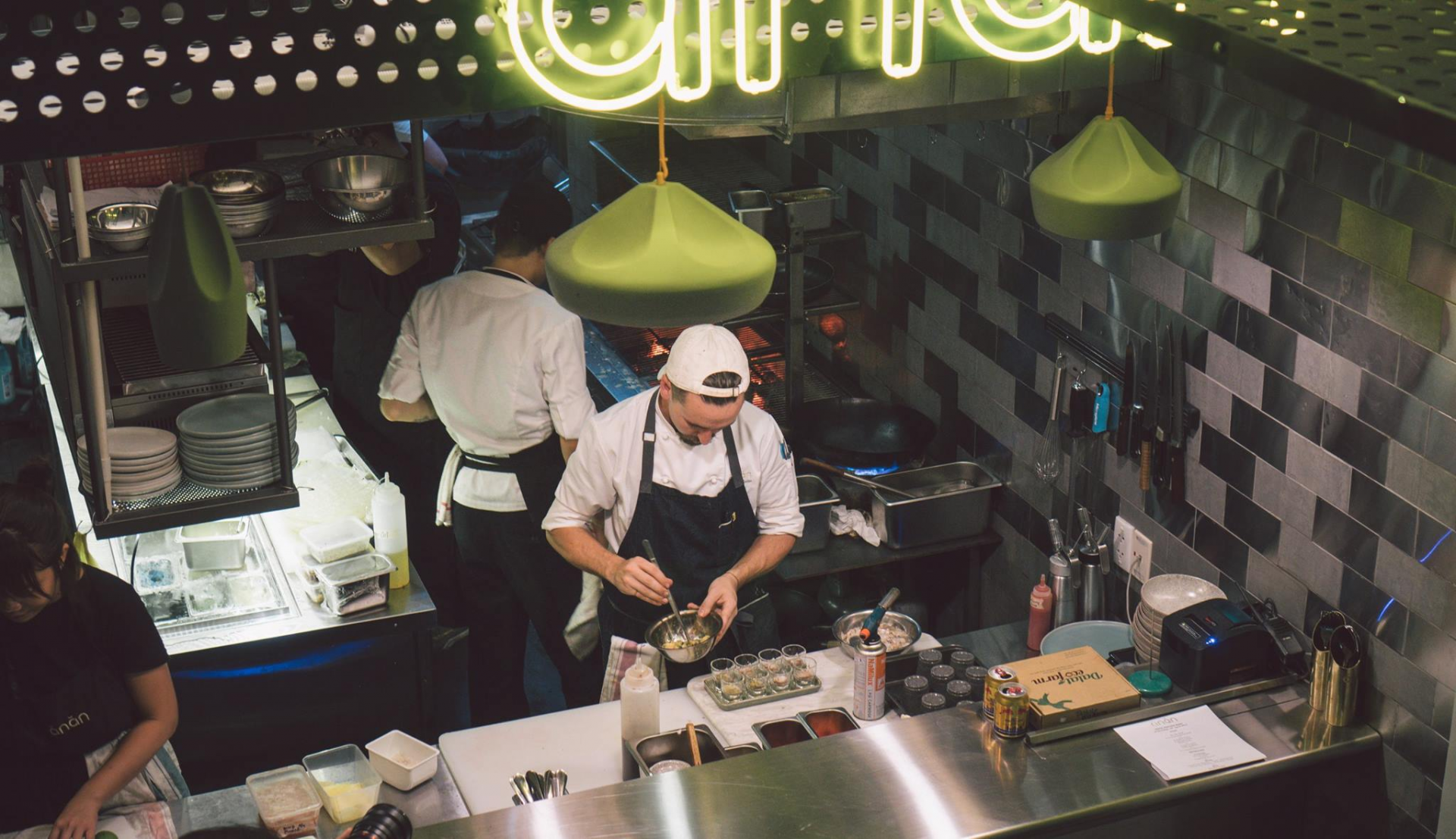 Photo: Vietcetera
From the gorgeous rooftop, you can take in Ho Chi Minh City's neon-studded skyline providing a glimpse into the cosmopolitan cultivation taking place in modern day Vietnam. Unlike other rooftops in Ho Chi Minh City, Anan Saigon's rooftop offers a true urban ambiance making way for a great place to sip a few cocktails and enjoy a few delectable dishes.
The Anan Saigon experience includes the restaurant on the ground and first floor, an outdoor deck area with a "bia hoi" and street food vibe, and the picturesque 6th floor rooftop bar.
Dishes like the Banh Xeo Taco and Dalat Style Pizzas pair well with the signature cocktails including the Phojito and the Tra Da, a gin-infused black tea.
If you're keen on a full dinner, check out one of the four set menus cleverly named Anan Mot, Hai, Ba, Yo (which is a way to say 'cheers' in Vietnamese). Each set menu comes with an additional suggested drink pairing.
Phu Quoc Island – "Idyllic paradise"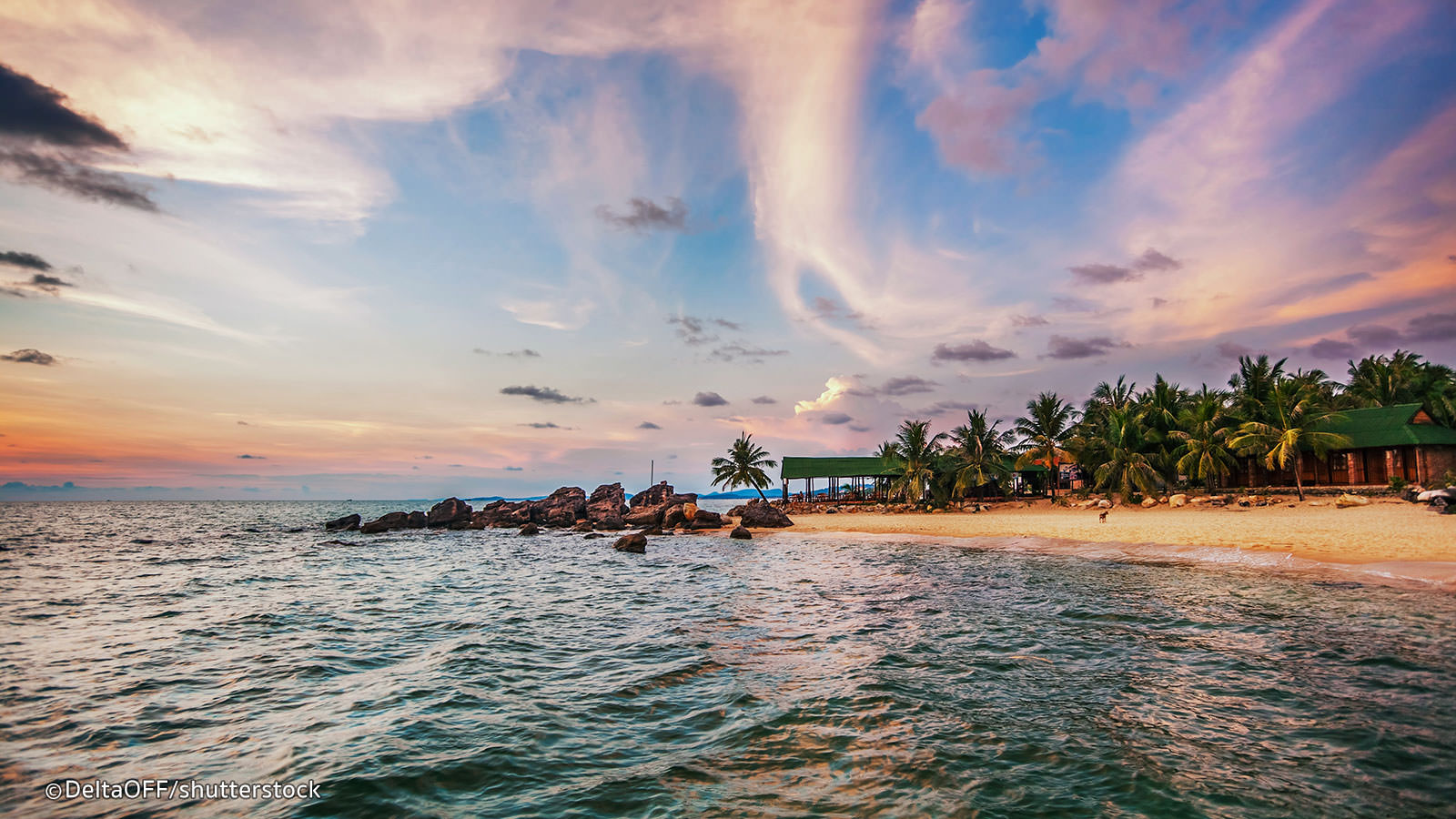 Photo: Shutterstock
Phu Quoc Island boasts idyllic beaches, romantic sunsets, evergreen forests, and a serene atmosphere, making it an ideal holiday destination for travellers looking to escape bustling city life. Located 45 kilometres west of Ha Tien in the far south of Vietnam, the northern part of the island is relatively untouched due to its status as a UNESCO-listed national park but there are plenty of luxurious resorts, funky bars, and quaint cafes along the southern coastline.
Aside from beachside activities, visitors can also explore traditional villages, expansive nature parks and Buddhist pagodas, all of which are easily accessible via motorcycle, taxi, bus or even daytrips by reputable companies. Catering to just about any budget level and preference, Phu Quoc's dining scene ranges from local markets selling fresh seafood and Vietnamese street food to expat-owned bistros offering authentic western and European fare.