Top 15 Best Beaches in the World
Our planet is home to thousands upon thousands of drop-dead gorgeous beaches. For this article, we went with beaches in beautiful locations that are relatively accessible to travelers.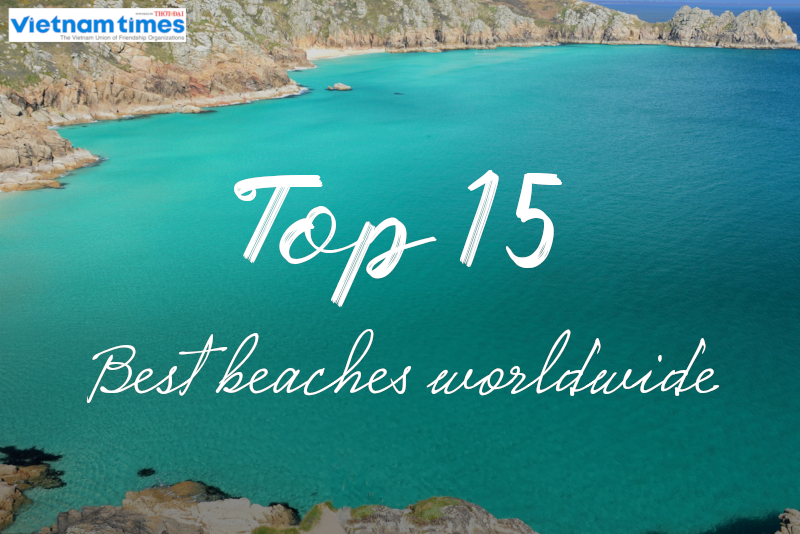 Photo: VNT
What makes a great beach all depends on the traveler. Some prefer wide stretches of sand with ample activities and throngs of people to watch, while others desire deserted shorelines with calm waters. Choosing the very best piece of sandy real estate in the world is slightly subjective. Vietnam Times presents a mix of urban and island beach destinations, so everyone can have their picks.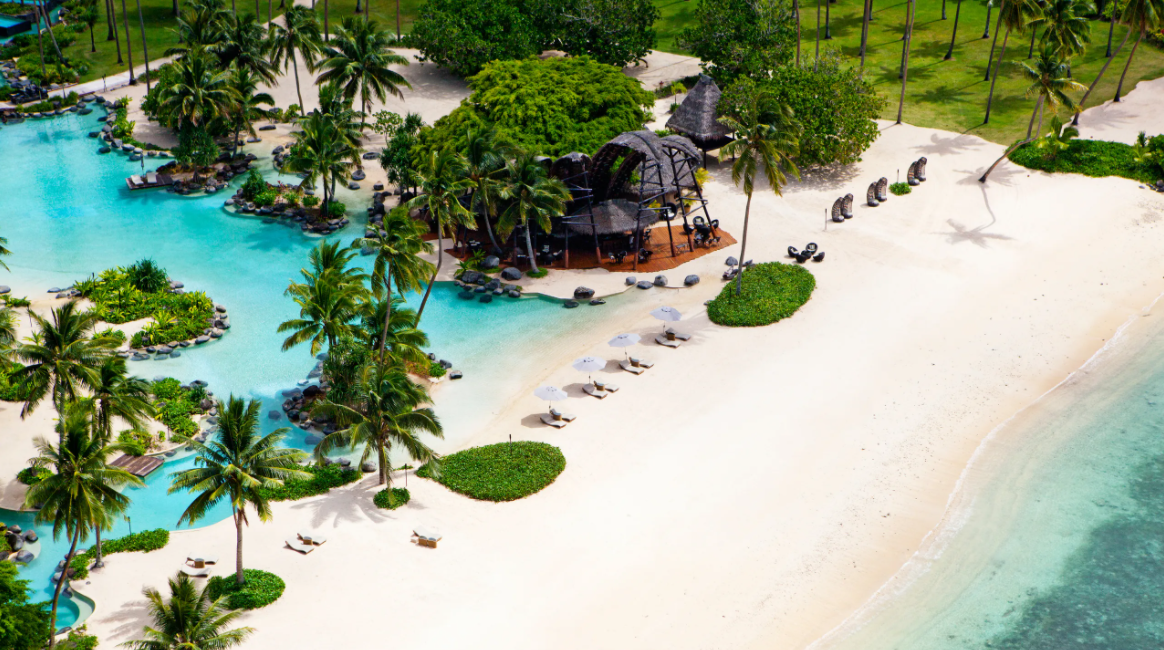 Photo: CN Traveller
Seagrass Bay, Fiji
Covered in sultry tropical jungle and accessible only via guided walking tours or horseback safaris, the private-island hideaway of Laucala is an unfathomably beautiful spot, home to some of Fiji's rarest birds, hordes of marine life, and spellbinding beaches.
Seagrass Bay is the quietest and prettiest, but if it is a real adventure you are after, head slightly further off-shore to get up close to the magnificent sea-life in a submersible, said CN Traveller.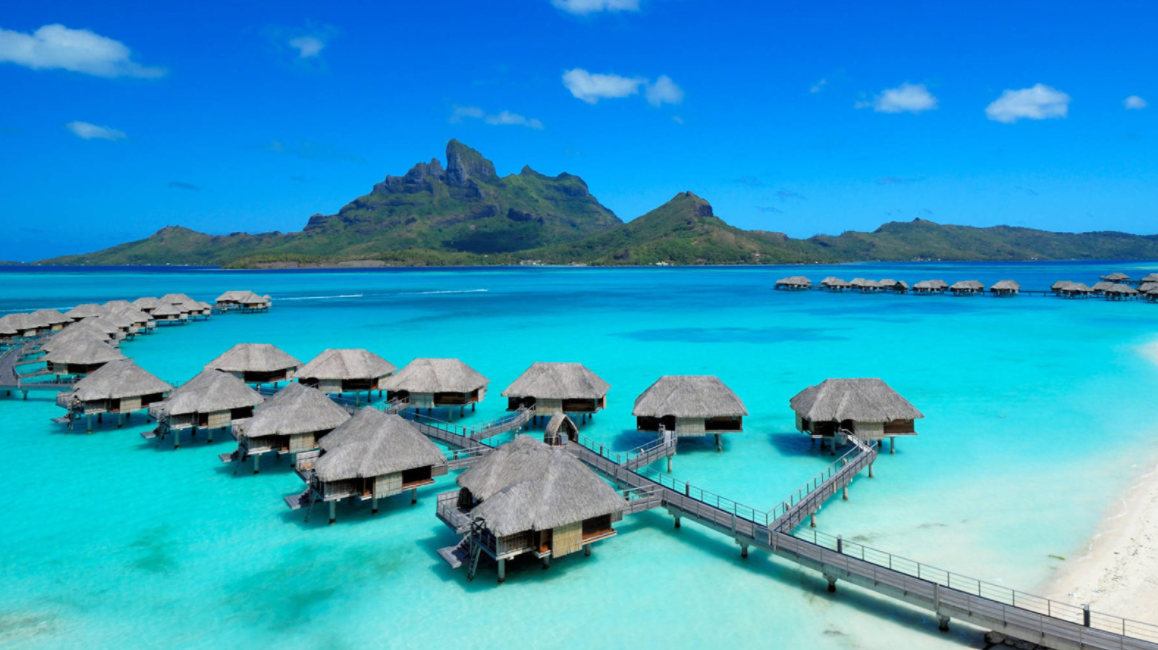 Photo: Most Beautiful Spots
Bora Bora, French Polynesia
The French Polynesian isle of Bora Bora, floating in an archipelago in the South Pacific, is as close to tropical paradise perfection as you can get. Surrounded by a crystal-clear and super calm lagoon that boasts one of the world's most brilliant turquoise and marbled azure water, the island is home to white-sand beaches and a lush interior of pointy volcanic peaks.
There are numerous other beaches on Bora Bora and also the small islets (known as Motus). The best public beach on Bora Bora is Matira Beach. Here, the sand is white and powdery soft, and while it is popular with locals on weekends, unless a cruise ship is docked, it never gets too packed. The sunsets over the brilliant turquoise lagoon are legendary and should not be skipped.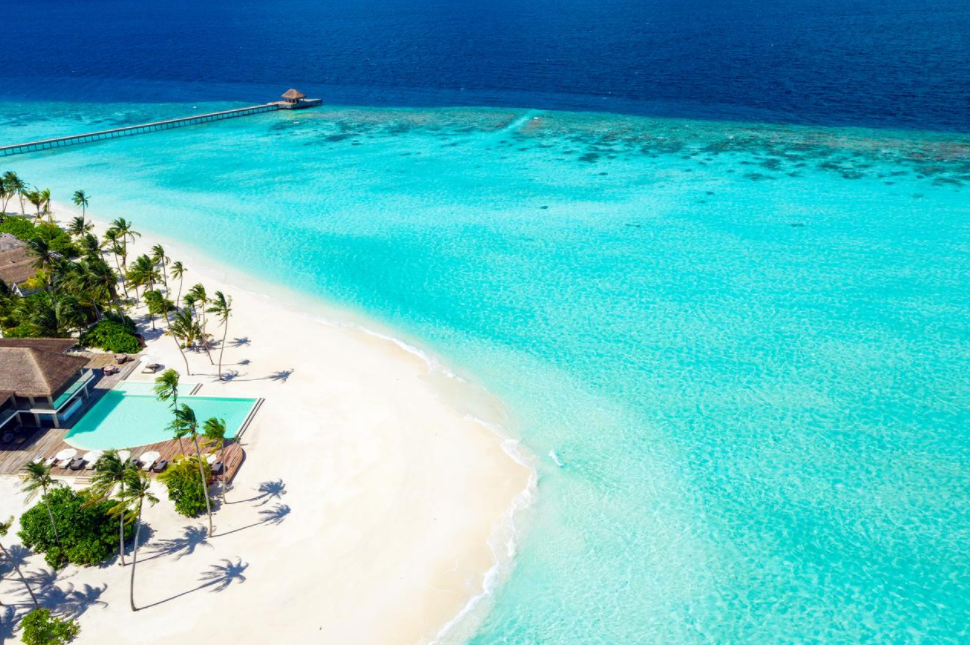 Photo: Maldives Magazine
Maldives
The Maldives is unlike any beach destination you will experience. This tropical paradise features 22 ring-shaped atolls made up of approximately 1,200 islands where each beach is more beautiful than the last, US News said.
You will likely stick to the island where your resort is, but you can expect pearlescent sands, towering palm trees, incredibly blue waters, and surreal sunsets at all of the beaches in the Maldives. Most public beaches require covering up, so if you do stray from your resort's sands, consider checking out the bikini-friendly beaches on Rasdhoo and Maafushi.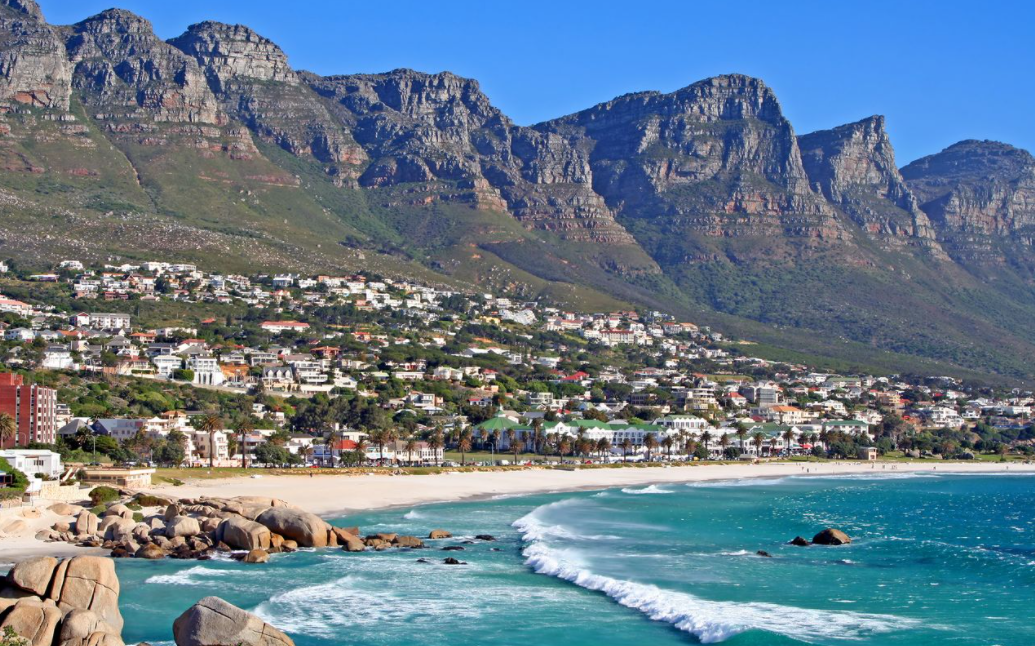 Photo: Mansion Global
Camps Bay, Cape Town, South Africa
Just a 10-minute drive from downtown Cape Town in South Africa, Camps Bay Beach is simply stunning when it comes to scenery. The water here is of the turquoise and emerald-streaked variety, backed by darker blues and dependent on the seasons, but it is deceptively cold.
Camps Bay makes our list because the beach itself is beautiful, with scenery not like anywhere else on Earth. On one side, you see the sand and waves; on the other, the Twelve Apostles rock formations tower over the coastline. Camps Bay is actually just one of a number of gorgeous beaches within a 20-minute drive of Cape Town. The Clifton Beaches are equally popular and can only be accessed by climbing down a very steep set of steps from the road.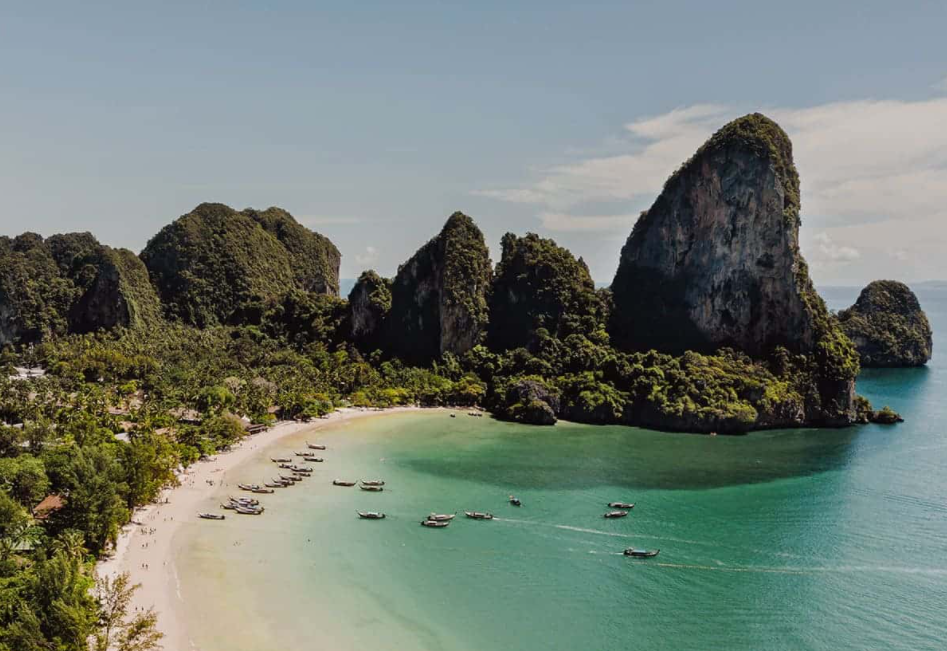 Photo: Backpackers Wanderlust
Railay, Thailand
Railay Beach (also known as Rai Leh) abuts the Andaman Sea from its location in Thailand's Krabi province. The region is composed of four main beaches and is home to pillowy sand, crystal-clear water, staggering yet climbable cliffs (for the experienced climber), and lush jungles.
For a truly spectacular beach experience, head to Phra Nang Beach, where you will find caves, islands, and coral reefs to explore. Another must-visit Railay Beach shoreline is beautiful Railay West, which sits within walking distance of a variety of shops, restaurants, bars, and resorts.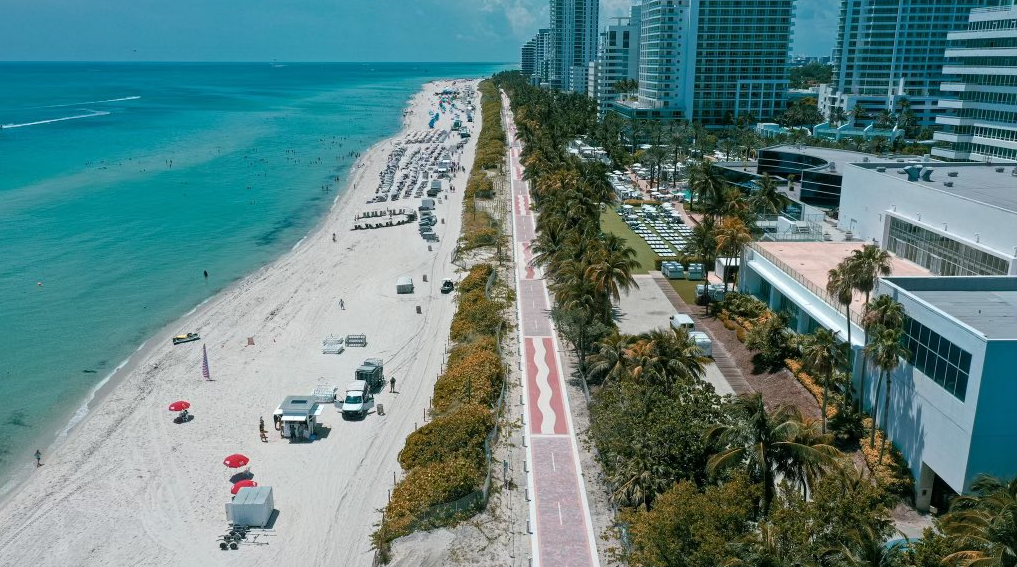 Photo: The Next Miami
Miami, Florida, USA
Miami Beach is the name for the 2.5-mile beach and city located on the barrier island between Miami and Biscayne Bay, and one of the most beautiful beaches in America. At its southern end is South Beach, which is one of the most beautiful beaches in the mainland U.S., with powdery white sand, clear turquoise water, and an ultra-hot social scene. On the beach itself, you can spend a day just sunbathing and swimming, or partake in any manner of water sports, from jet skiing to wakeboarding.
The South Beach neighborhood is a dining, shopping, and entertainment hot spot. Most of the action is centered along Ocean Drive, which is filled with beautiful Art Deco buildings housing glamorous boutiques, chef-driven restaurants, and sidewalk cafés made for people watching-don't be surprised if you see a celebrity or two.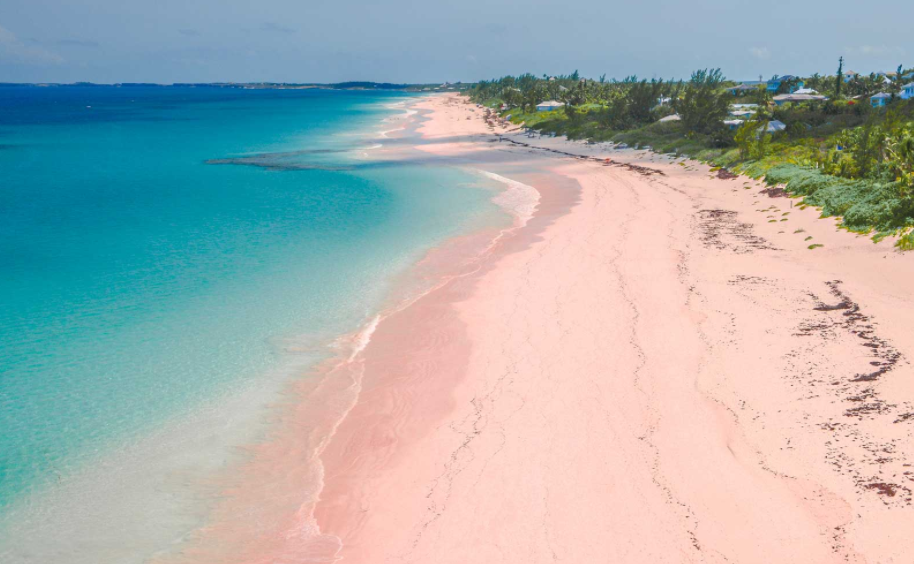 Photo: Travel Land Leisure
Pink Sand Beach, Bahamas
This endlessly photogenic, often empty beach is made from crushed corals that have been ground into fine silk-like sand. Barbuda, Antigua's sister island, is less crowded than most of the Caribbean, meaning you may find you have this eight-mile swathe of sand – which glows candy-floss-pink in the sun – entirely to yourself.
There are no public facilities per se, but you'll find a few beachy cafes scattered alongside the surf for a cooling cocktail.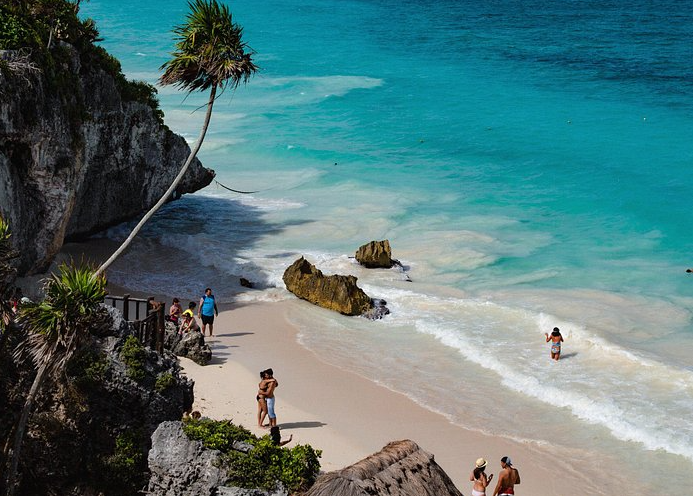 Photo: Trip Advisor
Tulum, Mexico
On the Riviera Maya, about a two-hour drive from the chaos that is Cancun, Tulum boasts a beautiful white-sand beach; clear turquoise water; and a backdrop of ancient Mayan ruins, which is what sets it apart from other beaches in Mexico.
A UNESCO-designated World Heritage Site, Tulum also hosts a number of hotels and resorts along its coastline. Also in the area is Sian Ka'an Biosphere Reserve, which protects a half-million acres of reefs, rainforest, dunes, and caves, according to Planet Ware.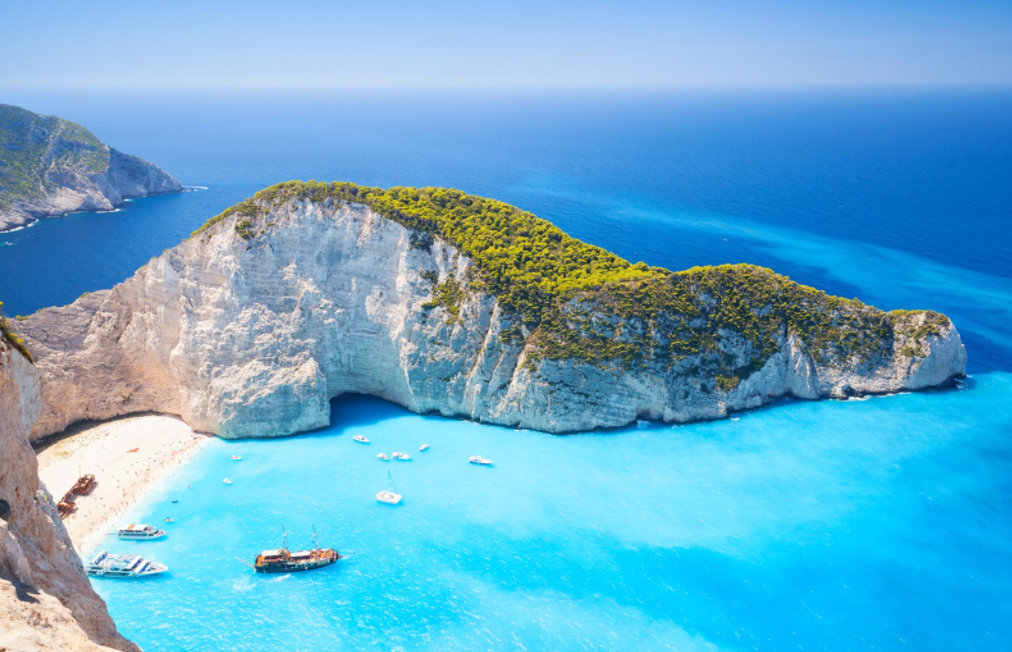 Photo: Itinari
Shipwreck, Zakynthos, Greece
Only accessible from the sea, Shipwreck Beach on the island of Zakynthos is one of the most gorgeous beaches in all of Greece. Set in a crescent-shaped cove, surrounded by towering cliffs that extend outward into the sparkling azure sea where you'll find sea caves, the beach is comprised of fine white pebbles and is truly a stunning work of nature.
Named for the wreck of a ship smuggling contraband cigarettes that washed ashore here in 1980, Shipwreck Beach is in Smuggler's Cove on the island's west coat. You will need to catch a taxi boat from the harbor at Agios Nikolaos on Zakynthos' northeast coast to access it.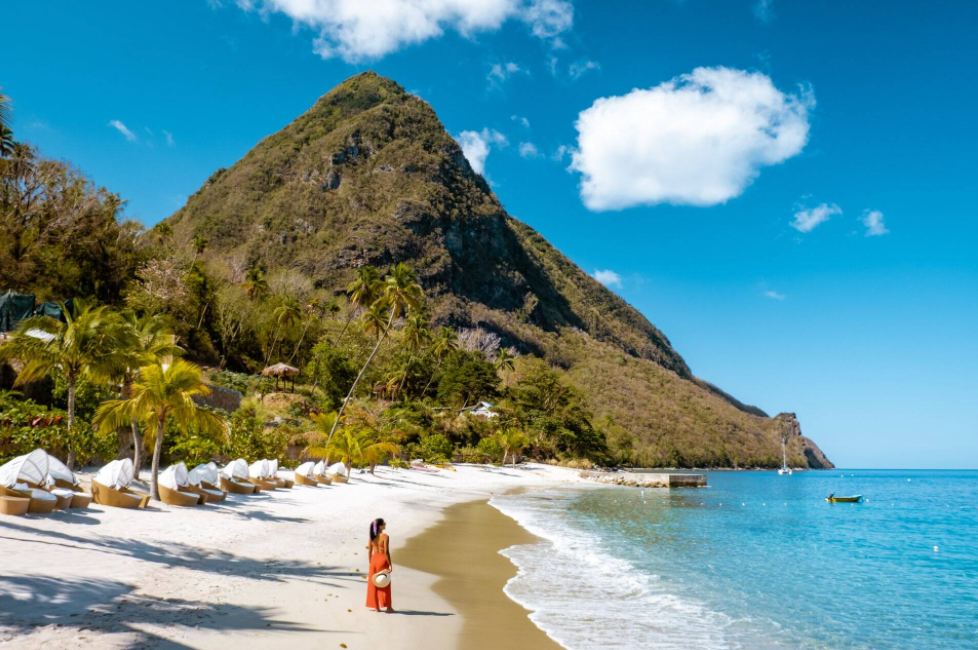 Photo: Celebrity Cruises
St. Lucia
St. Lucia's beaches may be smaller than others on this list, but they're no less beautiful. Visitors will not find many long stretches of sand here, but they'll have their pick of charming coves and private shorelines backed by lush mountains.
Marigot Bay is a solid option for watching boats and yachts, while Reduit Beach attracts families keen on snorkeling or splashing in the gentle waves. Adventurous travelers who do not mind a hike should plan a visit to Grande Anse, a more secluded beach that's frequented by nesting leatherback sea turtles.
Photo: Culture Trip
Whitehaven Beach, Australia
Consistently rated as one of the best beaches in Australia and the world, Whitehaven Beach is a beauty on an island off the Queensland coast at the edge of the Great Barrier Reef in Australia. Accessible only by boat, seaplane, or helicopter, it serves up seven kilometers of glittering white silica sand backed by turquoise water.
Most people access Whitehaven on a day trip from Airlie Beach on the mainland. The island can be reached via ferry, yacht, or powerboat and is included on a lot of day trip group itineraries from Airlie Beach that may include snorkeling in the Great Barrier Reef.
Whitehaven is also usually included as a stop on multi-day sailing charter trips. Airlie Beach itself is a proper beach town with numerous lodging and dining options, as well as a pretty strip of sand.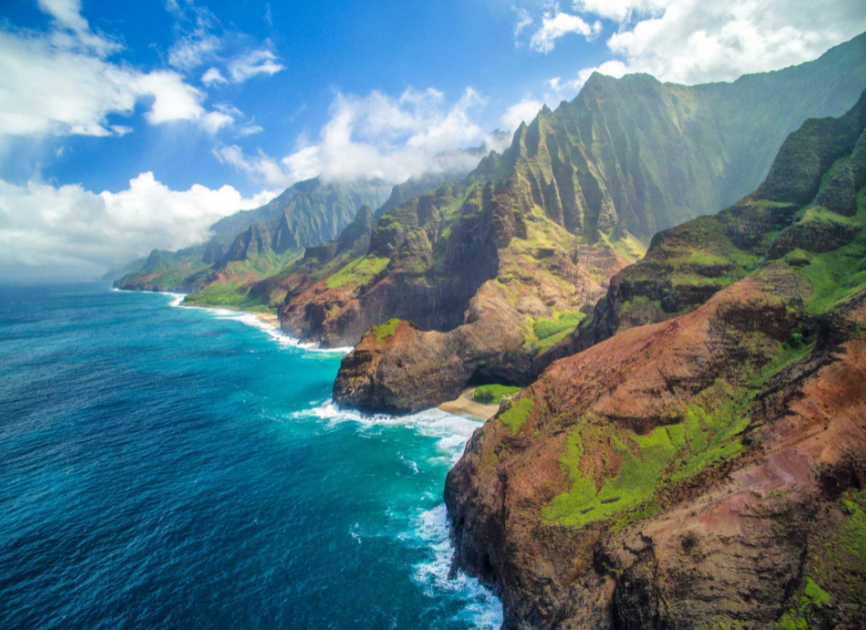 Photo: Go Kawaii
Kauai, Hawaiian archipelago
Adventurous travelers flock here in droves for the many heart-pumping excursions the Hawaiian island has to offer. However, Kauai's beaches should not be overlooked. Take a trip to Polihale State Park to check out secluded shorelines that overlook the island's jaw-dropping Napali Coast cliffs. Or, relax on an easily accessible stretch of sand like Poipu Beach Park.
Just keep in mind that swimming here can be challenging because of the rough waters, so pay attention to the lifeguards and posted signs.
Photo: Envato Elements
Uig Sands, Scotland
A busy day at Uig is when two people show up at once. Lying some 20 miles west of Stornoway on Lewis's surf-battered Atlantic coast, this is a big, dramatic beach watched over by tussocky dunes and grizzled mountains.
The beach itself is famous for being the place where a set of Viking chess pieces – dating back to the 12th century and made from the husks of walrus teeth – were unearthed, but it has a lot more going for it than just its history. The surrounding machair flower meadows erupt into bloom in June and its enormous uninterrupted stretches of sand are a playground for kite-buggy enthusiasts.
Photo: The Travel Hacking Life
Dolfynstrand, Namibia
Set on the edge of the Namib-Naukluft National Park – the oldest desert on the planet – and a 15-minute drive from seaside hub Walvis Bay. The primeval Dolfynstrand is not a soft-waves-and-sand-between-your-toes sort of place – instead, there are eerie shipwrecks strewn on the sand and a stinking, snoozing seal colony up the coast. But given its remote location in one of the world's most sparsely populated countries, any beachcombers are unlikely to have to jostle for space.
Photo: Archyde
Dune Du Pilat, France
In the warmer months, Europe's tallest sand dune, just an hour's drive from Bordeaux, is cloaked in a constant, shimmering heat haze, giving the illusion that this sprawling French beach is scattered with gleaming treasure.
The sand here, which forms peaks as high as 300 feet, is as finely milled as fresh flour, perfect for sausage-rolling your way down to the tussocky Atlantic shoreline and standing to gaze back at the pine forests behind the beach. The surrounding Arcachon Bay holds miles of beaches ripe for exploring, and you'll find a jumble of huts nearby where fishermen set up tables to sell oysters, pâté, and prawns.
Top 10 Most Beautiful European Cars

Europe has always been at the forefront of beautiful car design. The European car market has always been a space of great thrills and enticing ...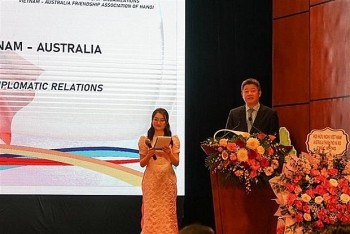 Friendship
A friendship exchange programme has been held recently in Hanoi to celebrate the 50th founding anniversary of the Vietnam-Australia diplomatic relations (February 26).