Top 15 Best Television Shows of 21st Century
TV shows have become more popular in recent years, and BBC culture have revealed a list of 100 greatest TV series of the 21st Century. Here is 15 of them for you to add into your bing-watch list.
What makes a great television series is often the subject of much debate.
But to be considered one of the best yet of the 21st century, it seems laughter is something many experts can do without.
In a poll of more than 200 television specialists from 43 countries, to compile a list of the 100 greatest TV series since 2000, just two comedies made the top ten.
American crime drama The Wire was voted the greatest series of the last 21 years in the poll.
1. The Wire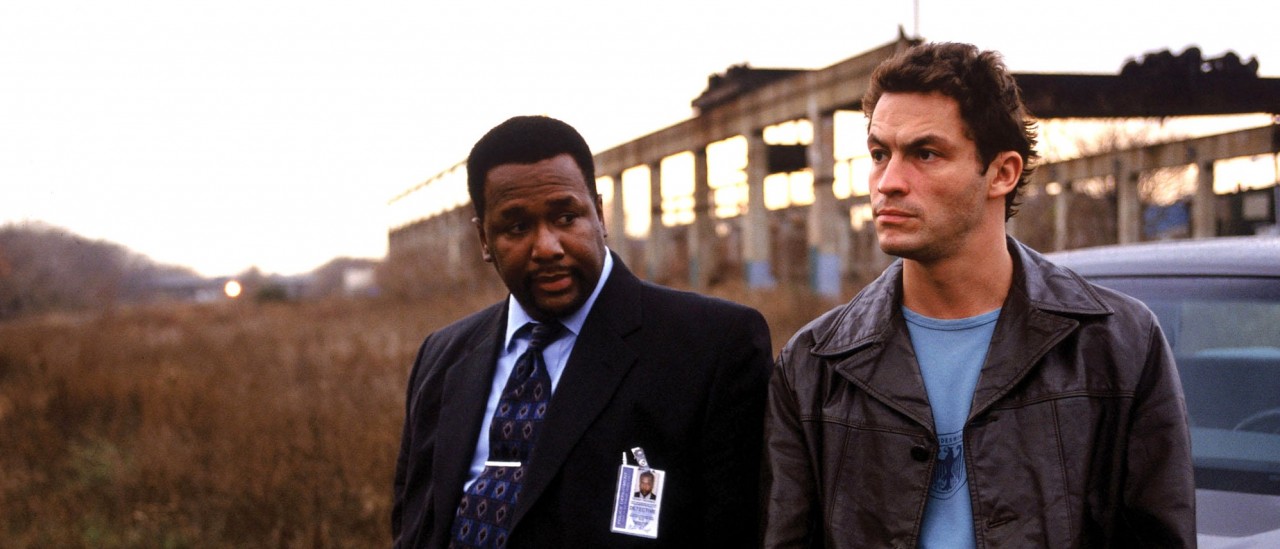 Photo: HBO
Imdb score: 9.3/10
Exactly 10 years after its final episode aired, The Wire is established as one of the greatest shows in the history of US television – some would say the greatest. But, while shows such as The Sopranos and Mad Men launched with loud fanfares and walked paths strewn with accolades, strong ratings and Emmy awards, The Wire's route to the pantheon was a long slog. "David Simon had to fight for every season," says Clarke Peters (Det Lester Freamon). "Nothing was ever guaranteed."
The story began in 1984, when Simon, then a journalist on the Baltimore Sun, was covering the wiretap-related arrest of a local drug lord, Melvin Williams. Ed Burns, 14 years his senior, was the detective leading the case. As both of them were blunt, abrasive, fiercely intelligent and morally enraged by the status quo, they became friends. After Simon's 1991 nonfiction masterpiece Homicide: A Year on the Killing Streets became a hit NBC show, Homicide: Life on the Street, which ran for seven seasons between 1993 and 1999, both men quit their jobs. Burns became a teacher, and the two collaborated on the 1997 book The Corner: A Year in the Life of An Inner-City Neighbourhood, which examined the futile cruelty of the war on drugs from the other end of the telescope. The Corner became an HBO miniseries, which enabled the 40-year-old Simon to pitch The Wire to HBO's CEO, Chris Albrecht, and entertainment division president, Carolyn Strauss, as "the anti-cop show, a rebellion of sorts against all the horseshit police procedurals afflicting American television".
A decade later, The Wire's legacy is unimpeachable. It established Simon as one of TV's great auteurs: he is currently working with Pelecanos on season two of his latest HBO show, The Deuce. It transformed the careers of several actors, notably West, Gillen, Idris Elba and Michael B Jordan. "I thought, at the time, that nobody was paying much attention," says Whitlock. "More people recognise me from the show than they ever did. I run into people who have just seen it and they want to talk to me about it. I have to tell them it was 10 years ago. You move on. But I'm very proud to have been a part of it."
2. Mad Men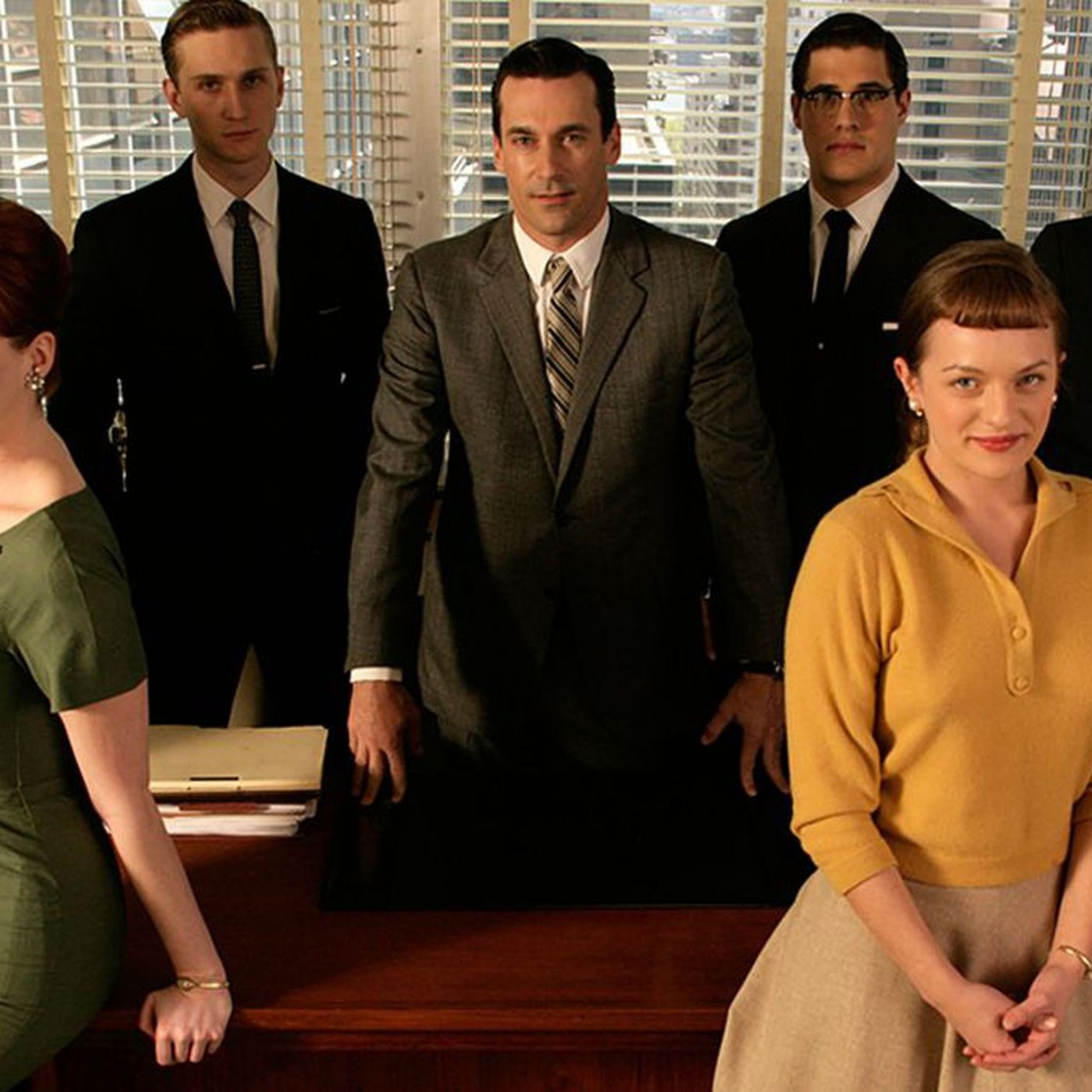 Photo: AMC
Imdb score: 8.6/10
Mad Men is an American period drama television series created by Matthew Weiner and produced by Lionsgate Television. The series ran on the cable network AMC from July 19, 2007, to May 17, 2015, lasting for seven seasons and 92 episodes. Its fictional time frame runs from March 1960 to November 1970.
Mad Men begins at the fictional Sterling Cooper advertising agency on Madison Avenue in Manhattan, New York City and later at the newly created firm of Sterling Cooper Draper Pryce (later named Sterling Cooper & Partners), located near the Time-Life Building at 1271 Sixth Avenue. According to the pilot episode, the phrase "Mad men" was a slang term coined in the 1950s by advertisers working on Madison Avenue to refer to themselves, "Mad" being short for "Madison" (in reality, the only documented use of the phrase from that time may have been in the late-1950s writings of James Kelly, an advertising executive and writer).
The series' main character is the charismatic advertising executive Don Draper (played by Jon Hamm), who is initially the talented creative director at Sterling Cooper. He is erratic and mysterious, but is widely regarded throughout the advertising world as a genius; some of the most iconic advertisement campaigns in history are shown to be his creation. Later, Don becomes a founding partner at Sterling Cooper Draper Pryce, but begins a struggle as his highly calculated identity falls into a period of decline. The plot of the show tracks the people in his personal and professional lives. As the series progresses, it depicts the changing moods and social mores of the United States throughout the 1960s and early 1970s.
Mad Men received widespread critical acclaim for its writing, acting, directing, visual style, and historical authenticity; it won many awards, including 16 Emmys and 5 Golden Globes. The show was also the first basic cable series to receive the Emmy Award for Outstanding Drama Series, winning the award each year of its first four seasons (2008–2011). It is widely regarded as one of the greatest television series of all time, and as part of the early 21st century Golden Age of Television.
3. Breaking Bad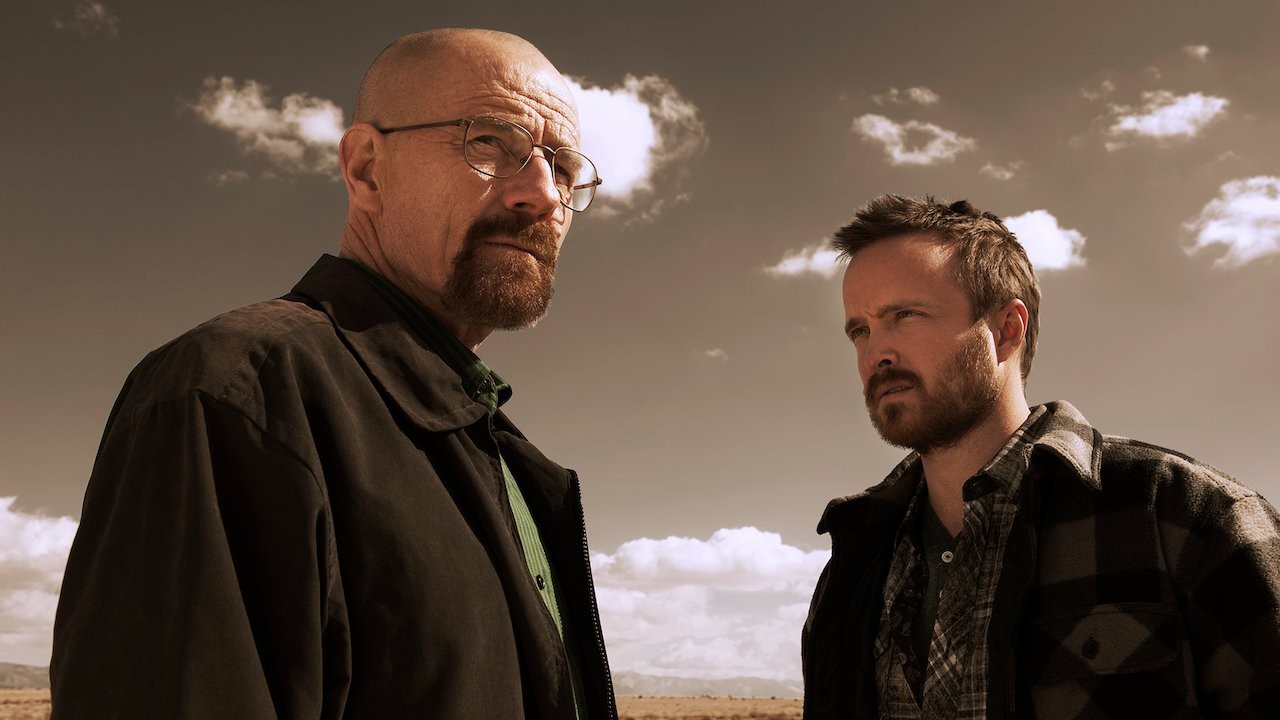 Photo: Netflix
Imdb score: 9.4/10
When it comes to Breaking Bad, Vince Gilligan has already pulled off several extremely difficult tricks, beyond just creating an all-time great show.
First, Gilligan and his team arced a classic final season, peaking with the Mt. Rushmore episode "Ozymandias" and building to a finale that, while probably too tidy, still stands as effective and satisfying.
Then Gilligan and Peter Gould dared to follow-up Breaking Bad with a spinoff, Better Call Saul, which is almost astoundingly close to being on the same level.
So when it was announced that Gilligan and Aaron Paul were reuniting for Netflix's El Camino: A Breaking Bad Movie, it sounded like the sort of foolhardy endeavor you'd scoff at, except that Gilligan has made a career of pulling off the unlikely. So does El Camino: A Breaking Bad Movie give Gilligan a trifecta of TV unicorns?
No, but there's nothing disastrous about that. El Camino is a high-quality piece of suspense and action filmmaking carried by Paul's still-tremendous performance as Jesse Pinkman. It looks great, sounds great and if you're a fan, it's full of cameos and references that are sure to amuse. It's also — and this is not an insignificant problem — largely unnecessary as it pertains to the larger Breaking Bad narrative. At least it's unnecessary in an innocuous and entertaining way.
Keeping spoilers to a bare minimum — assuming you've watched Breaking Bad — El Camino picks up instantly in the aftermath of the 2013 Breaking Bad finale, with Jesse (Paul) driving away from the firefight that left a lot of Nazis, and also Bryan Cranston's Walter White, dead. The movie, with a running time of a solid two hours, is the immediate aftermath of that frenzied exit, not really in real time, but with enough sequences of the kind of step-by-step, tension-building process that fans of Breaking Bad and Saul have come to expect.
4. Fleabag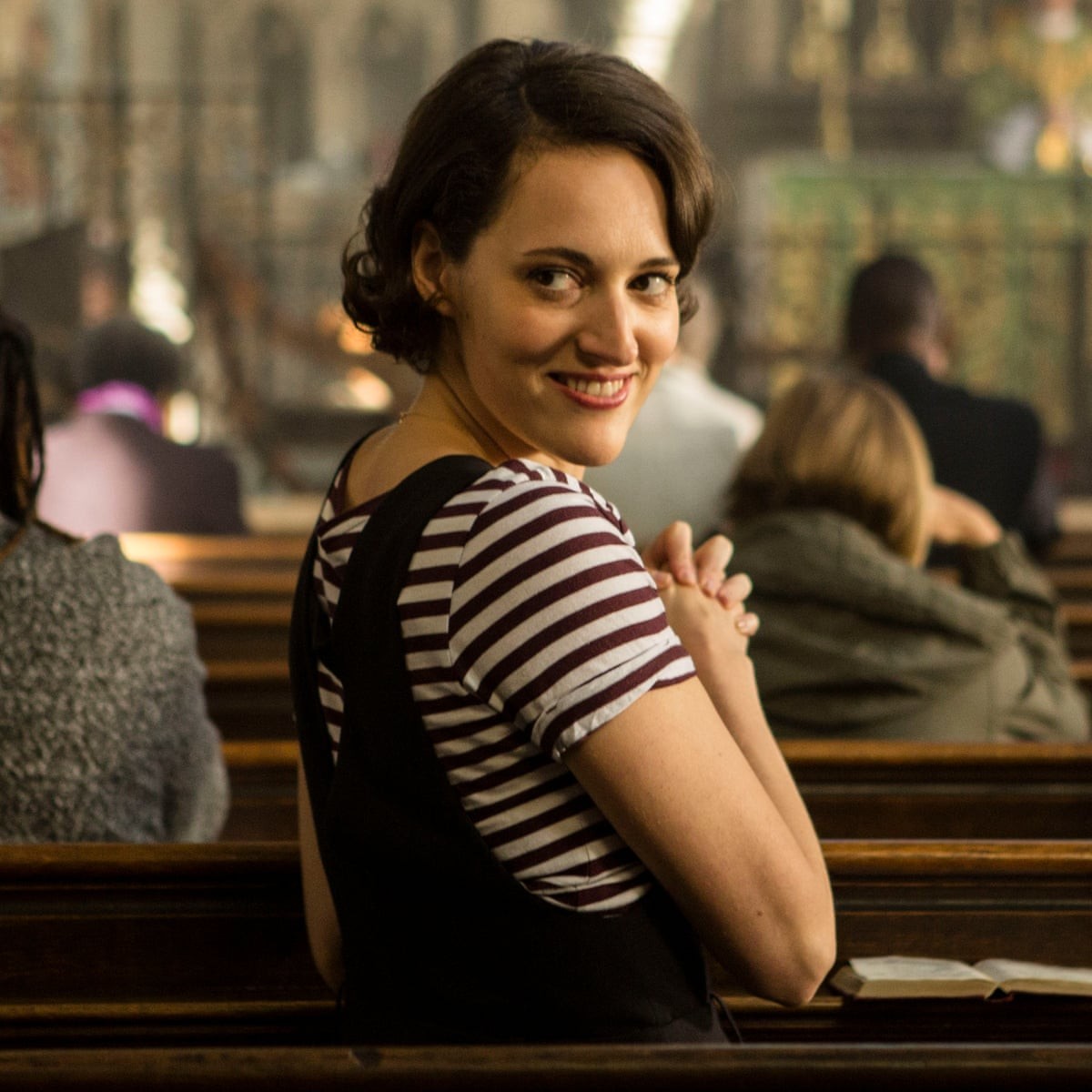 Read on ... Phoebe Waller-Bridge as the titular Fleabag. Photograph: Luke Varley/BBC/Two Brothers
Imdb score: 8.7/10
Series two, which has just wrapped up, marks the end of the sitcom about a Londoner grappling with the death of her best friend, a troublesome family, running her own business and navigating a tangle of unfulfilling and masochistic relationships. In truth, Fleabag waving goodbye to the camera should have been all we needed to know that this was the last we'd see of Phoebe Waller-Bridge's character – whose actual name we never learned. But who thought one of the final shots would be of a CGI fox?
The first series of Fleabag won critical acclaim and was praised by fans for its emotional and sexual honesty, and for characters who were not always likable, never mind loveable, but also often very relatable. Series two raised the bar so utterly that, at times, Waller-Bridge's risks and progression were so impressive all one could do was shake one's head in appreciation. (And, in the case of episode three, watch it again immediately afterwards.)
It is typical of Waller-Bridge's talent that she managed to wrap things up while staying true to her habit of side-stepping our expectations. That audience-cheering moment where Claire finally rids herself of Martin: but for a second, during his speech, there was what seemed a flicker of contrition and the worry Claire wouldn't hold firm. (Also, a nice detail that she wanted him to leave her – and another moment of kneeling.)
Finally, the series once again excelled in its artistic choices – from the final choice of the Alabama Shakes track This Feeling (almost certain to be rising to the top of Spotify streams) to its general soundtrack composed by Waller-Bridge's sister, Isobel, and also in fashion, as my colleague Jess Cartner-Morley brilliantly wrote about. The direction and art design and art direction were even better than in the first series.
5. Game of Thrones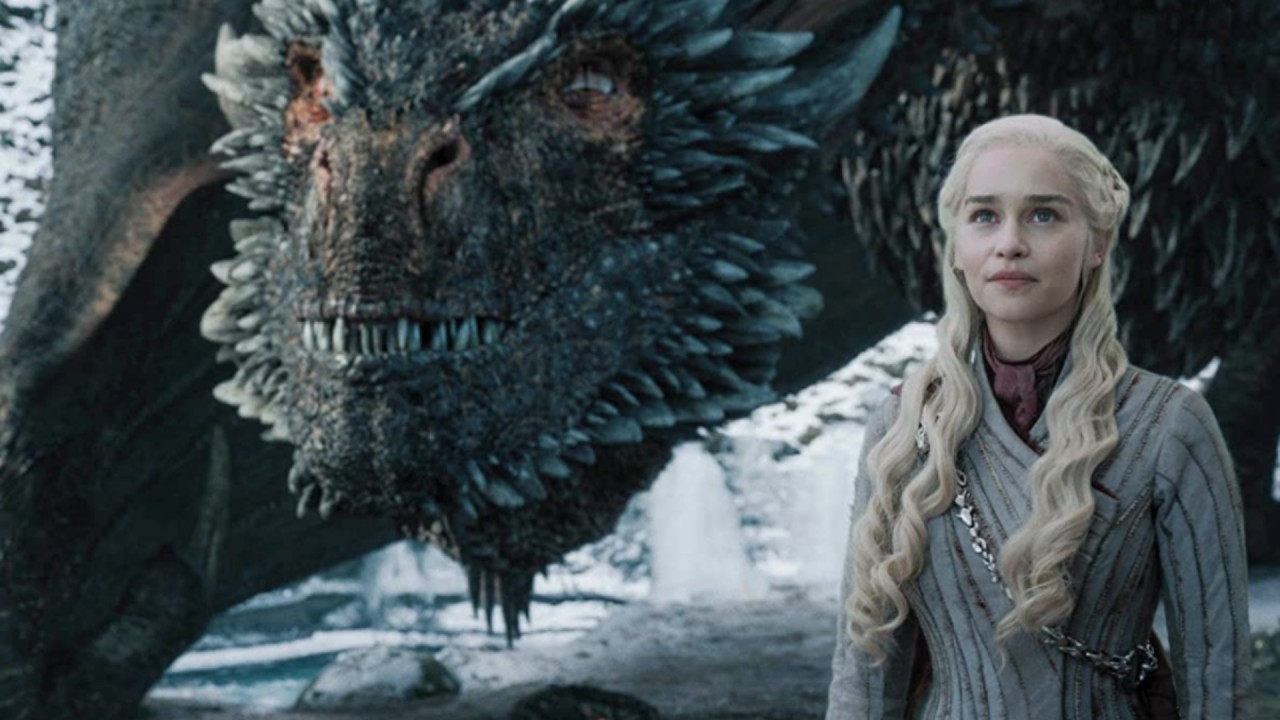 Photo: HBO
Imdb score: 9.2/10
Game of Thrones is an American fantasy drama television series created by David Benioff and D. B. Weiss for HBO. It is an adaptation of A Song of Ice and Fire, a series of fantasy novels by George R. R. Martin, the first of which is A Game of Thrones. The show was shot in the United Kingdom, Canada, Croatia, Iceland, Malta, Morocco, and Spain. It premiered on HBO in the United States on April 17, 2011, and concluded on May 19, 2019, with 73 episodes broadcast over eight seasons.
Set on the fictional continents of Westeros and Essos, Game of Thrones has a large ensemble cast and follows several story arcs throughout the course of the show. The first major arc concerns the Iron Throne of the Seven Kingdoms of Westeros through a web of political conflicts among the noble families either vying to claim the throne or fighting for independence from whoever sits on it. A second focuses on the last descendant of the realm's deposed ruling dynasty, who has been exiled to Essos and is plotting to return and reclaim the throne. The third follows the Night's Watch, a military order defending the realm against threats from beyond Westeros's northern border.
Game of Thrones attracted a record viewership on HBO and has a broad, active, and international fan base. Critics have praised the series for its acting, complex characters, story, scope, and production values, although its frequent use of nudity and violence (including sexual violence) has been subject to criticism. The final season received significant critical backlash for its reduced length and creative decisions, with many considering it a disappointing conclusion. The series received 59 Primetime Emmy Awards, the most by a drama series, including Outstanding Drama Series in 2015, 2016, 2018 and 2019. Its other awards and nominations include three Hugo Awards for Best Dramatic Presentation, a Peabody Award, and five nominations for the Golden Globe Award for Best Television Series – Drama. Many critics and publications have named the show as one of the best television series of all time.
6. I May Destroy You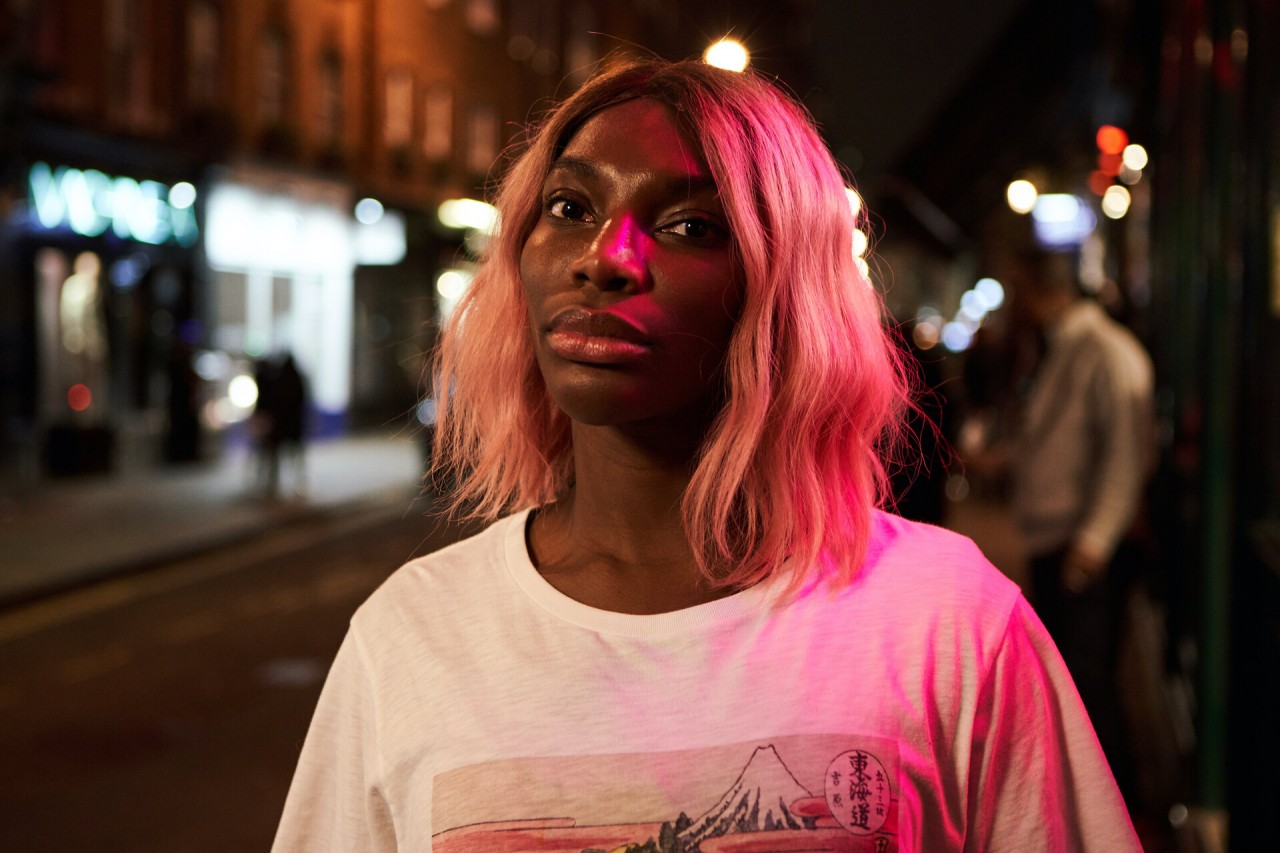 Photo: NYTimes
There is a moment in episode one of I May Destroy You likely to send the heart rate of anyone who has ever procrastinated into overdrive. Author Arabella, played by Michaela Coel – also the series' creator, writer and co-director – is about to pull an all-nighter at her agent's Soho office. The agitated rap of Little Simz's Picture Perfect soundtracks her journey on a bus, windows typically filthy, through the streets of London. A Twitter star, she has been signed up to write a follow-up to her hit debut Chronicles of a Fed Up Millennial, a book you imagine could have been glibly sold as "a black, British Sex and the City".
Since the start of its two-episodes-a-week run last month, Coel's dramedy – about a group of young, black Londoners navigating friendships, dating and the ubiquity of sexual abuse – has been billed by critics on both sides of the Atlantic as the show of the year. It was inspired by Coel's own experience of sexual assault, while she was making the Channel 4 sitcom Chewing Gum, her Bafta-winning, pastel-bright comedy, an incident she revealed in her 2018 MacTaggart lecture at the Edinburgh international television festival.
I May Destroy You feels like a game-changer for British TV: ambitious and radical, the kind of programme that percolates in your head between its weekly drops (a risk in the age of the binge that has undoubtedly paid off).
Understandably, it may be too triggering for some survivors of sexual assault and rape to watch. But for those who are able to, it has an important message: what doesn't kill you may not make you stronger, but perhaps it won't break you, either.
7. The Leftovers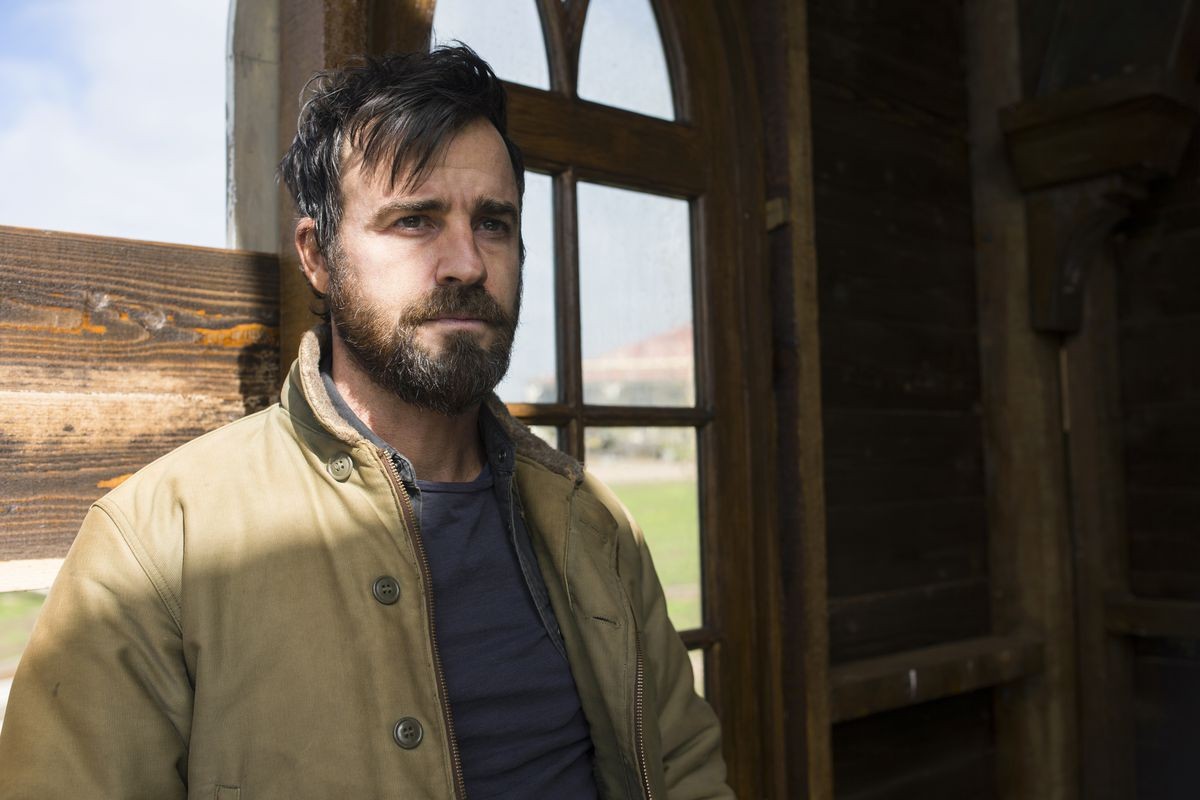 Photo: HBO
Imdb score: 8.3/10
The Leftovers is an American supernatural mystery drama television series created by Damon Lindelof and Tom Perrotta, that aired on HBO from June 29, 2014, to June 4, 2017. Based on Perrotta's 2011 novel of the same name,[2] the series begins three years after the "Sudden Departure", a global event that resulted in 2% of the world's population disappearing. The lives of police chief Kevin Garvey (Justin Theroux) and his family, along with grieving widow Nora Durst (Carrie Coon) and her brother, Reverend Matt Jamison (Christopher Eccleston), are the focal points of the series as they struggle to adjust to life after the Departure.
The pilot was written by Lindelof and Perrotta and directed by Peter Berg. The series stars an ensemble cast featuring Justin Theroux, Amy Brenneman, Christopher Eccleston, Liv Tyler, Chris Zylka, Margaret Qualley, Carrie Coon, Ann Dowd, Regina King, Jovan Adepo, Kevin Carroll, Janel Moloney, and Scott Glenn. The series was renewed for a second season, which premiered on October 4, 2015, and concluded December 6, 2015. On December 10, 2015, at Lindelof's request to be able to conclude the series, HBO renewed it for a third and final season, which premiered on April 16, 2017, and concluded on June 4, 2017. Over the course of the series, 28 episodes aired over three seasons.
The first season received mostly positive reviews, though some criticized the series for its grim tone. The series underwent a critical reevaluation during its acclaimed second and third seasons, with many critics referring to The Leftovers as one of the greatest television series of all time, with particular praise for its writing, directing, acting (particularly Coon) and thematic depth. The musical score composed by Max Richter also attracted critical praise. Despite receiving average Nielsen ratings throughout its run, the series has developed a cult following. The series has been compared favorably to Lost, a previous series co-created by Lindelof.
8. The Americans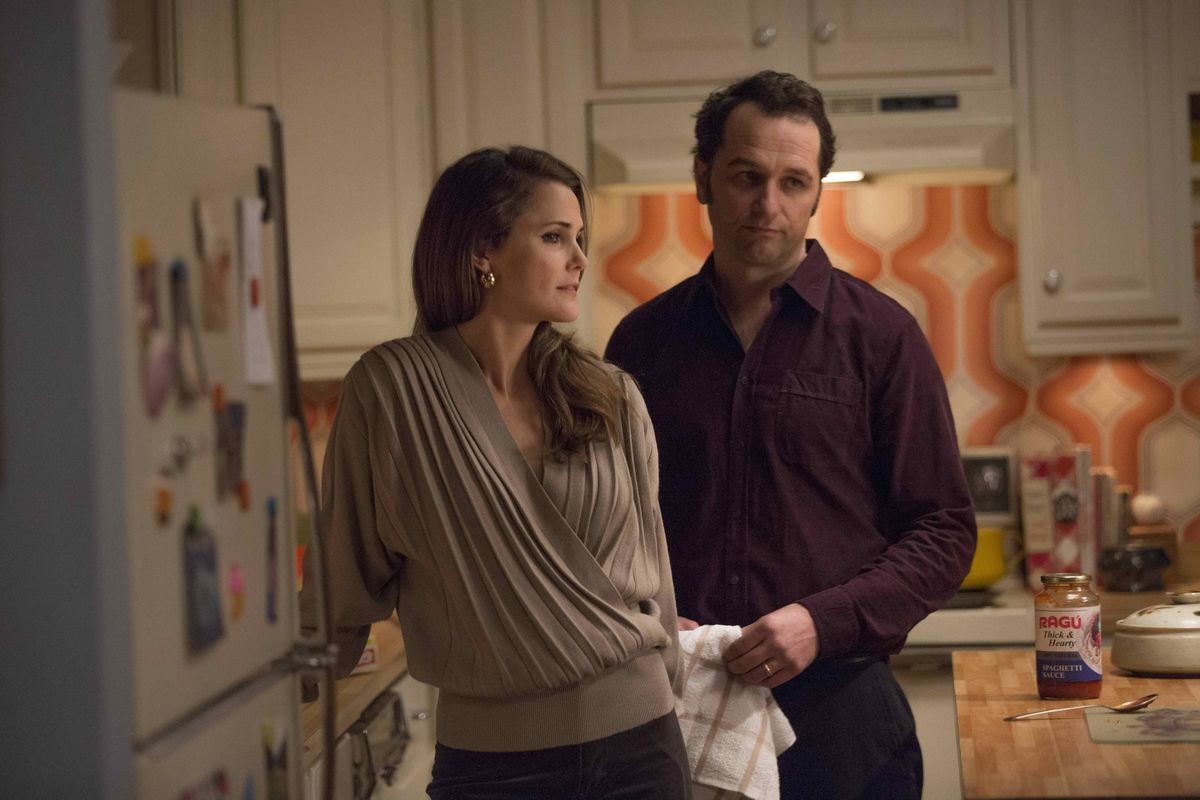 Photo: FX
Imdb score: 8.4/10
It would be so easy to look away, to look elsewhere, if The Americans faltered. That's the beauty of modern-day television – we are blessed with an abundance of choices, so by God don't trip up and lose the confidence or interest of your audience, because they'll turn the channel.
Credit Weisberg and Fields for nailing down season two of The Americans right from the start, by picking up where the story left off and making sure that this spy-vs.-spy thing has real-life costs. The show is about the Cold War that sprung to life (or rather increased exponentially) with the election of Ronald Reagan. Matthew Rhys and Keri Russell play Soviet spies Phillip and Elizabeth Jennings, who run a travel agency and live in suburban Washington, D.C., with their children, 14-year-old Paige (Holly Taylor) and 11-year-old Henry (Keidrich Sellati).
Phillip and Elizabeth are Soviet KGB agents who were paired up as strangers in their native country and, like others throughout the United States, planted here to mix in and gain intelligence while posing as normal Americans. New neighbor and eventual friend Stan Beeman (Noah Emmerich) turns out to be an FBI agent working in counter-intelligence and was cleverly used in season one to keep Phillip and Elizabeth on full alert trying to stay one step ahead of Stan and CIA operatives. It was a marvelously nuanced game of cat-and-mouse that belied the tidy (though funny) setup.
Weisberg and Fields have done an excellent job of making the core of The Americans be the emotionally attuned struggle of a marriage – nailing how personal issues resonate and consume a person and how those nagging connections can be mentally distracting or hurtful and, if you're a spy, how that spillage can be extremely dangerous.
By extending the impact of what they do onto their children while also creating a season-long mystery (about infiltration and allegiances), The Americans has proven just how deftly it operates (with the invaluable help of executive producer Graham Yost). It continues the thrilling spy stories while broadening the reach of the entire concept, allowing deeper and more compelling stories to unfold. As the tension mounts, there's never a worry that something ludicrous is going to happen just to make it all implode.
9. The Office (UK)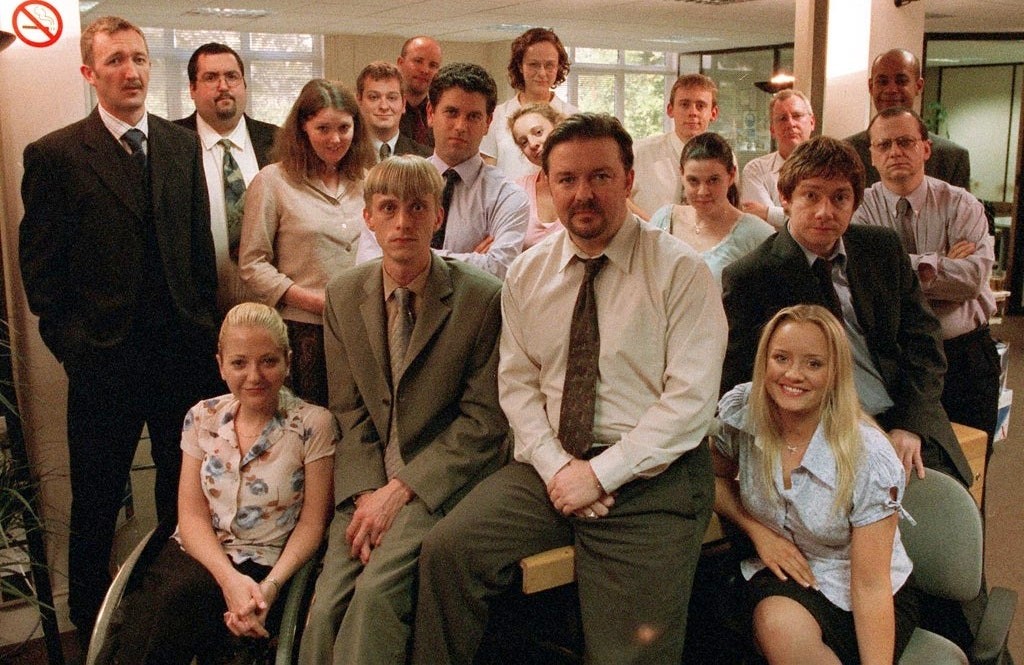 Photo: BBC Two
Imdb score: 8.5/10
Office has been running in Great Britain and other markets and won the British Comedy Awards in 2001 and 2002, plus a few other honors.
Relieved by wonderfully arch lines and mad behavior, the show is marginally reminiscent of Seinfeld in that it's essentially about nothing. In the first episode, jobs are threatened by cutbacks, but nothing much is made of this dramatically except as a device to point out the phony, falsely hopeful way the boss spins the problem.
The setting is a paper supply company in an industrial town near London. Without a clue as to how to behave or effectively run things, office boss David Brent (co-writer/director Ricky Gervais) is a smug, desperate to-be-liked misfit who tells jokes frequently and badly. David often banters with the receptionist, Dawn (Lucy Davis), and he honestly can't see that his jokes are sexist and offensive.
David is told by a higher-up that there's a good chance jobs will be slashed unless he can prove that his is the most efficient department. Instead of taking action, David fritters away the time, playing class clown with his workers and lying to them about the personnel cuts. The cruel practical jokes include "firing" Dawn and reducing her to tears.
Sarcastic, smart joker Tim (Martin Freeman) is constantly at odds with office creep Gareth (Mackenzie Crook). Wrangling over office equipment, it's discovered that someone (probably Tim) has made Jell-O with Gareth's stapler inside the dessert.
One odd and delightful note in the series is that the actors often break the fourth wall, addressing the camera directly, docu-style. This gives them a chance to ruminate about their lives, their work — and lie through their teeth about their personal ethics.
10. Succession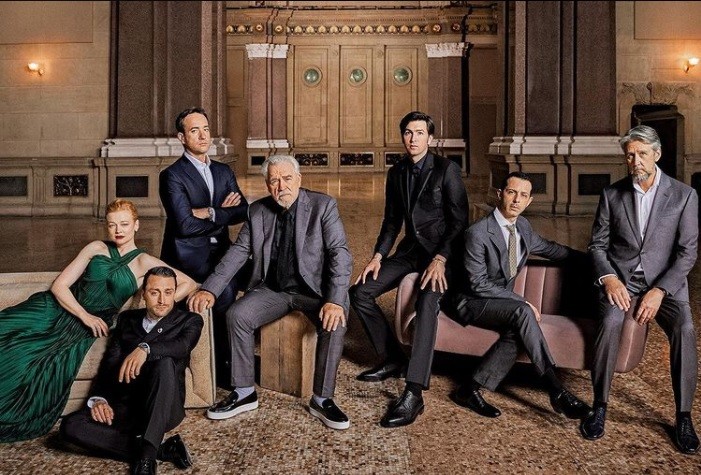 Photo: HBO
Imdb score: 8.7/10
Succession is an American satirical comedy-drama television series created by Jesse Armstrong. It premiered on June 3, 2018, on HBO, and has been renewed for a third season, which premiered on October 17, 2021. The series centers on the Roy family, the dysfunctional owners of Waystar RoyCo, a global media and entertainment conglomerate, who are fighting for control of the company amid uncertainty about the health of the family's patriarch, Logan Roy (Brian Cox).
Among the series ensemble cast are Jeremy Strong as Kendall, Kieran Culkin as Roman, and Sarah Snook as Siobhan (aka Shiv), Logan's children employed by the company. Matthew Macfadyen stars as Tom Wambsgans, Siobhan's husband and Waystar executive; Nicholas Braun as Greg Hirsch, Logan's grandnephew also employed by the company; Alan Ruck as Connor, Logan's eldest child; and Hiam Abbass as Marcia Roy, Logan's wife. The series also features Peter Friedman, Natalie Gold, and Rob Yang, with Dagmara Domińczyk, Arian Moayed, J. Smith-Cameron, Justine Lupe, David Rasche and Fisher Stevens in recurring roles, before they were promoted to the main cast.
Succession has received critical acclaim, particularly for its writing, acting, musical score and production values. It received many awards and nominations, including the British Academy Television Award for Best International Programme, the Golden Globe Award for Best Television Series – Drama, and the Primetime Emmy Award for Outstanding Drama Series.[8] Cox received the Golden Globe Award for Best Actor – Television Series Drama, while Strong won the Primetime Emmy Award for Outstanding Lead Actor in a Drama Series.
11. BoJack Horseman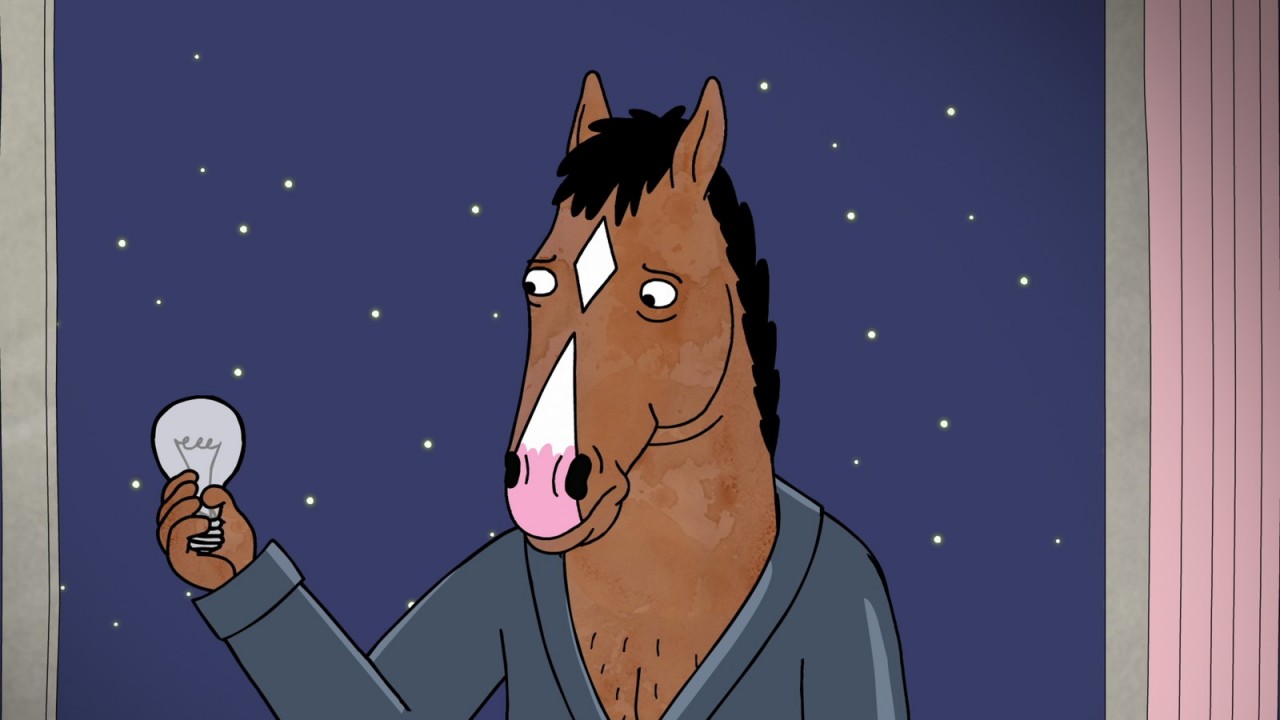 Photo: Netflix
Imdb score: 8.7/10
When reporters piece together BoJack's complicity in the death of his former child co-star Sarah-Lynn, along with many of his other misdeeds, the quieter life he's come to find and love — sober, teaching college theater — comes crashing down. He gives a nationally televised interview that initially goes well for him, given our culture's tendency to favor repentant men over their victims. Goaded by this success, BoJack does a follow-up interview, and this one reveals his pattern of abusive and predatory behavior for all the world to see.
BoJack Horseman is often overwhelmingly focused on its characters' interiority — to the point that it had to remind the audience in stark, horrific terms that its protagonist's selfish actions had real and devastating effects on the people around him. (One of the main ideas behind its fifth season was a cautionary tale about identifying with characters like BoJack too much.) In reminding viewers of its very large cast of characters and the ways almost all of them have been hurt or used up by BoJack — a few to their last breath — season 6 of the show is about as damning as you can get.
In the end, it was always a messy idea to marry a story about mental health and addiction to a story about a powerful, abusive celebrity. Power muddies the waters, demanding a specific response when BoJack ultimately wants to contemplate more universal ones. What do you do when you let your demons get the best of you, when you've done things that are unforgivable? Can you find redemption? What do you do when you've done awful things, and the only answer you know for sure is that life's a bitch, and you keep living?
A television show doesn't owe anyone a moral roadmap for living our lives, or even a particularly moral fictional universe. BoJack can keep getting away with things, and BoJack Horseman could probably make compelling TV out of it. (Showrunner Raphael Bob-Waksberg had reportedly planned on having at least one more season.) The trouble is when BoJack collapses two of its running themes — one of mental health and addiction and the other of power and abuse — into a single conclusion, suggesting that they complement each other when they do not. In the end, BoJack Horseman loved BoJack Horseman too much.
12. Six Feet Under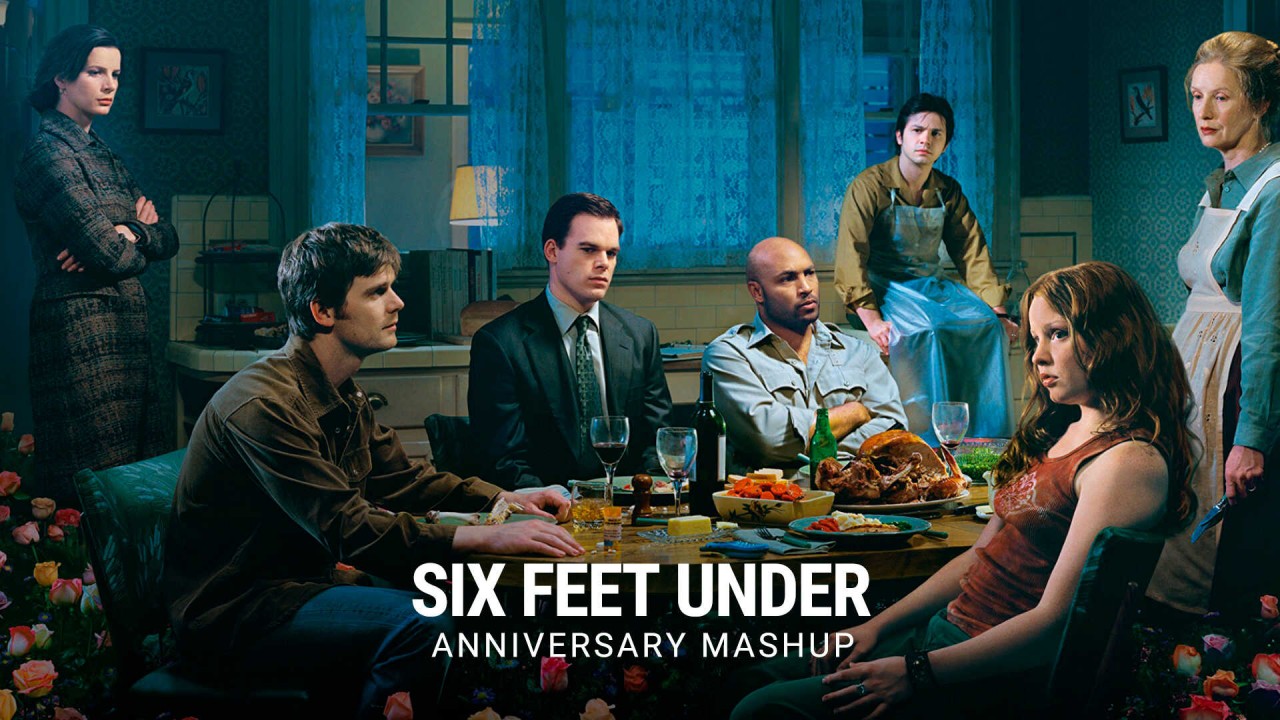 Photo: Imdb
Imdb score: 8.7/10
Six Feet Under is an American drama television series created and produced by Alan Ball. It premiered on the premium network HBO in the United States on June 3, 2001, and ended on August 21, 2005, spanning 63 episodes across five seasons. It depicts the lives of the Fisher family, who run a funeral home in Los Angeles, along with their friends and lovers.
The ensemble drama stars Peter Krause, Michael C. Hall, Frances Conroy, Lauren Ambrose, Freddy Rodriguez, Mathew St. Patrick, and Rachel Griffiths as the central characters. It was produced by Actual Size Films and The Greenblatt/Janollari Studio, and was shot on location in Los Angeles and in Hollywood studios.
Six Feet Under received widespread critical acclaim, particularly for its writing and acting, and consistently drew high ratings for the HBO network. It is regarded as one of the greatest television series of all time, included on best-of lists by Time, The Guardian, and Empire. The show's finale has also been described as one of the greatest television series finales. The series won numerous awards, including nine Emmy Awards, three Screen Actors Guild Awards, three Golden Globe Awards, and a Peabody Award.
13. Twin Peaks: The Return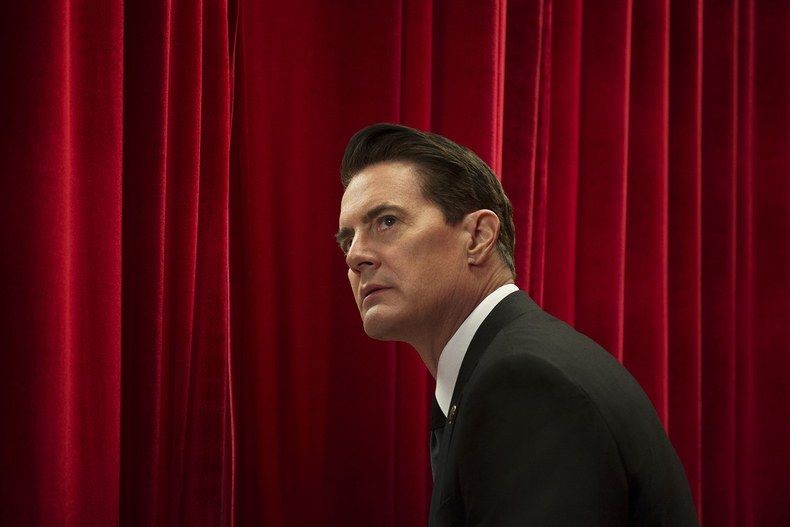 Photo: Showtime
Imdb score: 8.5/10
Filled with giants, dwarves, monsters and ghosts, Twin Peaks most resembles a modern fairytale written on LSD then heavily redacted by the CIA. But at least the original series had the viewer-friendly structure of a whodunnit to glue the peculiarities together. The start of the new run is more of a what-is-it?
Visiting the title town only intermittently, the storyline focuses on three new locations. In South Dakota, police find in a bed a composite corpse consisting of a severed woman's head and a bloated male torso. Fingerprints at the crime scene point to a high school principal, in whose car trunk a body part is found. Another mutilated young woman is discovered under her duvet in Las Vegas.
Multiple scenes take place in the basement of a New York skyscraper, said to be occupied by "some anonymous billionaire". Although the scripts were written some time ago, many viewers will now picture something like Trump Tower. A young security guard, with another sentinel guarding him, has been paid to watch a glass cube and alert the guy up high if "something appears". The box contains a hole through which something will surely be born.
The director recently made a documentary, My Beautiful Broken Brain, about a woman who had described her neurological functions after a stroke as "like being in a David Lynch movie", and Twin Peaks continues his mission to show on screen memory, dream, hallucination, premonition – and the blurring between them – in a stream of shots that resemble the fragments of a vase beautifully painted and then shattered.
14. Atlanta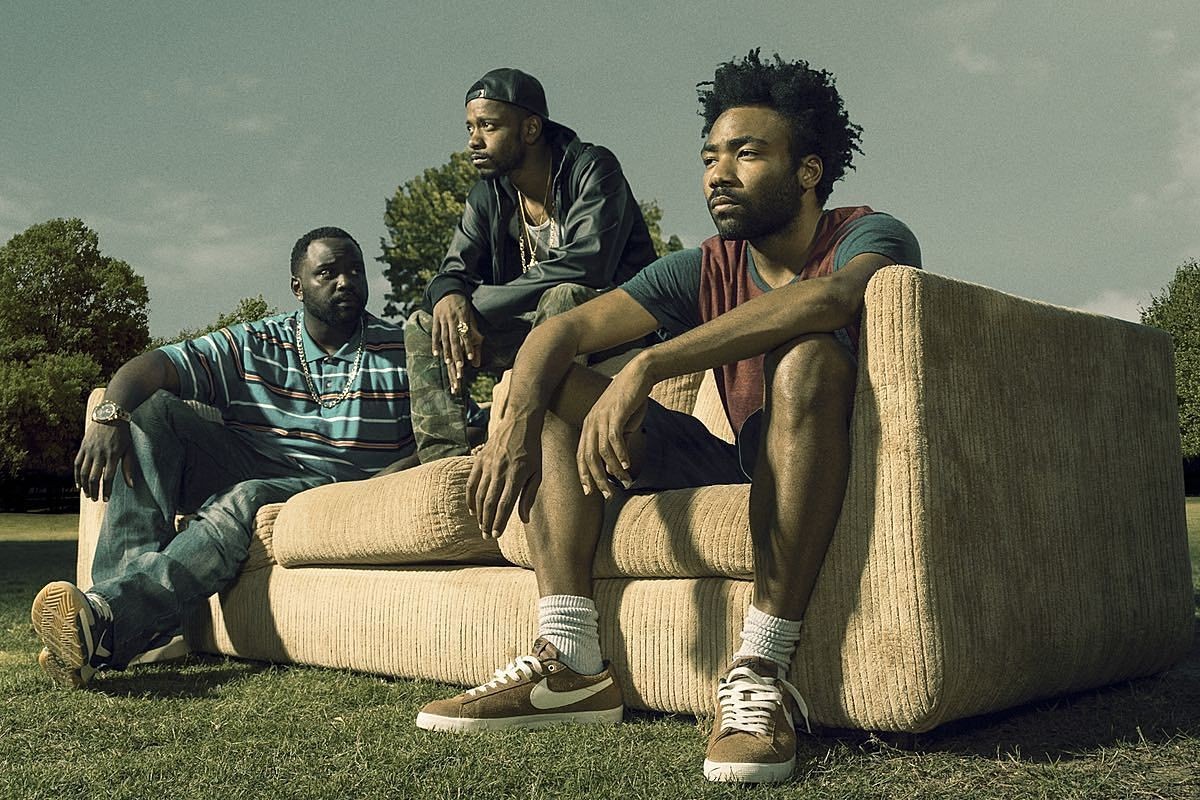 Photo: Digitalspy
Imdb score: 8.6/10
ATL is a 2006 American coming-of-age comedy-drama film, and the feature film directorial debut of music video director Chris Robinson. The screenplay was written by Tina Gordon Chism from an original story by Antwone Fisher, and is loosely based on the experiences of the film's producers Dallas Austin and Tionne "T-Boz" Watkins (of the R&B group TLC) growing up in Atlanta, Georgia (ATL).[2] The film is a coming-of-age tale concerning Rashad, played by Atlanta native and hip hop artist T.I. (credited as Tip Harris) in his film debut, and his friends in their final year in high school and on the verge of adulthood. The film also stars Antwan Andre Patton, aka Big Boi of the hip hop group OutKast, Evan Ross, Jackie Long, Lauren London, and Mykelti Williamson.
ATL was the first feature film for its director and the majority of its cast. Filmed in Atlanta, Georgia in summer 2005, many celebrities from the city make cameo appearances, including Bone Crusher, Jazze Pha, Killer Mike, and Monica. ATL received generally positive reviews from critics, who praised the performances and soundtrack, but criticized the direction and formulaic script. It has since become a cult film among the rap community.
15. Chernobyl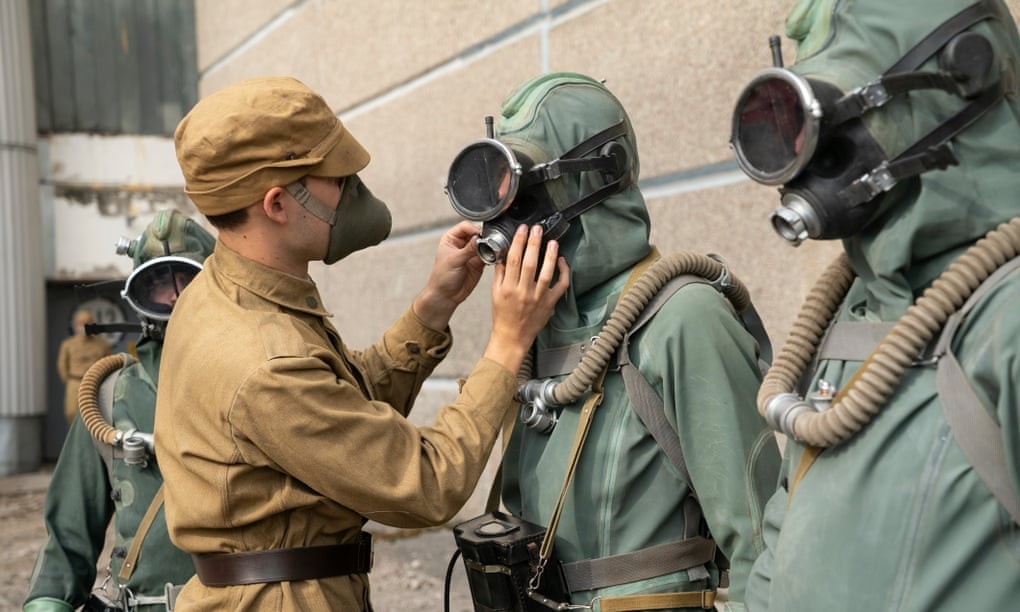 A disaster movie, a spy movie, a horror movie, a thriller and a human drama – and expert at all ... Chernobyl. Photograph: Sky Atlantic
Imdb score: 9.4/10
After three of its five episodes aired, the miniseries Chernobyl found its way to the top of IMDB's top 250 TV shows in history list. While the fan-voted chart might seem hyperbolic, given that the drama had only just crossed the halfway point, it is not undeserving of the honour. Chernobyl is masterful television, as stunning as it is gripping, and it is relentless in its awful tension, refusing to let go even for a second. That old 'don't spoil the ending' joke about Titanic will inevitably be rebooted here, but it is confident enough to withstand any familiarity with the story.
Chernobyl is a disaster movie, a spy movie, a horror movie, a political thriller, and a human drama, and it spins each plate expertly. The terror is unflinching and explicit, and its images of burned bodies collapsing into putrid decay are impossible to forget. Yet it never feels shocking for the sake of it, only as haunting and horrible as its subject matter demands. It manages to navigate the perilous path of having its characters speak in jargon, and largely refusing to explain it, while keeping viewers on top of what is happening. Lesser shows fall back on clumsy exposition when they need to get an audience up to speed – Game of Thrones' brothel-based sexposition was the stuff of legend – but here, it is woven in deftly when necessary. At the point where a basic nuclear science primer starts to feel as if it might come in handy, Boris Shcherbina – a magnificent Stellan Skarsgård – asks Legasov to explain how a nuclear reactor works. Better still was the entirely coded conversation between Emily Watson's Ulana Khomyuk and her contact in Moscow, when a telephone call about a holiday in the country revealed the methods Legasov was using to try to put out the fire.
Often prestige television like this – expansive, expensive and ambitious – falls back on its wordiness, and Chernobyl is certainly well-written enough to justify that. But it is as cinematic as it is reliant on dialogue, and it has the patience to let images do the heavy lifting when it is called for. There were wordless scenes that made me catch my breath: a woman watching from her bicycle as busloads of people are shipped out of Pripyat at last; dogs chasing the departing vehicles; concrete being poured on to coffins; a dead deer prostrate before shivering trees.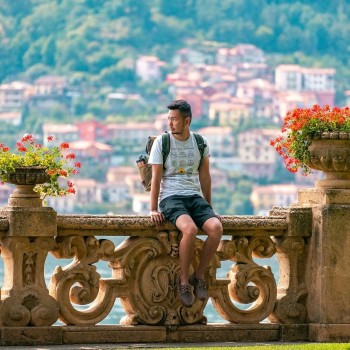 Travel
If you have the opportunity to visit Hoi An at the end of the year, these are some of the best recommendations for fun activities you can do from Peter R – a Thai travel blogger.