Top 5 new Phu Yen' check-in points for weekend
The land of "yellow flowers and green grass" is now a safe destination with many new places to discover such as Nghinh Phong square, Van Hoa plateau, Ho Son lake.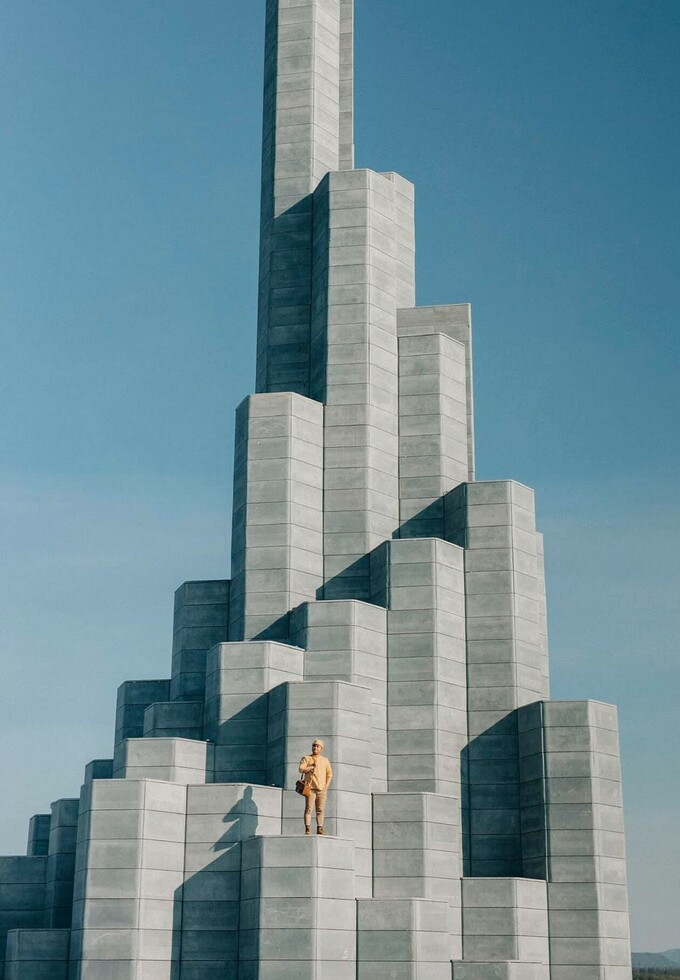 Visitors check in at Nghinh Phong tower. Photo: VnExpress
In addition to Da Dia Reef, Mang Lang church, Dai Lanh lighthouse or Ong Cop wooden bridge, visitors to Phu Yen this summer should not miss the following 5 check-in points:
Nghinh Phong Square
The square is located at the junction of Nguyen Huu Tho and Doc Lap streets, Tuy Hoa City, featuring the Nynh Phong twin towers between the blue sea on one side and a straight road on the other. The unique architecture of the tower is inspired by Da Dia Reef - the symbol of Phu Yen tourism. The tower consists of 2 sides with 50 adjacent stone blocks on each side, in the middle of the two tallest rocks is a slit just enough for two people to stand, but every time the wind blows through, it will make a sound like music. The stone blocks are built of reinforced concrete, outside with granite tiles. At night, at the twin towers, there is a vivid 3D mapping and laser light show.
Ho Son Lake
Located along both sides of Tran Phu Street, Tuy Hoa City, the lake was built with the main function of drainage, flood prevention and climate regulation. However, combining the green areas along the lakeside, bridges and roads, the scenery is poetic and attractive. The highlight here is the bridge across the lake and the curving curves of the lake edge. Although newly completed and put into operation, this place has become an attractive destination for young people to take pictures to check-in, admire the scenery, or simply go for a walk.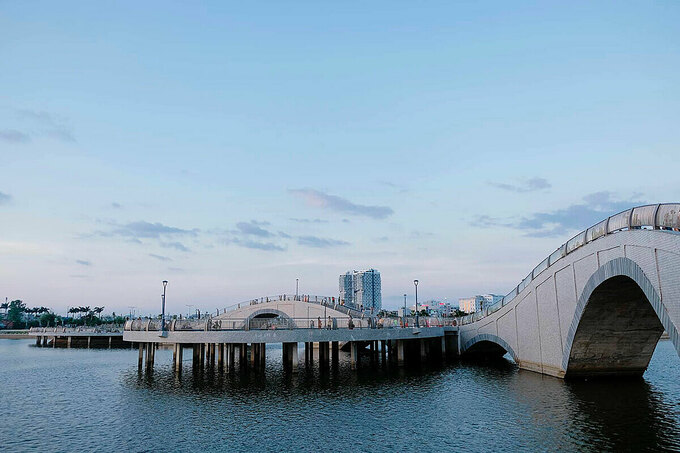 Ho Son Lake in Tuy Hoa city. Photo: VnExpress
Vuc Hom Waterfall
Vuc Hom is located in Vinh Xuan village, An Linh commune, Tuy An district, about 45 kilometers from Tuy Hoa city. This is a waterfall located between basalt columns formed by nature in the same way as Da Dia Reef of Phu Yen, so it is also known as "Da Dia Reef on land". The road to this place is not easy, but when you reach the finish line, you will be overwhelmed by the majestic scenery of the natural waterfall pouring down from a height of 20 meters. At the foot of the waterfall is a large, cool lake, surrounded by green forest trees. This location is very suitable for those who love camping in the mountains or like to hunt photos.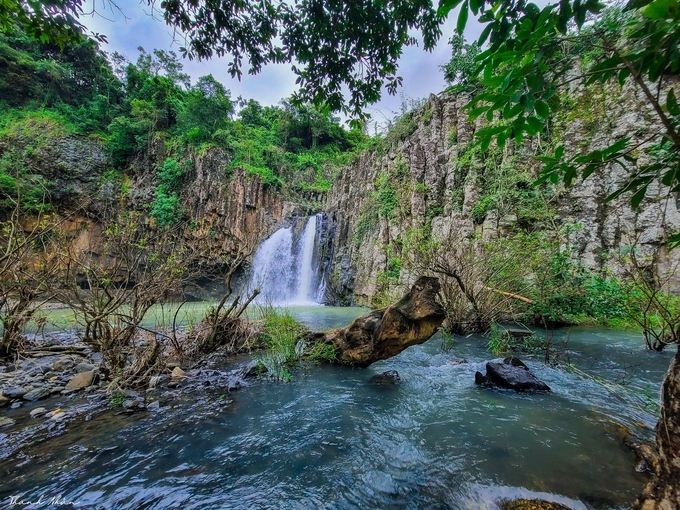 A corner of Hom Vuc waterfall. Photo: VnExpress
Van Hoa Plateau
As a fertile basalt red soil plateau, Van Hoa is located in the territory of 3 communes Son Dinh, Son Long, Son Xuan in Son Hoa district and a part of Tuy An district, about 40 kilometers from Tuy Hoa city. This place is likened to "Da Lat of Phu Yen" thanks to its location at an altitude of 400 meters, the climate is cool, sunny and windy and often cloudy.
The road leading to Van Hoa plateau will pass through vast fields of sugarcane grass, melaleuca, corn, cassava, pepper, which are enough to make visitors fall in love. Although there are not many tourist services here, there is no shortage of attractions and check-ins such as Church President Ho Chi Minh, Tra Ke church, Ba Ha river hydroelectric dam, Don market, Camping trip campsite.
Hon Yen
More than 20 kilometers from Tuy Hoa city, Hon Yen in Nhon Hoi village, Tuy An district is a favorite check-in point not only for tourists but also for photographers thanks to its colorful and shaped terrestrial coral reefs. Visitors do not have to take a boat to the middle of the sea, when the tide recedes, they can see the coral. According to local people, the tide is only low in the afternoon of the first days of the month, or the middle of the lunar month. Each wave of shallow water is usually 2-3 days long, revealing layers of thorny rocks and romantic golden sand.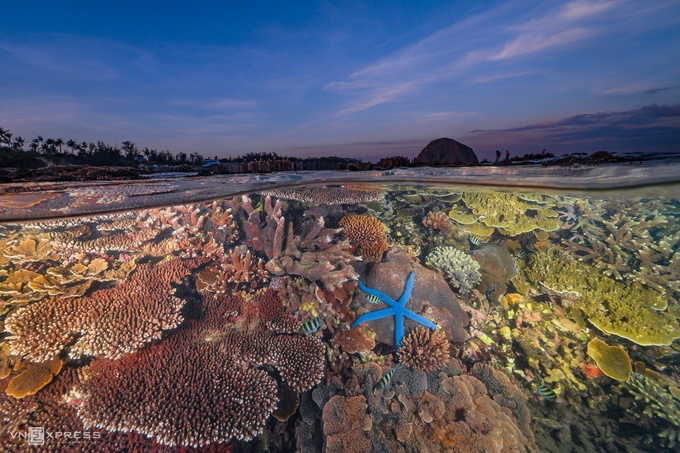 Terrestrial coral beach in Hon Yen. Photo: VnExpress