Travel guide for a memorable trip to Con Dao, off the coast of southern Vietnam
When it comes to Con Dao, tourists would be reminded of the relics associated with tragic historical period of the nation. Nowadays, Con Dao is well-known for its magnificent natural beauty, rich ecosystem, and long-standing historical values.
Video by Zing News
Overview of Con Dao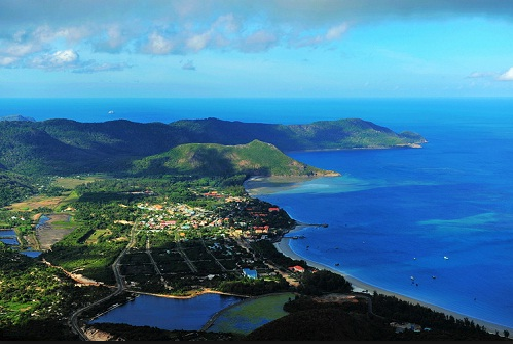 Photo: VNTrip
Con Dao, also known as Con Lon, Con Son, is an island district in Ba Ria - Vung Tau Province. About one- hour flight from Ho Chi Minh City, Con Dao covers an area of about 76km2 consisting of 16 large and small islands with a population of only 6000 people, VNTrip reported.
Con Dao has acquired its reputation for the stretches of white sand beaches, peaceful atmosphere, mouth-watering seafood, and especially diverse ecosystem awaiting tourists to come to explore.
The most ideal time to travel Con Dao is from April to November annually when the sea is calm and the weather is excellent for you to freely take part in many interesting experiences.
Tourist attractions in Con Dao
Con Dao prison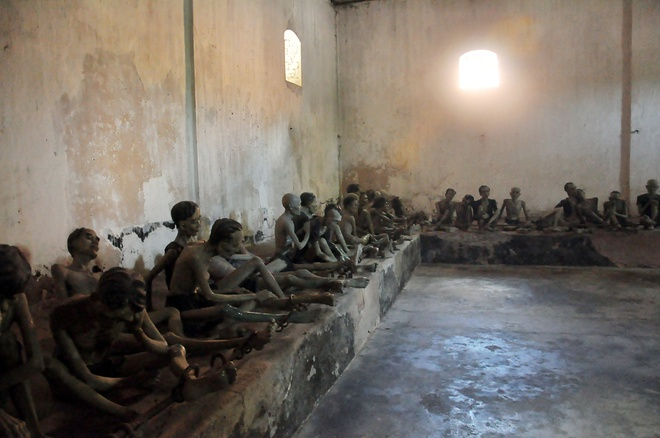 Photo: Zing News
This is a must-visit destination when traveling to Con Dao. The prison is where the French colonialists and the American imperialists imprison and exile Vietnamese patriots.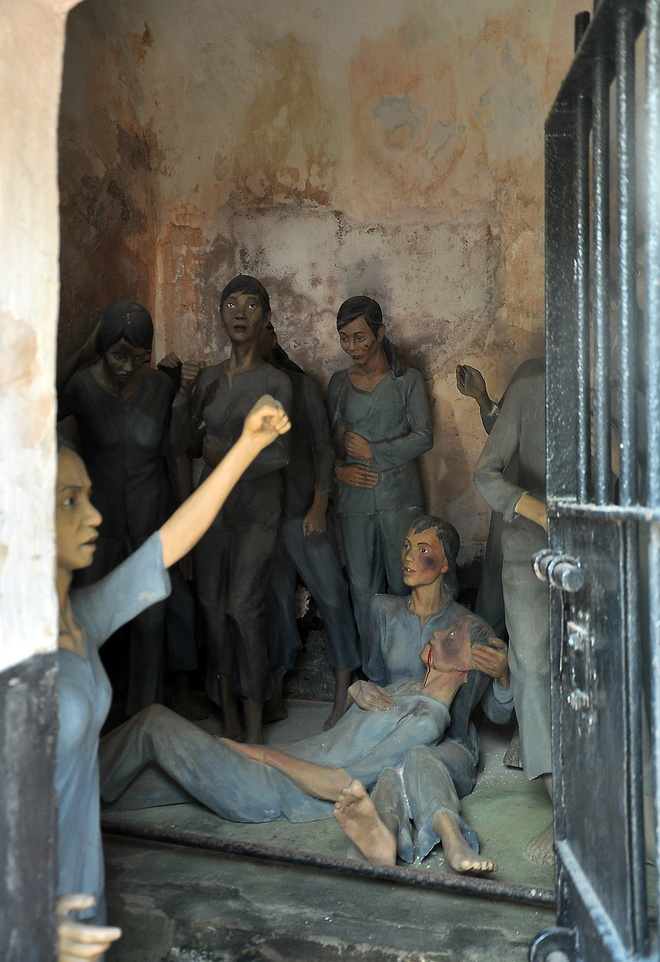 Photo: Zing News
Visitors will shudder by hot and stuffy rooms with brutal torture ways. It is the reason why Con Dao is a witness to the tragic but resilient historical period of the nation.
Thanh Gia Mountain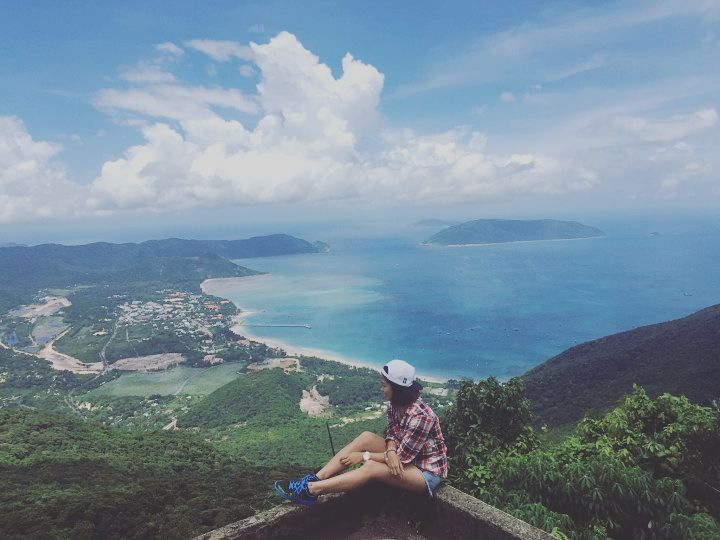 Photo: Con Dao Trip
Thanh Gia Mountain is another place that should not be missed in Con Dao. It takes one hour to reach the mountain. Experiencing a long journey to conquer the mountain, tourists will surely be offset by its spectacular beauty as well as fresh air.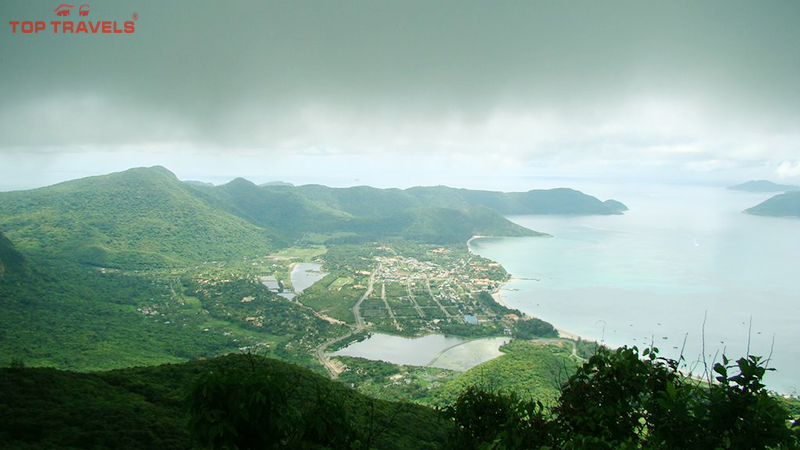 Photo: Top Travels
Standing on the top of the mountain, tourists will have the chance to capture in their eyes the vista of the blue sea, imposing mountain ranges shrouded by dense mist.
Bai Dam Trau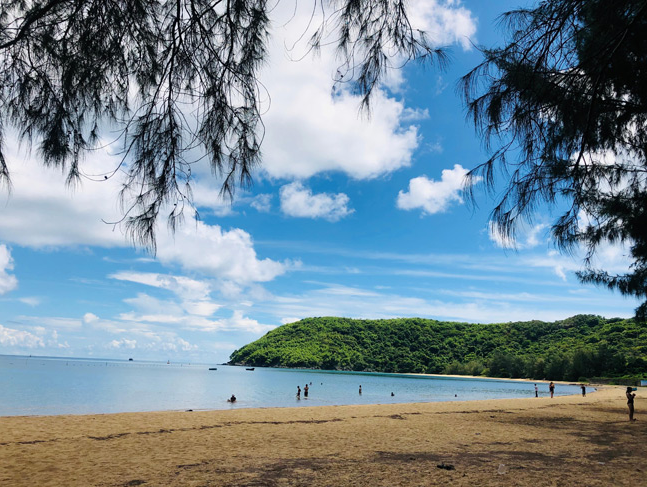 Photo: Giao Thong Newspaper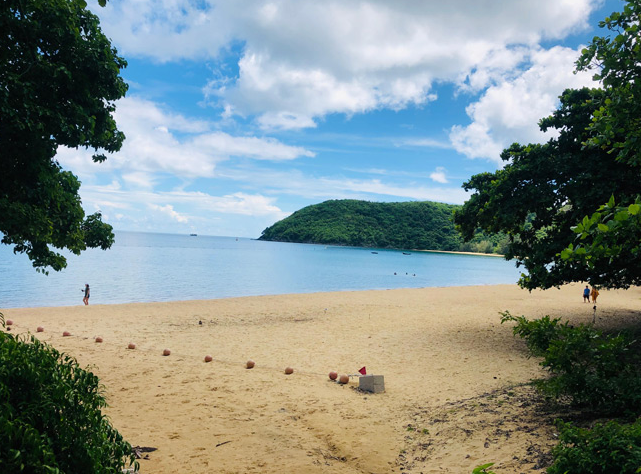 Photo: Giao Thong Newspaper
Dam Trau is located in the north of the island in the area of ​​Co Ong airport and considered as the most beautiful beach in Con Dao. The tourism services surrounding the beach have not developed; hence, its pristine beauty remains intact.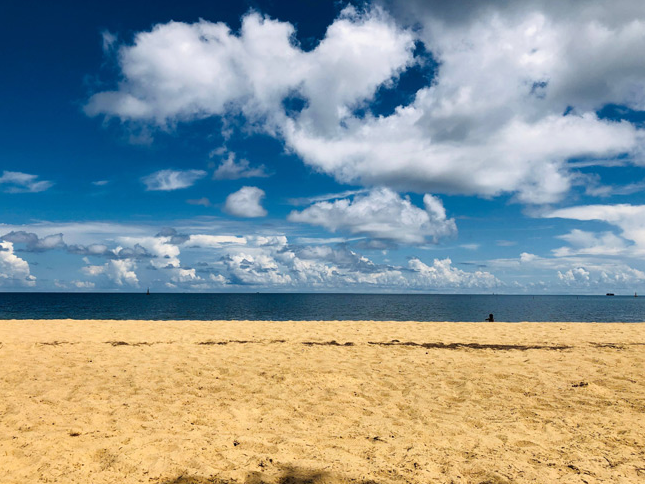 Photo: Giao Thong Newspaper
The distinguishing feature of Dam Trau Beach is that its sand dunes own yellow color, not white like other beaches. Coming here, travelers can take a dip into the cool crystal-clear seawater, sample fresh seafood at reasonable prices, and admire the airplanes taking off and landing right next to the sea.
Bai Nhat
Bai Nhat is one of the most beautiful and pristine beaches in Con Dao. This is also the favorite place to admire the sunset for many visitors, Giao Thong Newspaper reported.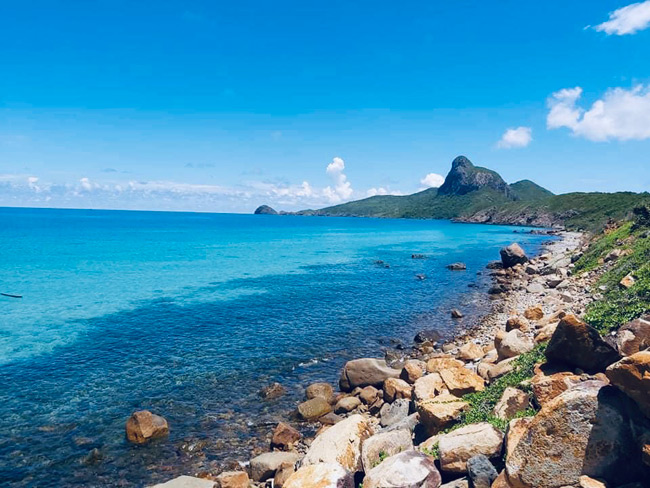 Photo: Giao Thong Newspaper
Bai Nhat is located on Ben Dam Road, about 6km southwest of Con Dao town. The road from the town to Bai Nhat is the most beautiful sea curve on the island with mountains, forests on one side, and a vast blue sea on the other side.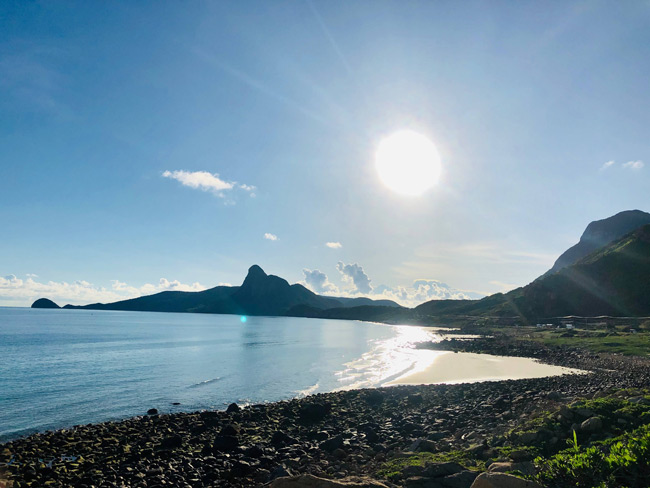 Photo: Giao Thong Newspaper
Peaceful, poetic, and gentle are the words to describe Bai Nhat. Any corner at Bai Nhat can produce the perfect check-in photos.
Especially, Bai Nhat only emerges for a few hours a day at low tide, revealing smooth white sand dunes and multi-colored rocks creating a wonderful scene. In 2019, an Australia-based travel newspaper named Bai Nhat as one of the six pristine beaches in Asia that tourists need to come at least once.
Tau Be Cape
Multi-colored rocks, emerald green seawater, and the "open-air" swimming pool are among the hidden charms of lesser-known Tau Be Cape in Con Dao.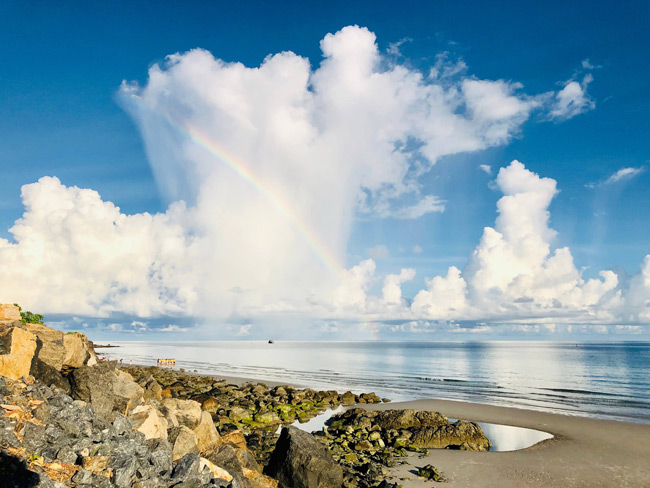 Photo: Giao Thong Newspaper
Tau Be Cape is located on Co Ong Road, about 7km east of the center of Con Dao. It is surrounded by steep and huge rocks, forming an arc embracing the cape. Tau Be Cape is praised as one of the most stunning places to admire the sunrise in Con Dao.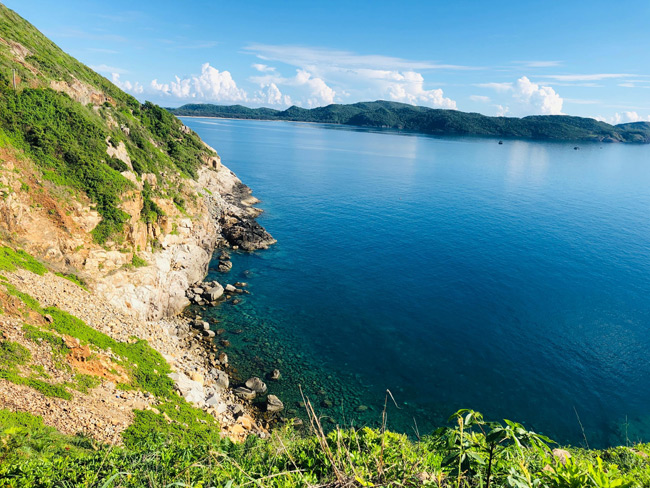 Photo: Giao Thong Newspaper
Tourists should come here from 4:45 am to thoroughly contemplate the glamorous sunset scenery.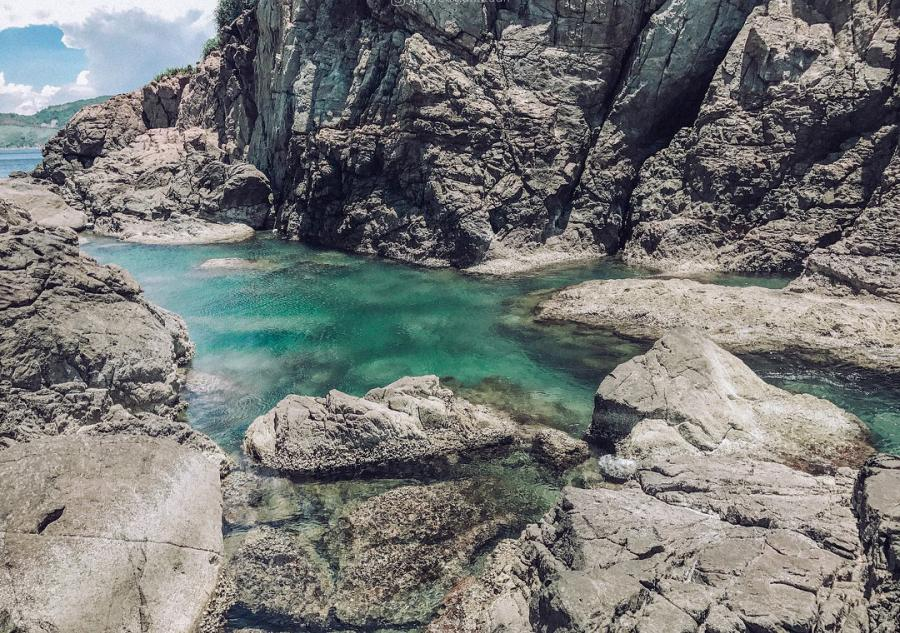 Photo: Giao Thong Newspaper
One secluded destination in Tau Be Cape is the "open-air" swimming pool nestled amidst the imposing mountains resembling the European landscapes.
Chim Chim Cape
As one of the most renowned destinations in Con Dao, Chim Chim Cape offers tourists the chance to bask in dreamy landscapes of turquoise beaches and imposing mountains.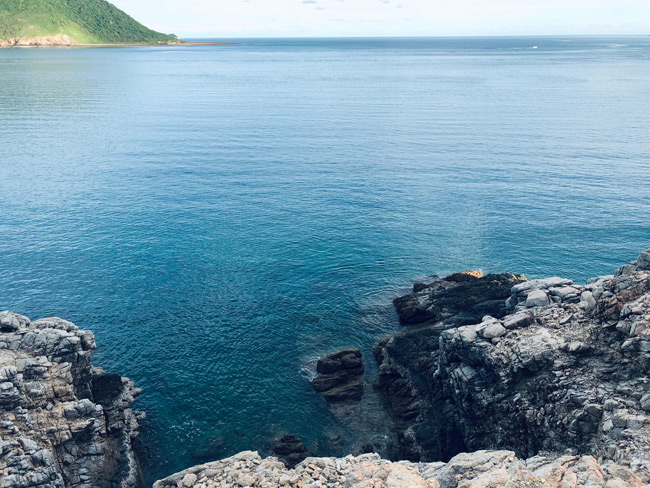 Photo: Giao Thong Newspaper
Chim Chim Cape is located on Co Ong Road, Con Dao which is dubbed as "the Pearl" of the Bien Dong Sea (East Sea). Chim Chim Cape has become a hot check-in spot among youngsters when coming to Con Dao. There are many overlapping rocks with different shapes here. The cape is blessed with crystal-clear and jade water boasting majestic and spectacular scenery.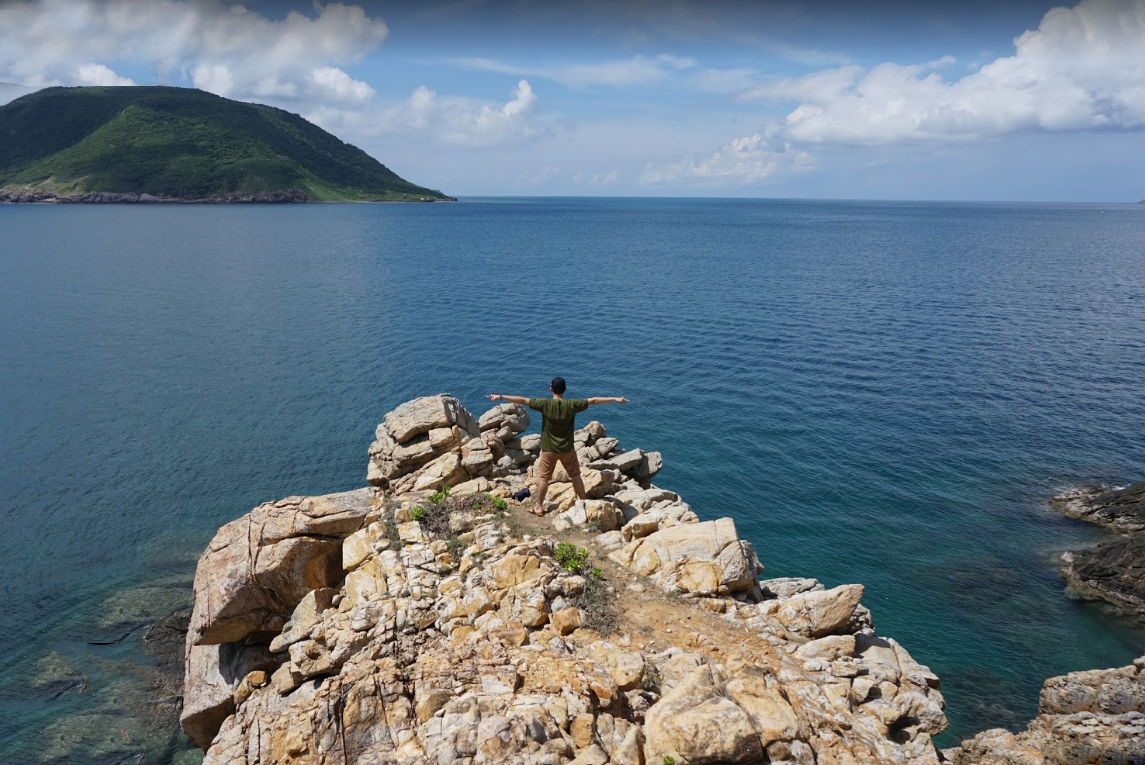 Photo: Con Dao Trip
Chim Chim Cape is considered the best place to contemplate sunrise and sunset in Con Dao. Standing on Chim Chim Cape, you can have the opportunity to view Hon Bay Canh where owns white sand beaches and is host to thousands of turtles nesting and laying eggs from April to September annually.
For the first time, passengers can travel directly from Hai Phong and Vinh to the southern archipelago of Con Dao. Hanoians can enjoy direct travel to Con Dao after 8 years. The three direct flights from Bamboo Airways will be valid starting September 29. Each flight takes about one to two hours.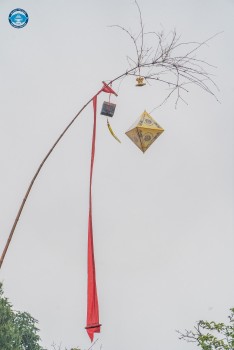 Viet's Home
In the past, the Neu pole (a tall bamboo pole with red garment strips used to ward off evil spirits during the lunar New Year) lowering ceremony at the royal palace of the Nguyen Dynasty was performed to mark the end of the New Year holiday and prepare to enter a new working year.