Trump acknowledges Biden victory before clarifying he's not conceding
President Trump appeared to recognize President-elect Joe Biden as the winner of the presidential race, but quickly sought to clarify that he still has no intention of conceding the election as his long-shot legal bids aimed at challenging the results in several states continue.
(Video: CNN)
As reported by New York Times, the President kept insisting that "I concede NOTHING! We have a long way to go." The dueling tweets came as Mr. Trump continued to lie about the conduct of the vote-counting process, falsely insisting that Mr. Biden's victory was the result of a "Rigged" election orchestrated by the "Fake & Silent" media.
His first tweet came Sunday morning at 7:47. Referring to Mr. Biden, the president said that "he won." That represented the first time Mr. Trump had publicly said what his advisers have been telling him for days privately: His re-election bid failed and Mr. Biden will be inaugurated on Jan. 20, New York Times reported.
After a flurry of tweets and news reports about his "concession," Mr. Trump insisted that he had been misunderstood.
Mr. Trump then clarified in a second tweet that he does not, in fact, believe Mr. Biden defeated him in the presidential election, according to CBS News.
"He only won in the eyes of the FAKE NEWS MEDIA. I concede NOTHING! We have a long way to go. This was a RIGGED ELECTION!" the president tweeted.
Despite Mr. Trump's unfounded claims that the election was rigged, federal stakeholders focused on elections infrastructure said in a statement Thursday that the November 3 election was "the most secure in American history."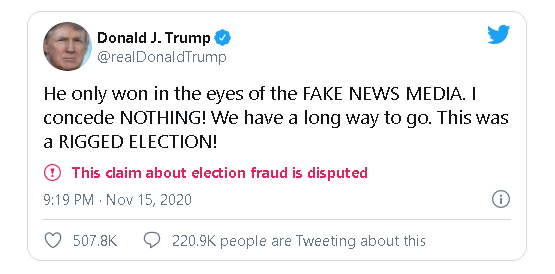 Trump's tweet on Nov 15 (Photo: Captured)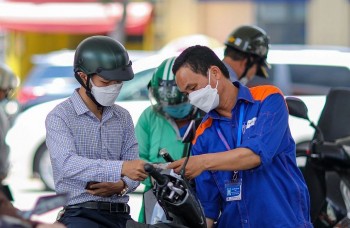 Economy
Vietnam Business & Weather Briefing (Oct 2): Binh Duong lures foreign investors with special care, the North and Central regions continue to have heavy rains, leading to the risk of flooding, flash floods, and landslides.