Taken to bunker due to protesters
As protesters gathered outside the White House Friday night in Washington, DC, President Donald Trump was briefly taken to the underground bunker for a period of time, CNN reported from a White House official and a law enforcement source.
The protests over George Floyd's death hit the nation's capital Friday night as angry protesters arrived at Pennsylvania Avenue, leading to a lockdown at the White House.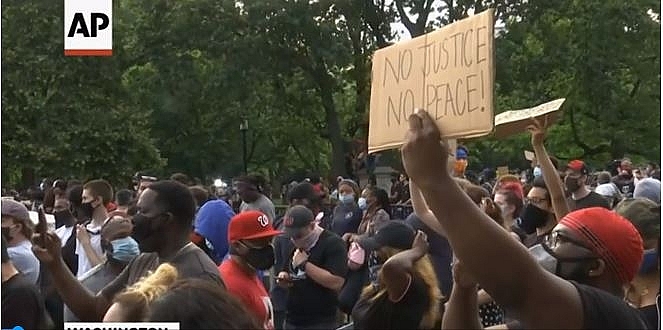 Protesters outside White House over George Floyd's death. Photo: AP
As US News reported, outside the White House on Friday, Secret Service could be seen after 7 p.m. taking at least one person into custody. Videos showed a large group of protesters gathering, with some burning flags and knocking over barricades. There were also some violent encounters.
The New York Times first reported Trump was taken to the presidential bunker. According to CNN, the president remained there about an hour before returning to the residence, and it is currently unknown whether the First Lady and their son, Barron, were with him.
The law enforcement source familiar with protocol said that if authorities moved Trump, they would move all protectees, meaning Melania and Barron.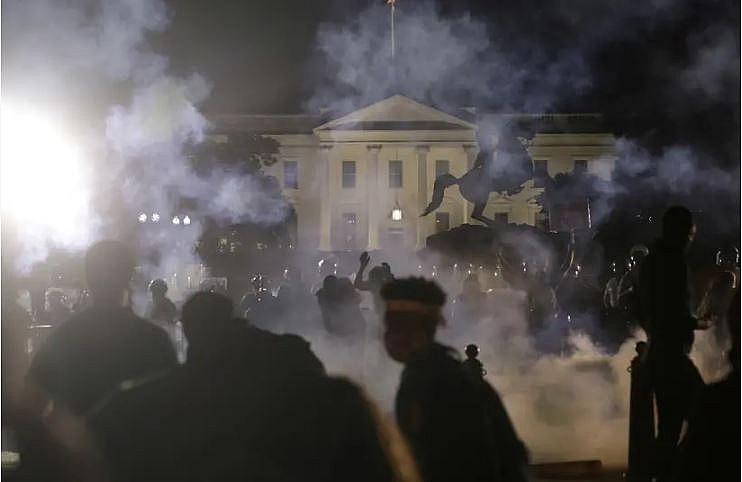 Protesters rally at the White House against the death in Minneapolis police custody of George Floyd, in Washington, DC, US, May 31, 2020. Photo: JPost.
CNN also cited from a second source that "if the condition at the White House is elevated to RED and the President is moved" to the Emergency Operations Center "Melania Trump, Barron Trump and any other first family members would be moved as well".
Late Sunday night, the White House cautioned staffers who must go to work on Monday to hide their passes until they reach a Secret Service entry point and to hide them as they leave, according to an email that was viewed by CNN.
The email repeated mandates for maximum telework status and said there is still an "elevated security posture" due to the protests.
Floyd, an unarmed black man, died in Minneapolis police custody this week after a white officer pinned him to the ground under his knee. His death has sparked demonstrations against police brutality and racial discrimination in cities across the United States.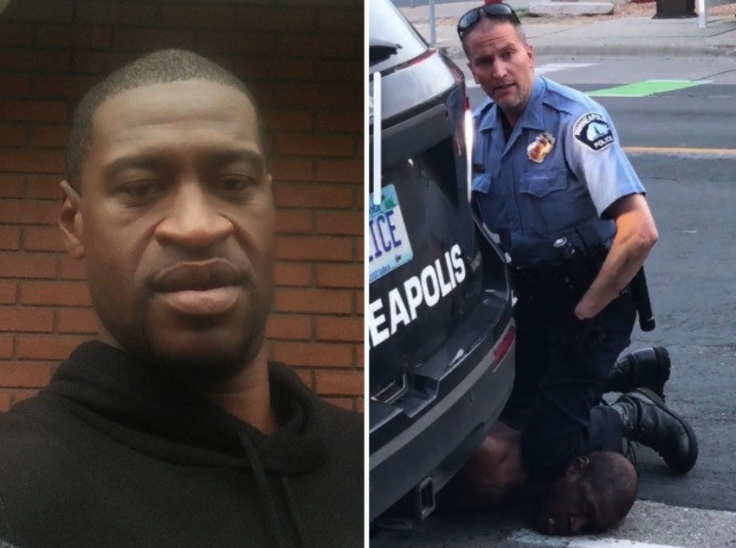 Georege Floyd (left). Photo by IB Times
Praises of the President for Secret Service
Trump praised the Secret Service the next day for its handling of the protests outside the White House Friday night in the wake of George Floyd's death last week in Minneapolis.
In a series of tweets, Trump commended the US Secret Service for protecting him inside his fortified mansion Friday evening, saying he couldn't have felt "safer" as protesters gathered outside over Floyd's death. The President suggested that dogs and weaponry were waiting inside the gates.
"They let the 'protesters' scream & rant as much as they wanted, but whenever someone got too frisky or out of line, they would quickly come down on them, hard – didn't know what hit them," he said Saturday.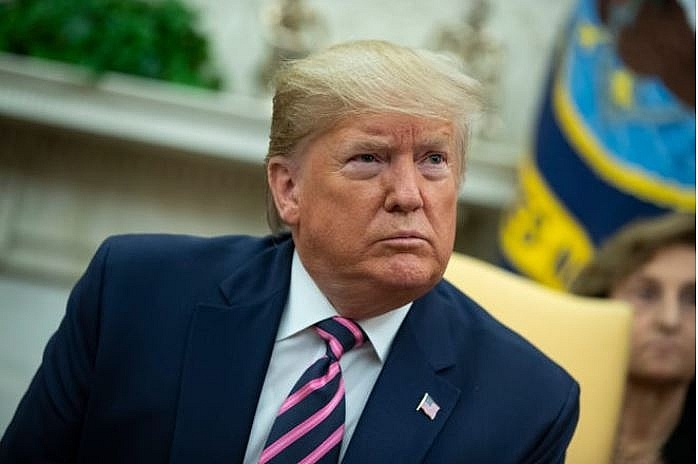 President Donald Trump. Photo: todaynewsafrica.
Trump continued, "The front line was replaced with fresh agents, like magic. Big crowd, professionally organized, but nobody came close to breaching the fence. If they had, they would have been greeted with the most vicious dogs, and most ominous weapons, I have ever seen. That's when people would have been really badly hurt, at least", US News reported.
He also claimed DC Mayor Muriel Bowser didn't allow DC police to "get involved" and assist Secret Service, though Secret Service later said they were on the scene.
However, a statement from the Secret Service, however, said that U.S. Park Police and D.C. Metropolitan Police were both at the scene Friday evening. The protests in D.C. were among numerous demonstrations that erupted across the nation over the weekend in response to the killing of George Floyd, an unarmed black man, in Minneapolis police custody. Video footage of Floyd's arrest showed the man pleading for his life while an officer knelt on Floyd's neck for several minutes.
The Hill also cited from the statement of Bowser that she stood with protesters calling for justice in the wake of Floyd's death and pledging that D.C. police would protect all city residents.
National Guard troops deployed near White House
National Guard troops were deployed near the White House Monday evening hours after President Donald Trump said he wanted a military show of force against violent protests gripping the nation.
Shortly after, Trump came to the White House Rose Garden to say "domestic terrorists were to blame. "We will it end it now," Trump said, calling on governors to "dominate the streets."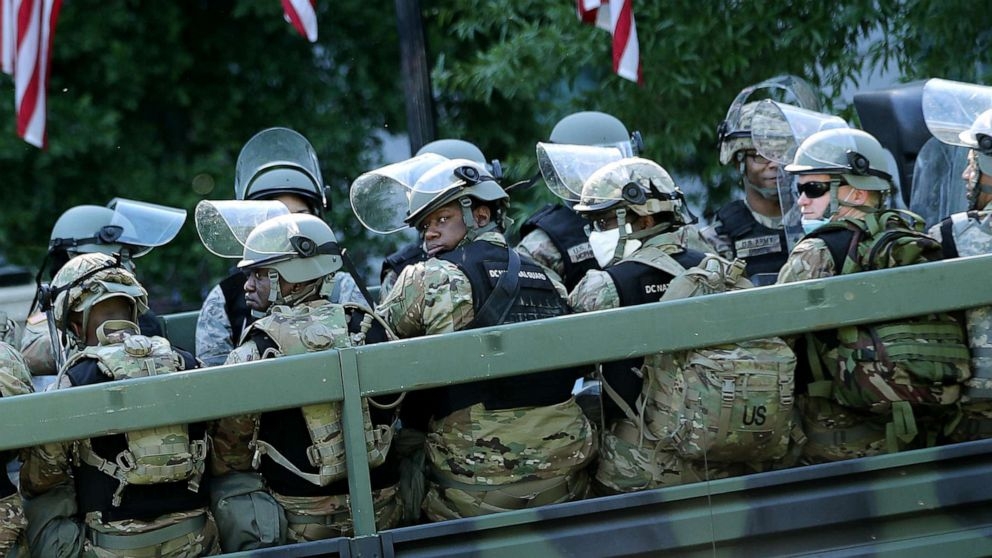 Trucks transport District of Columbia National Guard troops along Pennsylvania Avenue in support of law enforcement officers that are keeping demonstrators away from the White House, June 01, 2020, in Washington.Trucks transport District of Columbia National Guard troops along Pennsylvania Avenue in support of law enforcement officers that are keeping demonstrators away from the White House, June 01, 2020, in Washington. Chip Somodevilla/Getty Images
Several truckloads of DC National Guard troops arrived near Lafayette Park across Pennsylvania Avenue where large groups of protesters had fought with police for the past three nights, at one point on Friday causing officials to have Trump taken to a bunker below the White House for his protection.
Mayor Muriel Bowser Monday afternoon declared a curfew beginning at 7 p.m. until 6 a.m. Tuesday.
Earlier, as the White House geared up for another night of protests outside its gates, President Trump lashed out at governors for their handling of demonstrations over George Floyd's death, emphasizing instances of rioting and looting that marred overwhelmingly peaceful protests across the country.
Ruby Lee